Access options
Buy single article
Instant access to the full article PDF.
USD 39.95
Price excludes VAT (USA)
Tax calculation will be finalised during checkout.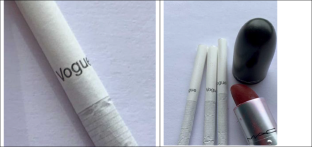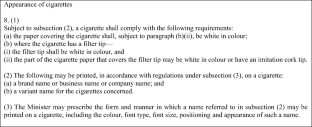 References
The Rolling Stones (1965) (I Can't Get No) Satisfaction. https://www.azlyrics.com/lyrics/rollingstones/icantgetnosatisfaction.html. Accessed 14 June 2019

World Health Organization (2019) World No Tobacco Day 2016: get ready for plain packaging. https://www.who.int/campaigns/no-tobacco-day/2016/en/ Accessed 14 June 2019

World Health Organization (2019) Guidelines for implementation of Article 11 of the WHO Framework Convention on Tobacco Control (Packaging and labelling of tobacco products) https://www.who.int/fctc/guidelines/article_11.pdf. Accessed 14 June 2019

Studlar DT (2015) Punching above their weight through policy learning: tobacco control policies in Ireland. Irish Polit Stud 30(1):41–78

Li S, Levy D, Clancy L (2018) Tobacco free Ireland 2025: SimSmoke prediction for the end game. Tob Prev Cessat 4:23. https://doi.org/10.18332/tpc/91427

Drope J, Schluger NW. (2018) Tobacco atlas - Ireland. Tobacco atlas. https://tobaccoatlas.org/country/ireland/. Accessed 14 June 2019

Government of Ireland (2019) Public Health (Standardised Packaging of Tobacco) Act 2015. http://www.irishstatutebook.ie/eli/2015/act/4/section/23/enacted/en/html. Accessed 14 June 2019

Hoek J, Robertson C (2015) How do young adult female smokers interpret dissuasive cigarette sticks?: a qualitative analysis. J Soc Mark 5(1):21–39

Hoek J, Gendall P, Eckert C, Louviere J (2016) Dissuasive cigarette sticks: the next step in standardised ('plain') packaging? Tob Control 25:699–705

Smith KC, Washington C, Welding K, Kroart L, Osho A, Cohen JE (2017) Cigarette stick as valuable communicative real estate: a content analysis of cigarettes from 14 low-income and middle-income countries. Tob Control 26(5):604–607

Banwell CL, Young D (1993) Rites of passage: smoking and the construction of social identity. Drug Alcohol Rev 12(4):377–385

Gilbert E (2007) Performing femininity: young women's gendered practice of cigarette smoking. J Gend Stud 16(2):121–137. https://doi.org/10.1080/09589230701324579

Hoek J, Gendall P, Gifford H, Pirikahu G, McCool J, Pene G, Edwards R, Thomson G (2012) Tobacco branding, plain packaging, pictorial warnings, and symbolic consumption. Qual Health Res 22(5):630–639

Skaczkowski G, Durkin S, Kashima Y, Wakefield M (2018) Influence of premium vs masked cigarette brand names on the experienced taste of a cigarette after tobacco plain packaging in Australia: an experimental study. BMC Public Health 18:295

Ford A, Moodie C, MacKintosh AM, Hastings G (2013) Adolescent perceptions of cigarette appearance. The Eur J Pub Health 24(3):464–468

Jung CG (1953) Two essays on analytical psychology. Pantheon Books, New York, USA
Ethics declarations
Conflict of interest
The authors declare that they have no conflict of interest.
Ethical approval
N/A.
Informed consent
N/A.
Additional information
Publisher's note
Springer Nature remains neutral with regard to jurisdictional claims in published maps and institutional affiliations.
About this article
Cite this article
Moran Stritch, M.J., Houghton, F., O'Doherty, D. et al. Tobacco control and 'plain packaging': performativity, cigarettes and the semiotics of brand names. Ir J Med Sci 189, 405–407 (2020). https://doi.org/10.1007/s11845-019-02066-9
Received:

Accepted:

Published:

Issue Date:

DOI: https://doi.org/10.1007/s11845-019-02066-9