Abstract
Background
We describe the first radiographic clinic in the literature for DDH and how this novel clinic can significantly improve the efficiency and cost-effectiveness of service in a tertiary referral centre.
Aims
A radiographic clinic for the management of developmental dysplasia of the hip was introduced in 2017 in our institution. We performed a detailed cost analysis to assess the economic savings made with the introduction of this new clinic. We assessed the efficiency of the service by identifying how many unnecessary outpatient visits were prevented. We also assessed the difference in times from referral to review between the two clinics.
Methods
Analysis of the clinic activity in 2017 was possible as all data was collected prospectively by the DDH CNS and stored in our database. Cost analysis was performed, and the savings made per patient along with the financial benefit to our institution was recorded.
Results
The new radiographic clinic reduced the cost of reviewing one patient by €162.51 per patient. There was a 73% discharge rate from the clinic which prevented 251 unnecessary patient visits to the outpatient department over the course of the year. There was a significant 11-day reduction in waiting times between referral and review when comparing the radiographic to the conventional clinic (p < 0.05).
Conclusions
A radiographic clinic for the management of developmental dysplasia of the hip has a significant effect on the efficiency and overall cost-effectiveness of service provision in a tertiary referral centre.
Access options
Buy single article
Instant access to the full article PDF.
USD 39.95
Price excludes VAT (USA)
Tax calculation will be finalised during checkout.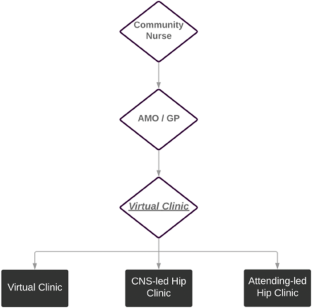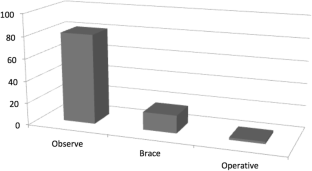 References
Phelan N, Thoren J, Fox C, O'Daly BJ, O'Beirne J (2015) Developmental dysplasia of the hip: incidence and treatment outcomes in the southeast of Ireland. Ir J Med Sci 184(2):411–415

2018 Health Service Executive I. 'HSE specialty costing report 2016'

Groarke PJ, McLoughlin L, Whitla L, Lennon P, Curtin W, Kelly PM (2017) Retrospective multicenter analysis of the accuracy of clinical examination by community physicians in diagnosing developmental dysplasia of the hip. J Pediatr 181:163–6 e1

Donnelly KJ, Chan KW, Cosgrove AP (2015) Delayed diagnosis of developmental dysplasia of the hip in Northern Ireland: can we do better? Bone Joint J 97-B(11):1572–1576

Sibson L, Dunn R, Evans J, Jones R, Hayward M, Wallace S (1999) The virtual mole clinic: preliminary results from the Plymouth skin cancer screening study using telemedicine. Med Inform Internet Med 24(3):189–199

Jayaram PR, Bhattacharyya R, Jenkins PJ, Anthony I, Rymaszewski LA (2014) A new "virtual" patient pathway for the management of radial head and neck fractures. J Shoulder Elb Surg 23(3):297–301

Ford CG, Manegold EM, Randall CL, Aballay AM, Duncan CL (2018) Assessing the feasibility of implementing low-cost virtual reality therapy during routine burn care. Burns. 44(4):886–895

van den Wijngaart LS, Roukema J, Boehmer AL, Brouwer ML, Hugen CA, Niers LE et al (2017) A virtual asthma clinic for children: fewer routine outpatient visits, same asthma control. Eur Respir J 50(4):1700471

Illyes M, Mengden T, Tisler A (2002) The virtual hypertension clinic. Blood Press Monit 7(1):67–68

Anderson GHJP, McDonald DA, Van Der Meer R, Morton A, Nugent M, Rymaszewski LA (2017) Cost comparison of orthopaedic fracture pathways using discrete event simulation in a Glasgow hospital. BMJ Open 7(9):e014509. https://doi.org/10.1136/bmjopen-2016-014509.)

Bhattacharyya R, Jayaram PR, Holliday R, Jenkins P, Anthony I, Rymaszewski L (2017) The virtual fracture clinic: reducing unnecessary review of clavicle fractures. Injury 48(3):720–723

Robinson PM, Sim F, Latimer M, Mitchell PD (2017) Paediatric fracture clinic re-design: incorporating a virtual fracture clinic. Injury 48(10):2101–2105

McKirdy A, Imbuldeniya AM (2017) The clinical and cost effectiveness of a virtual fracture clinic service: an interrupted time series analysis and before-and-after comparison. Bone Joint Res 6(5):259–269
Ethics declarations
Conflict of interest
The authors declare that they have no conflict of interest.
Additional information
Publisher's note
Springer Nature remains neutral with regard to jurisdictional claims in published maps and institutional affiliations.
About this article
Cite this article
Sheridan, G.A., Nagle, M., Howells, C. et al. A radiographic clinic for developmental dysplasia of the hip (DDH). Ir J Med Sci 189, 27–31 (2020). https://doi.org/10.1007/s11845-019-02039-y
Received:

Accepted:

Published:

Issue Date:

DOI: https://doi.org/10.1007/s11845-019-02039-y
Keywords