Abstract
Background
The purpose of this study is to investigate whether the preoperative comprehensive geriatric assessment (CGA) would predict postoperative delirium (POD) in elderly patients with hip fracture.
Methods
This is an observational study, performed in a tertiary hospital from June 2014 to May 2018, which enrolled patients with hip fracture aged over 65 years. The comprehensive geriatric assessment for recruited patients was carried out before surgery. POD was recorded prospectively until discharge. Delirium was diagnosed according to the Confusion Assessment Method (CAM) algorithm.
Results
POD occurred in 22.09% of the 507 patients who underwent hip surgery. The Barthel index, Mini-Mental State Examination (MMSE), instrumental activities of daily living (IADL), vitality index, and Geriatric Depression Scale (GDS) results were related to the occurrence of POD. All of them were independent factors related to the occurrence of POD after adjusting other traditional risk factors.
Conclusions
The comprehensive geriatric assessment before hip fracture surgery can predict the occurrence of POD in elderly patients.
Access options
Buy single article
Instant access to the full article PDF.
USD 39.95
Price excludes VAT (USA)
Tax calculation will be finalised during checkout.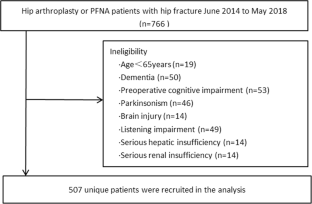 References
Zenilman ME (2017) Delirium: an important postoperative complication. JAMA 317:77–78

Siddiqi N, House AO, Holmes JD (2006) Occurrence and outcome of delirium in medical in-patients: a systematic literature review. Age Ageing 35:350–364

Bruce AJ, Ritchie CW, Blizard R, Lai R, Raven P (2007) The incidence of delirium associated with orthopedic surgery: a meta-anlytic review. Int Psychogeriatr 19:197–214

Reddy SV, Irkal IN, Srinivasamurthy A (2017) Postoperative derium in elderly citizens and current practice. J Anaesthesiol Clin Pharmacol 33:291–299

Parker SG, McCue P, Phelps K, McCleod A, Arora S, Nockels K, Kennedy S, Roberts H, Conroy S (2018) What is comprehensive geriatric assessment (CGA)? An umbrella review. Age Ageing 47:149–155

Parker SG, McLeod A, McCue P, Phelps K, Bardsley M, Roberts HC, Conroy SP (2017) New horizons in comprehensive geriatric assessment. Age Ageing 46:713–721

Denewet N, De Breucker S, Luce S, Kennes B, Higuet S, Pepersack T (2016) Comprehensive geriatric assessment and comorbidities predict survival in geriatric oncology. Acta Clin Belg 71:206–213

Kara O, Canbaz B, Kizilarslanogu MC, Arik G, Sumer F, Aycicek GS, Varan HD, Kilic MK, Dogru RT, Cınar E, Kuyumcu ME, Yesil Y, Ulger Z, Yavuz BB, Halil M, Cankurtaran M (2017) Which parameters affect long-term mortality in older adults: is comprehensive geriatric assessment a predictor of mortality? Aging Clin Exp Res 29:509–515

Folstein MF, Folstein SE, McHugh PR (1975) "Mini-mental state". A practical method for grading the cognitive state of patients for the clinician. J Psychiatr Res 12:189–198

Inouye SK, van Dyck CH, Alessi CA, Balkin S, Siegal AP, Horwitz RI (1990) Clarifying confusion: the confusion assessment method. A new method for detection of delirium. Ann Intern Med 113:941–948

Inouye SK, Westendorp RG, Saczynski JS (2014) Delirium in elderly people. Lancet 383:911–922

Maldonado JR (2018) Delirium pathophysiology: an updated hypothesis of the etiology of acute brain failure. J Geriatr Psychiatry 33:1428–1457

Regal P (2014) Delirium: a synthesis of current knowledge. Clin Med (Lond) 14:454–455

Kassie GM, Nguyen TA, Kalisch Ellett LM, Pratt NL, Roughead EE (2017) Preoperative medication use and postoperative delirium: a systematic review. BMC Geriatr 17:298

Watt J, Tricco AC, Talbot-Hamon C, Pratt NL, Roughead EE (2018) Identifying older adults at risk of delirium following elective surgery: a systematic review and meta-analysis. J Gen Intern Med 33:500–509

Marcantonio ER (2017) Delirium in hospitalized older adults. N Engl J Med 377:1456–1466

Szumacher E, Sattar S, Neve M, Do K, Ayala AP, Gray M, Lee J, Alibhai S, Puts M (2018) Use of comprehensive geriatric assessment and geriatric screening for older adults in the radiation oncology setting: a systematic review. Clin Oncol (R Coll Radiol) 30:578–588

Maekawa Y, Sugimoto K, Yamasaki M, Takeya Y, Yamamoto K, Ohishi M, Ogihara T, Shintani A, Doki Y, Mori M, Rakugi H (2016) Comprehensive geriatric assessment is a useful predictive tool for postoperative deliriumafter gastrointestinal surgery in old-old adults. Geriatr Gerontol Int 16:1036–1042

Xue DD, Cheng Y, Wu M, Zhang Y (2018) Comprehensive geriatric assessment prediction of postoperative complications in gastrointestinal cancer patients: a meta-analysis. Clin Interv Aging 13:723–736
Acknowledgments
We would like to express our thanks to the recruited participants.
Ethics declarations
The study was approved by the Ethics Board of China-Japan Friendship Hospital.
Conflict of interest
The authors declare that they have no conflict of interest.
Additional information
Publisher's note
Springer Nature remains neutral with regard to jurisdictional claims in published maps and institutional affiliations.
About this article
Cite this article
Tao, L., Xiaodong, X., Qiang, M. et al. Prediction of postoperative delirium by comprehensive geriatric assessment among elderly patients with hip fracture. Ir J Med Sci 188, 1311–1315 (2019). https://doi.org/10.1007/s11845-019-02011-w
Received:

Accepted:

Published:

Issue Date:

DOI: https://doi.org/10.1007/s11845-019-02011-w
Keywords
Comprehensive geriatric assessment

Elderly

Hip fracture

Postoperative delirium