Abstract
Background
Antimicrobial resistance is a growing global problem. There has been increasing emphasis on promoting antimicrobial stewardship. Accurate completion of antibiotic prescriptions, such as documentation of clinical indication and a stop/review date, helps promote antimicrobial stewardship.
Aims
To investigate the impact of educational interventions on the completeness of antibiotic prescriptions at Causeway Hospital surgical unit.
Methods
Inpatient drug prescription charts were audited to monitor the completeness of antibiotic prescriptions on the surgical unit. Two educational interventions were implemented, with a subsequent prospective re-audit carried out.
Results
The completion of (1) "Stop date/Review date", (2) "What infection are you treating?", (3) "Cultures sent?", (4) "Printed name", (5) "Professional number", and (6) "Bleep number" fields within the inpatient drug charts increased noticeably in the re-audit. A paired t test, comparing all of the initial audit completion proportions with the re-audit completion proportions, demonstrated a statistically significant improvement (p < 0.05).
Conclusions
Educational interventions led to an improvement in the completeness of antibiotic prescriptions. This highlights the important role that continued audit and education play in the promotion of antimicrobial stewardship.
Access options
Buy single article
Instant access to the full article PDF.
USD 39.95
Price excludes VAT (USA)
Tax calculation will be finalised during checkout.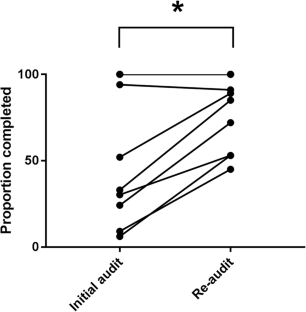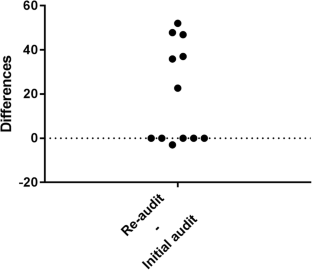 References
Owens RC Jr (2008) Antimicrobial stewardship: concepts and strategies in the 21st century. Diagn Microbiol Infect Dis 61(1):110–128. https://doi.org/10.1016/j.diagmicrobio.2008.02.012

Sartelli M, Catena F, di Saverio S, Ansaloni L, Coccolini F, Tranà C, Kirkby-Bott J (2015) The challenge of antimicrobial resistance in managing intra-abdominal infections. Surg Infect 16(3):213–220. https://doi.org/10.1089/sur.2013.262

Department of Health. (2017) Ireland's National Action Plan on Antimicrobial Resistance 2017-2020. https://health.gov.ie/wp-content/uploads/2017/10/iNAP_web-1.pdf Accessed 18 December 2018

Hospital Antimicrobial Stewardship Working Group. (2017) Recommendations for Implementation of Antimicrobial Stewardship Restrictive Interventions in Acute Hospitals in Ireland. https://www.hse.ie/eng/about/who/qid/nationalsafetyprogrammes/hcaiamr/recommendations-for-restricted-antimicrobials%202017.pdf Accessed 18 December 2018

Public Health Agency (2017) Surveillance of Antimicrobial Use and Resistance in Northern Ireland, Annual Report, 2017. http://www.publichealth.hscni.net/sites/default/files/AMR_annual_report_final_1.pdf Accessed 18 December 2018

National Institute for Health and Care Excellence (NICE). (2015) Antimicrobial stewardship: systems and processes for effective antimicrobial medicine use. https://www.nice.org.uk/guidance/ng15/resources/antimicrobial-stewardship-systems-and-processes-for-effective-antimicrobialmedicine-use-1837273110469 Accessed 18 December 2018

Johnson AP, Ashiru-Oredope D, Beech E (2015) Antibiotic stewardship initiatives as part of the UK 5-year antimicrobial resistance strategy. Antibiotics (Basel) 4(4):467–479. https://doi.org/10.3390/antibiotics4040467

Pollack LA, Plachouras D, Gruhler H et al. (2015) Summary the modified Delphi process for common structure and process indicators for hospital antimicrobial stewardship programs. https://www.cdc.gov/drugresistance/pdf/summary_of_tatfar_recommendation_1.pdf Accessed 18 December 2018

Sartelli M, Duane TM, Catena F, Tessier JM, Coccolini F, Kao LS, de Simone B, Labricciosa FM, May AK, Ansaloni L, Mazuski JE (2016) Antimicrobial stewardship: a call to action for surgeons. Surg Infect 17(6):625–631. https://doi.org/10.1089/sur.2016.187

Public Health England. (2015) Start smart - then focus antimicrobial stewardship toolkit for English hospitals. https://assetspublishingservicegovuk/government/uploads/system/uploads/attachment_data/file/417032/Start_Smart_Then_Focus_FINALPDF Accessed 18 December 2018

Farren D, Nagar A, Dorgan E et al. (2017) Antibiotic Therapy (First-line Empirical) In Hospitalised Adults. Available on NHSCT Intranet. Accessed 23 December 2018

Yeo JM (2016) Antimicrobial stewardship: improving antibiotic prescribing practice in a respiratory ward. BMJ Qual Improv Rep 5(1):w3570. https://doi.org/10.1136/bmjquality.u206491.w3570

Leeds IL, Fabrizio A, Cosgrove SE, Wick EC (2017) Treating wisely: the surgeon's role in antibiotic stewardship. Ann Surg 265(5):871–873. https://doi.org/10.1097/SLA.0000000000002034.

Llewelyn MJ, Hand K, Hopkins S, Walker AS (2015) Antibiotic policies in acute English NHS trusts: implementation of 'Start Smart-Then Focus' and relationship with Clostridium difficile infection rates. J Antimicrob Chemother 70(4):1230–1235. https://doi.org/10.1093/jac/dku515.

Sartelli M, Labricciosa FM, Barbadoro P, Pagani L, Ansaloni L, Brink AJ, Carlet J, Khanna A, Chichom-Mefire A, Coccolini F, di Saverio S, May AK, Viale P, Watkins RR, Scudeller L, Abbo LM, Abu-Zidan FM, Adesunkanmi AK, al-Dahir S, al-Hasan MN, Alis H, Alves C, Araujo da Silva AR, Augustin G, Bala M, Barie PS, Beltrán MA, Bhangu A, Bouchra B, Brecher SM, Caínzos MA, Camacho-Ortiz A, Catani M, Chandy SJ, Jusoh AC, Cherry-Bukowiec JR, Chiara O, Colak E, Cornely OA, Cui Y, Demetrashvili Z, de Simone B, de Waele JJ, Dhingra S, di Marzo F, Dogjani A, Dorj G, Dortet L, Duane TM, Elmangory MM, Enani MA, Ferrada P, Esteban Foianini J, Gachabayov M, Gandhi C, Ghnnam WM, Giamarellou H, Gkiokas G, Gomi H, Goranovic T, Griffiths EA, Guerra Gronerth RI, Haidamus Monteiro JC, Hardcastle TC, Hecker A, Hodonou AM, Ioannidis O, Isik A, Iskandar KA, Kafil HS, Kanj SS, Kaplan LJ, Kapoor G, Karamarkovic AR, Kenig J, Kerschaever I, Khamis F, Khokha V, Kiguba R, Kim HB, Ko WC, Koike K, Kozlovska I, Kumar A, Lagunes L, Latifi R, Lee JG, Lee YR, Leppäniemi A, Li Y, Liang SY, Lowman W, Machain GM, Maegele M, Major P, Malama S, Manzano-Nunez R, Marinis A, Martinez Casas I, Marwah S, Maseda E, McFarlane ME, Memish Z, Mertz D, Mesina C, Mishra SK, Moore EE, Munyika A, Mylonakis E, Napolitano L, Negoi I, Nestorovic MD, Nicolau DP, Omari AH, Ordonez CA, Paiva JA, Pant ND, Parreira JG, Pędziwiatr M, Pereira BM, Ponce-de-Leon A, Poulakou G, Preller J, Pulcini C, Pupelis G, Quiodettis M, Rawson TM, Reis T, Rems M, Rizoli S, Roberts J, Pereira NR, Rodríguez-Baño J, Sakakushev B, Sanders J, Santos N, Sato N, Sawyer RG, Scarpelini S, Scoccia L, Shafiq N, Shelat V, Sifri CD, Siribumrungwong B, Søreide K, Soto R, de Souza HP, Talving P, Trung NT, Tessier JM, Tumbarello M, Ulrych J, Uranues S, van Goor H, Vereczkei A, Wagenlehner F, Xiao Y, Yuan KC, Wechsler-Fördös A, Zahar JR, Zakrison TL, Zuckerbraun B, Zuidema WP, Catena F (2017) The Global Alliance for Infections in Surgery: defining a model for antimicrobial stewardship-results from an international cross-sectional survey. World J Emerg Surg 12:34. https://doi.org/10.1186/s13017-017-0145-2

Davey P, Marwick CA, Scott CL, Charani E, McNeil K, Brown E, Gould IM, Ramsay CR, Michie S, Cochrane Effective Practice and Organisation of Care Group (2017) Interventions to improve antibiotic prescribing practices for hospital inpatients. Cochrane Database Syst Rev 2:CD003543. https://doi.org/10.1002/14651858.CD003543.pub4.

Ashiru-Oredope D, Budd EL, Bhattacharya A, Din N, McNulty CAM, Micallef C, Ladenheim D, Beech E, Murdan S, Hopkins S (2016) Implementation of antimicrobial stewardship interventions recommended by national toolkits in primary and secondary healthcare sectors in England: TARGET and Start Smart Then Focus. J Antimicrob Chemother 71(5):1408–1414. https://doi.org/10.1093/jac/dkv492

Donnelly P, Lawson S, Watterson C (2015) Improving paediatric prescribing practice in a district general hospital through implementation of a quality improvement programme. BMJ Qual Improv Rep 4(1):w3769. https://doi.org/10.1136/bmjquality.u206996.w3769

Popovski Z, Mercuri M, Main C, Sne N, Walsh K, Sung M, Rice T, Mertz D (2015) Multifaceted intervention to optimize antibiotic use for intra-abdominal infections. J Antimicrob Chemother 70(4):1226–1229. https://doi.org/10.1093/jac/dku498.

Tonkin-Crine S, Walker AS, Butler CC (2015) Contribution of behavioural science to antibiotic stewardship. BMJ 350:h3413. https://doi.org/10.1136/bmj.h3413
Ethics declarations
This article does not contain any studies with human participants or animals performed by any of the authors.
Conflict of interest
The authors declare that they have no conflict of interest.
Additional information
Publisher's note
Springer Nature remains neutral with regard to jurisdictional claims in published maps and institutional affiliations.
About this article
Cite this article
Johnston, D.N., Keshtkar, F. & Campbell, W. The effect of re-audit and education on antibiotic prescribing practice at Causeway Hospital, Northern Ireland. Ir J Med Sci 188, 1149–1153 (2019). https://doi.org/10.1007/s11845-019-01995-9
Received:

Accepted:

Published:

Issue Date:

DOI: https://doi.org/10.1007/s11845-019-01995-9
Keywords
Antibiotic

Antimicrobial resistance

Antimicrobial stewardship

Audit

Prescribing

Prescription