Abstract
Background
The first research to determine synovial fluid ADAMTS4 and serglycin levels in osteoarthritis and OA progression.
Aim
We aimed to determine ADAMTS4 and serglycin levels, interactions, and changes in the synovial fluid of knee OA, and also to determine effective in OA progression.
Methods
A case-control study was carried out including a total of 88 participants (29 patients late OA [LOA], 28 early OA [EOA], and 30 controls). Synovial fluid serglycin and ADAMTS4 levels were measured by commercially available ELISA kits, and knee functions of the patients were evaluated with The Western Ontario and McMaster Universities Osteoarthritis score (WOMAC). Logistic regression analysis was applied for the associated with progression of OA.
Results
Synovial fluid ADAMTS4 and serglycin levels were significantly higher in LOA than EOA and control groups (p < .001 and p < .001; p = .038 and p = .007, respectively). All parameters were evaluated after adjustment for age. LOA patients had significantly higher levels of WOMAC score than EOA and controls (p < .001 and p < .001). According to the logistic regression analysis, synovial fluid ADAMTS4, serglycin levels, and WOMAC score were found to be significantly associated with progression of OA.
Access options
Buy single article
Instant access to the full article PDF.
USD 39.95
Price excludes VAT (USA)
Tax calculation will be finalised during checkout.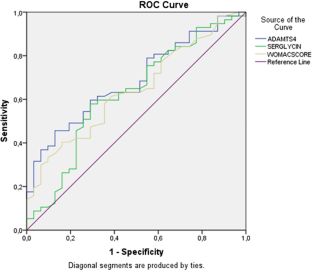 References
Dillon CF, Rasch EK, Gu Q et al (2006) Prevalence of knee osteoarthritis in the United States: arthritis data from thethird national health and nutrition examination survey 1991–94. J Rheumatol 33(11):2271–2279

Maroudas A (1976) Balance between swelling pressure and collagen tension in normal and degenerate cartilage. Nature (London) 260:808–809

Song RH, Tortorella MD, Malfait AM et al (2007) Aggrecan degradation in human articular cartilage explants is mediated by both ADAMTS-4 and ADAMTS-5. Arthritis Rheum 56:575–585

Arner EC (2002) Aggrecanase-mediated cartilage degradation. Curr Opin Pharmacol 2:322–329

Yaykasli KO, Hatipoglu OF, Yaykasli E et al (2015) Leptin induces ADAMTS-4, ADAMTS-5, and ADAMTS-9 genes expression by mitogen-activated protein kinases and NF-ĸB signaling pathways in human chondrocytes. Cell Biol Int 39(1):104–112. https://doi.org/10.1002/cbin.10336

Malfait AM, Liu RQ, Ijiri K, Komiya S, Tortorella MD (2002) Inhibition of ADAM-TS4 and ADAM-TS5 prevents aggrecan degradation in osteoarthritic cartilage. J Biol Chem 277:22201–22208

Scully OJ, Chua PJ, Harve KS, Bay BH, Yip GW (2012) Serglycin in health and diseases. Anat Rec (Hoboken) 295(9):1415–1420. https://doi.org/10.1002/ar.22536

Schick BP, Gradowski JF, San Antonio JD (2001) Synthesis, secretion, and subcellular localization of serglycin proteoglycan in human endothelial cells. Blood 97(2):449–458

Omtvedt LA, Kolset SO, Thoen J, Førre Y, Gill MR (2001) Serglycin expression in CD2+ and CD14+ cells from patients with various rheumatic diseases. Scand J Rheumatol 30(3):164–166

Zhang L, Yang M, Yang D, Cavey G, Davidson P, Gibson G (2010) Molecular interactions of MMP-13 C-terminal domain with chondrocyte proteins. Connect Tissue Res 51(3):230–239. https://doi.org/10.3109/03008200903288902

Kellgren JH, Lawrence JS (1957) Radiological assessment of osteoarthrosis. Ann Rheum Dis 16:494e502

Bellamy N, Buchanan WW, Goldsmith CH, Campbell J, Stitt LW (1988) Validation study of WOMAC: a health status instrument for measuring clinically important patient relevant outcomes to anti-rheumatic drug therapy in patients with osteoarthritis of the hip or knee. J Rheumatol 15:1833–1840

Tüzün EH, Eker L, Aytar A, Daşkapan A, Bayramoğlu M (2005) Acceptability, reliability, validity and responsiveness of the Turkish version of WOMAC osteoarthritis index. Osteoarthr Cartil 13(1):28–33

Miller RG. (1966) Simultaneous statistical inference. McGraw-Hill: New York

Xue J, Wang J, Liu Q et al (2013) Tumor necrosis factor-α induces ADAMTS-4 expression in human osteoarthritis chondrocytes. Mol Med Rep 8(6):1755–1760. https://doi.org/10.3892/mmr.2013.1729

He Y, Zheng Q, Jiang M, Sun S, Christiansen TG, Kassem M, Karsdal MA, Bay-Jensen AC (2015) The effect of protease inhibitors on the induction of osteoarthritis-related biomarkers in bovine full-depth cartilage explants. PLoS One 10(4):e0122700. https://doi.org/10.1371/journal.pone.0122700

Moulharat N, Lesur C, Thomas M, Rolland-Valognes G, Pastoureau P, Anract P, de Ceuninck F, Sabatini M (2004) Effects of transforming growth factor-beta on aggrecanase production and proteoglycan degradation by human chondrocytes in vitro. Osteoarthr Cartil 12(4):296–305

Roberts S, Evans H, Wright K, van Niekerk L, Caterson B, Richardson JB, Kumar KHS, Kuiper JH (2015) ADAMTS-4 activity in synovial fluid as a biomarker of inflammation and effusion. Osteoarthr Cartil 23(9):1622–1626. https://doi.org/10.1016/j.joca.2015.05.006

Peng S, Zheng Q, Zhang X, Dai L, Zhu J, Pi Y, Hu X, Cheng W, Zhou C, Sha Y, Ao Y (2013) Detection of ADAMTS-4 activity using a fluorogenic peptide-conjugated Au nanoparticle probe in human knee synovial fluid. ACS Appl Mater Interfaces 5(13):6089–6096. https://doi.org/10.1021/am400854z.

Zhang E, Yan X, Zhang M, Chang X, Bai Z, He Y, Yuan Z (2013) Aggrecanases in the human synovial fluid at different stages of osteoarthritis. Clin Rheumatol 32(6):797–803. https://doi.org/10.1007/s10067-013-2171-0

Kamm JL, Nixon AJ, Witte TH (2010) Cytokine and catabolic enzyme expression in synovium, synovial fluid and articular cartilage of naurally osteoarthritic equine carpi. Equine Vet J 42(8):693–699. https://doi.org/10.1111/j.2042-3306.2010.00140.x

Bau B, Gebhard PM, Haag J, Knorr T, Bartnik E, Aigner T (2002) Relative messenger RNA expression profiling of collagenases and aggrecanases in human articular chondrocytes in vivo and in vitro. Arthritis Rheum 46:2648e57

Wang P, Tortorella M, England K, Malfait AM, Thomas G, Arner EC, Pei D (2004) Proprotein convertase furin interacts with and cleaves pro-ADAMTS4 (Aggrecanase-1) in the trans-Golgi network. J Biol Chem 279(15):15434–15440

Mayer G, Hamelin J, Asselin MC, Pasquato A, Marcinkiewicz E, Tang M, Tabibzadeh S, Seidah NG (2008) The regulated cell surface zymogen activation of the proprotein convertase PC5A directs the processing of its secretory substrates. J Biol Chem 283(4):2373–2384

Ariyoshi W, Takahashi N, Hida D, Knudson CB, Knudson W (2012) Mechanisms involved in enhancement of the expression and function of aggrecanases by hyaluronan oligosaccharides. Arthritis Rheum 64(1):187–197. https://doi.org/10.1002/art.33329

Kataoka Y, Ariyoshi W, Okinaga T, Kaneuji T, Mitsugi S, Takahashi T, Nishihara T (2013) Mechanisms involved in suppression of ADAMTS4 expression in synoviocytes by high molecular weight hyaluronic acid. Biochem Biophys Res Commun 432(4):580–585. https://doi.org/10.1016/j.bbrc.2013.02.043

Erwin WM, Islam D, Inman RD, Fehlings MG, Tsui FWL (2011) Notochordal cells protect nucleus pulposus cells from degradation and apoptosis: implications for the mechanisms of intervertebral disc degeneration. Arthritis Res Ther 13(6):R215. https://doi.org/10.1186/ar3548

Korpetinou A, Skandalis SS, Labropoulou VT, Smirlaki G, Noulas A, Karamanos NK, Theocharis AD (2014) Serglycin: at the crossroad of inflammation and malignancy. Front Oncol 3:327. https://doi.org/10.3389/fonc.2013.00327

D'Ascola A, Scuruchi M, Avenoso A, Bruschetta G, Campo S, Mandraffino G, Campo GM (2018) Serglycin is involved in inflammatory response in articular mouse chondrocytes. Biochem Biophys Res Commun 499(3):506–512. https://doi.org/10.1016/j.bbrc.2018.03.178

Toyama-Sorimachi N, Kitamura F, Habuchi H, Tobita Y, Kimata K, Miyasaka M (1997) Widespread expression of chondroitin sulfate type serglycins with CD44 binding ability in hematopoietic cells. J Biol Chem 272(42):26714–26719

Lord MS, Cheng B, Farrugia BL, McCarthy S, Whitelock JM (2017) Platelet factor 4 binds to vascular proteoglycans and controls both growth factor activities and platelet activation. J Biol Chem 292(10):4054–4063

de Girolamo L, Kon E, Filardo G, Marmotti AG, Soler F, Peretti GM, Vannini F, Madry H, Chubinskaya S (2016) Regenerative approaches for the treatment of early OA. Knee Surg Sports Traumatol Arthrosc 24(6):1826–1835. https://doi.org/10.1007/s00167-016-4125-y
Acknowledgements
We would like to thank patients and staff who participated in the study.
Funding
The author did not receive financial support from any institution for this study.
Ethics declarations
Conflict of interest
The author declares no conflict of interest.
Additional information
Publisher's Note
Springer Nature remains neutral with regard to jurisdictional claims in published maps and institutional affiliations.
About this article
Cite this article
ÖZLER, k. The role of increased synovial fluid A disintegrin and metalloproteinase with thrombospondin motifs4 and serglycin levels in osteoarthritis. Ir J Med Sci 188, 867–872 (2019). https://doi.org/10.1007/s11845-018-1945-4
Received:

Accepted:

Published:

Issue Date:

DOI: https://doi.org/10.1007/s11845-018-1945-4
Keywords