Abstract
Background
Home enteral tube feeding (HETF) is imperative for many infants and children with congenital heart disease (CHD). Tube weaning (TW) facilitates the progression from tube feeding to oral diet. There is limited literature on TW practices, protocols and success for children with CHD that have been tube fed.
Aims
The objective of this study is to assess the process of weaning HETF in a tertiary referral centre for paediatric CHD. Specifically, we aimed to assess the duration of HETF, duration of TW and the interventions involved.
Methods
We retrospectively reviewed the medical and dietetic records of all infants and children that were successfully weaned off HETF over a 12-month period from January 2015 to December 2015.
Results
There were 30 children included in the study, 9 boys and 21 girls. The diagnoses included 15 septal defects, 8 univentricular diagnosis and other diagnoses in 7 children. The median age at initiation of enteral tube feeding was 45 days (range 2–169). The median duration to wean from enteral tube feeding was 52 days (range 2–359). Number of dietetic consults required for successful TW varied among patients, median 5 (range 2–23). The number of days required for successful TW was associated with age and duration on HETF. Dietetic interventions included discontinuation of nutrient dense feeds, altering feed schedule and reduction of feed volume.
Conclusions
Weaning HETF is possible in the outpatient setting. Early and frequent dietetic intervention is recommended to ensure prompt discontinuation of HETF when appropriate.
This is a preview of subscription content, log in to check access.
Access options
Buy single article
Instant access to the full article PDF.
US$ 39.95
Tax calculation will be finalised during checkout.
Subscribe to journal
Immediate online access to all issues from 2019. Subscription will auto renew annually.
US$ 79
Tax calculation will be finalised during checkout.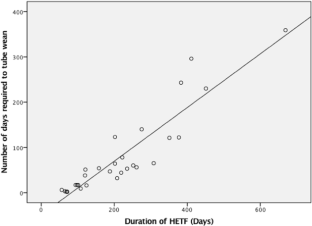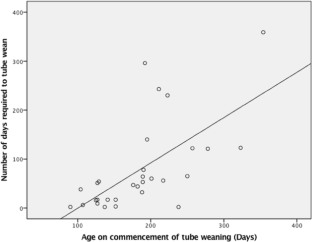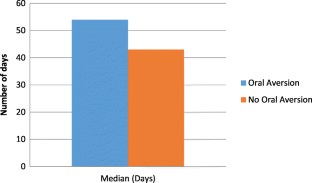 References
1.

Bernier PL, Stefanescu A, Samoukovic G, Tchervenkov CI (2010) The challenge of congenital heart disease worldwide: epidemiologic and demographic facts. Semin Thorac Cardiovasc Surg Pediatr Card Surg Annu 13:26–34

2.

Casey F, Mckusker C (2016) The evolution of diagnosis, treatments, and outcomes congenital heart disease and neurodevelopment. 3-13 ISBN: 978-0-12-801640-4

3.

Oliver JM, Pastora Gallego AE, Garcia G et al (2015) Contemporary life expectancy and standardized mortality of adult survivors with congenital heart lesions. Circulation 32:A109–A119

4.

McKean E, Kasparian N, Batra S, Sholler G, Winlaw D, Dalby-Payne J (2017) Feeding difficulties in neonates following cardiac surgery: determinants of prolonged feeding-tube use. Cardiol Young 27(6):1203–1211. https://doi.org/10.1017/S1047951116002845

5.

Medoff-Cooper B, Irving S, Aleaxandra L et al (2016) The association among feeding mode, growth, and developmental outcomes in infants with complex congenital heart disease at 6 and 12 months of age. J Pediatr 169:154–159

6.

Natarajan G, Reddy Anne S, Aggarwal S (2010) Enteral feeding of neonates with congenital heart disease. Neonatology 98(4):330–336

7.

Kogon BE, Ramaswamy V, Todd K et al (2007) Feeding difficulty in newborns following congenital heart surgery. Congenit Heart Dis 2(5):332–337

8.

Toms R, Jackson KW, Dabal RJ, Reebals CH, Alten JA (2015) Preoperative trophic feeds in neonates with hypoplastic left heart syndrome. Congenit Heart Dis 10(1):36–42

9.

Dunitz-Scheer M, Marinschek S, Beckenbach H, Kratky E, Hauer A, Scheer P (2011) Tube dependence. A reactive eating behavior disorder. ICAN: Infant Child Adolesc Nutr 3:209–215

10.

Indramohan G, Pedigo TP, Rostoker N, Cambare M, Grogan T, Federman MD (2017) Identification of risk factors for poor feeding in infants with congenital heart disease and a novel approach to improve oral feeding. J Pediatr Nurs 35:149–154

11.

Mason SJ, Harris G, Blissett J (2005) Tube feeding in infancy: implications for the development of normal eating and drinking skills. Dysphagia 20(1):46–61

12.

Pedersen SD, Parsons HG, Dewey D (2004) Stress levels experienced by the parents of enterally fed children. Child Care Health Dev 30(5):507–513

13.

Shortall C, Aherne M, Boland S, Sheane R, Ward F, Hensey O (2015) Hospital to home paediatric enteral nutrition—parents need support. Ir Med J 108(2):46–48

14.

Dunitz-Scheer MLARY, Kratky E, Beckenbach H et al (2009) Prevention and treatment of tube dependency in infancy and early childhood. ICAN: Infant Child Adolesc Nutr 1(73):73–82

15.

Wilken MCV, Echtermeyer S (2016) Home-based feeding tube weaning. Childhood Obes Nutr 7(5):200–207. https://doi.org/10.1177/1941406415591207

16.

Gardiner AY, Fuller DG, Vuillermin PJ (2014) Tube-weaning infants and children: a survey of Australian and international practice. J Paediatr Child Health 50:626–631. https://doi.org/10.1111/jpc.12608

17.

Silverman AH, Kirby M, Clifford L et al (2013) Nutritional and psychosocial outcomes of gastrostomy tube-dependent children completing an intensive inpatient behavioral treatment program. J Pediatr Gastroenterol Nutr 57(5):668–672

18.

Hartdorff CM, Kneepkens F, Stok-Akerboon A et al (2015) Clinical tube weaning supported by hunger provocation in fully-tube-fed children. J Pediatr Gastroenterol Nutr 60(4):538–543

19.

Mirete J, Thouvenin B, Malecot G et al (2018) A program for weaning children from enteral feeding in a general paediatric unit: how, for whom and with what results? Front Pediatr 6:10. https://doi.org/10.3389/fped.2018.0001

20.

Marinshek S, Dunitz-Scheer M, Pansini K et al (2014) Weaning children off enteral nutrition by netcoaching versus onsite treatment: a comparative study. J Paediatr Child Health 50(11):902–907. https://doi.org/10.1111/ipc.12662

21.

Celia Butler, Zelda Greene. (2013) N° OP26. 'Yes we can eat 'Ireland's first feeding tube weaning programme for children with complex cardiac and medical conditions. Congress Dysphagia, Diagnosis and Treatment, Abstract Book. http://www.myessd.org/docs/congresses/congres_2013.pdf. Accessed 31 Jan 2017

22.

WHO (2006) The WHO child growth standards website [Online]. http://www.who.int/childgrowth/en/ Accessed 31 Jan 2017

23.

Fenton TR, Kim JH (2013) A systematic review and meta-analysis to revise the Fenton growth chart for preterm infants. BMC Pediatr 13:5

24.

Zemel BS, Pipan M, Stallings VA, Hall W et al (2015) Growth Charts for children with Down syndrome in the United States. Pediatrics 136(5):e1204–e1211. https://doi.org/10.1542/peds.2015-1652

25.

Value for Money and Policy Review of the Economic Cost and Charges Associated with Private and Semi-Private Treatment Services in Public Hospitals – Final Report. Value for Money and Policy Review of the Economic Cost and Charges Associated with Private and Semi-Private Treatment Services in Public Hospitals–Final Report. http://health.gov.ie/wpcontent/uploads/2014/06/vfm_review_economic_cost_final_report.pdf. Accessed 31 Jan 2017

26.

Toole BJ, Toole LE, Kyle UG, Cabrera AG, Orellana RA, Coss-Bu JA (2014) Perioperative nutritional support and malnutrition in infants and chi ldren with congenital heart disease. Congenit Heart Dis 9(1):15–25

27.

Radman M, Mack R, Barnoya J, Castañeda A, Rosales M, Azakie A, Mehta N, Keller R, Datar S, Oishi P, Fineman J (2014) The effect of preoperative nutritional status on postoperative outcomes in children undergoing surgery for congenital heart defects in San Francisco (UCSF) and Guatemala City (UNICAR). J Thorac Cardiovasc Surg 147(1):442–450

28.

Medoff-Cooper B, Ravishankar C (2013) Nutrition and growth in congenital heart disease: a challenge in children. Curr Opin Cardiol 28(2):122–129

29.

Sables-Baus S, Kaufman J, Cook P, da Cruz EM (2012) Oral feeding outcomes in neonates with congenital cardiac disease undergoing cardiac surgery. Cardiol Young 22(1):42–48

30.

Krom H, de Winter JP, Kindermann A (2017) Development, prevention, and treatment of feeding tube dependency. Eur J Pediatr 176(6):683–688

31.

Ishizaki A, Hironaka S, Tatsuno M, Mukai Y (2013) Characteristics of and weaning strategies in tube-dependent children. Pediatr Int 55(2):208–213

32.

Carruth BR, Ziegler PJ, Gordon A, Hendricks K (2004) Developmental milestones and self-feeding behaviors in infants and toddlers. J Am Diet Assoc 104(1 Suppl 1):s51–s56

33.

Barton JS, Hindmarsh PC, Scrimgeour CM, Rennie MJ, Preece MA (1994) Energy expenditure in congenital heart disease. Arch Dis Child 70(1):5–9

34.

Ackerman IL, Karn CA, Denne SC, Ensing GJ, Leitch CA (1998) Total but not resting energy expenditure is increased in infants with ventricular septal defects. Pediatrics 102(5):1172–1177

35.

Scientific Advisory Committee on Nutrition (2011) Dietary recommendations for energy: Working Group Report. https://www.gov.uk/government/uploads/system/uploads/attachment_data/file/339317/SACN_Dietary_Reference_Values_for_Energy.pdf. Accessed Jan 2017

36.

Singhal S, Baker SS, Bojczuk GA, Baker RD (2017) Tube feeding in children. Pediatr Rev 38(1):23–34

37.

Dunitz-Scheer MMS, Beckenback H, Kratky E et al (2011) Tube dependence a reactive eating behaviour disorder. ICAN: Infant Child Adolesc Nutr 3(4):73–82

38.

Greene Z, O'Donnell CP, Walshe M (2016) Oral stimulation techniques in preterm infants- International research challenges. J Neonatal Nurs 19(4):168–174

39.

Wright CM, Cameron K, Tsiaka M, Parkinson KN (2011) Is baby-led weaning feasible? When do babies first reach out for and eat finger foods? Matern Child Nutr 7(1):27–33
Ethics declarations
Conflict of interest
The authors have no conflicts of interest relevant to this article to disclose.
Informed consent
This study complied with guidelines from Our Lady's Children's Hospital Ethical Committee. Informed consent was not obtained as this was a retrospective observational study.
Additional information
The original version of this article was revised: The original version of this article inadvertently used early drafts of Figures 1 and 2. Also, The correct affiliation of Dr. Daragh Gerard Finn and Dr. Colin J McMahon is Department of Paediatric Cardiology, Our Lady's Children's Hospital Crumlin, Crumlin, Dublin 12, Ireland.
About this article
Cite this article
Shine, A.M., Finn, D.G., Allen, N. et al. Transition from tube feeding to oral feeding: experience in a tertiary care paediatric cardiology unit. Ir J Med Sci 188, 201–208 (2019). https://doi.org/10.1007/s11845-018-1812-3
Received:

Accepted:

Published:

Issue Date:
Keywords
Congenital heart disease

Home enteral tube feeding

Tube dependency

Tube dependent

Tube feeding

Tube weaning