Abstract
Introduction
Approximately 10% of breast cancer patients will present with solid organ metastases, while up to 30% will develop metastatic disease during their treatment course. Liver metastases are usually treated with systemic chemotherapy. Although colorectal liver metastases are routinely resected, this is not yet the standard of care for breast cancer-related liver metastases. This review examines the evidence for resection of breast cancer-related liver metastases.
Methods
A systematic review identified 25 articles for inclusion, 12 papers concerning patients with isolated liver metastases, and 13 papers concerning patients with extrahepatic metastases. Data from 1080 patients were included.
Results
Two hundred eighty patients underwent hepatic resections for breast cancer-associated metastases with no extrahepatic metastases. Reported 5-year survival ranged from 24.6 to 78%. Median overall survival ranged from 29.5 to 116 months. For patients with oligometastatic disease undergoing resection, 5-year survival ranged from 21 to 57%, with median overall survival ranging from 32 to 58 months. Reported 30-day morbidity ranged from 14 to 42% for isolated and multiple metastases.
Conclusion
Hepatic resection can be considered in the management of breast cancer patients with isolated liver metastases as well as those with oligometastatic disease.
Access options
Buy single article
Instant access to the full article PDF.
US$ 39.95
Tax calculation will be finalised during checkout.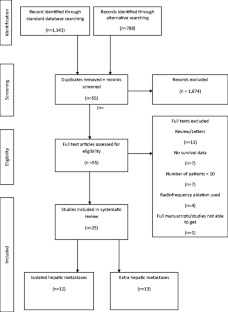 References
1.

Siegel RL, Miller KD, Jemal A (2017) Cancer statistics. CA J Clin 67(1):1–85

2.

Cordoso F, Fallowfeild L, Costa A, Castiglione M, Senkus E et al (2012) Locally recurrent or metastatic breast cancer. ESMO clinical practice guidelines, treatment and follow-up. Ann Oncol 23(7):11–19

3.

Dawood S, Broglio K, Ensor J, Hortobagyi GN, Giordano SH (2010) Survival differences among women with de novo stage IV and relapsed breast cancer. Ann Oncol 21(11):2169–2174. https://doi.org/10.1093/annonc/mdq220

4.

Fodor J, Major T, József T, Zoltán S, Csaba P (2011) Comparison of mastectomy with breast-conserving surgery in invasive lobular carcinoma: 15-year results. Rep Pract Oncol Radiother 16(6):227–231. https://doi.org/10.1016/j.rpor.2011.06.005

5.

Bacalbasa N, Balescu I, Dima S, Popescu I (2015) Long-term survivors after liver resection for breast cancer liver metastases. Anticancer Res 35(12):6913–9617

6.

Hess KR, Varadhachary GR, Taylor SH, Wei W, Raber MN, Lenzi R, Abbruzzese JL (2006) Metastatic patterns in adenocarcinoma. Cancer 106(7):1624–1633. https://doi.org/10.1002/cncr.21778

7.

Berman AT, Thukral AD, Hwang WT, Solin LJ, Vapiwala N (2013) Incidence and patterns of distant metastases for patients with early-stage breast cancer after breast conservation treatment. Clinical Breast Cancer 13(2):88–94. https://doi.org/10.1016/j.clbc.2012.11.001

8.

Lee YT (1984) Breast carcinoma: pattern of recurrence and metastasis after mastectomy. Am J Clin Oncol 7:443–449

9.

Singletary SE, Walsh G, Vauthey JN, Curley S, Sawaya R, Weber KL, Meric F, Hortobágyi GN (2003) A role for curative surgery in the treatment of selected patients with metastatic breast cancer. Oncologist 8(3):241–251. https://doi.org/10.1634/theoncologist.8-3-241

10.

Campos SM, Guastalla JP, Subar M, Abreu P, Winer EP, Cameron DA (2009) A comparative study of exemestane versus anastrozole in patients with postmenopausal breast cancer with visceral metastases. Clin Breast Cancer 9(1):39–44. https://doi.org/10.3816/CBC.2009.n.007

11.

Crump M, Gluck S, Tu D et al (2008) Randomized trial of high-dose chemo-therapy with autologous peripheral-blood stem-cell support compared with standard-dose chemotherapy in women with metastatic breast cancer: NCIC MA.16. J Clin Oncol 26(1):37–43

12.

Pockaj BA, Wasif N, Dueck A et al (2010) Metastasectomy and surgical resection of the primary tumor in patients with stage IV breast cancer. Ann Surg Oncol 17(9):2419–2426. https://doi.org/10.1245/s10434-010-1016-1

13.

Malassagne B, Goere D, Cherqui D, Fagniez PL (2000) Surgical treatment of non-colorectal and non-endocrine liver metastases. Gastroenterology Clin. Biol 24:1177–1185

14.

Poon RT, Fan ST, Lo CM et al (2004) Improving perioperative outcome expands the role of hepatectomy in management of benign and malignant hepatobiliary diseases: analysis of 1222 consecutive patients from a prospective database. Ann Surg 240:698–708

15.

Jarnagin WR, Gonen M, Fong Y et al (2002) Improvement in perioperative outcome after hepatic resection: analysis of 1,803 consecutive cases over the past decade. Ann Surg 236(4):397–406

16.

Abdalla EK, Vauthey JN, Ellis LM et al (2004) Recurrence and outcomes following hepatic resection, radiofrequency ablation and combined resection/ablation for colorectal liver metastasis. Ann Surg 239(6):818–825. https://doi.org/10.1097/01.sla.0000128305.90650.71

17.

DeJong MC, Pulitano C, Ribero D et al (2009) Rates and patterns of recurrence following curative intent surgery for colorectal liver metastasis: an international multi-institutional analysis of 1669 patients. Ann Surg 250(12):440–448

18.

Schemmer P, Friess H, Hinz U et al (2006) Stapler hepatectomy is a safe dissection technique: analysis of 300 patients. World J Surg 30:419–430

19.

Mavros MN, de Jong M, Dogeas E et al (2013) Impact of complications on long-term survival after resection of colorectal liver metastases. Br J Surg 100(5):711–718

20.

Vlastos G, Smith DL, Singletary SE, Mirza NQ, Tuttle TM, Popat RJ, Curley SA, Ellis LM, Roh MS, Vauthey JN (2004) Long-term survival after an aggressive surgical approach in patients with breast cancer hepatic metastases. Ann Surg Oncol 11(9):869–874. https://doi.org/10.1245/ASO.2004.01.007

21.

Salgado R, Denkert C, Campbell C et al (2015) Tumor-infiltrating lymphocytes and associations with pathological complete response and event-free survival in HER2-positive early-stage breast cancer treated with lapatinib and trastuzumab: a secondary analysis of the NeoALTTO Trial. JAMA Oncol 1:448–454

22.

Zhang P, Yin Y, Mo H et al (2016) Better pathologic complete response and relapse-free survival after carboplatin plus paclitaxel compared with epirubicin plus paclitaxel as neoadjuvant chemotherapy for locally advanced triple-negative breast cancer: a randomized phase 2 trial. Oncotarget 7:60647–60656

23.

Schoellhammer HF, Hsu F, Vito C, Chu P, Park J, Waisman J, Kim J (2014) Complete pathologic response of HER2-positive breast cancer liver metastasis with dual anti-HER2 antagonism. BMC Cancer 14(1):242. https://doi.org/10.1186/1471-2407-14-242

24.

Liberati A, Altman DG, Tetzlaff J, Mulrow C, Gotzsche PC, Ioannidis JP et al (2009) The PRISMA statement for reporting systematic reviews and meta-analyses of studies that cevaluate healthcare interventions: explanation and elaboration. BMJ 339(jul21 1):b2700. https://doi.org/10.1136/bmj.b2700

25.

Bacalbasa N, Dima SO, Purtan-Purnichescu R, Herlea V, Popescu I (2014) Role of surgical treatment in breast cancer liver metastases: a single center experience. Anticancer Res 34(10):5563–5568

26.

Bockhorn M, Frilling A, Busche C, Fingas C, Molmenti E, Broelsch CE (2010) Outcome after resection of breast cancer liver metastases. Int J Hepatol 1(3):39–43

27.

Duan XF, Dong NN, Zhang T, Li Q (2012) Comparison of surgical outcomes in patients with colorectal liver metastases versus non-colorectal liver metastases: a Chinese experience. Hepatol Res 42(3):296–303. https://doi.org/10.1111/j.1872-034X.2011.00917.x

28.

Ercolani G, Grazi GL, Ravaioli M, Ramacciato G, Cescon M, Varotti G, del Gaudio M, Vetrone G, Pinna AD (2005) The role of liver resections for noncolorectal, nonneuroendocrine metastases: experience with 142 observed cases. Ann Surg Oncol 12(6):459–466. https://doi.org/10.1245/ASO.2005.06.034

29.

Kollmar O, Moussavian MR, Richter S, Bolli M, Schilling MK (2008) Surgery of liver metastasis in gynecological cancer—indication and results. Onkologie 31(7):375–379. https://doi.org/10.1159/000135516

30.

Lendoire J, Moro M, Andriani O, Grondona J, Gil O, Raffin G, Silva J, Bracco R, Podestá G, Valenzuela C, Imventarza O, Pekolj J, de Santibañes E (2007) Liver resection for non-colorectal, non-neuroendocrine metastases: analysis of a multicenter study from Argentina. HPB (Oxford) 9(6):435–439. https://doi.org/10.1080/13651820701769701

31.

Lubrano J, Roman H, Tarrab S, Resch B, Marpeau L, Scotté M (2008) Liver resection for breast cancer metastasis: does it improve survival? Surg Today 38(4):293–299. https://doi.org/10.1007/s00595-007-3617-2

32.

Martinez SR, Young SE, Giuliano AE, Bilchik AJ (2006) The utility of estrogen receptor, progesterone receptor, and Her-2/neu status to predict survival in patients undergoing hepatic resection for breast cancer metastases. Am J Surg 191(2):281–283. https://doi.org/10.1016/j.amjsurg.2005.08.030

33.

Polistina F, Fabbri A, Ambrosino G (2013) Hepatic colorectal metastases involving infra-hepatic inferior vena cava in high risk patients for extended resection: an alternative method for achieving radical resection in patient with borderline liver remnant. Indian J Surg 75(3):220–225. https://doi.org/10.1007/s12262-012-0681-7

34.

Vertriest C, Berardi G, Tomassini F, vanden Broucke R, Depypere H, Cocquyt V, Denys H, van Belle S, Troisi RI (2015) Resection of single metachronous liver metastases from breast cancer stage I- II yield excellent overall and disease-free survival. Single center experience and review of the literature. Dig Surg 32(1):52–59. https://doi.org/10.1159/000375132

35.

Weinrich M et al (2014) Liver resections of isolated liver metastasis in breast cancer: results and possible prognostic factors. HPB Surg 2014:893829

36.

Zegarac M, Nikolic S, Gavrilovic D, Jevric M, Kolarevic D, Nikolic-Tomasevic Z, Kocic M, Djurisic I, Inic Z, Ilic V, Santrac N (2013) Prognostic factors for longer disease free survival and overall survival after surgical resection of isolated liver metastasis from breast cancer. J BUON 18(4):859–865

37.

Adam R, Aloia T, Krissat J, Bralet MP, Paule B, Giacchetti S, Delvart V, Azoulay D, Bismuth H, Castaing D (2006) Is liver resection justified for patients with hepatic metastases from breast cancer? Ann Surg 244(6):897–907; discussion 907-8. https://doi.org/10.1097/01.sla.0000246847.02058.1b

38.

Caralt M, Bilbao I, Cortés J, Escartín A, Lázaro JL, Dopazo C, Olsina JJ, Balsells J, Charco R (2008) Hepatic resection for liver metastases as part of the "oncosurgical" treatment of metastatic breast cancer. Ann Surg Oncol 15(10):2804–2810. https://doi.org/10.1245/s10434-008-0072-2

39.

Dittmar Y, Altendorf-Hofmann A, Schüle S, Ardelt M, Dirsch O, Runnebaum IB, Settmacher U (2013) Liver resection in selected patients with metastatic breast cancer: a single- centre analysis and review of literature. J Cancer Res Clin Oncol 139(8):1317–1325. https://doi.org/10.1007/s00432-013-1440-2

40.

Groeschl RT, Nachmany I, Steel JL, Reddy SK, Glazer ES, de Jong MC, Pawlik TM, Geller DA, Tsung A, Marsh JW, Clary BM, Curley SA, Gamblin TC (2012) Hepatectomy for noncolorectal non-neuroendocrine metastatic cancer: a multi-institutional analysis. J Am Coll Surg 214(5):769–777. https://doi.org/10.1016/j.jamcollsurg.2011.12.048

41.

Hoffmann K, Franz C, Hinz U, Schirmacher P, Herfarth C, Eichbaum M, Büchler MW, Schemmer P (2010) Liver resection for multimodal treatment of breast cancer metastases: identification of prognostic factors. Ann Surg Oncol 17(6):1546–1554. https://doi.org/10.1245/s10434-010-0931-5

42.

Kostov DV, Kobakov GL, Yankov DV (2013) Prognostic factors related to surgical outcome of liver metastases of breast cancer. J Breast Cancer 16(2):184–192. https://doi.org/10.4048/jbc.2013.16.2.184

43.

Margonis GA, Buettner S, Sasaki K, Kim Y, Ratti F, Russolillo N, Ferrero A, Berger N, Gamblin TC, Poultsides G, Tran T, Postlewait LM, Maithel S, Michaels AD, Bauer TW, Marques H, Barroso E, Aldrighetti L, Pawlik TM (2016) The role of liver-directed surgery in patients with hepatic metastasis from primary breast cancer: a multi-institutional analysis. HPB (Oxford) 18(8):700–705. https://doi.org/10.1016/j.hpb.2016.05.014

44.

Mariani P, Servois V, de Rycke Y, Bennett SP, Feron JG, Almubarak MM, Reyal F, Baranger B, Pierga JY, Salmon RJ (2013) Liver metastases from breast cancer: surgical resection or not? A case- matched control study in highly selected patients. Eur J Surg Oncol 39(12):1377–1383. https://doi.org/10.1016/j.ejso.2013.09.021

45.

Ruiz A et al (2015) Repeat hepatectomy for breast cancer liver metastases. Ann Surg Oncol 22(Suppl 3):S1057–S1066

46.

Sabol M, Donat R, Chvalny P, Dyttert D, Palaj J, Durdik S (2014) Surgical management of breast cancer liver metastases. Neoplasma 61(5):601–606

47.

Sakamoto Y, Yamamoto J, Yoshimoto M, Kasumi F, Kosuge T, Kokudo N, Makuuchi M (2005) Hepatic resection for metastatic breast cancer: prognostic analysis of 34 patients. World J Surg 29(4):524–527. https://doi.org/10.1007/s00268-004-7688-6

48.

van Walsum GA, de Ridder JA, Verhoef C, Bosscha K, van Gulik TM, Hesselink EJ, Ruers TJ, van den Tol MP, Nagtegaal ID, Brouwers M, van Hillegersberg R, Porte RJ, Rijken AM, Strobbe LJ, de Wilt JH, Dutch Liver Surgeons Group (2012) Resection of liver metastases in patients with breast cancer: survival and prognostic factors. Eur J Surg Oncol 38(10):910–917. https://doi.org/10.1016/j.ejso.2012.04.015

49.

Thelen A, Benckert C, Jonas S, Lopez-Hänninen E, Sehouli J, Neumann U, Rudolph B, Neuhaus P (2008) Liver resection for metastases from breast cancer. J Surg Oncol 97(1):25–29. https://doi.org/10.1002/jso.20911

50.

Largillier R, Ferrero JM, Doyen J, Barriere J, Namer M, Mari V, Courdi A, Hannoun-Levi JM, Ettore F, Birtwisle-Peyrottes I, Balu-Maestro C, Marcy PY, Raoust I, Lallement M, Chamorey E (2008) Prognostic factors in 1,038 women with metastatic breast cancer. Ann Oncol 19(12):2012–2019. https://doi.org/10.1093/annonc/mdn424

51.

Pagani O, Senkus E, Wood W, Colleoni M, Cufer T, Kyriakides S et al (2010) International guidelines for management of metastatic breast cancer: can metastatic breast cancer be cured? J Natl Cancer Inst 102(7):456e63

52.

Adam R, Chiche L, Aloia T, Elias D, Salmon R, Rivoire M, Jaeck D, Saric J, le Treut YP, Belghiti J, Mantion G, Mentha G, Association Française de Chirurgie (2006) Hepatic resection for noncolorectal nonendocrine liver metastases: analysis of 1,452 patients and development of a prognostic model. Ann Surg 244(4):524–535. https://doi.org/10.1097/01.sla.0000239036.46827.5f

53.

Diaz R et al (2004) Hepatic resection in breast cancer metastases: should it be considered standard treatment? Breast 13(3):254–258. https://doi.org/10.1016/j.breast.2003.11.001

54.

Pogoda K, Niwińska A, Murawska M, Pieńkowski T (2013) Analysis of pattern, time and risk factors influencing recurrence in triple-negative breast cancer patients. Med Oncol 30(1):388. https://doi.org/10.1007/s12032-012-0388-4

55.

Rastogi S, Gulia S, Bajpai J, Ghosh J, Gupta S (2014) Oligometastatic breast cancer: a mini review. Indian J Med Paediatr Oncol 35(3):203e6

56.

Hanrahan EO, Broglio KR, Buzdar AU et al (2005) Combined-modality treatment for isolated recurrences of breast carcinoma: update on 30 years of experience at the University of Texas M.D. Anderson Cancer Center and assessment of prognostic factors. Cancer 1046:1158–1171

57.

Yoo TG, Cranshaw I, Broom R, Pandanaboyana S, Barlett A et al (2017) Systematic review of early and long-term outcome of liver resection for metastatic breast cancer: is there a survival benefit? Breast 32:162–172

58.

Chua TC, Saxena A, Liauw W, Chu F, Morris DL (2011) Hepatic resection for metastatic breast cancer: a systematic review. Eur J Cancer 47(15):2282–2290. https://doi.org/10.1016/j.ejca.2011.06.024

59.

Howlader M, Heaton N, Rela M (2011) Resection of liver metastases from breast cancer: towards a management guideline. Int J Surg 9(4):285–291. https://doi.org/10.1016/j.ijsu.2011.01.009

60.

Wyld L, Gutteridge E, Pinder SE, James JJ, Chan SY, Cheung KL, Robertson JFR, Evans AJ (2003) Prognostic factors for patients with hepatic metastases from breast cancer. Br J Cancer 89(2):284–290. https://doi.org/10.1038/sj.bjc.6601038

61.

Pocard M, Pouillart P, Asselain B, Falcou MC, Salmon RJ (2001) Hepatic resection for breast cancer metastases: results and prognosis (65 cases). Ann Chir 126(5):413–420. https://doi.org/10.1016/S0003-3944(01)00526-0

62.

Duan XF, Dong NN, Zhang T, Li Q (2013) The prognostic analysis of clinical breast cancer subtypes among patients with liver metastases from breast cancer. Int J Clin Oncol 18(1):26–32. https://doi.org/10.1007/s10147-011-0336-x

63.

Butters BJ, Ghersi D, Wilcken N, Kirk SJ, Mallon PT. Addition of drug/s to a chemotherapy regimen for metastatic breast cancer. Cochrane Database of Systematic Reviews 2010;11. Art No CD003368

64.

Sadot E, Lee SY, Sofocleous CT, Solomon SB, Gönen M, Peter Kingham T, Allen PJ, DeMatteo RP, Jarnagin WR, Hudis CA, D'Angelica MI (2016) Hepatic resection or ablation for isolated breast cancer liver metastasis: a case-control study with comparison to medically treated patients. Ann Surg 264(1):147–154. https://doi.org/10.1097/SLA.0000000000001371

65.

Yersal O, Barutca S (2014) Biological subtypes of breast cancer: prognostic and therapeutic implications. World J Clin Oncol 5(3):412–424. https://doi.org/10.5306/wjco.v5.i3.412

66.

Atalay G, Biganzoli L, Renard F, Paridaens R, Cufer T, Coleman R, Calvert AH, Gamucci T, Minisini A, Therasse P, Piccart MJ, EORTC Breast Cancer and Early Clinical Studies Groups (2003) Clinical outcome of breast cancer patients with liver metastases alone in the anthracycline-taxane era: a retrospective analysis of two prospective, randomised metastatic breast cancer trials. Eur J Ca 39(17):2439–2449. https://doi.org/10.1016/S0959-8049(03)00601-4

67.

Yoshimoto M, Tada T, Saito M, Takahashi K, Makita M, Uchida Y, Kasumi F (2000) Surgical treatment of hepatic metastases from breast cancer. Breast Cancer Res Treat 59(2):177–184. https://doi.org/10.1023/A:1006398401352
About this article
Cite this article
Tasleem, S., Bolger, J.C., Kelly, M.E. et al. The role of liver resection in patients with metastatic breast cancer: a systematic review examining the survival impact. Ir J Med Sci 187, 1009–1020 (2018). https://doi.org/10.1007/s11845-018-1746-9
Received:

Accepted:

Published:

Issue Date:
Keywords
Breast cancer

Metastatic breast cancer

Surgical outcomes

Survival