Abstract
Background
Burning mouth syndrome (BMS) is a chronic pain disorder, more common in peri and postmenopausal females, with a varied symptomatology. Symptoms include a burning or stinging sensation of the tongue, lips or other oral mucosal surfaces, subjectively dry mouth or excess saliva, altered taste or loss of taste and paraesthetic sensations. These are usually present daily for more than 3 months.
Aims
The aims of this study were to highlight the symptomatic manifestations of BMS along with the need for prompt diagnosis and onward referral when necessary.
Methods
A cross-sectional study of patients with idiopathic BMS was conducted. The presenting symptoms, time to diagnosis and number of clinicians seen in advance of a diagnosis of BMS and anxiety and depression as determined by the Hospital Anxiety and Depression Scale (HADS) was recorded. Correlations were explored.
Results
Fifty patients were enrolled in this study (38, F:12, M). The average time from onset of symptoms to diagnosis was 13 months. Commonly reported symptoms included burning (n = 44) and altered taste (n = 14). The median anxiety score was 13 and the median depression score was 10. No statistically significant correlations were found between the anxiety and depression scores generated and the number of clinicians seen or the time to diagnosis.
Conclusion
The results of this study indicate that there is a need for an increased awareness of the symptoms reported in BMS, particularly in peri and postmenopausal women. This should aid prompt diagnosis and may alleviate some of the anxiety that patients may experience.
Access options
Buy single article
Instant access to the full article PDF.
US$ 39.95
Tax calculation will be finalised during checkout.
Subscribe to journal
Immediate online access to all issues from 2019. Subscription will auto renew annually.
US$ 79
Tax calculation will be finalised during checkout.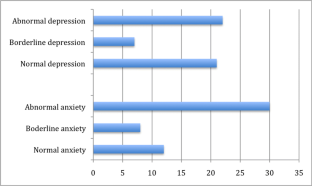 References
1.

Headache Classification Committee of the International Headache, S (2013) The international classification of headache disorders, 3rd edition (beta version). Cephalalgia 33(9):629–808

2.

Scala A, Checchi L, Montevecchi M, Marini I, Giamberardino MA (2003) Update on burning mouth syndrome: overview and patient management. Crit Rev Oral Biol Med 14(4):275–291

3.

Renton T (2011) Burning mouth syndrome. Rev Pain 5(4):12–17

4.

Speciali JG, Stuginski-Barbosa J (2008) Burning mouth syndrome. Curr Pain Headache Rep 12(4):279–284

5.

Sardella A, Lodi G, Demarosi F, Bez C, Cassano S, Carrassi A (2006) Burning mouth syndrome: a retrospective study investigating spontaneous remission and response to treatments. Oral Dis 12(2):152–155

6.

Klasser GD, Epstein JB, Villines D (2011) Diagnostic dilemma: the enigma of an oral burning sensation. J Can Dent Assoc 77:b146

7.

Gao J et al (2009) A case-control study on etiological factors involved in patients with burning mouth syndrome. J Oral Pathol Med 38(1):24–28

8.

Mignogna MD, Fedele S, Lo Russo L, Leuci S, Lo Muzio L (2005) The diagnosis of burning mouth syndrome represents a challenge for clinicians. J Orofac Pain 19(2):168–173

9.

Klasser GD et al (2011) Burning mouth syndrome: a challenge for dental practitioners and patients. Gen Dent 59(3):210–220 quiz 221–2

10.

Bjelland I, Dahl AA, Haug TT, Neckelmann D (2002) The validity of the Hospital Anxiety and Depression scale: an updated literature review. J Psychosom Res 52(2):69–77

11.

Snaith RP (2003) The hospital anxiety and depression scale. Health Qual Life Outcomes 1:29

12.

Age UK (2016) Later life in the United Kingdom. Age UK, London

13.

Central Statistics Office Ireland (2017) Age Proflie of Ireland. [cited 2018 March 12th]

14.

Yuan A, Woo SB (2015) Adverse drug events in the oral cavity. Oral Surg Oral Med Oral Pathol Oral Radiol 119(1):35–47

15.

Tuccori M, Lapi F, Testi A, Ruggiero E, Moretti U, Vannacci A, Bonaiuti R, Antonioli L, Fornai M, Giustarini G, Scollo C, Corona T, Ferrazin F, Sottosanti L, Blandizzi C (2011) Drug-induced taste and smell alterations: a case/non-case evaluation of an italian database of spontaneous adverse drug reaction reporting. Drug Saf 34(10):849–859

16.

Kohorst JJ, Bruce AJ, Torgerson RR, Schenck LA, Davis MDP (2014) A population-based study of the incidence of burning mouth syndrome. Mayo Clin Proc 89(11):1545–1552

17.

Bergdahl M, Bergdahl J (1999) Burning mouth syndrome: prevalence and associated factors. J Oral Pathol Med 28(8):350–354

18.

Alnafea S, Fedele S, Porter S, Ni Riordain R (2017) Online information on the treatment of burning mouth syndrome: quality and readability. J Oral Facial Pain Headache 31(2):147–151

19.

Zender R, Olshansky E (2009) Women's mental health: depression and anxiety. Nurs Clin North Am 44(3):355–364

20.

Sunderland M, Newby JM, Andrews G (2013) Health anxiety in Australia: prevalence, comorbidity, disability and service use. Br J Psychiatry 202(1):56–61

21.

Grushka M, Epstein JB, Gorsky M (2002) Burning mouth syndrome. Am Fam Physician 65(4):615–620

22.

Aggarwal A, Panat SR (2012) Burning mouth syndrome: a diagnostic and therapeutic dilemma. J Clin Exp Dent 4(3):e180–e185

23.

Salkovskis PM, Rimes KA, Warwick HM, Clark DM (2002) The Health Anxiety Inventory: development and validation of scales for the measurement of health anxiety and hypochondriasis. Psychol Med 32(5):843–853
Ethics declarations
Conflict of interest
The authors declare that they have no conflict of interest.
Informed consent
Informed consent was obtained from all individual participants included in the study.
Ethical approval
All procedures performed in studies involving human participants were in accordance with the ethical standards of the institutional and/or national research committee and with the 1964 Helsinki declaration and its later amendments or comparable ethical standards.
Additional information
Publisher's Note
Springer Nature remains neutral with regard to jurisdictional claims in published maps and institutional affiliations.
About this article
Cite this article
Ni Riordain, R., O'Dwyer, S. & McCreary, C. Burning mouth syndrome—a diagnostic dilemma. Ir J Med Sci 188, 731–734 (2019). https://doi.org/10.1007/s11845-018-01960-y
Received:

Accepted:

Published:

Issue Date:
Keywords
Burning mouth syndrome

Diagnostic delay

Presenting symptoms