Abstract
Background
This study evaluates a community optometrist-delivered postoperative care scheme in patients discharged from the hospital ophthalmology department following uncomplicated cataract surgery.
Aim
The aim of this study is to assess the efficacy of electronic patient records (EPR) in facilitating co-managed cataract care.
Methods
We performed a retrospective analysis of a prospectively maintained Medisoft EPR database of postoperative cataract review data at a single centre, Sligo University Hospital (SUH), which serves a large and predominantly rural catchment area. All patients undergoing cataract surgery at SUH from October 2012 to September 2013 were included in this study. A total of 39 optometric practices, all with access to the Medisoft EPR software, participated in this pilot co-management scheme.
Results
One thousand four hundred and twenty-two cataract surgeries were performed in SUH (55% female, 45% male); 1011 patients (71%) were discharged to the community on the day of cataract surgery. Complete postoperative feedback (i.e. data on refraction, visual acuity and intraocular pressure) was available in 97% of these patients compared to 50% of patients reviewed in the hospital. Patients followed up by optometrists were twice as likely to have complete postoperative clinical details (RR = 1.934, 95% CI: 1.759–2.126, p < 0.0001). Overall, 65% of operations were performed on first eyes. Hospital doctors were more likely to document requirement for second eye surgery compared to community optometrists (RR = 1.434, 95% CI: 1.302–1.580, p < 0.0001).
Conclusions
Optometrists provided an excellent postoperative care service with superior postoperative feedback rates compared to hospital doctors. EPRs facilitate a postoperative shared-care pathway that is of high quality and efficiency with major economic advantages.
Access options
Buy single article
Instant access to the full article PDF.
US$ 39.95
Tax calculation will be finalised during checkout.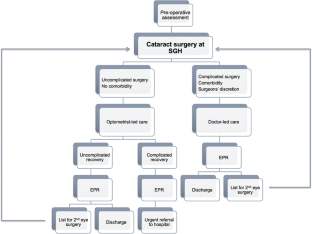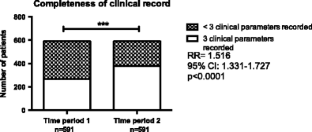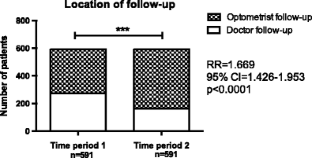 References
1.

Division, H. R. and I (2011) Activity in Acute Public Hospitals in Ireland 2010

2.

European Commission. eHealth Action Plan 2012-2020 - Innovative healthcare for the 21st century. (2012). At <http://ec.europa.eu/health/ehealth/docs/com_2012_736_en.pdf>

3.

Voyatzis G, Roberts HW, Keenan et al (2014) Cambridgeshire cataract shared care model: community optometrist-delivered postoperative discharge scheme. Br J Ophthalmol 98:760–764

4.

Bass EB, Sharkey PD, Luthra R et al (1996) Postoperative management of cataract surgery patients by ophthalmologists and optometrists. Arch Ophthalmol 114:1121–1127

5.

Revicki DA, Brown RE, Adler MA (1993) Patient outcomes with co-managed post-operative care after cataract surgery. J Clin Epidemiol 46:5–15

6.

Revicki DA, Poe ML (1995) Quality of care in cataract surgery cases experiencing post-operative complications with co-managed care. J Am Optom. Assoc 66:268–273

7.

Van Vliet EJ, Reus NJ, Sermeus W et al (2010) Patients' experiences and preferences with co-managed care in a cataract pathway. Br J Ophthalmol 94:1363–1368

8.

Sanders DS, Lattin DJ, Read-Brown S et al (2013) Electronic health record systems in ophthalmology: Impact on clinical documentation. Ophthalmology 120:1745–1755

9.

Allan BDS, Baer R, Heyworth P et al (1997) Conventional routine clinical review may not be necessary after uncomplicated phacoemulsification. Investig Ophthalmol Vis Sci 81:548–550

10.

Muthucumarana DJ, Rimmer TJ (2000) Cataract surgery and the optometrist. Eye (Lond) 14(Pt 5):777–778

11.

Kaushal R, Shojania KG, Bates DW (2003) Effects of computerized physician order entry and clinical decision support systems on medication safety: a systematic review. Arch Intern Med 163:1409–1416

12.

Wang SJ, Middleton B, Prosser LA et al (2003) A cost-benefit analysis of electronic medical records in primary care. Am J Med 114:397–403

13.

Grieger DL, Cohen SH, Krusch DA (2007) A pilot study to document the return on investment for implementing an ambulatory electronic health record at an academic medical center. J Am Coll Surg 205:89–96

14.

Chiang MF, Boland MV, Margolis JW et al (2008) Adoption and perceptions of electronic health record systems by ophthalmologists: an American Academy of Ophthalmology survey. Ophthalmology 115:1591–1597 quiz 1597.e1–5

15.

Department of Health. eHealth Strategy for Ireland. Government Report. (2013). at <http://www.hse.ie/eng/about/Who/OoCIO/ehealthstrategy.pdf>

16.

Boland MV, Chiang MF, Lim MC et al (2013) Adoption of electronic health records and preparations for demonstrating meaningful use: an American Academy of Ophthalmology survey. Ophthalmology 120:1702–1710

17.

Sparrow JM, Taylor H, Qureshi K et al (2012) The Cataract National Dataset electronic multi-centre audit of 55,567 operations: risk indicators for monocular visual acuity outcomes. Eye (Lond) 26:821–826
Acknowledgements
Part of this work was presented at the European Society of Cataract and Refractive Surgeons (ESCRS) meeting in London, United Kingdom, September 2014, and at the Integrated Care Conference in Dublin, Ireland, October 2015.
Conflict of interest
The authors declare that they have no conflict of interest.
Ethics declarations
All procedures performed in studies involving human participants were in accordance with the ethical standards of the Research Ethics Committee at Sligo University Hospital. Informed consent was obtained from all individual participants included in the study.
About this article
Cite this article
Mongan, A.M., Kerins, F., McKenna, B. et al. Changing trends in postoperative cataract care: impact of electronic patient records in optometrist-delivered shared care. Ir J Med Sci 187, 529–535 (2018). https://doi.org/10.1007/s11845-017-1694-9
Received:

Accepted:

Published:

Issue Date:
Keywords
Cataract

Electronic patient record

Optometrist

Postoperative

Shared care