Abstract
Background
In Ireland, as in many other healthcare systems, mental health service provision is being reconfigured with a move toward more care in the community, and particularly primary care. Recording and surveillance systems for mental health information and activities in primary care are needed for service planning and quality improvement.
Aims
We describe the development and initial implementation of a software tool ('mental health finder') within a widely used primary care electronic medical record system (EMR) in Ireland to enable large-scale data collection on the epidemiology and management of mental health and substance use problems among patients attending general practice.
Methods
In collaboration with the Irish Primary Care Research Network (IPCRN), we developed the 'Mental Health Finder' as a software plug-in to a commonly used primary care EMR system to facilitate data collection on mental health diagnoses and pharmacological treatments among patients. The finder searches for and identifies patients based on diagnostic coding and/or prescribed medicines. It was initially implemented among a convenience sample of six GP practices.
Results
Prevalence of mental health and substance use problems across the six practices, as identified by the finder, was 9.4% (range 6.9–12.7%). 61.9% of identified patients were female; 25.8% were private patients. One-third (33.4%) of identified patients were prescribed more than one class of psychotropic medication. Of the patients identified by the finder, 89.9% were identifiable via prescribing data, 23.7% via diagnostic coding.
Conclusions
The finder is a feasible and promising methodology for large-scale data collection on mental health problems in primary care.
Access options
Buy single article
Instant access to the full article PDF.
USD 39.95
Price excludes VAT (USA)
Tax calculation will be finalised during checkout.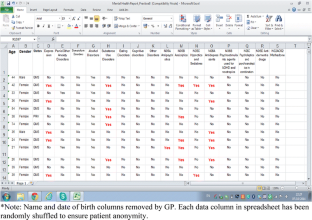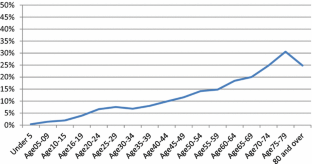 References
Steel Z, Marnane C, Iranpour C et al (2014) The global prevalence of common mental disorders: a systematic review and meta-analysis 1980-2013. Int J Epidemiol 43(2):476–493

World Health Organization (2008) The Global Burden of Disease 2004 Update. http://www.who.int/healthinfo/global_burden_disease/GBD_report_2004update_full.pdf. Accessed 29 November 2015

Gunn JM, Ayton DR, Densley K et al (2012) The association between chronic illness, multimorbidity and depressive symptoms in an Australian primary care cohort. Soc Psych Psych Epid 47(2):175–184

Schaffalitzky E, Leahy D, Cullen W et al (2015) Youth mental health in deprived urban areas: a Delphi study on the role of the GP in early intervention. Irish J Med Sci 184(4):831–843

Klimas J, Neary A, McNicholas C et al (2014) The prevalence of common mental and substance use disorders in general practice: a literature review and discussion paper. Ment Health Subst Use 7(4):497–508

World Health Organization (2001) The World Health Report 2001: Mental Health, New Understanding, New Hope. http://www.who.int/whr/2001/en/whr01_en.pdf?ua=1. Accessed 29 November 2015

World Health Organization (2008) Integrating mental health into primary care: a global perspective. http://www.who.int/mental_health/resources/mentalhealth_PHC_2008.pdf. Accessed 29 November 2015

Eaton S, Cullen W, McMahon S (2014) What legal and ethical issues should primary care researchers consider in the development and conduct of research involving population health datasets: a discussion paper. Med Leg J Irel 20(1)

Department of Health and Children (2006) A Vision for Change: Report of the Expert Group on Mental Health Policy in Ireland. The Stationery Office, Dublin

Meade B, Buckley D, Boland M (2009) What factors affect the use of electronic patient records by Irish GPs. Int J Med Inform 78:551–558

Spitzer RL, Williams JB, Kroenke K et al (1994) Utility of a new procedure for diagnosing mental disorders in primary care. The PRIME-MD 1000 study. JAMA 272(22):1749–1756

Trinh NT, Youn SJ, Sousa J et al (2011) Using electronic medical records to determine the diagnosis of clinical depression. Int J Med Inform 80(7):533–540

Gleeson M, Hannigan A, Jamali R et al (2015) Using electronic medical records to determine prevalence and treatment of mental disorders in primary care: a database study. Irish J Psychol Med. doi:10.1017/ipm.2015.10

WONCA International Classification Committee (1998) ICPC-2: International Classification of Primary Care, 2nd edn. Oxford University Press, UK

World Health Organization (2011) ICD-10: International Statistical Classification of Diseases and Related Health Problems, 10th revision. WHO Press, Geneva

Kramer T, Iliffe S, Bye A et al (2013) Testing the feasibility of therapeutic identification of depression in young people in British general practice. J Adolesc Health 52:539–545

Seyfriend L, Hanauer DA, Nease D et al (2009) Enhanced identification of eligibility for depression research using an electronic medical record search engine. Int J Med Inform 78:e13–e18

Joling KJ, Van Marwijk HWJ, Piek E et al (2011) Do GPs' medical records demonstrate a good recognition of depression? A new perspective on case extraction. J Affect Disorders 133:522–527

Borroughs H, Lovell K, Morley M et al (2006) 'Justifiable depression': how primary care professionals and patients view late-life depression? a qualitative study. Fam Pract 23:369–377

Leahy D, Schaffalitzky E, Armstrong C et al (2013) Primary care and youth mental health in Ireland: qualitative study in deprived urban areas. BMC Fam Pract 14:194

De Jong J, Visser MRM, Wieringa-de Waard M (2013) Which barriers affect morbidity registration performance of GP trainees and trainers? Int J Med Inform 82(8):708–716

Polanczyk GV, Salum GA, Sugaya LS et al (2015) Annual research review: a meta-analysis of the worldwide prevalence of mental disorders in children and adolescents. J Child Psychol Psyc 56(3):345–365

Baladon L, Fernandez A, Rubio-Valera M et al (2015) Prevalence of mental disorders in non-demented elderly people in primary care. Int Psychogeriatr 27(5):757–768

Saunders JB, Aasland OG (1987) WHO Collaborative Project on the identification and treatment of persons with harmful alcohol consumption. Report on Phase I: development of a screening instrument. World Health Organization, Geneva

Nolan A, O'Regan C, Dooley C et al. (2014) The Over 50s in a Changing Ireland: economic circumstances, health and well-being. http://tilda.tcd.ie/assets/pdf/Wave2-Key-Findings-Report.pdf. Accessed 25 November 2016

Dooley BA, Fitzgerald A (2012) My World Survey: National Study of Youth Mental Health in Ireland. http://www.ucd.ie/t4cms/MyWorldSurvey.pdf. Accessed 24 November 2016

Department of Health, Ipsos MRBI (2015) Healthy Ireland Survey 2015: Summary of Findings. http://health.gov.ie/wp-content/uploads/2015/10/Healthy-Ireland-Survey-2015-Summary-of-Findings.pdf. Accessed 29 November 2016

Powell-Smith A, Goldacre B (2016) OpenPrescibing.net. https://openprescribing.net/. Accessed 08 December 2016
Acknowledgements
We would like to thank all the GPs who took part in this project and the IPCRN for all their help in data collection and extraction, without whom this project would not have been possible. We would also like to thank the reviewers for their helpful comments and feedback on this manuscript.
Ethics declarations
Conflict of interest
The authors have no conflict of interest to disclose.
Ethical approval
The study was approved by the ethics committee of the Irish College of General Practitioners. Formal patient consent was not required as all data were extracted and anonymized by the GP prior to forwarding to the research team.
Funding source
University of Limerick Graduate Entry Medical School Strategic Research Fund.
About this article
Cite this article
Swan, D., Hannigan, A., Higgins, S. et al. Development and implementation of a 'Mental Health Finder' software tool within an electronic medical record system. Ir J Med Sci 186, 191–200 (2017). https://doi.org/10.1007/s11845-016-1541-4
Received:

Accepted:

Published:

Issue Date:

DOI: https://doi.org/10.1007/s11845-016-1541-4
Keywords
Software plug-in

Electronic medical record

Mental health

Substance use

Primary care