Abstract
Background
Odontogenic myxoma is a benign odontogenic tumour of the jaw [1]. This tumour often presents as an asymptomatic expansile lesion without sensory nerve changes [2]. It is thought to arise from mesenchymal origin with cells of microscopic similarity to dental pulp and follicle [3]. Radiographically it presents most often as a multiloculated radiolucency [2]. It is a locally aggressive lesion which may require extensive treatment to prevent recurrence.
Method
The authors present the case of a 13-year-old boy with an extensive lesion in the maxilla.
Conclusion
We discuss various treatment approaches for management of this tumour.
Access options
Buy single article
Instant access to the full article PDF.
USD 39.95
Price excludes VAT (USA)
Tax calculation will be finalised during checkout.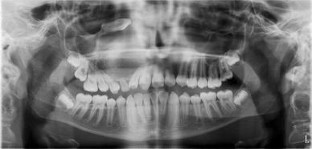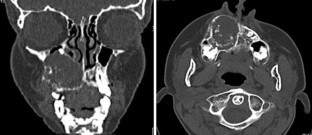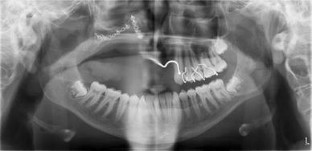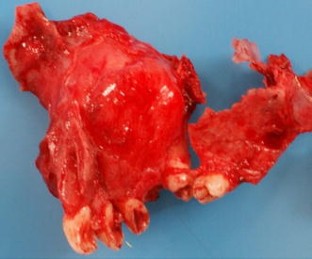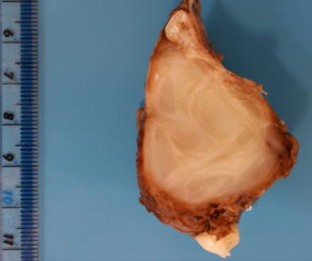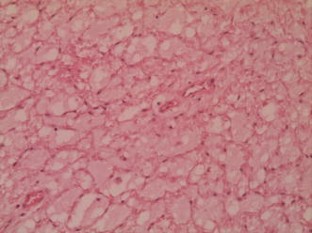 References
Boffano P, Gallesio C, Barreca A, Bianchi FA, Garzino-Demo P, Roccia F (2011) Surgical treatment of odontogenic myxoma. J Craniofac Surg 22:982–987

Marx RE, Stern D (2003) Oral and maxillofacial pathology: a rationale for diagnosis and treatment. Quintessence Publishing Co, Hanover Park, pp 668–670

Regezi JA, Sciubba JJ, Jordan RCK (2003) Oral pathology: clinical pathological correlations, 4th edn. Saunders, Philadelphia, pp 278–280

Lahey E, Woo SB, Park HK (2013) Odontogenic myxoma with diffuse calcifications: a case report and review of the literature. Head Neck Pathol 7:97–102

Lo Muzio L, Nocini PF, Favia G, Proaccini M, Mignogna MD (1993) Odontogenic myxoma of the jaws: a clinical, radiologic, immunohistochemical, and ultrastructural study. J Oral Maxillofac Surg 51:935–940

Kansy K, Juergens P, Rol Z, Paulssen M, Baumhoer D, Bruder E, Schneider Zeilhofer HF, Schwenzer-Zimmerer K (2012) Odontogenic myxoma: diagnostic and therapeutic challenges in paediatric and adult patients—a case series and review of literature. J Cranio Maxillofac Surg 40:271–276

Leiser Y, Abu-El-Naaj I, Peled M (2009) Odontogenic myxoma—a case series and review of surgical management. J Cranio Maxillofac Surg 37:206–209

Schneck DL, Gross D, Tabor MW (1993) Odontogenic myxoma: report of two cases with reconstruction considerations. J Oral Maxillofac Surg 51:935–945

Simon EN, Merkx MA, Vuhahula E, Ngassapa V, Stoelinga PJ (2004) Odontogenic myxoma: a clinicopathological study of 33 cases. Int J Oral Maxillofac Surg 33:333–337

Noffke CEE, Raubenheimer EJ, Chabikuli NJ, Boukaert MR (2007) Odontogenic myxoma: review of the literature and report of 30 cases from South Africa. Oral Surg Oral Med Oral Radiol Endod 104(1):101–109

Zhang J, Wang H, He X, Niu Y, Li X (2007) Radiographic examination of 41 cases of odontogenic myxomas on the basis of conventional radiographs. Dentomaxillofac Radiol 36(3):160–167

Li TJ, Sun LS, Luo HY (2006) Odontogenic myxoma: a clinicopathological study of 25 cases. Arch Pathol Lab Med 130(22):1799–1806

Abiose BO, Ajabe HA, Thomas O (1987) Fibromyxomas of the jawbones—a study of ten cases. Br J Oral Maxillofac Surg 25:415–421

Ghosh BC, Huvos AG, Gerold FP, Miller TR (1973) Myxoma of the jaw bones. Oral Surg Oral Med Oral Pathol 31:237–240

Mohan S, Kankariya H, Harjani B (2012) The use of the buccal fat pad for reconstruction of oral defects: review of the literature and report of cases. J Maxillofac Oral Surg. 11(2):128–131

Clayman L (2006) Implant reconstruction of the bone grafted maxilla: review of the literature and presentation of eight cases. J Oral Maxillofac Surg 64:674–682

Chen CT, Chen YR, Lai JP, Tung TC (1997) Maxillary myxoma treated with wide resection and immediate reconstruction: a case report. Ann Plast Surg 39(1):87–93
About this article
Cite this article
Murphy, C., Hayes, R., McDermott, M. et al. Odontogenic myxoma of the maxilla: surgical management and case report. Ir J Med Sci 186, 243–246 (2017). https://doi.org/10.1007/s11845-016-1408-8
Received:

Accepted:

Published:

Issue Date:

DOI: https://doi.org/10.1007/s11845-016-1408-8
Keywords