Abstract
Background
Linking medication databases to disease registries enables population-based pharmacoepidemiology research. In Ireland, country-wide dispensing data is available only from the means-tested government-medical cards scheme. This restriction may impact generalisability of analyses based on these data.
Aim
Gender was previously identified as predictor of card status so we aimed to compare women with and without medical cards at the time of ovarian cancer diagnosis.
Methods
Ovarian cancers diagnosed 2001–2010 were identified from the National Cancer Registry Ireland. Age, region, deprivation, smoking, employment and marital status were evaluated using logistic regression for associations with card status. Cumulative incidence of de novo card receipt post-diagnosis was assessed.
Results
1778 (52 %) of 3396 women with incident ovarian cancer had a card at diagnosis (<70:33 %; 70+:87 %). Within those <70, all variables were significantly associated with card status at diagnosis. 52 % of those without a card at diagnosis received one post-diagnosis.
Conclusions
Although medical card coverage within ovarian cancer patients is similar to the general population, various factors predict card status. Particularly within those under 70, external validity needs to be considered when interpreting pharamcoepidemiological analyses using these data.
Access options
Buy single article
Instant access to the full article PDF.
USD 39.95
Price excludes VAT (USA)
Tax calculation will be finalised during checkout.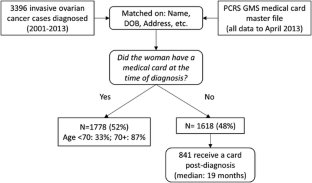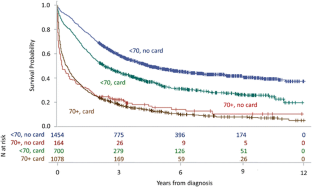 References
Strom BL (2002) Pharmacoepidemiology. Wiley, Chichester, New York

Health Service Executive (HSE) Medical cards and GP visit cards. In: HSEie—med cards GP visit cards. http://www.hse.ie/eng/services/list/1/schemes/mc/. Accessed 8 July 2015

Health Service Executive (2013) Primary care reimbursement service—statistical analysis of claims and payments 2011. http://www.hse.ie/eng/staff/PCRS/PCRS_Publications/pcrsclaimsandpayments2011.pdf Accessed 8 July 2015

Ireland, Central Statistics Office (2012) This is Ireland: highlights from census 2011, part 1. http://www.cso.ie/en/census/census2011reports/census2011thisisirelandpart1/. Accessed 8 July 2015

Williams D, Feely J (2001) Pharmacoepidemiology—an Irish perspective. Pharmacoepidemiol Drug Saf 10:641–645. doi:10.1002/pds.640

Spillane S, Bennett K, Sharp L et al (2013) A cohort study of metformin exposure and survival in patients with stage I-III colorectal cancer. Cancer Epidemiol Biomark Prev 22:1364–1373. doi:10.1158/1055-9965.EPI-13-0347

Flahavan EM, Bennett K, Sharp L et al (2014) A cohort study investigating aspirin use and survival in men with prostate cancer. Ann Oncol 25:154–159. doi:10.1093/annonc/mdt428

Barron TI, Cahir C, Sharp L et al (2013) A nested case-control study of adjuvant hormonal therapy persistence and compliance, and early breast cancer recurrence in women with stage I-III breast cancer. Br J Cancer 109:1513–1521. doi:10.1038/bjc.2013.518

Barron TI, Connolly RM, Sharp L et al (2011) Beta blockers and breast cancer mortality: a population-based study. J Clin Oncol Off J Am Soc Clin Oncol 29:2635–2644. doi:10.1200/JCO.2010.33.5422

Barron TI, Flahavan EM, Sharp L et al (2014) Recent prediagnostic aspirin use, lymph node involvement, and 5-year mortality in women with stage I–III breast cancer: a nationwide population-based cohort study. Cancer Res 74:4065–4077. doi:10.1158/0008-5472.CAN-13-2679

Flahavan EM, Sharp L, Bennett K et al (2013) A cohort study of digoxin exposure and mortality in men with prostate cancer. BJU Int 113:236–245. doi:10.1111/bju.12287

McDevitt J, Sharp L, MacDonald D et al (2013) Factors affecting receipt of a medical card in a cohort of colorectal cancer patients, 2002-2006. Ir Med J 106:110–113

Small Area Health Research Unit (SAHRU) (1997) A national deprivation index for health and health services research. Technical report no. 2. http://hdl.handle.net/10147/264013. Accessed 8 July 2015

Dagis A (2010) A discussion of SAS®'s %CUMINCID macro for generating cumulative incidence curves in cases of competing risk in survival analysis. http://www.wuss.org/proceedings10/analy/2941_9_ANL-Dagis.pdf. Accessed 8 July 2015

Nolan A (2008) Evaluating the impact of eligibility for free care on the use of general practitioner (GP) services: a difference-in-difference matching approach. Soc Sci Med 67:1164–1172. doi:10.1016/j.socscimed.2008.06.021
Acknowledgments
We would like to thank the Tumour Registration Officers at the National Cancer Registry who collect the data and the Primary Care Reimbursement Service for providing access to medical card records. We are grateful for the insightful comments and suggestions received from the reviewers. This work was funded by a project research grant from the Health Research Board Ireland. The registry receives funding from the Department of Health, Ireland.
About this article
Cite this article
Brown, C., Barron, T.I., Bennett, K. et al. Generalisability of pharmacoepidemiological studies using restricted prescription data. Ir J Med Sci 185, 723–727 (2016). https://doi.org/10.1007/s11845-015-1360-z
Received:

Accepted:

Published:

Issue Date:

DOI: https://doi.org/10.1007/s11845-015-1360-z
Keywords
Pharmacoepidemiology

Prescriptions

Ovarian cancer

Routine data

External validity

Generalisability