Abstract
Background and aims
Fine needle aspiration cytology (FNAC) is a widely utilized procedure in the preoperative assessment of salivary gland mass lesions. The aim of this study was to determine the adequacy of salivary gland FNA specimens and the accuracy of the cytological diagnoses made at a single institution over a 13-year period.
Methods
All salivary gland FNAs performed at University Hospital Waterford between 2000 and 2013 were reviewed. Specimens were categorized into those performed by pathologists, radiologists or surgeons and adequacy determined for each. Cases with subsequent surgery had their histology reviewed and compared with cytology for concordance.
Results
Of 262 salivary gland FNAs 93.1 % were from parotids and 6.9 % from submandibular glands. Thirty-four FNAs (13 %) were inadequate. The inadequacy rates for pathologists, radiologists and surgeons were 11, 9.1 and 20 %, respectively (p = 0.101). Pleomorphic adenoma was the most frequent cytological diagnosis (53.5 %) followed by primary and secondary malignancies (15.8 %), inflammatory conditions (11.4 %) and Warthin tumour (10.1 %). The histology and cytology were discordant in 13.3 % of 143 cases. The sensitivity and specificity for malignancies were 80.7 and 98.2 %, respectively.
Conclusions
Salivary gland FNAC has good sensitivity and specificity. Radiologists and pathologists have the best adequacy rates and image guidance makes radiologists good aspirators.
Access options
Buy single article
Instant access to the full article PDF.
USD 39.95
Price excludes VAT (USA)
Tax calculation will be finalised during checkout.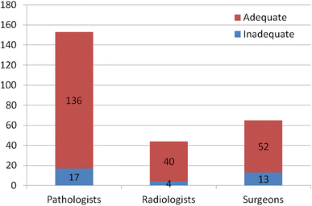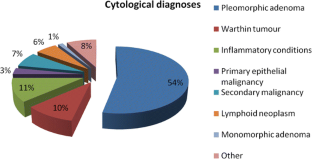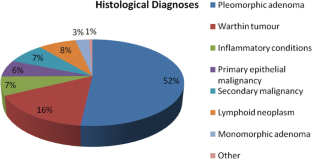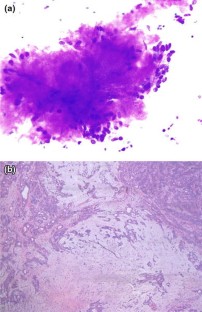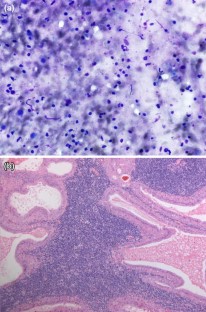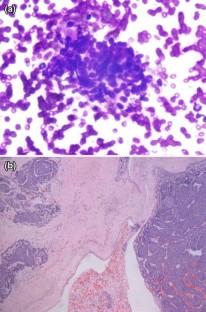 References
Colella Giuseppe, Cannavale Rosangela, Flamminio Federica et al (2010) Fine-needle aspiration cytology of salivary gland lesions: a systematic review. J Oral Maxillofac Surg 68(9):2146–2153

National Institute for Health and Clinical Excellence (2004) Guidance on cancer services: improving outcomes in head and neck cancers. NICE, London

Denton K, Giles T, Smith P et al (2010) Tissue pathways for exfoliative cytology and fine needle aspiration cytology. The Royal College of Pathologists. http://www.rcpath.org/Resources/RCPath/Migrated%20Resources/Documents/G/g086tpexfoliativecytologyfnacytology.pdf. Accessed 27 June 2014

Lee YY, Wong KT, King AD et al (2008) Imaging of salivary gland tumours. Eur J Radiol 66(3):419–436. doi:10.1016/j.ejrad.2008.01.027

Stanley MW (2002) Selected problems in fine needle aspiration of head and neck masses. Mod Pathol 15(3):342–350

Maoxin Wu (2011) A comparative study of 200 head and neck FNAs performed by a cytopathologist with versus without ultrasound guidance: evidence for improved diagnostic value with ultrasound guidance. Diagn Cytopathol 39(10):743–751

Witt BL, Schmidt RL (2013) Rapid onsite evaluation improves the adequacy of fine-needle aspiration for thyroid lesions: a systematic review and meta-analysis. Thyroid 23(4):428–435. doi:10.1089/thy.2012.0211

Poller DN, Kandaswamy P (2013) A simplified economic approach to thyroid FNA cytology and surgical intervention in thyroid nodules. J Clin Pathol 66(7):583–588. doi:10.1136/jclinpath-2012-201339

Nteene LM, Wright CA (2012) A comparison of specimen adequacy in fine needle aspiration biopsies performed by pathologists, trained nursing staff and clinicians. Trop Doct 42(2):97–98

Heaton CM, Chazen JL, van Zante A et al (2013) Pleomorphic adenoma of the major salivary glands: diagnostic utility of FNAB and MRI. Laryngoscope 123(12):3056–3060. doi:10.1002/lary.24247

Hughes JH, Volk EE, Wilbur DC (2005) Pitfalls in salivary gland fine-needle aspiration cytology: lessons from the College of American Pathologists Interlaboratory Comparison Program in Nongynecologic Cytology. Arch Pathol Lab Med 129:26–31

Helliwell T, Woolgar J (2013) Dataset for histopathology reporting of salivary gland neoplasms. The Royal College of Pathologists. http://www.rcpath.org/Resources/RCPath/Migrated%20Resources/Documents/G/G115_SalivaryDataset_Nov13.pdf. Accessed 27 June 2014

Howlett DC, Harper B, Quante M et al (2007) Diagnostic adequacy and accuracy of fine needle aspiration cytology in neck lump assessment: results from a regional cancer network over a one year period. J Laryngol Otol 121:571–579

Tryggvason Geir, Gailey Michael P, Hulstein Stephanie L et al (2013) Accuracy of fine-needle aspiration and imaging in the preoperative workup of salivary gland mass lesions treated surgically. Laryngoscope 123(1):158–163

Daneshbod Y, Daneshbod K, Khademi B (2009) Diagnostic difficulties in the interpretation of fine needle aspirate samples in salivary lesions: diagnostic pitfalls revisited. Acta Cytol 53(1):53–70
Ethics declarations
Conflict of interest
None.
About this article
Cite this article
Mohammed Nur, M., Murphy, M. Adequacy and accuracy of salivary gland fine needle aspiration cytology. Ir J Med Sci 185, 711–716 (2016). https://doi.org/10.1007/s11845-015-1352-z
Received:

Accepted:

Published:

Issue Date:

DOI: https://doi.org/10.1007/s11845-015-1352-z
Keywords
Salivary gland

Fine needle aspiration

Parotid gland FNA