Abstract
Aim
To describe our experience of all patients presenting to a tertiary referral centre over a 5-year time period with acute scrotum and to investigate the role of Doppler ultrasonography (DUS) for investigating this group of patients.
Method
A retrospective analysis was performed on all patients presenting to the emergency department (ED) of a level 1 trauma centre with acute scrotum from 2009 to 2014 inclusive. Inclusion criteria included all patients who underwent an investigatory DUS and/or emergency scrotal exploration. Recorded patient demographics included age, presenting symptoms, duration of symptoms and relevant examination findings.
Result
Three-hundred and twelve patients were included with a mean age of 15 years (range 1 day–40 years). In total, 106 patients underwent immediate scrotal exploration, and testicular torsion (TT) was found in 30 % (n = 32/106). Two-hundred and twenty-two patients were initially investigated with DUS and 16 (7.2 %) proceeded to scrotal exploration. Of this sub-group, 2/16 presented with a history <24 h and exploration was negative for TT. In comparison, 14/16 presented with a history >24 h, and DUS findings were consistent with TT. No patients with a normal DUS represented to the ED after discharge.
Conclusion
DUS may prevent unnecessary scrotal exploration in patients presenting with acute scrotal pain and is useful for diagnosing TT in patients presenting with symptoms >24 h.
Access options
Buy single article
Instant access to the full article PDF.
USD 39.95
Price excludes VAT (USA)
Tax calculation will be finalised during checkout.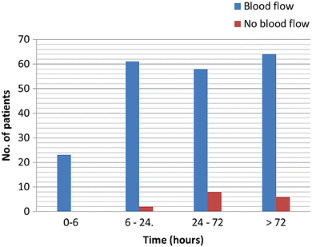 References
McAndrew HF, Pemberton R, Kikiros CS et al (2002) The incidence and investigation of acute scrotal problems in children. Pediatr Surg Int 18(5–6):435–437

Molokwu CN, Somani BK, Goodman CM (2011) Outcomes of scrotal exploration for acute scrotal pain suspicious of testicular torsion: a consecutive case series of 173 patients. BJU Int 107(6):990–993

Waldert M, Klatte T, Schmidbauer J et al (2010) Color Doppler sonography reliably identifies testicular torsion in boys. Urology 75(5):1170–1174

Altinkilic B, Pilatz A, Weidner W (2013) Detection of normal intratesticular perfusion using color coded duplex sonography obviates need for scrotal exploration in patients with suspected testicular torsion. J Urol 189(5):1853–1858

Tajchner L, Larkin JO, Bourke MG et al (2009) Management of the acute scrotum in a district general hospital: 10-year experience. ScientificWorldJournal 28(9):281–286

Yang C, Song B, Tan J et al (2011) Testicular torsion in children: a 20-year retrospective study in a single institution. ScientificWorldJournal 11:362–368

Boettcher M, Bergholz R, Krebs TF et al (2012) Clinical predictors of testicular torsion in children. Urology 79(3):670–674

Barbosa JA, Tiseo B, Barayan GA et al (2013) Development and initial validation of a scoring system to diagnose testicular torsion in children. J Urol 189(5):1859–1864

Pepe P, Panella P, Pennisi M et al (2006) Does color Doppler sonography improve the clinical assessment of patients with acute scrotum? Eur J Radiol 60(1):120–124

Baker LA, Sigman D, Mathew RI et al (2000) An analysis of clinical outcome using Color Doppler testicular ultrasound for testicular torsion. J Pediatr 105:604–607

Dalton DM, Davis NF, O'Neill DC et al (2014) Aetiology, epidemiology and management strategies for blunt scrotal trauma. Surgeon. doi:10.1016/j.surge.2014.06.006

Matteson JR, Stock JA, Hanna MK et al (2001) Medicolegal aspects of testicular torsion. 7:783–786 (discussion 786–787)
Ethics declarations
Conflict of interest
None.
About this article
Cite this article
Mohammed, W.M., Davis, N.F., O'Connor, K.M. et al. Re-evaluating the role of Doppler ultrasonography in patients presenting with scrotal pain. Ir J Med Sci 185, 705–709 (2016). https://doi.org/10.1007/s11845-015-1349-7
Received:

Accepted:

Published:

Issue Date:

DOI: https://doi.org/10.1007/s11845-015-1349-7
Keywords