Abstract
Purpose
Fine-needle aspiration biopsy (FNAB) of the thyroid is generally a well-tolerated procedure associated with weak levels of pain. However, pain may be very intense in some patients. The cause for the pain in these patients has not been identified. The hypothesis of this study is that there is a likely relationship between pain level and nodule depth during FNAB.
Materials and methods
Included in the study were 98 patients with euthyroid nodular goiter who underwent FNAB. When ultrasound guided thyroid fine-needle aspiration biopsy was performed findings such as the distance of the nodule to the skin, the size of the nodule, visual analogue scale (VAS) score values were recorded.
Findings
The distance of nodule to skin and nodule size was measured, respectively, as 10.7 ± 2.8 mm and 21.7 ± 8.6 mm. Mean VAS score was 36 ± 16. FNAB-related pain was correlated with the nodule depth (r = 0.43, p < 0.001). In the logistic regression analysis, we also found that high VAS score class was effected by only nodule depth (B = −1.619; OR 1.287; CI 1.057–1.565, p < 0.05).
Conclusion
Our results show that pain increased significantly during FNAB in patients who had more deeply situated nodules. Local anesthetic methods may be recommended for these patients.
Access options
Buy single article
Instant access to the full article PDF.
USD 39.95
Price excludes VAT (USA)
Tax calculation will be finalised during checkout.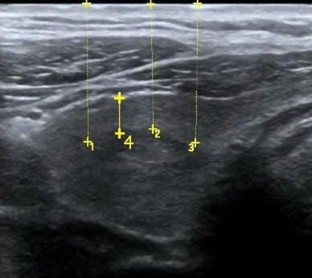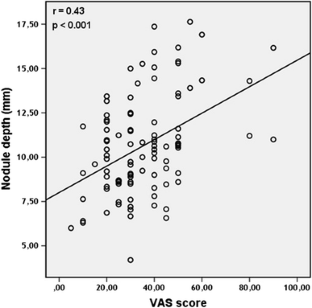 References
Gharib H, Papini E, Paschke R et al (2010) American Association of Clinical Endocrinologists, Associazione Medici Endocrinologi, and European Thyroid Association Medical guidelines for clinical practice for the diagnosis and management of thyroid nodules: executive summary of recommendations. J Endocrinol Invest 33(5):287–291. doi:10.3275/7048

Gharib H, Goellner JR (1993) Fine-needle aspiration biopsy of thyroid: an appraisal. Ann Intern Med 118(4):282–289. doi:10.7326/0003-4819-118-4-199302150-00007

Polyzos SA, Anastasilakis AD (2010) Systematic review of cases reporting blood extravasation-related complications after thyroid fine-needle biopsy. J Otolaryngol Head Neck Surg 39(5):532–541

Lo WC, Cheng PW, Wang CT et al (2014) Pain levels associated with ultrasound-guided fine-needle aspiration biopsy for neck masses. Head Neck 36(2):252–256. doi:10.1002/hed.23303

Gursoy A, Ertugrul TD, Sahin M et al (2007) Needle-free delivery of lidocaine for reducing the pain associated with the fine-needle aspiration biopsy of thyroid nodules: time-saving and efficacious procedure. Thyroid 17(4):317–321. doi:10.1089/thy.2006.0326

Leboulleux S, Borget I, Labro S et al (2013) Frequency and intensity of pain related to thyroid nodule fine needle aspiration cytology. Thyroid 23(9):1113–1118. doi:10.1089/thy.2012.0461

Gursoy A, Ertugrul DT, Sahin M et al (2007) The analgesic efficacy of lidocaine/prilocaine (EMLA) cream during fine-needle aspiration biopsy of thyroid nodules. Clin Endocrinol (Oxf) 66(5):691–694. doi:10.1111/j.1365-2265.2007.02802.x

Kim DW, Rho MH, Kim KN (2009) Ultrasound-guided fine-needle aspiration biopsy of thyroid nodules: is it necessary to use local anesthesia for the application of one needle puncture? Korean J Radiol 10(5):441–446. doi:10.3348/kjr.2009.10.5.441

Matthey-Gie ML, Walsh SM, O'Neill AC et al (2014) Ultrasound predictors of malignancy in indeterminate thyroid nodules. Ir J Med Sci 183(4):633–637. doi:10.1007/s11845-013-1065-0

Bomeli SR, LeBeau SO, Ferris RL (2010) Evaluation of a thyroid nodule. Otolaryngol Clin North Am 43(2):229–238. doi:10.1016/j.otc.2010.01.002

Demirci H, Erdamar H, Karakoc A et al (2010) Thyroid fine needle aspiration biopsy: is topical local anaesthesia beneficial? Int J Clin Pract 64(1):25–28. doi:10.1111/j.1742-1241.2008.01814.x

Craig AD (2003) Pain mechanisms: labeled lines versus convergence in central processing. Annu Rev Neurosci 26:1–30. doi:10.1146/annurev.neuro.26.041002.131022

Meng Z, Lu G (2000) Projection linkage from spinal neurons to both lateral cervical nucleus and solitary tract nucleus in the cat. Biol Signals Recept 9(1):38–44

Millan MJ (1999) The induction of pain: an integrative review. Prog Neurobiol 57(1):1–164. doi:10.1016/S0301-0082(98)00048-3

Katz J, Melzack R (1999) Measurement of pain. Surg Clin North Am 79(2):231–252. doi:10.1016/S0039-6109(05)70381-9

Choiniere M, Amsel R (1996) A visual analogue thermometer for measuring pain intensity. J Pain Symptom Manage 11(5):299–311. doi:10.1016/0885-3924(95)00204-9

Cepeda MS, Carr DB (2003) Women experience more pain and require more morphine than men to achieve a similar degree of analgesia. Anesth Analg 97(5):1464–1468. doi:10.1213/01.ANE.0000080153.36643.83

Feine JS, Bushnell MC, Miron D et al (1991) Sex differences in the perception of noxious heat stimuli. Pain 44(3):255–262. doi:10.1016/0304-3959(91)90094-E
Ethics declarations
Conflict of interest
The authors declare that they have no conflict of interest. The authors have no financial relationship with the companies that manufactured the materials used in this study.
Ethical approval
All procedures performed in studies involving human participants were in accordance with the ethical standards of the institutional and/or national research committee and with the 1964 Helsinki declaration and its later amendments or comparable ethical standards.
Informed consent
Informed consent was obtained from all individual participants included in the study.
About this article
Cite this article
Toman, H., Ozkul, F., Erbag, G. et al. Effects of fine-needle aspiration biopsy (FNAB) nodule depth on pain score. Ir J Med Sci 185, 673–676 (2016). https://doi.org/10.1007/s11845-015-1337-y
Received:

Accepted:

Published:

Issue Date:

DOI: https://doi.org/10.1007/s11845-015-1337-y
Keywords
Thyroid nodule

Pain

Nodule depth

FNAB

VAS score