Abstract
Background
For urgent, unexpected clinical events, nursing home (NH) residents are transferred to the acute hospital emergency department (ED). A previous study showed that a third of transfers occurred during working hours.
Aims
Our aims were to profile a one-year NH transfers to the ED and to examine the re-presentation, patient-oriented outcome and the impact of season, weekends and bank holidays on NH transfers.
Methods
All NH transfers from a catchment to an ED over one year were identified using electronic patient record. Age, gender, reason for presentation, patient-oriented outcome and date and time of presentation were recorded. Representation and the interval between transfers were calculated. Number of transfers was calculated for season, weekdays/weekends and bank holidays. Student t test, Chi-square statistics and one-way ANOVA were used. Significance was set at 0.05.
Results
There were 802 transfers from 465 NH residents over a year; 501 (62.5 %) resulted in admissions, 189 (40.6 %) residents represent to the service and 80 episodes occurred within a fortnight of the last attendance. The highest transfers occurred in May (2.81 patients/day), during working hours and on Wednesdays and Thursdays (>2.5 transfers/day). 'Unwell adult' and 'falls' were the two commonest reasons for presentation.
Conclusions
Our study showed that NH transfers occurred mainly within working hours and during weekdays. Insights into the transfer pattern and the reasons for NH patients to utilise ED will facilitate improved design and operation of the department by creating care pathways for these patients.
Access options
Buy single article
Instant access to the full article PDF.
USD 39.95
Price excludes VAT (USA)
Tax calculation will be finalised during checkout.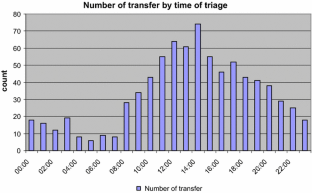 References
Wang HE, Shah MN, Allman RM, Kilgore M (2011) Emergency department visits by nursing home residents in the United States. J Am Geriatr Soc 59(10):1864–1872

Briggs R, Coughlan T, Collins R, O'Neill D, Kennelly SP (2013) Nursing home residents attending the emergency department: clinical characteristics and outcomes. QJM 106(9):803–808

National clinical programme for older people. January 2013

Report of the National Acute Medicine by the Royal College of Physicians Ireland, The Irish Association of the directors of nursing and midwifery, Therapy Professions Committee, Quality and Clinical Care Directorate, Health Service Executive, 2010

Health Information and Quality A-Z Nursing homes http://www.hiqa.ie/social-care/find-a-centre/nursing-homes/m

Byrne C, Vartuli M, McCarthy F et al (2013) Older re-attender to emergency department and medicine for the older persons. Ir J Med Sci 182(Suppl 6):S241

Onder G, Carpenter I, Finne-Soveri H et al (2012) Assessment of nursing home residents in Europe: the services and health for elderly in long TERm care (SHELTER) study. BMC Health Serv Res 9(12):5

Central statistics office (Ireland): Profile 2—older and younger, May 2012

Nemec M, Koller MT, Nickel CH, Maile S, Winterhalder C, Karrer C, Laifer G, Bingisser R (2010) Patients presenting to the emergency department with non-specific complaints: the basel non-specific complaints (BANC) study. Acad Emerg Med 17(3):284–292

Ruger JP, Lewis LM, Richter CJ (2007) Identifying high-risk patients for triage and resource allocation in the ED. Am J Emerg Med 25:794–798

Dosa D (2005) Should I hospitalize my resident with nursing home-acquired pneumonia? J Am Med Dir Assoc 6(5):327–333

Romero-Ortuno R, O'Shea D, Silke B (2012) Predicting the in-patient outcomes of acute medical admissions from the nursing home: the experience of St James's Hospital, Dublin, 2002-2010. Geriatr Gerontol Int. 12(4):703–713

Burkett E, Scott I (2015) CARE-PACT: a new paradigm of care for acutely unwell residents in aged care facilities. Aust Fam Physician 44(4):204–209
Electronic supplementary material
Below is the link to the electronic supplementary material.
About this article
Cite this article
Fan, C.W., Keating, T., Brazil, E. et al. Impact of season, weekends and bank holidays on emergency department transfers of nursing home residents. Ir J Med Sci 185, 655–661 (2016). https://doi.org/10.1007/s11845-015-1332-3
Received:

Accepted:

Published:

Issue Date:

DOI: https://doi.org/10.1007/s11845-015-1332-3
Keywords