Abstract
Background
Renal ischemia–reperfusion injury (IRI) is a major cause of acute kidney injury. Hydrogen sulfide (H2S) has been known as a novel gaseous signaling molecule.
Aims
The aim of this study was to investigate whether the efficacy of H2S in protecting against renal IRI is through its antioxidative effect.
Method
In this study, rats were randomized into Sham, IR, or sodium hydrosulfide (NaHS, an H2S donor) groups. To establish a model of renal IRI, both renal arteries were occluded for 55 min and then declamped to allow reperfusion for 24 h. Rats in the NaHS group received intraperitoneal injections of 75 μmol/kg NaHS 10 min before the onset of ischemia and immediately after the onset of reperfusion. Sham group underwent laparotomy without cross-clamping of renal pedicles. After reperfusion, plasma and renal tissue samples were collected for functional, histological, and oxidative stress evaluation.
Results
The IR group exhibited significant rise in plasma creatinine, blood urea nitrogen (BUN), renal malondialdehyde (MDA) concentration, and significant reduction of renal superoxide dismutase (SOD) activity. Treatment with NaHS reduced the levels of plasma creatinine, BUN, renal MDA concentration, and increased SOD activity in the kidneys. NaHS improved renal histological changes in comparison to IR group.
Conclusion
Our data demonstrated that H2S can protect against renal IRI and that its therapeutic effects may be mediated by reducing oxidative stress.
Access options
Buy single article
Instant access to the full article PDF.
USD 39.95
Price excludes VAT (USA)
Tax calculation will be finalised during checkout.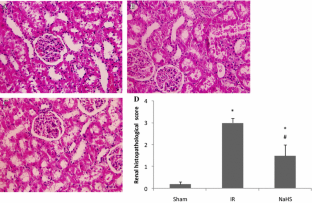 References
Chertow GM, Burdick E, Honour M, Bonventre JV, Bates DW (2005) Acute kidney injury, mortality, length of stay, and costs in hospitalized patients. J Am Soc Nephrol 16:3365–3370

Regner KR, Roman RJ (2012) Role of medullary blood flow in the pathogenesis of renal ischemia-reperfusion injury. Curr Opin Nephrol Hypertens 21:33–38

Tan S, Wang G, Guo Y, Gui D, Wang N (2013) Preventive effects of a natural anti-inflammatory agent, astragaloside IV, on ischemic acute kidney injury in rats. Evid Based Complement Alternat Med 2013:284025

Hunter JP, Hosgood SA, Patel M, Rose R, Read K, Nicholson ML (2012) Effects of hydrogen sulphide in an experimental model of renal ischaemia-reperfusion injury. Br J Surg 99:1665–1671

Hosgood SA, Nicholson ML (2010) Hydrogen sulphide ameliorates ischaemia-reperfusion injury in an experimental model of non-heart-beating donor kidney transplantation. Br J Surg 97:202–209

Williams P, Lopez H, Britt D, Chan C, Ezrin A, Hottendorf R (1997) Characterization of renal ischemia-reperfusion injury in rats. J Pharmacol Toxicol Methods 37:1–7

Kurian GA, Pemaih B (2014) Standardization of in vitro cell-based model for renal ischemia and reperfusion injury. Indian J Pharm Sci 76:348–353

Singh D, Kaur R, Chander V, Chopra K (2006) Antioxidants in the prevention of renal disease. J Med Food 9:443–450

Pham-Huy LA, He H, Pham-Huy C (2008) Free radicals, antioxidants in disease and health. Int J Biomed Sci 4:89–96

Yun Y, Duan WG, Chen P, Wu HX, Shen ZQ, Qian ZY et al (2009) Ischemic postconditioning modified renal oxidative stress and lipid peroxidation caused by ischemic reperfusion injury in rats. Transplant Proc 41:3597–3602

Davies KJ (1987) Protein damage and degradation by oxygen radicals. I. general aspects. J Biol Chem 262:9895–9901

Ivanov AV, Bartosch B, Smirnova OA, Isaguliants MG, Kochetkov SN (2013) HCV and oxidative stress in the liver. Viruses 5:439–469

Ferrari R, Ceconi C, Curello S, Cargnoni A, Pasini E, De Giuli F et al (1991) Role of oxygen free radicals in ischemic and reperfused myocardium. Am J Clin Nutr 53:215S–222S

Paller MS, Hoidal JR, Ferris TF (1984) Oxygen free radicals in ischemic acute renal failure in the rat. J Clin Invest 74:1156–1164

Wallace JL, Blackler RW, Chan MV, Da Silva GJ, Elsheikh W, Flannigan KL et al (2015) Anti-inflammatory and cytoprotective actions of hydrogen sulfide: translation to therapeutics. Antioxid Redox Signal 22(5):398–410

King AL, Lefer DJ (2011) Cytoprotective actions of hydrogen sulfide in ischaemia-reperfusion injury. Exp Physiol 96:840–846

Bracht H, Scheuerle A, Groger M, Hauser B, Matallo J, McCook O et al (2012) Effects of intravenous sulfide during resuscitated porcine hemorrhagic shock*. Crit Care Med 40:2157–2167

Xue H, Yuan P, Ni J, Li C, Shao D, Liu J et al (2013) H(2)S inhibits hyperglycemia-induced intrarenal renin-angiotensin system activation via attenuation of reactive oxygen species generation. PLoS ONE 8:e74366

Esterbauer H, Schaur RJ, Zollner H (1991) Chemistry and biochemistry of 4-hydroxynonenal, malonaldehyde and related aldehydes. Free Radic Biol Med 11:81–128

Paoletti F, Mocali A (1990) Determination of superoxide dismutase activity by purely chemical system based on NAD (P) H Oxidation. Methods Enzymol 186:209–220

Elrod JW, Calvert JW, Morrison J, Doeller JE, Kraus DW, Tao L et al (2007) Hydrogen sulfide attenuates myocardial ischemia-reperfusion injury by preservation of mitochondrial function. Proc Natl Acad Sci USA 104:15560–15565

Hunter J, Hosgood S, Patel M, Rose R, Read K, Nicholson M (2012) Effects of hydrogen sulphide in an experimental model of renal ischaemia–reperfusion injury. Br J Surg 99:1665–1671

Ekici F, Karson A, Dillioglugil MO, Gurol G, Kir HM, Ates N (2013) The effects of vagal nerve stimulation in focal cerebral ischemia and reperfusion model. Turk Neurosurg 23:451–457

Bos EM, Wang R, Snijder PM, Boersema M, Damman J, Fu M et al (2013) Cystathionine gamma-lyase protects against renal ischemia/reperfusion by modulating oxidative stress. J Am Soc Nephrol 24:759–770

Bos EM, Leuvenink HG, Snijder PM, Kloosterhuis NJ, Hillebrands JL, Leemans JC et al (2009) Hydrogen sulfide-induced hypometabolism prevents renal ischemia/reperfusion injury. J Am Soc Nephrol 20:1901–1905

Tripatara P, Patel NS, Brancaleone V, Renshaw D, Rocha J, Sepodes B et al (2009) Characterisation of cystathionine gamma-lyase/hydrogen sulphide pathway in ischaemia/reperfusion injury of the mouse kidney: an in vivo study. Eur J Pharmacol 606:205–209

Kim J, Jang HS, Park KM (2010) Reactive oxygen species generated by renal ischemia and reperfusion trigger protection against subsequent renal ischemia and reperfusion injury in mice. Am J Physiol Renal Physiol 298:F158–F166

Xu Z, Prathapasinghe G, Wu N, Hwang SY, Siow YL (2009) O K. Ischemia-reperfusion reduces cystathionine-beta-synthase-mediated hydrogen sulfide generation in the kidney. Am J Physiol Renal Physiol 297:F27–F35

Liu H, Bai XB, Shi S, Cao YX (2009) Hydrogen sulfide protects from intestinal ischaemia–reperfusion injury in rats. J Pharm Pharmacol 61:207–212

Zhou X, Feng Y, Zhan Z, Chen J (2014) Hydrogen sulfide alleviates diabetic nephropathy in a streptozotocin-induced diabetic rat model. J Biol Chem 289:28827–28834

Liu H, Bai XB, Shi S, Cao YX (2009) Hydrogen sulfide protects from intestinal ischaemia-reperfusion injury in rats. J Pharm Pharmacol 61:207–212

Cheng P, Wang F, Chen K, Shen M, Dai W, Xu L et al (2014) Hydrogen sulfide ameliorates ischemia/reperfusion-induced hepatitis by inhibiting apoptosis and autophagy pathways. Mediators Inflamm 2014:935251

Webster KA (2012) Mitochondrial membrane permeabilization and cell death during myocardial infarction: roles of calcium and reactive oxygen species. Future Cardiol 8:863–884

Wang JF, Li Y, Song JN, Pang HG (2014) Role of hydrogen sulfide in secondary neuronal injury. Neurochem Int 64:37–47
About this article
Cite this article
Azizi, F., Seifi, B., Kadkhodaee, M. et al. Administration of hydrogen sulfide protects ischemia reperfusion-induced acute kidney injury by reducing the oxidative stress. Ir J Med Sci 185, 649–654 (2016). https://doi.org/10.1007/s11845-015-1328-z
Received:

Accepted:

Published:

Issue Date:

DOI: https://doi.org/10.1007/s11845-015-1328-z
Keywords
Renal

Ischemia

Reperfusion

Hydrogen sulfide