Abstract
Background
Concussion is a traumatic brain injury, resulting in the alteration of mental status with or without loss of consciousness. There is increasing awareness that recurrent concussion may contribute to long-term neurological complication.
Aims
To determine player knowledge and attitudes regarding concussion. To identify sources of information and medical care, and to estimate the incidence of concussion in this group. To determine if player gender and grade of competition are associated with differences in knowledge, attitudes, medical care, and incidence.
Methods
Five rugby teams were recruited and players invited to complete a paper-based questionnaire. The questionnaire sought information on player demographics, knowledge level, attitudes and concussion experience.
Results
90.8 % of players knew they should not continue playing when concussed. 75 % of players would continue an important game even if concussed. Of those concussed, 39.1 % have tried to influence medical assessment with 78.2 % stating it is possible or quite easy to do so. Males are less likely to worry about long-term effects of concussion (χ 2 = 9.23, p = 0.026). Club players are less likely to have medical care at training (χ 2 = 28.2, p < 0.001) or matches (χ 2 = 19.47 p < 0.001).
Conclusion
Despite good knowledge of concussion complications, management players engage in unsafe behaviour with little difference between gender and competition grades. Information regarding symptoms and management should be available to all players, coaches, and parents. Provision of medical care should be mandatory at every level of competition.
Access options
Buy single article
Instant access to the full article PDF.
USD 39.95
Price excludes VAT (USA)
Tax calculation will be finalised during checkout.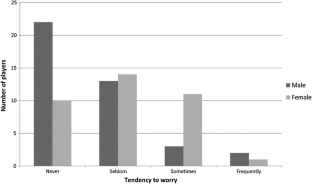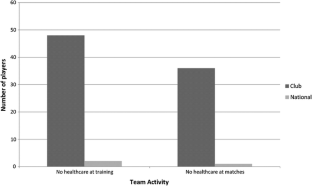 References
Jamie Kissick MD, on behalf of the ThinkFirst-SportSmart Concussion Education and Awareness Committee. ThinkFirst-SportSmart Concussion Education and Awareness Program. Revised version—June 2005

McCrea M, Guskiewicz KM, Marshall SW, Barr W, Randolph C, Cantu RC et al (2003) Acute effects and recovery time following concussion in collegiate football players: the NCAA Concussion Study. JAMA, J Am Med Assoc 290(19):2556–2563 Epub 2003/11/20

Harmon KG, Drezner JA, Gammons M, Guskiewicz KM, Halstead M, Herring SA et al (2013) American Medical Society for sports medicine position statement: concussion in sport. Br J Sports Med 47(1):15–26 Epub 2012/12/18

Moser RS, Schatz P, Jordan BD (2005) Prolonged effects of concussion in high school athletes. Neurosurgery 57(2):300–306 discussion-6, Epub 2005/08/12

Castile L, Collins CL, McIlvain NM, Comstock RD (2012) The epidemiology of new versus recurrent sports concussions among high school athletes, 2005–2010. Br J Sports Med 46(8):603–610 Epub 2011/12/07

Sye G, Sullivan SJ, McCrory P (2006) High school rugby players' understanding of concussion and return to play guidelines. Br J Sports Med 40(12):1003–1005

Cusimano MD (2009) Canadian minor hockey participants' knowledge about concussion. Can J Neurol Sci 36(3):315–320

Williamson IJ, Goodman D (2006) Converging evidence for the under-reporting of concussions in youth ice hockey. Br J Sports Med 40(2):128–132 discussion-32

McCrea M, Hammeke T, Olsen G, Leo P, Guskiewicz K (2004) Unreported concussion in high school football players: implications for prevention. Clin J Sport Med 14(1):13–17

Baker JF, Devitt BM, Green J, McCarthy C (2013) Concussion among under 20 rugby union players in Ireland: incidence, attitudes and knowledge. Ir J Med Sci 182(1):121–125 Epub 2012/08/18

Herring SA, Cantu RC, Guskiewicz KM, Putukian M, Kibler WB, Bergfeld JA et al (2011) Concussion (mild traumatic brain injury) and the team physician: a consensus statement–2011 update. Med Sci Sports Exerc 43(12):2412–2422 Epub 2011/11/18

Tsushima WT, Lum M, Geling O (2009) Sex differences in the long-term neuropsychological outcome of mild traumatic brain injury. Brain Inj 23(10):809–814 Epub 2009/08/22

McCrory P, Meeuwisse W, Johnston K, Dvorak J, Aubry M, Molloy M et al (2009) Consensus statement on concussion in sport—the 3rd international conference on concussion in sport held in Zurich, November 2008. PM R 1(5):406–420

McCrory P, Meeuwisse WH, Aubry M, Cantu B, Dvořák J, Echemendia RJ et al (2013) Consensus statement on concussion in sport: the 4th international conference on concussion in sport held in Zurich, November 2012. Br J Sports Med 47(5):250–258

Irish Rugby Football Union (2013) STOP–INFORM–REST–RETURN. A guide to concussion in Rugby Union. Available from: http://www.irishrugby.ie/downloads/IRFU-Guide-to-Concussion.pdf. Accessed December 2014

International Rugby Board (IRB) (2013) IRB Concussion Guidelines. Available at: http://www.irbplayerwelfare.com/pdfs/IRB_Concussion_Guidelines_EN.pdf. Accessed Dec 2013

Sports Concussion Assessment Tool (SCAT 3) (2013). Available at: http://bjsm.bmj.com/content/47/5/259.full.pdf+html. Accessed Nov 2013

Sarmiento K, Mitchko J, Klein C, Wong S (2010) Evaluation of the Centers for Disease Control and Prevention's concussion initiative for high school coaches: "heads up: concussion in high school sports". J Sch Health 80(3):112–118

Guilmette TJ, Malia LA, McQuiggan MD (2007) Concussion understanding and management among New England high school football coaches. Brain Inj 21(10):1039–1047

Fuller GW, Kemp SP, Decq P (2015) The International Rugby Board (IRB) Pitch side concussion assessment trial: a pilot test accuracy study. Br J Sports Med 49(8):529–535. doi:10.1136/bjsports-2014-093498
Acknowledgments
I would like to express my appreciation to Professor Michael Molloy for his invaluable guidance while undertaking this project. I would like to thank Dr. Colm O'Tuathaigh and Ms Eileen Duggan, University College Cork for their advice regarding questionnaire design, data analysis and report presentation. I wish to thank Kelly Sarmiento and Dr. Ann Glang for granting me permission to use questionnaires from their respective research studies. This project received no funding.
Conflict of interest
I can state that the authors had no competing interests.
Ethical considerations
Research participants were required to provide written informed consent to participate in the study.
About this article
Cite this article
O'Connell, E., Molloy, M.G. Concussion in rugby: knowledge and attitudes of players. Ir J Med Sci 185, 521–528 (2016). https://doi.org/10.1007/s11845-015-1313-6
Received:

Accepted:

Published:

Issue Date:

DOI: https://doi.org/10.1007/s11845-015-1313-6
Keywords
Knowledge

Attitude

Concussion

Brain

Sports