Abstract
Background
Opioids can mimic the effects of remote cardiac preconditioning and mediate a subsequent reduction in myocardial infarct size.
Aim
This study investigated the role of beta-endorphin (β-EP) in intracerebroventricular morphine cardioprotection.
Methods
Anesthetized, open-chest, male Sprague–Dawley rats were assigned to 1 of 9 treatment groups 3 days after intracerebroventricular catheter placement. Remote preconditioning was induced with 3 μg/kg of morphine. The β-EP antagonist was administered via intracerebroventricular or intravenous routes either 10 min before or immediately after morphine or saline administration. Ischemia–reperfusion injury was caused by 30 min of left coronary artery occlusion followed by 120 min of reperfusion. The infarct size, as a percentage of the area at risk, was determined by 2,3,5-triphenyltetrazolium staining. Radioimmunoassay and immunoreactivity were used to determine the β-EP levels in the serum and brain.
Results
Intracerebroventricular administration of β-EP antiserum (AEP) after morphine administration attenuated the cardioprotective effects of remote preconditioning. The addition of intravenous AEP either before or after morphine did not affect infarct size. After morphine preconditioning, the β-EP level decreased in the hypothalamic arcuate nucleus and increased significantly in the serum, pituitary gland, ventrolateral periaqueductal gray and rostral ventrolateral medulla.
Conclusion
Central but not peripheral β-EP is involved in morphine remote preconditioning and plays a role in the ongoing mediation of cardioprotective effects.
Access options
Buy single article
Instant access to the full article PDF.
US$ 39.95
Tax calculation will be finalised during checkout.
Subscribe to journal
Immediate online access to all issues from 2019. Subscription will auto renew annually.
US$ 79
Tax calculation will be finalised during checkout.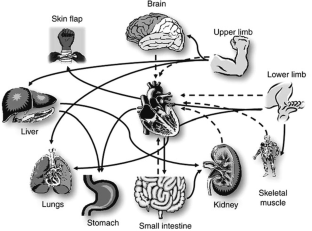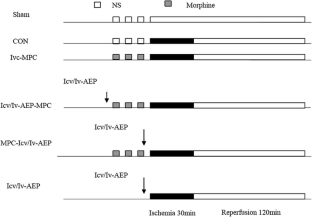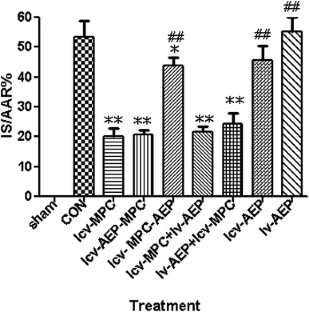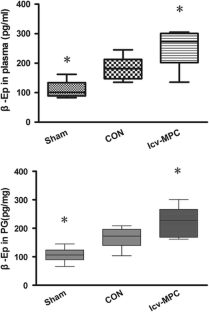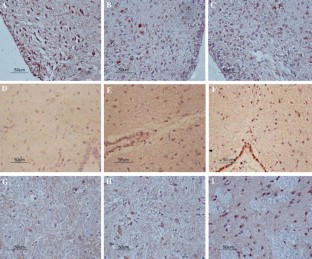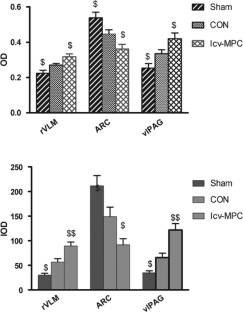 References
1.

Hausenloy DJ, Yellon DM (2008) Remote ischaemic preconditioning: underlying mechanisms and clinical application. Cardiovasc Res 79:377–386

2.

Groban L, Vernon JC, Butterworth J (2004) Intrathecal morphine reduces infarct size in a rat model of ischaemia-reperfusion injury. Anesth Analg 98:903–909

3.

Zhang Y, Irwin MG, Wong TM (2004) Remifentanil preconditioning protects against ischaemic injury in the intact rat heart. Anesthesiology 101:918–923

4.

Wong GT, Ling Ling J, Irwin MG (2010) Activation of central opioid receptors induces cardioprotection against ischaemia-reperfusion injury. Anesth Analg 111:24–28

5.

Yao L, Wong GT, Xia Z et al (2011) Interaction between spinal opioid and adenosine receptors in remote cardiac preconditioning: effect of intrathecal morphine. J Cardiothorac Vasc Anesth 25:444–448

6.

Zhang Y, Irwin MG, Lu Y et al (2011) Intracerebroventricular administration of morphine confers remote cardioprotection–role of opioid receptors and calmodulin. Eur J Pharmacol 656:74–80

7.

Guo ZL, Longhurst JC (2007) Expression of c-Fos in arcuate nucleus induced by electroacupuncture: relations to neurons containing opioids and glutamate. Brain Res 1166:65–76

8.

Li P, Tjen-A-Looi SC, Guo ZL et al (2009) Long-loop pathways in cardiovascular electroacupuncture responses. J Appl Physiol 106:620–630

9.

Chadzinska M, Starowicz K, Scislowska-Czarnecka A et al (2005) Morphine-induced changes in the activity of proopiomelanocortin and prodynorphin systems in zymosan-induced peritonitis in mice. Immunol Lett 101:185–192

10.

Seo YJ, Kwon MS, Choi SM et al (2009) Possible involvement of the hypothalamic proopiomelanocortin gene and beta-endorphin expression on acute morphine withdrawal development. Brain Res Bull 80:359–370

11.

Paxinos G, Watson C (2007) The rat brain in stereotaxic coordinates, 6th edn. Academic Press, New York

12.

Lessa MA, Tibirica E (2006) Pharmacologic Evidence for the involvement of central and peripheral opioid receptors in the cardioprotective effects of fentanyl. Anesth Analg 103:815–821

13.

Wong GT, Lu Y, Mei B et al (2012) Cardioprotection from remote preconditioning involves spinal opioid receptor activation. Life Sci 91:860–865

14.

Shan ZZ, Dai SM, Fang F et al (2004) Changes of central norepinephrine, beta-endorphin, LEU-enkephalin, peripheral arginine-vasopressin, and angiotensin II levels in acute and chronic phases of sino-aortic denervation in rats. J Cardiovasc Pharmacol 43:234–241

15.

Kassab S, Sachdeva U, Das N et al (2006) Cardiovascular responses to tonic pain in REM sleep-deprived rats: role of melatonin and beta endorphin. Sultan Qaboos Univ Med J 6:51–56

16.

Zhou Y, Spangler R, Maggos CE et al (1999) Hypothalamic- pituitary-adrenal activity and pro-opiomelanocortin mRNA levels in the hypothalamus and pituitary of the rat are differentially modulated by acute intermittent morphine with or without water restriction stress. J Endocrinol 163:261–267

17.

Rasmussen NA, Farr LA (2003) Effects of morphine and time of day on pain and beta-endorphin. Biol Res Nurs 5:105–116

18.

Cavun S, Göktalay G, Millington WR (2005) Glycyl-glutamine, an endogenous beta-endorphin-derived peptide, inhibits morphine-induced conditioned place preference, tolerance, dependence, and withdrawal. J Pharmacol Exp Ther 315:949–958

19.

Chultz JE, Gross GJ (2001) Opioids and cardioprotection. Pharmacol Ther 89:123–137

20.

Swart I, Jahng JW, Overton JM et al (2002) Hypothalamic NPY, AGRP, and POMC mRNA responses to leptin and refeeding in mice. Am J Physiol Regul Integr Comp Physiol 283:1020–1026

21.

Li P, Tjen-A-Looi SC, Longhurst JC (2006) Excitatory projections from arcuate nucleus to ventrolateral periaqueductal gray in electroacupuncture inhibition of cardiovascular reflexes. Am J Physiol Heart Circ Physiol 290:2535–2542

22.

Tjen-A-Looi SC, Li P, Longhurst JC (2006) Midbrain vIPAG inhibits rVLM cardiovascular sympathoexcitatory responses during acupuncture. Am J Physiol Heart Circ Physiol 290:2543–2553

23.

Hsueh CM, Kuo JS, Chen SF (2003) Ischaemia/reperfusion-induced changes of hypothalamic-pituitary-adrenal (HPA) activity is opioid related in Sprague–Dawley rat. Neurosci Lett 349:155–158
Acknowledgments
The authors thank GE Jian-jun MD (Technician, Department of cardiac surgery), WANG Dao-Bing (Technician, Department of central research institute) for technical assistance. The study was supported by National Natural Foundation of China (Grant No. 30672032) and Outstanding Young of Anhui Province, China (Grant No. 08040106814).
Conflict of interest
None.
About this article
Cite this article
Cheng, X., Zhang, Y.E., Lu, X. et al. The involvement of central beta-endorphin in the cardioprotective effects of remote preconditioning mediated by the intracerebroventricular administration of morphine. Ir J Med Sci 185, 423–431 (2016). https://doi.org/10.1007/s11845-015-1308-3
Received:

Accepted:

Published:

Issue Date:
Keywords
Remote

Beta-endorphin

Intracerebroventricular

Morphine

Cardioprotection