Abstract
Aim
Surfing is increasing in popularity in Ireland. Exostoses of the external auditory canal are a common finding in those who surf in cold water. The aim of this study was to examine the prevalence of external canal exostoses in a population of Irish surfers.
Methods
A cross-sectional study of Irish surfers was carried out. Patients were examined and questioned on their knowledge of exostoses, surfing routine, use of barrier protection and symptoms experienced.
Results
119 surfers were analysed. 66 % of the surfers examined exhibited exostoses and 88 % were unaware of their diagnosis. Those that developed exostoses had surfed for a mean of 5,028 h, those that did not had surfed for a significantly shorter mean of 1,909 h (p = 0.0002).
Conclusions
This is first study of this nature in the UK or Ireland. With a 5- to 6-year lag phase for exostoses to develop, these patients are likely to become an increasing part of Otolaryngologist's workload.
Access options
Buy single article
Instant access to the full article PDF.
USD 39.95
Price includes VAT (USA)
Tax calculation will be finalised during checkout.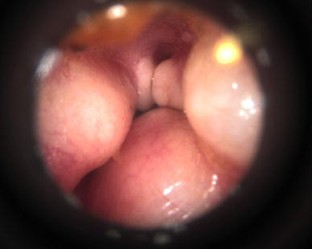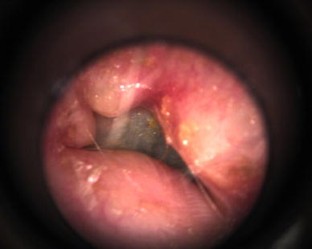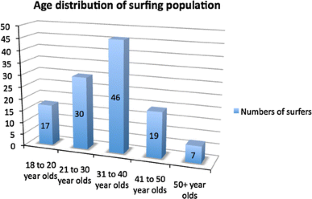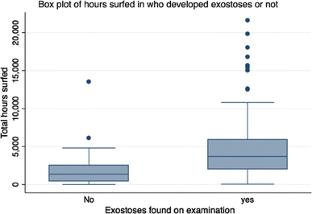 References
1.

Van Gilse P (1938) Des observations ulterieures sur la genese exostoses du conduit externe par l'iritatio d'eau froid. Acta Otolaryngol 26:343–352

2.

Ito M, Ikeda M (1998) Does cold water truly promote diver's ear? Undersea Hyperb Med 25:59–62

3.

Fabiani M, Barbara M, Filipo R (1984) External ear canal exostosis and aquatic sports. ORL J Otorhinolaryngol Relat Spec 46:159–164

4.

Karegeannes JC (1995) Incidence of bony outgrowths of the external ear canal in US Navy divers. Undersea Hyperb Med 22:301–306

5.

Timofeev I, Notkina N, Smith IM (2004) Exostoses of the external auditory canal: a long-term follow-up study of surgical treatment. Clin Otolaryngol Allied Sci 29:588–594

6.

Cooper A, Tong R, Neil R, Owens D, Tomkinson A (2010) External auditory canal exostoses in white water kayakers. Br J Sports Med 44:144–147

7.

History See http://www.isasurf.ie/history/ for further details. Accessed 31 Oct 2012

8.

Sea Temperatures See http://www.met.ie/marine/marine_climatology.asp for further details. Accessed 31 Oct 12

9.

Kroon DF, Lawson ML, Derkay CS, Hoffmann K, McCook J (2002) Surfer's ear: external auditory exostoses are more prevalent in cold water surfers. Otolaryngol Head Neck Surg 126:499–504

10.

Chaplin JM, Stewart IA (1998) The prevalence of exostoses in the external auditory meatus of surfers. Clin Otolaryngol Allied Sci 23:326–330

11.

Nakanishi H, Tono T, Kawano H (2011) Incidence of external auditory canal exostoses in competitive surfers in Japan. Otolaryngol Head Neck Surg 145:80–85

12.

Wong BJ, Cervantes W, Doyle KJ et al (1999) Prevalence of external auditory canal exostoses in surfers. Arch Otolaryngol Head Neck Surg 125:969–972

13.

Altuna Mariezkurrena X, Gomez Suarez J, Luqui Albisua I, Vea Orte JC, Algaba Guimera J (2004) Prevalence of exostoses among surfers of the Basque Coast. Acta Otorrinolaringol Esp 55:364–368

14.

Hurst W, Bailey M, Hurst B (2004) Prevalence of external auditory canal exostoses in Australian surfboard riders. J Laryngol Otol 118:348–351

15.

DiBartolomeo JR (1979) Exostoses of the external auditory canal. Ann Otol Rhinol Laryngol Suppl 88:2–20

16.

King JF, Kinney AC, Iacobellis SF 2nd et al (2010) Laterality of exostosis in surfers due to evaporative cooling effect. Otol Neurotol 31:345–351

17.

Umeda Y, Nakajima M, Yoshioka H (1989) Surfer's ear in Japan. Laryngoscope 99:639–641

18.

Kennedy GE (1986) The relationship between auditory exostoses and cold water: a latitudinal analysis. Am J Phys Anthropol 71:401–415

19.

Sheard PW, Doherty M (2008) Prevalence and severity of external auditory exostoses in breath-hold divers. J Laryngol Otol 122:1162–1167

20.

Deleyiannis FW, Cockcroft BD, Pinczower EF (1996) Exostoses of the external auditory canal in Oregon surfers. Am J Otolaryngol 17:303–307

21.

Reddy VM, Abdelrahman T, Lau A, Flanagan PM (2011) Surfers' awareness of the preventability of 'surfer's ear' and use of water precautions. J Laryngol Otol. doi:10.1017/S0022215111000041

22.

Moore RD, Schuman TA, Scott TA, Mann SE, Davidson MA, Labadie RF (2010) Exostoses of the external auditory canal in white-water kayakers. Laryngoscope 120(3):582–590. doi:10.1002/lary.20781
About this article
Cite this article
Lennon, P., Murphy, C., Fennessy, B. et al. Auditory canal exostoses in Irish surfers. Ir J Med Sci 185, 183–187 (2016). https://doi.org/10.1007/s11845-015-1265-x
Received:

Accepted:

Published:

Issue Date:
Keywords
Exostoses

Surfing

Surfer's ear

Prevention