Abstract
Background
The reasons why patients visit their general practitioner (GP) is vital information for fund holders and policy makers. GP consultations in the Republic of Ireland are either paid by the patient on a fee-per-service basis (private patients) or by the state [general medical service (GMS) card holders], and information related to primary care consultations is limited.
Objectives
The aim of this study was to conduct an observational study of GMS and private consultations within general practice in Ireland.
Design
This is a cross-sectional study of general practitioner consultations.
Methods
GPs within existing Continued Medical Education (CME) groups were invited to participate. Participating GPs gathered data on 100 consecutive consultations between September 2008 and April 2010.
Results
There were 16,899 consultations recorded; 53.8 % (9,095) were GMS patients. Patients ≥65 years accounted for 23.69 % of consultations (n = 3,822). Respiratory illnesses accounted for the highest proportion of consultations (3,886, 23.0 %), followed by routine check-ups (15.4 %). GMS patients were more likely to consult for a repeat prescription (OR = 4.04, 95 % CI 2.93–5.57) and were also more likely to consult to review their treatment (OR = 2.33, 95 % CI 1.68–3.22) compared to private patients.
Conclusion
This study displays the consultation behaviour of patients in Ireland. It suggests that inequalities may exist in access to primary care services in ROI; however, more research is required to examine this further. There is insufficient information available on primary healthcare utilisation. Key issues such as the lack of unique patient identifiers and the lack of extractable data from GP practices in ROI need to be addressed.
This is a preview of subscription content,
to check access.
Access this article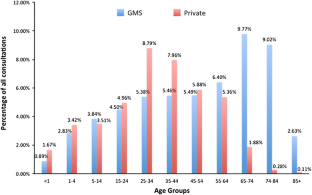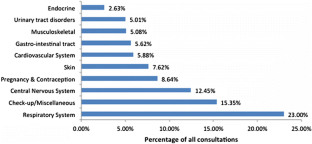 References
Macinko J, Starfield B, Shi L (2003) The contribution of primary care systems to health outcomes within organization for economic cooperation and development (OECD) countries, 1970–1998. Health Serv Res 38:831–865. doi:10.1111/1475-6773.00149

Health Service Executive (2011) Annual report and financial statements. http://www.hse.ie/2011annualreport/. Accessed 15 Dec 2013

National Consumer Agency (2010) Survey of doctors and dentists. http://corporate.nca.ie/eng/Research_Zone/price-surveys/March_2010_doctors_and_dentists_prices_survey.html. Accessed 15 Dec 2013

Layte R, Nolan A, Nolan B. (2007) Poor prescriptions: poverty and access to Community Health Services. http://www.combatpoverty.ie/publications/PoorPrescriptions_2007.pdf. Accessed 3 Dec 2013

O'Mahony B, O'Neill Y, Lynch C et al (2001) Morbidity data collection in general practice: experience in the South Eastern Health Board 1998–1999. Ir Med J 94(299–300):302

Naughton C, Bennett K, Feely J (2006) Regional variation in prescribing for chronic conditions among an elderly population using a pharmacy claims database. Ir J Med Sci 175:32–39

Health Service Executive (2011) Guidelines for antimicrobial prescribing in primary care in Ireland. http://www.hse.ie/eng/services/Publications/HealthProtection/Antimicrobialprescribinginprimarycare.pdf. Accessed 3 Nov 2013

O'Dowd T, O'Kelly M, O'Kelly F (2006) Structure of general practice in Ireland 1982–2005. https://medicine.tcd.ie/public_health_primary_care/assets/pdf/reports/GP_Structure.pdf. Accessed 5 Nov 2013

Central statistics office population by age 2011 in Ireland. http://www.cso.ie/en/statistics/population/. Accessed 4 Oct 2013

Department of Health and Children (2009) Health in Ireland—key trends. http://www.dohc.ie/publications/health_in_ireland2009.html. Accessed 2 Dec 2013

Mackenbach JP, Stirbu I, Roskam A-JR et al (2008) Socioeconomic inequalities in health in 22 European countries. N Engl J Med 358:2468–2481. doi:10.1056/NEJMsa0707519

O'Reilly D, O' Dowd T, Galway KJ et al (2007) Consultation charges in Ireland deter a large proportion of patients from seeing the GP: results of a cross-sectional survey. Eur J Gen Pract 13:231–236. doi:10.1080/13814780701815082

Nolan A (2008) Evaluating the impact of eligibility for free care on the use of general practitioner (GP) services: a difference-in-difference matching approach. Soc Sci Med 67:1164–1172. doi:10.1016/j.socscimed.2008.06.021

Teljeur C, Thomas S, O'Kelly F, O'Dowd T (2010) General practitioner workforce planning: assessment of four policy directions. BMC Health Serv Res 10:148

Hippisley-Cox J, Fenty J, Heaps M (2007) Trends in consultation rates in general practice 1995 to 2006: analysis of the QRESEARCH database. DoH, London. http://www.qresearch.org/Public_Documents/Trends%20in%20consultation%20rates%20in%20general%20practice%201995%20to%202006.pdf. Accessed 13 Feb 2014

Central Statistics Office Health Status and Health Service Utilisation-Quarterly National Household Survey. Quarter 3 2010. http://www.cso.ie/en/media/csoie/releasespublications/documents/labourmarket/2010/healthstatusq32010.pdf. Accessed 23 Dec 2013

Behan B, D Molony D, Beame C, Cullen W (2013) Are Irish adult general practice consultation rates as low as official records suggest? A cross sectional study at six general practices. Ir Med J 106

Bertakis KD, Azari R, Helms LJ et al (2000) Gender differences in the utilization of health care services. J Fam Pract 49:147–152

Foley M, Thorley K, Denny M (2012) "The sick note": a qualitative study of sickness certification in general practice in Ireland. Eur J Gen Pract 18:92–99. doi:10.3109/13814788.2012.672967

Foley M, Thorley K, Von Hout M-C (2013) Sickness certification difficulties in Ireland—a GP focus group study. Occup Med. doi:10.1093/occmed/kqt056

Fleming DM, Cross KW, Barley MA (2005) Recent changes in the prevalence of diseases presenting for health care. Br J Gen Pract 55:589–595

Wyke S, Hunt K, Ford G (1998) Gender differences in consulting a general practitioner for common symptoms of minor illness. Soc Sci Med 46:901–906. doi:10.1016/S0277-9536(97)00217-7

Hunt K, Ford G, Harkins L, Wyke S (1999) Are women more ready to consult than men? Gender differences in family practitioner consultation for common chronic conditions. J Health Serv Res Policy 4:96–100

Kapur N, Hunt I, Lunt M et al (2005) Primary care consultation predictors in men and women: a cohort study. Br J Gen Pract 55:108–113

Richardson N, Clarke N, Fowler, Colin (2013) A report on the all-Ireland young men and suicide project. http://www.drugsandalcohol.ie/19197/. Accessed 20 Dec 2013

De Lusignan S (2005) The barriers to clinical coding in general practice: a literature review. Inform Heal Soc Care 30:89–97. doi:10.1080/14639230500298651

Hummers-Pradier E, Scheidt-Nave C, Martin H et al (2008) Simply no time? Barriers to GPs' participation in primary health care research. Fam Pract 25:105–112. doi:10.1093/fampra/cmn015

Kavanagh K, O'Brien N, Glynn L et al (2010) WestREN: a description of an Irish academic general practice research network. BMC Fam Pract 11:74
Acknowledgments
The authors would like to sincerely thank the GPs and the CME groups who participated in the study. The study was supported by the Health Service Executive, Ireland.
Conflict of interest
None to declare.
About this article
Cite this article
Murphy, M., Brodie, G., Byrne, S. et al. An observational study of public and private general practitioner consultations in the Republic of Ireland. Ir J Med Sci 184, 147–152 (2015). https://doi.org/10.1007/s11845-014-1078-3
Received:

Accepted:

Published:

Issue Date:

DOI: https://doi.org/10.1007/s11845-014-1078-3
Keywords