Abstract
Background
There is no established safe level of alcohol consumption in pregnancy. Studies from Ireland have consistently shown lower abstention and higher binge drinking rates in pregnancy than other countries, indicating a high potential for foetal alcohol-related disorders. There has been little research on alcohol in pregnancy in primary care.
Aims
To determine the prevalence of alcohol consumption amongst pregnant women attending their GP for antenatal care, and to compare this to use in the year prior to conception.
Methods
Prospective cross-sectional study was carried out in fifteen teaching practices in the greater Dublin area. Women were recruited at their antenatal visits. Data were gathered by self-completed questionnaire in the practice, or researcher-administered telephone questionnaire. The questionnaire was based on the AUDIT, a WHO-validated data collection instrument designed for use in primary care.
Results
Two hundred and forty valid questionnaires were returned (80 % recruitment rate). Alcohol intake and binge drinking levels were much lower during pregnancy compared to the year prior to pregnancy (p < 0.001). There was a marked reduction in the prevalence of alcohol use in pregnancy compared to previous research. Over 97 % drink no more than once a week, including almost two-thirds of women who abstain totally from alcohol in pregnancy. Non-pregnant Irish women drink alcohol more frequently, and with higher rates of binge drinking, than women of other nationalities.
Conclusions
Primary care is a suitable setting to research alcohol use in pregnancy. Alcohol use in pregnancy in Ireland has decreased markedly compared to previous research from this jurisdiction.
Access options
Buy single article
Instant access to the full article PDF.
USD 39.95
Price includes VAT (USA)
Tax calculation will be finalised during checkout.
References
1.

George SC (ed) (2007) Fetal alcohol spectrum disorders: a guide for healthcare professionals, BMA, London

2.

Mukherjee R, Hollins S, Turk J (2006) Fetal alcohol spectrum disorder: an overview. J R Soc Med 99:298–302

3.

O'Leary C (2004) Fetal alcohol syndrome: diagnosis, epidemiology, and developmental outcomes. J Paediatr Child Health 40(1–2):2–7

4.

Elliott EJ et al (2008) Fetal alcohol syndrome: a prospective national surveillance study. Arch Dis Child 93(9):732–737

5.

Weiss M et al (2004) The Wisconsin fetal alcohol syndrome screening project. WMJ 103(5):53–60

6.

Druschel CM, Fox DJ (2007) Issues in estimating the prevalence of fetal alcohol syndrome: examination of 2 counties in New York State. Pediatrics 119(2):e384–e390

7.

Harrison PA, Sidebottom AC (2009) Alcohol and drug use before and during pregnancy: an examination of use patterns and predictors of cessation. Matern Child Health J 13(3):386–394

8.

Nilsen P et al (2008) Alcohol use before and during pregnancy and factors influencing change among Swedish women. Acta Obstet Gynecol Scand 87(7):768–774

9.

O'Leary CM et al (2009) The effect of maternal alcohol consumption on fetal growth and preterm birth. BJOG 116(3):390–400

10.

Daly SF et al (1992) Alcohol and cigarette use in a pregnant Irish population. Ir Med J 85(4):156–157

11.

Donnelly JC et al (2008) Illegal drug use, smoking and alcohol consumption in a low-risk Irish primigravid population. J Perinat Med 36(1):70–72

12.

Mullally A et al (2011) Prevalence, predictors and perinatal outcomes of peri-conceptional alcohol exposure—retrospective cohort study in an urban obstetric population in Ireland. BMC Pregnancy Childbirth 11:27

13.

Barry S et al (2005) The Coombe Women's Hospital study of alcohol, smoking and illicit drug use, 1987–2005. Coombe Women's Hospital, Dublin, Ireland

14.

Donaldson PL (2000) Perinatal drug and alcohol addiction: the role of the primary care provider. Lippincotts Prim Care Pract 4(3):349–358

15.

Chasnoff IJ et al (2001) Screening for substance use in pregnancy: a practical approach for the primary care physician. Am J Obstet Gynecol 184(4):752–758

16.

Jack BW et al (1998) Addressing preconception risks identified at the time of a negative pregnancy test. A randomized trial. J Fam Pract 47(1):33–38

17.

Project CHOICES Research Group (2002) Alcohol-exposed pregnancy: characteristics associated with risk. Am J Prev Med 23(3):166–173

18.

ESRI (2010) Perinatal statistics report 2008. Health Research and Information Division, Economic and Social Research Institute, Dublin

19.

Floyd RL, Decoufle P, Hungerford DW (1999) Alcohol use prior to pregnancy recognition. Am J Prev Med 17(2):101–107

20.

Saunders JB et al (1993) Development of the alcohol use disorders identification test (AUDIT): WHO Collaborative Project on early detection of persons with harmful alcohol consumption-II. Addiction 88(6):791–804

21.

SPSS Inc. (2007) SPSS 16.0 for Windows, 1989–2007

22.

RDC Team (ed) (2009) R: a language and environment for statistical computing, in R foundation for statistical computing, Vienna

23.

Morgan K et al (2009) SLÁN 2007: survey of lifestyle, attitudes and nutrition in Ireland. Alcohol use in Ireland: a profile of drinking patterns and alcohol-related harm from SLÁN 2007, DoHa Children (ed), Dublin

24.

Barriball KL et al (1996) The telephone survey method: a discussion paper. J Adv Nurs 24(1):115–121

25.

Longnecker MP et al (1992) The reliability of self-reported alcohol consumption in the remote past. Epidemiology 3(6):535–539

26.

Zani C et al (2009) Alcohol and coffee drinking and smoking habit among subjects with HCV infection. Dig Liver Dis 41(8):599–604

27.

Huth C et al (2007) Individuals with very low alcohol consumption: a heterogeneous group. J Stud Alcohol Drugs 68(1):6–10

28.

Chor D et al (2003) How reproducible is self-reported information on exposure to smoking, drinking, and dietary patterns? Evidence among Brazilian adults in the Pro-Saude Study. Sao Paulo Med J 121(2):63–66

29.

Raymond N et al (2009) Pregnant women's attitudes towards alcohol consumption. BMC Public Health 9:175

30.

Danzon M (ed) (2006) Framework for alcohol policy in the WHO European region. WHO Europe, Copenhagen

31.

HSE (2009) Alcohol and pregnancy. Available at: http://www.yourdrinking.ie/alcohol-and-pregnancy/. Accessed 11 June 2011

32.

NICE (2008) Antenatal care: routine care for the healthy pregnant woman. Available http://www.nice.org.uk/nicemedia/live/11947/40110/40110.pdf. Accessed 11 June 2011

33.

Nathanson V, Jayesinghe N, Roycroft G (2007) Is it all right for women to drink small amounts of alcohol in pregnancy? No. BMJ 335(7625):857

34.

O'Brien P (2007) Is it all right for women to drink small amounts of alcohol in pregnancy? Yes. BMJ 335(7625):856

35.

O'Callaghan FV et al (2003) Maternal alcohol consumption during pregnancy and physical outcomes up to 5 years of age: a longitudinal study. Early Hum Dev 71(2):137–148

36.

Kelly YJ et al (2010) Light drinking during pregnancy: still no increased risk for socioemotional difficulties or cognitive deficits at 5 years of age? J Epidemiol Community Health 66(1):41–48

37.

Kelly Y et al (2009) Light drinking in pregnancy, a risk for behavioural problems and cognitive deficits at 3 years of age? Int J Epidemiol 38(1):129–140

38.

Patra J et al (2011) Dose-response relationship between alcohol consumption before and during pregnancy and the risks of low birthweight, preterm birth and small for gestational age (SGA)-a systematic review and meta-analyses. BJOG 118(12):1411–1421

39.

Sood B et al (2001) Prenatal alcohol exposure and childhood behavior at age 6 to 7 years: I. Dose-Response Eff Pediatr 108(2):34

40.

Sayal K et al (2007) Prenatal alcohol exposure and gender differences in childhood mental health problems: a longitudinal population-based study. Pediatrics 119(2):426–434

41.

Hayes M et al (2002) Prenatal alcohol intake in a rural, Caucasian clinic. Fam Med 34(2):120–125

42.

Lakha F, Glasier A (2006) Unintended pregnancy and use of emergency contraception among a large cohort of women attending for antenatal care or abortion in Scotland. Lancet 368(9549):1782–1787

43.

Sherman CA, Harvey SM, Noell J (2005) "Are they still having sex?" STI's and unintended pregnancy among mid-life women. J Women Aging 17(3):41–55

44.

McMillan H et al (2006) Smoking and alcohol in pregnancy. Survey in the immediate post-partum period. Ir Med J 99(9):283

45.

Brady A (2009) Fetal alcohol spectrum disorders. Dáil Eireann Debate, vol 683, no 3
Acknowledgments
Many thanks to the participating GP practices and their patients. Research funded by the Health Service Executive.
Conflict of interest
None.
Ethical standard
Ethical approval from Irish College of General Practitioners.
Appendix: Research Questionnaire
Appendix: Research Questionnaire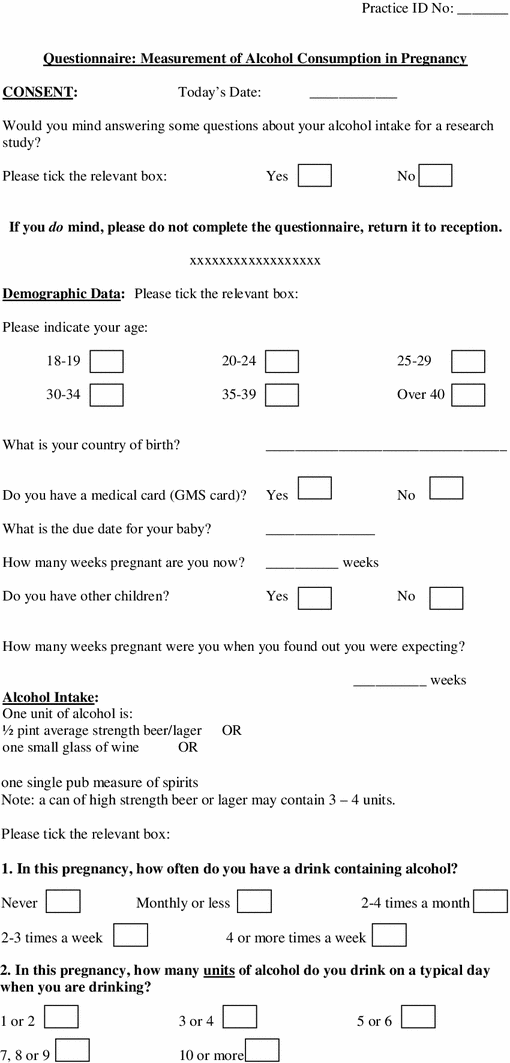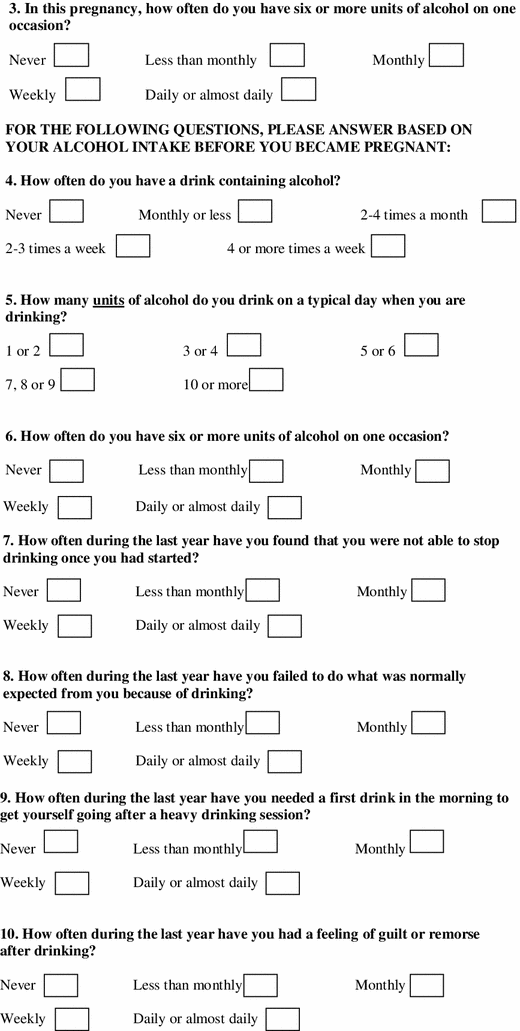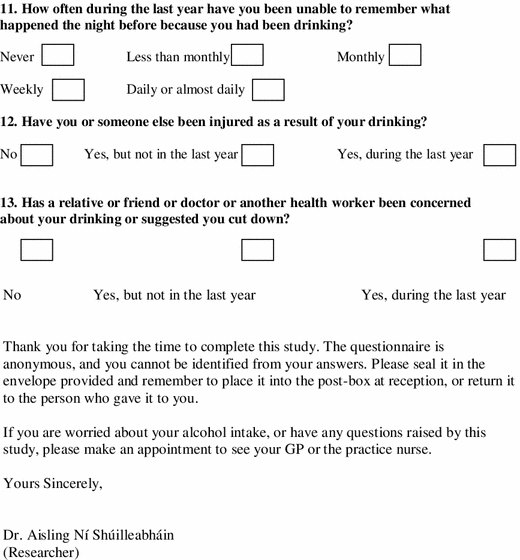 About this article
Cite this article
Ní Shúilleabháin, A., Barry, J., Kelly, A. et al. Alcohol consumption in pregnancy: results from the general practice setting. Ir J Med Sci 183, 231–240 (2014). https://doi.org/10.1007/s11845-013-0996-9
Received:

Accepted:

Published:

Issue Date:
Keywords
Alcohol drinking

Family practice

General practice

Pregnancy

Prevalence

Primary care