Abstract
Introduction
The aim of this study was to determine the incidence of concussion among a cohort of male under 20 rugby players and assess basic knowledge and attitudes.
Methods
Under 20 age group, players were recruited from local clubs as well as the national academy system. Players were asked to report on their history of concussion as well as a number of factors regarding their recognition of symptoms and behaviours regarding the diagnosis of concussion.
Results
133 players responded (95 % response rate). Players could list a mean of 2.6 concussion related symptoms. 64 reported sustaining at least one concussion (average 2.25) and 36 sought medical attention following a concussion. 61 said that they would report suffering a concussion to their coach while 32 would report it to a 'team physiotherapist' or doctor. 114 believed that concussion is as serious as other rugby injuries and 100 believe that playing on while concussed could lead to long-term medical problems.
Conclusions
Further educational efforts are required in this age group of rugby union players to reduce the risk of unnecessary secondary injury. Coaches, managers and players alike need to be targeted in any educational program.
Access options
Buy single article
Instant access to the full article PDF.
USD 39.95
Price includes VAT (USA)
Tax calculation will be finalised during checkout.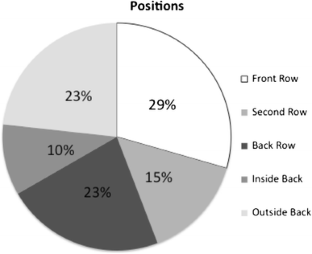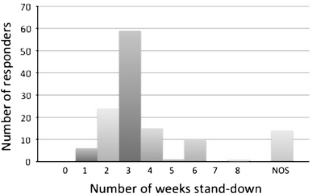 References
1.

Gardner A, Shores EA, Batchelor J (2010) Reduced processing speed in rugby union players reporting three or more previous concussions. Arch Clin Neuropsychol 25:174–181

2.

Thornton AE, Cox DN, Whitfield K, Fouladi RT (2008) Cumulative concussion exposure in rugby players: neurocognitive and symptomatic outcomes. J Clin Exp Neuropsychol 30:398–409

3.

McClincy MP, Lovell MR, Pardini J, Collins MW, Spore MK (2006) Recovery from sports concussion in high school and collegiate athletes. Brain Inj 20:33–39

4.

Iverson GL, Gaetz M, Lovell MR, Collins MW (2004) Cumulative effects of concussion in amateur athletes. Brain Inj 18:433–443

5.

Sye G, Sullivan SJ, McCrory P (2006) High school rugby players' understanding of concussion and return to play guidelines. Br J Sports Med 40:1003–1005

6.

IRFU (2007) Irish Rugby Football Union Annual Report 2006/2007

7.

Neuropathology Miller G (2009) A late hit for pro football players. Science 325:670–672

8.

McCrory P, Meeuwisse W, Johnston K et al (2009) Consensus Statement on Concussion in Sport: the 3rd International Conference on Concussion in Sport held in Zurich, November 2008. Br J Sports Med 43(Suppl 1):i76–i90

9.

McCrory P, Meeuwisse W, Johnston K et al (2009) Consensus statement on Concussion in Sport 3rd International Conference on Concussion in Sport held in Zurich, November 2008. Clin J Sport Med 19:185–200

10.

Yard EE, Comstock RD (2009) Compliance with return to play guidelines following concussion in US high school athletes, 2005–2008. Brain Inj 23:888–898

11.

Quarrie KL, Hopkins WG (2007) Changes in player characteristics and match activities in Bledisloe Cup rugby union from 1972 to 2004. J Sports Sci 25:895–903

12.

Sullivan SJ, Bourne L, Choie S et al (2009) Understanding of sport concussion by the parents of young rugby players: a pilot study. Clin J Sport Med 19:228–230

13.

IRFU (2012) Club Engagement Programme, March 2012. Irish Rugby Football Union, Dublin

14.

Shehata N, Wiley JP, Richea S, Benson BW, Duits L, Meeuwisse WH (2009) Sport concussion assessment tool: baseline values for varsity collision sport athletes. Br J Sports Med 43:730–734

15.

SCAT2. Br J Sports Med 2009;43:i85-i8

16.

Haseler CM, Carmont MR, England M (2010) The epidemiology of injuries in English youth community rugby union. Br J Sports Med 44:1093–1099

17.

Hollis SJ, Stevenson MR, McIntosh AS, Shores EA, Collins MW, Taylor CB (2009) Incidence, risk, and protective factors of mild traumatic brain injury in a cohort of Australian nonprofessional male rugby players. Am J Sports Med 37:2328–2333

18.

Ackery A, Provvidenza C, Tator CH (2009) Concussion in hockey: compliance with return to play advice and follow-up status. Can J Neurol Sci 36:207–212

19.

McIntosh AS, McCrory P, Finch CF, Best JP, Chalmers DJ, Wolfe R (2009) Does padded headgear prevent head injury in rugby union football? Med Sci Sports Exerc 41:306–313

20.

Benson BW, Hamilton GM, Meeuwisse WH, McCrory P, Dvorak J (2009) Is protective equipment useful in preventing concussion? A systematic review of the literature. Br J Sports Med 43(Suppl 1):i56–i67

21.

Marshall SW, Loomis DP, Waller AE et al (2005) Evaluation of protective equipment for prevention of injuries in rugby union. Int J Epidemiol 34:113–118

22.

McIntosh AS, McCrory P (2001) Effectiveness of headgear in a pilot study of under 15 rugby union football. Br J Sports Med 35:167–169

23.

Pettersen JA (2002) Does rugby headgear prevent concussion? Attitudes of Canadian players and coaches. Br J Sports Med 36:19–22

24.

McCrea M, Hammeke T, Olsen G, Leo P, Guskiewicz K (2004) Unreported concussion in high school football players: implications for prevention. Clin J Sport Med 14:13–17

25.

Echlin PS, Johnson AM, Riverin S et al (2010) A prospective study of concussion education in 2 junior ice hockey teams: implications for sports concussion education. Neurosurg Focus 29:E6

26.

Gianotti S, Hume PA (2007) Concussion sideline management intervention for rugby union leads to reduced concussion claims. NeuroRehabilitation 22:181–189
Conflict of interest
The authors report no conflicts of interest.
About this article
Cite this article
Baker, J.F., Devitt, B.M., Green, J. et al. Concussion among under 20 rugby union players in Ireland: incidence, attitudes and knowledge. Ir J Med Sci 182, 121–125 (2013). https://doi.org/10.1007/s11845-012-0846-1
Received:

Accepted:

Published:

Issue Date:
Keywords
Rugby union

Brain concussion

Head injury

Sports