Abstract
Background
Injecting drug use is associated with increased morbidity and mortality. This is the first longitudinal study of a community-based population of injecting drug users (IDUs) in the Republic of Ireland.
Aim
To establish the natural history of IDUs in a deprived Dublin community.
Methods
Eighty-two IDUs (heroin) were recruited over the summer months of 1985. The prevalence of drug use in this district electoral area was established in 1985 and followed-up over a 25-year period with two formal interviews in 1995 and 2010.
Results
It is a descriptive study of a cohort of IDUs established in 1985 prior to human immunodeficiency virus (HIV) testing being available. The majority of the cohort recruited included single, unemployed males aged 20 to 29 years, who had served a prison sentence. Fifty-one (63 %) of the cohort had died by 2010, of which 26 were attributed to HIV disease. The mean age of death was 35.9 years of age (standard deviation 4.1 years). Fifty-two (63 %) of the cohort tested positive for HIV and 58 (71 %) for hepatitis B between 1985 and 2010. The median survival time for those with a positive HIV status was 17 years (95 % CI 14.0–20.0) and for those with a positive hepatitis C status, 21 years (95 % CI 15.5–26.5).
Conclusions
The lifestyle of IDUs, as demonstrated by the experience of this cohort, has hazardous consequences resulting in high levels of morbidity and mortality. A relatively stable picture of HIV associated with IDUs is now emerging in Ireland, as is the case throughout most of the EU. HIV is a more manageable chronic disease, posing challenges for primary care in its treatment of former and existing IDUs who are ageing and now have other chronic diseases.
Access options
Buy single article
Instant access to the full article PDF.
USD 39.95
Price includes VAT (USA)
Tax calculation will be finalised during checkout.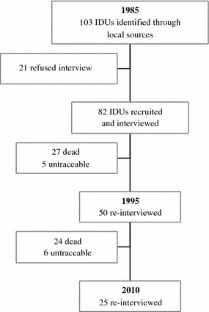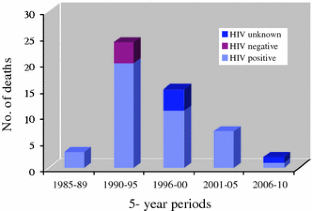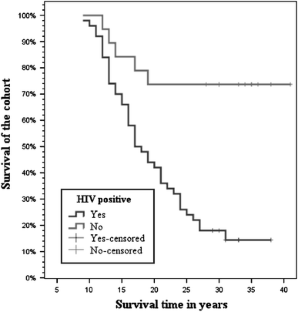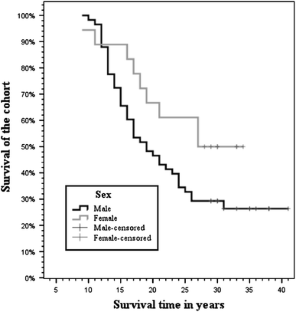 References
1.

Mathers BM, Degenhardt L, Phillips B, et al (2008) Global epidemiology of injecting drug use and HIV among people who inject drugs: a systematic review. Lancet 372(9651):1733–1745

2.

European Monitoring Centre for Drugs and Drug Addiction (ECMDDA) 2010 Report, Chapter 6. Opioid use and drug injection, pp 71–78

3.

Kelly A, Carvalho M, Teljeur C (2009) Prevalence of opiate use in Ireland 2006: a 3-source capture–recapture study. National Advisory Committee on Drugs, Dublin

4.

Cornish R, Macleod J, Strang J, Vickerman P, Hickman M (2010) Risk of death during and after opiate substitution treatment in primary care: prospective observational study in UK General Practice Research Database. BMJ 341:c5475

5.

Degenhardt L, Hall W, Warner-Smith M (2006) Using cohort studies to estimate mortality among injecting drug users that is not attributable to AIDS. Sex Transm Dis 82:56–63

6.

Hulse GK, English DR, Milne E, Holman CD (1999) The quantification of mortality resulting from the regular use of illicit opiates. Addiction 4(2):221–229

7.

Tyndall MW, Craib KJ, Currie S, Li K, O'Shaughnessy MV, Schechter MT (2001) Impact of HIV infection on mortality in a cohort of injection drug users. J Acquir Immune Defic Syndr 28(4):351–357

8.

Bargagli AM, Sperati A, Davoli M, Forastiere F, Perucci CA (2001) Mortality among problem drug users in Rome: an 18-year follow-up study, 1980–97. Addiction 96:1455–1463

9.

Kimber J, Copeland L, Hickman M (2010) Survival and cessation in injecting drug users: prospective observational study of outcomes and effect of opiate substitution treatment. BMJ 340:c3172

10.

O'Kelly FD, Bury G, Cullen B, Dean G (1988) The rise and fall of heroin in an inner city area of Dublin. Ir J Med Sci 157(2):35–38

11.

Dean G, Bradshaw JS, Lavelle P (1983) Drug misuse in Ireland 1982-3. The Medico-Social Research Board, Dublin

12.

Hasse T, Pratschke J (2005) Deprivation and its spatial articulation in the Republic of Ireland. Pobal, Dublin

13.

'Fighting back' (1983) The St. Teresa's Gardens Development Committee

14.

Clarke S, Keenan E, Bergin C, Lyons F, Hopkins S, Mulcahy F (2001) The changing epidemiology of HIV infection in injecting drug users in Dublin, Ireland. HIV Med 2:236–240

15.

Health Protection Surveillance Centre, Annual Report 2010. HIV and AIDS, Chapter 5.3, pp 75–78

16.

A Joint Report by the National Drugs Strategy Team and National Advisory Committee on Drugs (2008) Needle exchange provision in Ireland. Current provision of needle exchange in Ireland, Chapter 4.3, pp 26–30

17.

Mathers BM, Degenhardt L, Ali H et al (2010) HIV prevention, treatment and care services for people who inject drugs: a systematic review of global, regional and national coverage. Lancet 375:1014–1028

18.

Dean G, O'Hara A, O'Connor A, Kelly M, Kelly G (1988) The opiate epidemic in Dublin 1979–1983. Ir Med J 78(4):107–110

19.

Power B (1986) Heroin use in a Dun Laoghaire Borough area 1983-4. The Medico-Social Research Board, Dublin

20.

Griffiths P, Gossop M, Powis B, Strang J (1993) Reaching hidden populations of drug users by privileged access interviewers: methodological and practical issues. Addiction 88:1617–1626

21.

Kaplan CD, Korf D, Sterk C (1987) Temporal and social contexts of heroin-using populations: an illustration of the snowball sampling technique. J Nerv Ment Dis 175(9):566–574

22.

O'Kelly FD (2000) The natural history of injecting drug use in a Dublin community (1985–1995). MD Thesis, Trinity College Dublin 2000. Available online: http://www.drugsandalcohol.ie/4342. Accessed 17 Sept 2011

23.

Central Statistics Office (1986) Small area population figures from the Central Statistics Office, Dublin

24.

Central Statistics Office (2011) Small area population figures from the Central Statistics Office, Dublin

25.

Ball JC (1967) The reliability and validity of interview data obtained from fifty-nine narcotic drug addicts. AM J Soc 72:650–654

26.

Brown J, Kranzler HR, Del Boca FK (1992) Self-reports by alcohol and drug abuse in-patients: factors affecting reliability and validity. Br J Addict 87(7):1013–1024

27.

Hyser Y, Anglen MD, Chou E (1992) Reliability of retrospective self-reported by narcotic addicts. Psychol Assess 4:207–213

28.

Aceijas C, Stimson GV, Hickman M, Rhodes T (2004) Global overview of injecting drug use and HIV infection among injecting drug users. AIDS 18:2295–2303

29.

UNAIDS (2010) Report on the global AIDS epidemic. http://www.unaids.org/globalreport/Global_report.htm. Accessed 11 Sept 2001

30.

Devi K, Singh NB, Singh HL, Singh YM (2009) Co-infection by human immunodeficiency virus, hepatitis B virus and hepatitis C virus in injecting drug users. J Indian Med Assoc 107(3):144, 146–147

31.

Strader DB (2005) Co-infection with HIV and hepatitis C virus in injection drug users and minority populations. Clin Infect Dis 41 (Suppl 1):S7–S13

32.

Gowing L, Farrell MF, Bornemann R, Sullivan LE, Ali R (2011) Oral substitution treatment of injecting drug users for prevention of HIV infection. Cochrane Database Syst Rev (8):CD004145

33.

Cullen W, Stanely J, Langton D, Kelly Y, Bury G (2007) Management of hepatitis C among drug users attending general practice in Ireland: baseline data from the Dublin area hepatitis C in general practice initiative. Eur J Gen Pract 13(1):5–12

34.

Copeland L, Budd J, Robertson JR, Elton R (2004) Changing patterns in causes of death in a cohort of injecting drug users 1980–2001. Arch Intern Med 164:1214–1220

35.

Robertson JR, Ronald PJ, Raab GM, Ross AJ, Parpia T (1994) Deaths, HIV infection, abstinence and other outcomes in a cohort of injecting drug users followed up for 10 year. BMJ 309:369–370

36.

MacLeod J, Copeland L, Hickman M et al (2010) The Edinburgh addiction cohort: recruitment and follow-up of a primary care based sample of injection drug users and non-injecting controls. BMC Public Health 10:101

37.

Cullen W, O'Brien S, Carroll A, O'Kelly FD, Bury G (2009) Chronic illness and multimorbidity among drug users: a comparative cross sectional pilot study in primary care. BMC Fam Pract 10:25

38.

Health Protection Agency (2010) Largest ever annual number of new HIV diagnoses in MSM (online). http://www.hpa.org.uk/web/HPAweb&HPAwebStandard/HPAweb_C/1296683688485. Accessed 11 Sept 2011

39.

British HIV Association (2011) Extending the role of primary and community care in HIV (online). http://www.bhiva.or/documents/Guidelines/Standards/090302%20PCBriefing. Accessed 11 Sept 2011
Acknowledgments
The authors would like to acknowledge the unrestricted grant generously provided by the Fiona Bradley Foundation to fund this study. The authors would like to thank all the participants in this study and the staff of the Department of Primary Care and Public Health, Trinity College Dublin. We would also like to acknowledge the contribution of Dr. Udo Reulbach (Dept. of Primary Care and Public Health, Trinty College Dublin), Prof. Colm Bergin (Consultant Physician in Infectious Diseases, St. James's Hospital, Dublin) and Prof. Gerard Bury (Dept. General Practice, University College Dublin) to this study.
Conflict of interest
The authors have no competing interests and therefore have nothing to declare.
About this article
Cite this article
O'Kelly, F.D., O'Kelly, C.M. The natural history of injecting drug use: a 25-year longitudinal study of a cohort of injecting drug users in inner city Dublin. Ir J Med Sci 181, 541–548 (2012). https://doi.org/10.1007/s11845-012-0814-9
Received:

Accepted:

Published:

Issue Date:
Keywords
Natural history of injecting drug use

HIV

Hepatitis B

Hepatitis C

Survival

Primary care