Abstract
Background
Since the introduction of primary care teams, referral patterns of General Practitioners (GPs) in Ireland have not been studied.
Aims
To study the referral patterns of GPs within a primary care team (PCT) to allied health care professionals in a PCT and to secondary care. To identify indirect referral pathways. To study variation in individual GP referral patterns.
Method
Questionnaire based survey. Statistical analysis was carried out using Epi Info version 3.5.1.
Results
Of 3,166 consultations, 2,841 (89.7%) were dealt with by the GP and required no referral, 107 (3.4%) were referred within the PCT, and 218 (6.9%) were referred elsewhere. Therefore, 93.1% of consultations were managed in primary care alone. Ninety percent of GPs refer patients to the PCT. Indirect referrals constituted 17% of all outpatient referrals. Females have significantly higher referral rates than males. Referral rates of GPs in single-handed practices are higher than GPs in group practices.
Conclusions
GPs alone can manage the vast majority of presentations in general practice. Greater GP access to diagnostic and therapeutic interventions may reduce outpatient referrals. GPs in group practices may collectively have greater experience and expertise and therefore can manage more patients in primary care. There is a significant variation in referral rates between both genders.
This is a preview of subscription content,
to check access.
Access this article
Similar content being viewed by others
References
Hansson A, Friberg F, Segesten K, Gedda B, Mattsson B (2008) Two sides of the coin-General practitioners' experience of working in multidisciplinary teams. J Interprof Care 22:5–16

Department of Health and children (2001) Primary care—a new direction. http://www.hse.ie/eng/Staff/FactFile/FactFile_PDFs/Other_FactFile_PDFs/Primary_Care_A_New_Direction_DOH,_2001_.pdf. (Accessed 8 February 2011)

Starfield B (2003) Primary and specialty care interfaces: the imperative of disease continuity. Br J Gen Pract 53:723–729

Grumbach K, Selby J, Damberg C et al (1999) Resolving the Gatekeeper Conundrum: what patients value in primary care and referrals to specialists. JAMA 282:261–266

O'Donnell C (2000) Variation in GP referral rates: what can we learn from the literature? Fam Pract 17:462–471

Wilkins D, Smith A (1987) Variation in general practitioners' referral rates to consultants. J R Coll Gen Pract 37:350–353

Vehvilainen A, Kumpusalo E, Voutilainen S, Takala J (1996) Does the doctors professional experience reduce referral rates? Evidence from the Finnish referral study. Scan J Prim Health Care 14:13–20

Madeley RJ, Evans JR, Muir B (1990) The use of routine referral data in the development of clinical audit and management in North Lincolnshire. J Public Health Med 12:22–27

Calnan M, Payne S, Kemple T, Rossdale M, Ingram J (2007) A qualitive study exploring variations in GPs' out-of-hours referrals to hospital. Br J Gen Pract 57:706–713

Ni Shuilleabhain A, O'Kelly M, O'Kelly F, O'Dowd T (2007) Limited options: a report on GP access to services. Ir J Med Sci 176:27–32

Lodewijks-Van der bolt L, Baur LH, Lenderink T et al (2007) The Dutch experience of open access echocardiography. Neth Heart J. 15:342–347

Jones DT (1985) A survey of hospital outpatient referral rates. Br Med J 295:734–736
Appendix
Appendix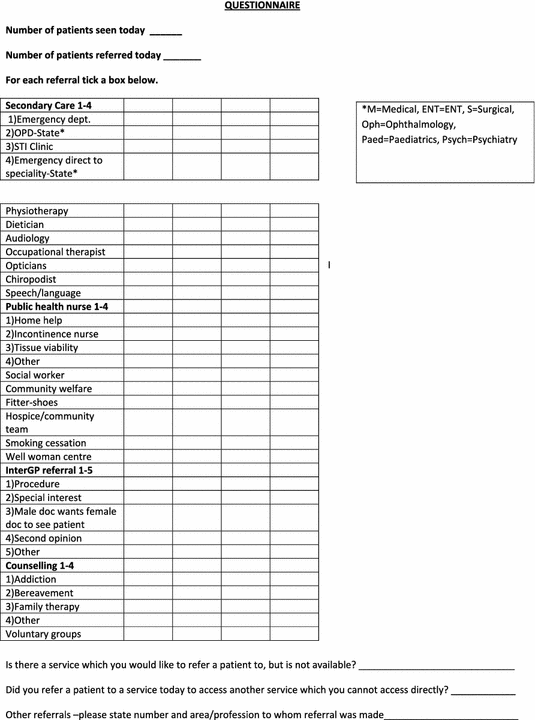 About this article
Cite this article
Coyle, E., Hanley, K. & Sheerin, J. Who goes where? A prospective study of referral patterns within a newly established primary care team. Ir J Med Sci 180, 845–849 (2011). https://doi.org/10.1007/s11845-011-0724-2
Received:

Accepted:

Published:

Issue Date:

DOI: https://doi.org/10.1007/s11845-011-0724-2
Keywords