Abstract
Aim
To determine the outcome and factors influencing outcome among a cohort of drug users commencing detoxification from opiate use.
Methods
National cohort study of randomly selected opiate users commencing methadone detoxification treatment in 1999, 2001 and 2003 (n = 327).
Results
One quarter 62 (25.6%) of opiate users had a successful detoxification within the 3-month study criteria. Receiving some inpatient treatment as part of detoxification programme resulted in completion by 56.3% drug users compared to outpatient only treatment (21%). The factors independently influencing detoxification are as follows: having some inpatient treatment AOR 5.9 (2.63–13.64) and never having injected AOR 2.25 (1.20–4.25). An additional 31 (9%) opiate users had a detoxification between 3 months and 1 year and 27 (8%) moved into methadone maintenance.
Conclusions
This study finds that having some inpatient treatment increases the likelihood of a detoxification within 3 months. Offering a detoxification early in a drug using career pre-injecting drug use should be considered for suitable and motivated patients.
Access options
Buy single article
Instant access to the full article PDF.
USD 39.95
Price includes VAT (USA)
Tax calculation will be finalised during checkout.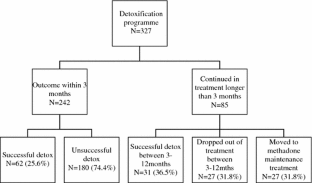 References
1.

McLellan AT, Woody GE, Metzger D et al (1996) Evaluating the effectiveness of addiction treatments: reasonable expectations, appropriate comparisons. Milbank Q 74(1):51–85

2.

Gossop M (2006) Treating drug misuse problems: evidence of effectiveness. Department of Health, National Treatment Agency, London

3.

Mattick RP, Hall W (1996) Are detoxification programmes effective? Lancet 347(8994):97–100

4.

Chutuape MA, Jasinski DR, Fingerhood MI, Stitzer ML (2001) One-, three-, and six-month outcomes after brief inpatient opioid detoxification. Am J Drug Alcohol Abuse 27(1):19–44

5.

Bargagli AM, Hickman M, Davoli M et al (2006) Drug-related mortality and its impact on adult mortality in eight European countries. Eur J Public Health 16(2):198

6.

(2006) Ireland: new developments, trends and in-depth information on selected issues. National Report to the EMCDDA by the Reitox, National Focal Point. Health Research Board Drug Misuse Division, Dublin

7.

Smyth BP, Barry J, Lane A et al (2005) In-patient treatment of opiate dependence: medium-term follow-up outcomes. B J Psychiatry 187(4):360

8.

Day E, Ison J, Strang J (2005) Inpatient versus other settings for detoxification for opioid dependence. Cochrane Database Syst Rev (2). Art. no.:CD004580. doi:10.1002/14651858.CD004580.pub2

9.

Gossop M, Marsden J, Stewart D, Treacy S (2001) Outcomes after methadone maintenance and methadone reduction treatments: two-year follow-up results from the National Treatment Outcome Research Study. Drug Alcohol Depend 62(3):255–264

10.

Hubbard RL, Marsden ME, Rachal JV, Harwood HJ, Cavanaugh ER, Drug Ginzburg HM, Treatment Abuse (1989) A national study of effectiveness. Chapel Hill, London

11.

Teesson M, Havard A, Ross J, Darke S (2006) Outcomes after detoxification for heroin dependence: findings from the Australian Treatment Outcome Study (ATOS). Drug Alcohol Rev 25(3):241–247

12.

Mulholland D (2007) A study to validate the exit information recorded on the Central Treatment List between 1999 and 2003. MFPHMI thesis

13.

Gervin M, Hughes R, Bamford L, Smyth BP, Keenan E (2001) Heroin smoking by "chasing the dragon" in young opiate users in Ireland: stability and associations with use to "come down" off "Ecstasy". J Subst Abuse Treat 20(4):297–300

14.

Smyth BP, Keenan E, O'Connor JJ (1998) Bloodborne viral infection in Irish injecting drug users. Addiction 93(11):1649–1656

15.

Mullen L, Barry J (2001) An analysis of 15–19-year-old first attenders at the Dublin Needle Exchange, 1990–97. Addiction 96(2):251–258

16.

(2006) Inpatient treatment of drug and alcohol misusers in the National Health Service. SCAN Consensus Project, Specialist Clinical Addiction Network, London
Acknowledgments
The authors would like to express sincere thanks to all the staff at national drug treatment services for their assistance. We would also like to thank Ms. Fionnuala Rafferty at the Central Treatment List.
About this article
Cite this article
Mullen, L., Keenan, E., Barry, J. et al. Factors predicting completion in a cohort of opiate users entering a detoxification programme. Ir J Med Sci 179, 569–573 (2010). https://doi.org/10.1007/s11845-010-0469-3
Received:

Accepted:

Published:

Issue Date:
Keywords
Addiction treatment

Detoxification

Opiate misuse

Methadone

Inpatient