Abstract
Introduction
We investigated two athletes swimming in 4°C for 23 min (1.3 km, swimmer 1) and 42 min (2.2 km, swimmer 2), respectively.
Materials and methods
Pre swim, percent body fat was determined; post swim, core temperature was measured.
Results
The core temperature of swimmer 2 was: 37.0°C immediately before the start, 32°C 20 min after getting out of the water, and 35.5°C 80 min after finishing the swim.
Conclusion
We assume that the higher skin-fold thickness and body fat of swimmer 2 enabled him to perform longer. In addition to this, mental power and experience in cold water swimming must be considered. In any athlete aiming at swimming in water of less than 5°C, body core temperature and heart rate should be continuously monitored in order to detect a body core temperature below 32°C and arrhythmia to pull the athlete out of the water before life-threatening circumstances occur.
This is a preview of subscription content, log in to check access.
Access options
Buy single article
Instant access to the full article PDF.
US$ 39.95
Price includes VAT for USA
Subscribe to journal
Immediate online access to all issues from 2019. Subscription will auto renew annually.
US$ 99
This is the net price. Taxes to be calculated in checkout.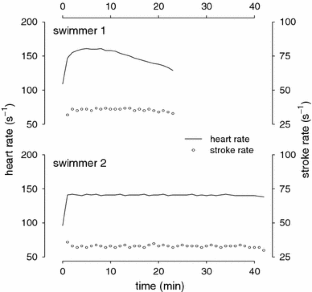 References
1.

Keatinge WR, Khartchenko M, Lando N, Lioutov V (2001) Hypothermia during sports swimming in water below 11°C. Br J Sports Med 35:352–353

2.

Acevedo EO, Meyers MC, Hayman M, Haskin J (1997) Applying physiological principles and assessment techniques to swimming the English Channel. A case study. J Sports Med Phys Fitness 37:78–85

3.

Nuckton TJ, Claman DM, Goldreich D, Wendt FC, Nuckton JG (2000) Hypothermia and afterdrop following open water swimming: the Alcatraz/San Fransisco Swim Study. Am J Emerg Med 18:703–707

4.

Tipton M, Eglin C, Gennser M, Golden F (1999) Immersion deaths and deterioration in swimming performance in cold water. Lancet 354:626–629

5.

Molnar GW (1946) Survival of hypothermia by men immersed in the ocean. JAMA 131:1046–1050

6.

Keatinge WR, Coleshaw SR, Millard CE, Axelsson J (1986) Exceptional case of survival in cold water. Br Med J (Clin Res Ed) 292:171–172

7.

Ball SD, Altena TS, Swan PD (2004) Comparison of anthropometry to DXA: a new prediction equation for men. Eur J Clin Nutr 58:1525–1531

8.

Lee RC, Wang Z, Heo M, Ross R, Janssen I, Heymsfield SB (2000) Total-body skeletal muscle mass: development and cross-validation of anthropometric prediction models. Am J Clin Nutr 72:796–803

9.

O'Brien C, Tharion WJ, Sils IV, Castellani JW (2007) Cognitive, psychomotor, and physical performance in cold air after cooling by exercise in cold water. Aviat Space Environ Med 78:568–573

10.

Brannigan D, Rogers IR, Jacobs I, Montgomery A, Williams A, Khangure N (2009) Hypothermia is a significant medical risk of mass participation long-distance open water swimming. Wilderness Environ Med 20:14–18
Acknowledgments
We thank Marco Pilloud, Total Immersion Europe, Zurich, Switzerland, for organising the event and Amanda Picard for her assistance with swimmers and organisation. Sincere thanks goes to the Sea Police Zurich for providing exact weather data and rescue boats during the swim. Matthias Knechtle, Lausanne, Switzerland, and Mary Miller, England, helped us with the translation.
About this article
Cite this article
Knechtle, B., Christinger, N., Kohler, G. et al. Swimming in ice cold water. Ir J Med Sci 178, 507 (2009). https://doi.org/10.1007/s11845-009-0427-0
Received:

Accepted:

Published:
Keywords
Hypothermia

Rectal temperature

Body fat

Skin-fold thickness