Abstract
Background
Cholelithiasis typically presents with right upper quadrant pain, as can pain from other right upper quadrant organs. Pain of cholelithiasis is often referred to tip of scapula. Professor Paddy Collins drew attention to fact that patients with gallstone pain would attempt to demonstrate this by placing their hand behind the back and thumb pointing upwards. This became known amongst his students as Collins' sign.
Aim
To evaluate accuracy of Collins' sign as indicator of cholelithiasis.
Patients and methods
Case–control study performed on 202 patients with symptomatic cholelithiasis and 200 control patients (with oesophagitis, gastritis or duodenal ulcer). Questionnaire examined pain pattern in both groups. The results analysed using t test and χ2 test.
Results
Collins' sign was positive in 51.5% of gallstone patients and 7.5% of control group (P < 0.001).
Conclusions
Collins' sign was positive in over half of all patients with cholelithiasis and was useful discriminator in diagnosis of gallstones.
Access options
Buy single article
Instant access to the full article PDF.
USD 39.95
Price excludes VAT (USA)
Tax calculation will be finalised during checkout.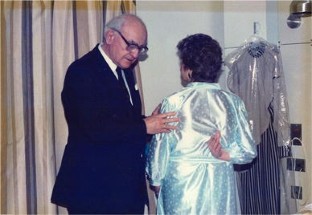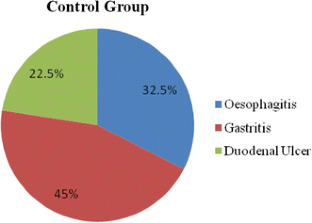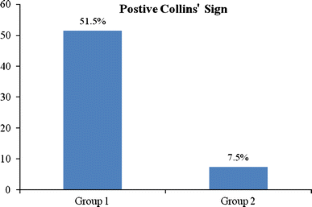 References
Egbert AM (1991) Gallstone symptoms: myth and reality. Postgrad Med 90:119–126

Mabrut JY, Ducerf C, Baulieux J (2007) Current management of uncomplicated gallstones and choledocholithiasis. Rev Prat 57:2123–2128

Diehl AK, Sugarek NJ, Todd KH (1990) Clinical evaluation for gallstone disease: usefulness of symptoms and signs in diagnosis. Am J Med 89:29–33

Berhane T, Vetrhus M, Hausken T, Olafsson S, Søndenaa K (2006) Pain attacks in non-complicated and complicated gallstone disease have a characteristic pattern and are accompanied by dyspepsia in most patients: the results of a prospective study. Scand J Gastroenterol 41:93–101

Johnson CD (2001) ABC of the upper gastrointestinal track. Upper abdominal pain: gall bladder. BMJ 323:1170–1173

Barry O'Donnell (2008) Irish surgeons and surgery in the twentieth century. Gill & Macmillan, Dublin, pp 269–270

Singer AJ, McCracken G, Henry MC, Thode HC Jr, Cabahug CJ (1996) Correlation among clinical, laboratory, and hepatobiliary scanning findings in patients with suspected acute cholecystitis. Ann Emerg Med 28:267–272

Bailey H, Bailey ML (2000) In: Mann CV (eds) Love's short practice of surgery, 25th edn. Arnold, London

Cuschieri A, Grace PA, Darzi A, Borley NR, Rowley DI (2003) Clinical surgery. Blackwell, London

Browse NL (2005) Introduction to symptoms and signs of surgical disease, 4th edn. Hodder Arnold, London
Appendix 1
Appendix 1
Questionnaire used in this study.
Age

 
 

Gender

Male

Female

Where do you get the pain (Draw a circle with one finger around where you get the pain)

Epigastrium

 

Retrosternal

Right upper quadrant

Left upper Quadrant

Central abdominal

Shoulder tip

Lower Abdominal

Other

Does the pain radiate to the back (Point: is the thumb pointing upward or downward)

Yes

No

Severity of pain (1–10)

 
 

Diagnosis (please encircle)

Oesophagitis

 

Gastritis

Duodenal ulcer

Cholelithiasis
About this article
Cite this article
Gilani, S.N.S., Bass, G., Leader, F. et al. Collins' sign: validation of a clinical sign in cholelithiasis. Ir J Med Sci 178, 397–400 (2009). https://doi.org/10.1007/s11845-009-0404-7
Received:

Accepted:

Published:

Issue Date:

DOI: https://doi.org/10.1007/s11845-009-0404-7
Keywords
Collins' sign

Cholelithiasis