Abstract
Background
Non-attendance at outpatient clinic leads to significant time wasting and inefficient use of resources.
Aims
To establish the magnitude of the problem of clinic non-attendance and to ascertain the potential impact of a simple strategy to reduce inefficiency in Irish healthcare.
Methods
The number of patients due to attend general surgical clinic in a single year was ascertained. Telephone questionnaire of 97 patients who failed to attend was performed. A survey of potential impact of text message reminder was conducted.
Results
Appointments were sent to 18,362 patients. Of these, 31% (n = 5692) were new to clinic. The rate of non-attendance was 16.8% (n = 3085). Varied reasons were given for non-attendance. Text message reminder would encourage 51% of those surveyed to attend or cancel in advance.
Conclusion
The rate of non-attendance is 17%. A reminder would eradicate more than half of non-attendance, allowing significantly more new patients to be seen, translating to more efficient use of clinic time.
Access options
Buy single article
Instant access to the full article PDF.
USD 39.95
Price includes VAT (USA)
Tax calculation will be finalised during checkout.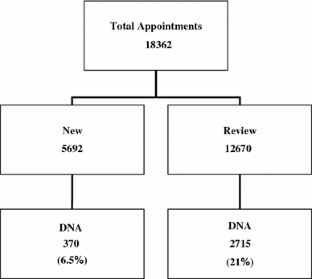 References
1.

Cawley ME, Stevens FM (1987) Non-attendance at outpatient clinics at the Regional Hospital, Galway, Ireland. Soc Sci Med 25(11):1189–1196. doi:10.1016/0277-9536(87)90365-0

2.

Casey RG, Quinlan MR, Flynn R, Grainger R, Mc Dermott T, Thornhill JA (2007) Urology out-patient non-attenders are we wasting our time? Ir J Med Sci 176(4):305–308. doi:10.1007/s11845-007-0028-8

3.

Ramakrishnan SA, Murphy E, Barry M (2004) Non-attendance at clinics: a waste of resources. Ir J Med Sci 173(3):172

4.

Murdock A, Rodgers C, Lindsay H, Tham TC (2002) Why do patients not keep their appointments? Prospective study at a gastroenterology outpatient clinic. J R Soc Med 95:284–286. doi:10.1258/jrsm.95.6.284

5.

Stone CA, Palmer JH, Saxby PJ, Deveraj VS (1999) Reducing non attendance at outpatients. J R Soc Med 92(3):114–118

6.

Komoroski EM, Graham CJ, Kirby RS (1996) A comparison of interventions to improve clinic follow-up compliance after a paediatric emergency department visit. Paediatr Emerg Care 12:87–90

7.

Sharp DJ, Hamilton DW (2001) Non-attendance at general practices and out-patient clinics. BMJ 323:1081–1082. doi:10.1136/bmj.323.7321.1081

8.

Lee CS, Mc Cormick PA (2003) Telephone reminders to reduce non-attendance rates for endoscopy. J R Soc Med 96:547–548. doi:10.1258/jrsm.96.11.547

9.

Hardy KJ, O'Brien SV, Furlong NJ (2001) Information given to patients before appointments and its effect on non-attendance rate. BMJ 323:1298–1300. doi:10.1136/bmj.323.7324.1298

10.

Huang F, Liu SC, Shih SM et al. (2006) Reducing the anxiety of surgical patient's families access short message service. AMIA Annu Symp Proc 2006:957

11.

Kim HS, Jeong HS (2007) A nurse short message service by cellular phone in type 2 diabetic patients for six months. J Clin Nurs 10(6):1082–1087. doi:10.1111/j.1365-2702.2007.01698.x

12.

Menon-Johansson AS, McNaught F, Mandelia S, Sullivan AK (2006) Texting decreases the time to treatment for genital Chlamydia trachomatis infection. Sex Transm Infect 82(1):49–51. doi:10.1136/sti.2004.014381
About this article
Cite this article
Hogan, A.M., Mc Cormack, O., Traynor, O. et al. Potential impact of text message reminders on non-attendance at outpatient clinics. Ir J Med Sci 177, 355–358 (2008). https://doi.org/10.1007/s11845-008-0187-2
Received:

Accepted:

Published:

Issue Date:
Keywords
Non-attendance at surgical clinic

Reduction of waiting times

Text message reminder