Abstract
The context within which family forest owners operate is constantly changing due to many internal and external factors. Many emerging social, economic, environmental, and technological changes could have profound effects on family forest owners and their land in the future. This paper explores a possible transformative technological change: A "Coming Age of Wood" in which a large number of technological innovations in wood products result in a significant increase in the use of wood-based materials throughout the global economy, substituting for a significant share of non-renewable materials. This high impact development could be transformative for forests and forestry, including small-scale forestry. We used a participatory Futures Research method called the Implications Wheel® to explore the potential direct and indirect implications of a Coming Age of Wood for family forest owners. A total of 195 possible higher-order implications were uncovered, including implications related to major themes of negative ecological effects, positive economic effects, increased conflict between different stakeholders, and negative effects on rural communities. Anticipating some of the possibilities in advance can provide early warnings of the kinds of changes that may be coming, and help enable planners, managers and policy makers to be proactive and build barriers to undesirable change and bridges to facilitate positive change.
This is a preview of subscription content, log in to check access.
Access options
Buy single article
Instant unlimited access to the full article PDF.
US$ 39.95
Price includes VAT for USA
Subscribe to journal
Immediate online access to all issues from 2019. Subscription will auto renew annually.
US$ 99
This is the net price. Taxes to be calculated in checkout.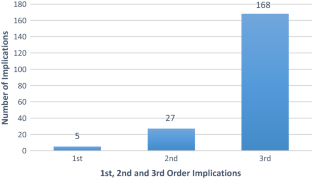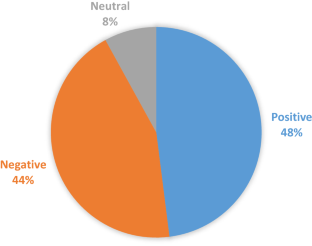 Notes
1.

Personal communication, Dr. James Schreier, management consultant and Director of Training for Joel Barker's Strategic Exploration Tools.

2.

In the analysis of focus group transcripts, group-to-group validation "… means that whenever a topic comes up, it generates a consistent level of energy among a consistent proportion of the participants across nearly all the groups" (Morgan 1997, p. 63).
References
Barker JA (2011) The implications wheel. https://implicationswheel.com/. Accessed 22 Aug 2018

Barker JA, Kenny CG (2011) Leading in uncertain times. Innovation 9. https://www.innovation-america.org/leading-uncertain-times. (April/May (2))

Benckendorff P, Edwards D, Jurowski C, Liburd JJ, Miller G, Moscardo G (2009) Exploring the future of tourism and quality of life. Tour Hosp Res 9(2):171–183

Bengston DN (2013) Horizon scanning for environmental foresight: a review of issues and approaches. General Technical Report NRS-121. U.S. Department of Agriculture, Forest Service, Northern Research Station, Newtown Square, 20 p. https://www.fs.usda.gov/treesearch/pubs/44822. Accessed 2 Oct 2019

Bengston DN, Dockry MJ, Shifley SR (2018) Anticipating cascading change in land use: exploring the implications of a major trend in US northern forests. Land Use Policy 71:222–229

Bowyer J, Howe J, Levins RA, Groot H, Fernholz K, Pepke E (2017) The once and future bioeconomy and the role of forests. Dovetail Partners, Minneapolis. 15 p. https://www.dovetailinc.org/report_pdfs/2017/dovetailbioeconomy0817.pdf. Accessed 2 Oct 2019

Butler BJ, Hewes JH, Catanzaro P, Greene JL, Kilgore M A, et al (2011) Effects of federal, state, and local tax policies on family forest owners. Technical Report, Family Forest Research Center. 74 p. https://www.fs.usda.gov/treesearch/pubs/38332. Accessed 2 Oct 2019

Butler SM, Butler BJ, Markowski-Lindsay M (2017) Family forest owner characteristics shaped by life cycle, cohort, and period effects. Small Scale For 16(1):1–18

Chandler DL (2017). 3-D printing with cellulose: world's most abundant polymer could rival petroleum-based plastics as source of printing feedstock. MIT News. March 3, 2017. https://news.mit.edu/2017/3-d-printing-cellulose-0303

Devlin S (2017) Mass timber: the next great disruption of construction, wood products industries. Treesource. https://treesource.org/news/goods-and-services/mass-timber-wood-products-construction/#more-643. Accessed 2 Oct 2019

Follo G, Lidestav G, Ludvig A, Vilkriste L, Hujala T, Karppinen H, Didolot F, Mizaraite D (2017) Gender in European forest ownership and management: reflections on women as "New forest owners". Scand J For Res 32(2):174–184

Gaitens J (2017) Transparent wood: a clear alternative to glass? The NOMACO Blog, posted May 3, 2017. https://www.nomaco.com/transparent-wood-clear-alternative-glass/

Gebhard K, Meyer J (2006) Archdiocese uses Implications Wheel to explore the future. Momentum 37(3):22–25

Glenn JC (2009) Futures wheel. In: Glenn JC, Gordon TJ (eds) Futures research methodology—Version 3.0 [CD-ROM]. The Millennium Project, Washington

Glesinger E (1949) The coming age of wood. Simon and Schuster, New York, p 279

Gorvett Z (2017) 'Plyscrapers': the rise of the wooden skyscraper. BBC Future. 31 October. https://www.bbc.com/future/story/20171026-the-rise-of-skyscrapers-made-of-wood

Gosnell H, Abrams J (2011) Amenity migration: diverse conceptualizations of drivers, socioeconomic dimensions, and emerging challenges. GeoJournal 76(4):303–322

Häyrinen L, Mattila O, Berghäll S, Toppinen A (2015) Forest owners' socio-demographic characteristics as predictors of customer value: evidence from Finland. Small Scale For 14(1):19–37

Hines A, Bengston DN, Dockry MJ (2018) The forest futures horizon scanning project. General technical report NRS-P-187. USDA Forest Service, Northern Research Station, Newtown Square. 81 p. https://www.fs.usda.gov/treesearch/pubs/57939. Accessed 2 Oct 2019

Martinez de Arano I, Muys B, Corrado T, Pettenella D, Feliciano D, Rigolot E, Lefevre F, Prokofieva I, Labidi J, Carnus JM, Secco L, Fragiacomo M, Follesa M, Masiero M, Llano-Ponte R (2018) A forest-based circular bioeconomy for southern Europe: visions, opportunities and challenges. Reflections on the bioeconomy. European Forest Institute, Joensuu. 117 p. https://www.efi.int/publications/forest-based-circular-bioeconomy-southern-europe-visions-opportunities-and-challenges. Accessed 2 Oct 2019

Material District (2017) LIGNOLOC: The first collated nails made of wood. Material District, posted October 10, 2017. https://materialdistrict.com/article/lignoloc-nails-wood/#moved

Mendonça S, e Cunha MP, Kaivo-oja J, Ruff F (2004) Wild cards, weak signals and organisational improvisation. Futures 36(2):201–218

Morgan DL (1997) Focus groups as qualitative research, 2nd edn. Qualitative research methods series 16. Sage, Thousand Oaks. 80 p

Moritz MA, Parisien M, Batllori E, Krawchuk MA, Van Dorn J, Ganz DJ, Hayhoe K (2012) Climate change and disruptions to global fire activity. Ecosphere 3(6):art49. https://doi.org/10.1890/ES11-00345.1

Ruvo C (2017) Eco-friendly fabric is made from wood fibers. Advertising Specialty Institute, posted May 18, 2017. https://www.asicentral.com/news/web-exclusive/may-2017/eco-friendly-fabric-is-made-from-wood-fibers/

Schreier J (2005) Evaluating a simulation with a strategic exploration tool. Dev Bus Simul Exper Learn 32:389–403

Schreier JW (2011) Contributing implications: an experiment. Research Note 2011–01–08. Joel Barker's Implications Wheel, http://implicationswheel.com/ (Contact James W. Schreier at: jim.schreier@strategicexploration.com).

Stephens SL, Agee JK, Fule PZ, North MP, Romme WH, Swetnam TW, Turner MG (2013) Managing forests and fire in changing climates. Science 342(4):41–42

Tang L, Shao G (2015) Drone remote sensing for forestry research and practices. J For Res 26(4):791–797

United Nations Economic Commission for Europe (UNECE) (2016) The 21st century will be the century of wood. UNECE, Geneva. October 21. https://www.unece.org/info/media/presscurrent-press-h/forestry-and-timber/2016/the-21st-century-will-be-the-century-of-wood/doc.html

Wallace R (2017) FPL brings innovation to the forest products industry with nanocellulose. Lab Notes: News from the Forest Products Lab. Oct. 17, 2017. https://www.fpl.fs.fed.us/labnotes/?p=26986&source=FPLleftnaventrypoint

Weiss G, Lawrence A, Suarez C, Nybakk E, Lidestav G, Živojinović I, Nichiforel L, Quiroga S, Hujala T, Sarvašová Z (2019) Forest ownership changes in Europe: state of knowledge and conceptual foundations. For Policy Econ 99:9–20. https://doi.org/10.1016/j.forpol.2018.03.003

Ye R, Chyan Y, Zhang J, Li Y, Han X, Kittrell C, Tour JM (2017) Laser‐induced graphene formation on wood. Adv Mater 29(37):1702211. https://doi.org/10.1002/adma.201702211
Additional information
Publisher's Note
Springer Nature remains neutral with regard to jurisdictional claims in published maps and institutional affiliations.
Electronic supplementary material
Below is the link to the electronic supplementary material.
About this article
Cite this article
Bengston, D.N., Hujala, T. & Butler, B.J. The "Coming Age of Wood" and Family Forest Owners: An Implications Wheel® Exploration. Small-scale Forestry (2019) doi:10.1007/s11842-019-09423-7
Keywords
Technological change

Disruptive innovation

Futures wheel

Bioeconomy

Futures research