Abstract
Wild mushrooms are among the most valuable non-wood forest products in the world, and mushroom picking activities are well developed in many countries. Recent studies have demonstrated important links between forest management options and the productivity of mushrooms. Furthermore, there is evidence that the optimal forest management oriented at maximizing joint revenues from timber and mushrooms can lead to higher profits than the traditional timber-oriented management. The precondition for such management, however, is that forest owners derive benefits from mushrooms produced in their forests. In this paper, we discuss the feasibility of implementing payments for mushroom harvesting in Catalonia, North East Spain. As in many other European regions, mushroom picking in Catalonia is a long-standing tradition, which has been practiced with negligible limitations for centuries. The rising popularity of this activity in the last decades, however, has caused forest owners to voice concerns about the sustainability of this activity and about the impact it has on the private forest property. We document the results of a public opinion survey and contrast them with the issues emergent from forest owners' interviews about the regulation of mushroom picking activities. Our results show that mushroom pickers support the idea of introducing payments for mushroom harvesting. Based on the survey and interview results, we also discuss the design aspects of payments for mushroom picking and articulate the key issues in their implementation.
Access options
Buy single article
Instant access to the full article PDF.
US$ 39.95
Tax calculation will be finalised during checkout.
Subscribe to journal
Immediate online access to all issues from 2019. Subscription will auto renew annually.
US$ 79
Tax calculation will be finalised during checkout.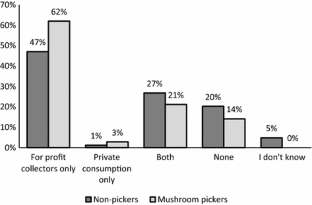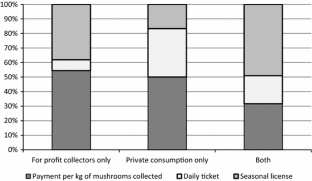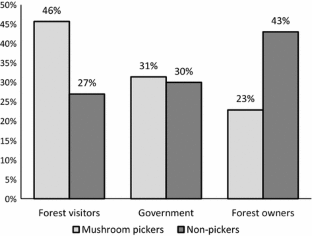 Notes
1.

For example, for 11 years, from 2004 to 2014, during each WM season the main TV channel of Catalonia aired a popular TV show Caçadors de Bolets [Mushroom hunters], which addressed WM picking from different angles (local traditions, culinary knowledge, mycological information), and numerous articles have been published in regional newspapers about WM picking.

2.

At local level, only three initiatives for mushroom regulation exist, namely in Poblet, Val d'Aran and Alins.

3.

Or ca. 2 M€, using an average price of 4 €/kg based on Bonet et al. (2014).

4.

See supplementary material for representativeness information.

5.

No specific forest management prescription was given to respondents.

6.

The period of 3 months has been chosen to ensure the reliability of the reported numbers of visits.

7.

This division of the respondents may be slightly biased, as it may be possible that among the people who have not visited forests in the three months prior to the survey, there are mushroom pickers, especially considering that these months (April–June) are not the typical mushroom season.

8.

E.g. a mycological association.

9.

10.

The regulation in the neighbouring region of Aragón establishes a similar portfolio of legal modalities for landowners (BOA 2014).

11.

For example, the regulation in Aragón establishes WM harvesting for sporadic purposes (own consumption, not for sale) as a default option, which does not require any signposting. All other modalities require specific actions on behalf of forest owners (BOA 2014).

12.

13.

14.

Similar structure is already operational in game hunting, see Hunting Law (BOE 1970).

15.

Art. 234 of the Penal Code (BOE 1995).
References
Barreau G (2005) La gestion des contrats d'autorisation de récolte. Forêt-enterprise 164:49–51

Boa E (2004) Wild edible fungi. A global overview of their use and importance to people. Non-wood forest products, 17. FAO, Rome

BOA (2014) Decreto 179/2014, de 4 de noviembre, del Gobierno de Aragón, por el que se regula la recolección y el aprovechamiento de setas silvestres en terrenos forestales

BOCyL (1999) Decreto 130/1999, de 17 de junio, por el que se ordenan y regulan los aprovechamientos micológicos, en los montes ubicados en la Comunidad de Castilla y León

BOCyL (2011) Order AYG/1066/2011, de 25 de agosto, por la que se regula el procedimiento deacreditación de la trazabilidad en la producción, transformación y distribución de piñas y piñones en Castilla y León

BOE (1970) Ley 1/1970, de 4 de abril, de caza. BOE 82, Spain

BOE (1995) Ley Orgánica 10/1995, de 23 de noviembre, del Código Penal

BOE (2003) Ley 43/2003, de 21 de noviembre, de Montes

BOE (2015) Ley 21/2015, de 20 de julio, por la que se modifica la Ley 43/2003, de 21 de noviembre, de Montes

Bonet JA, De-Miguel S, Martínez de Aragón JR, Pukkala T, Palahí M (2012) Immediate effect of thinning on the yield of Lactarius group deliciosus in Pinus pinaster forests in Northeastern Spain. For Ecol Manage 265:211–217. doi:10.1016/j.foreco.2011.10.039

Bonet JA, González-Olabarria JR, Martínez De Aragón JR (2014) Mushroom production as an alternative for rural development in a forested mountainous area. J Mt Sci 11:535–543. doi:10.1007/s11629-013-2877-0

BOR (2015) Decreto 1/2015, de 9 de enero, por el que se regula la recolección micológica en el ámbito territorial de la Comunidad Autónoma de La Rioja. Consejería de Agricultura, Ganadería y Medio Ambiente. La Rioja, Spain

CEO (2014) Òmnibus de la Generalitat de Catalunya 2014-1

De-Miguel S, Bonet JA, Pukkala T, Martínez de Aragón JR (2014) Impact of forest management intensity on landscape-level mushroom productivity: a regional model-based scenario analysis. For Ecol Manage 330:218–227. doi:10.1016/j.foreco.2014.07.014

DOGC (1988) Llei 6/1988, de 30 de març, forestal de Catalunya

DOGC (2012) Ordre AAM/254/2012, d'aprovació del Pla pilot de recolecció de bolets dins de l'àmbit del paratge natural d'interés nacional de Poblet, i de creació del preu públic vinculat al Pla pilot

DOGC (2014) ACORD GOV/92/2014, de 17 de juny, pel qual s'aprova el Pla general de política forestal 2014-2024

Dyke A, Emery MR (2010) NTFPs in Scotland: changing attitudes to access rights in a reforesting land. In: Laird SA, McLain RJ, Wynberg RP (eds) Wild product governance: finding policies that work for non-timber forest products. Earthscan, London, pp 135–154

Gazzetta Ufficiale (1993) Legge 23 agosto 1993, n. 352. Norme quadro in materia di raccolta e commercializzazione dei funghi epigei freschi e conservati

Glaser BG, Strauss AL (1967) The discovery of grounded theory: strategies for qualitative research. Transaction Publishers, Chicago

Górriz-Mifsud E, Martínez de Aragón JR, Bonet JA, Vallvey A (2014) La societat catalana accepta una regulació per la recollida de bolets i un pagament finalista cap a la gestió del bosc. Silvicultura 70:18–20

Górriz-Mifsud E, Domínguez-Torres G, Prokofieva I (2015) Understanding forest owners' preferences for policy interventions addressing mushroom picking in Catalonia (north-east Spain). Eur J For Res. doi:10.1007/s10342-015-0874-2

Laird SA, Wynberg RP, McLain RJ (2010) The state of NTFP policy and law. In: Laird SA, McLain RJ, Wynberg RL (eds) Wild product governance: finding policies that work for non-timber forest products. Earthscan, London, pp 343–366

Levers C, Verkerk PJ, Müller D, Verburg PH, Butsic V, Leitao PJ, Lindner M, Kuemmerle T (2014) Drivers of forest harvesting intensity patterns in Europe. For Ecol Manage 315:160–172. doi:10.1016/j.foreco.2013.12.030

Łuczaj Ł, Pieroni A, Tardío J, Pardo-De-Santayana M, Sõukand R, Svanberg I, Kalle R (2012) Wild food plant use in 21st century Europe: the disappearance of old traditions and the search for new cuisines involving wild edibles. Acta Soc Bot Pol 81:359–370. doi:10.5586/asbp.2012.031

Lynch KA, Jones ET, McLain RJ (2004) Nontimber forest product inventorying and monitoring in the United States: rationale and recommendations for a participatory approach, pp 1–50. doi:10.13140/RG.2.1.3424.3605

MARM (2001) III National Forest Inventory. Ministry of Environment, Rural Areas and Fisheries, Spain

Martínez de Aragón JR, Riera P, Giergiczny M, Colinas C (2011) Value of wild mushroom picking as an environmental service. For Policy Econ 13:419–424

Martínez-Peña F, Giner-García M, Lucas-Santolaya JA (2003) Propuesta para la regulación del aprovechamiento micológico en Montes de Utilidad Pública de la zona de Pinares de Almazán (Soria). In: I Congreso Nacional de Micología Aplicada, pp 1–9

McLain RJ, Jones ET (1998) Participatory Non-wood forest products management: experiences from the Pacific Northwest, USA. In: Lund HG, Pajari B, Korhonen M (eds) Sustainable development of non-wood goods and benefits from boreal and cold temperate forests. Proceedings of the international workshop, Joensuu, Finland. 18–22 January 1998. EFI Proceedings no. 23. European Forest Institute, Joensuu, Finland

McLain RJ, Christensen HH, Shannon MA (1998) When amateurs are the experts: amateur mycologists and wild mushroom politics in the Pacific Northwest, USA. Soc Nat Resour 11:615–626. doi:10.1080/08941929809381106

Menendez-Baceta G, Aceituno-Mata L, Tardío J, Reyes-García V, Pardo-de-Santayana M (2012) Wild edible plants traditionally gathered in Gorbeialdea (Biscay, Basque Country). Genet Resour Crop Evol 59:1329–1347. doi:10.1007/s10722-011-9760-z

Nedeljkovic J (2015) Mala i srednja preduzeća za otkup, preradu i plasman nedrvnih šumskih proizvoda, kao činilac razvoja šumarstva privatnog sektora u Srbiji. University of Belgrade

Pagiola S, Platais GG (2007) Payments for enviromental services: from theory to practice. World Bank, Washington

Palahí M, Mavsar R, Gracia C, Birot Y (2008) Mediterranean forests under focus. Int For Rev 10:676–688

Palahí M, Pukkala T, Bonet JA, Colinas C, Fisher CR, Martínez de Aragón JR (2009) Effect of the inclusion of mushroom values on the optimal management of even-aged pine stands of Catalonia. For Sci 55:503–511

Peintner U, Schwarz S, Mešić A, Moreau P-A, Moreno G, Saviuc P (2013) Mycophilic or mycophobic? Legislation and guidelines on wild mushroom commerce reveal different consumption behaviour in European countries. PLoS ONE 8:e63926. doi:10.1371/journal.pone.0063926

Pettenella DM, Kloehn S (2007) Mediterranean mushrooms: how to market them. In: Berrahmouni N, Escuté X, Regato P, Stein C (eds) Beyond cork: a wealth of resources for people and nature. WWF Mediterranean and IPADE, Madrid, pp 52–68

Pettenella DM, Secco L (2006) Small-scale forestry in the Italian Alps: from mass market to territorial marketing. In: Wall S (ed) Small-scale forestry and rural development: the intersection of ecosystems, economics and society, pp 398–408. Proceedings from the small-scale forestry and rural development conference held in Galway, Ireland, 18–23 June 2006

Prokofieva I, Bouriaud L, Kouplevatskaya-Buttoud I, Corradini G, Górriz E, Nicheforel L (2014) The role of institutions in NWFP development: current state and historical changes. Project deliverable D4.1. Startree project (EU 311919)

Puig-Ventosa I, Almazor-Escartín L (2007) Instruments de regulació y compensació de l´ús social derivat de l´aprofitament micològic en finques privades forestals [Regulatory insturments and compensation for the social use related to mycological exploitation of private forest properties]. Santa Perpètua de Mogoda

Saastamoinen O (1999) Forest policies, access rights and non-wood forest products in northern Europe. Unasylva 50:20–26

Schulp CJE, Thuiller W, Verburg PH (2014) Wild food in Europe: a synthesis of knowledge and data of terrestrial wild food as an ecosystem service. Ecol Econ 105:292–305. doi:10.1016/j.ecolecon.2014.06.018

Secco L, Vidale E, Pettenella DM (2010) Comparing Profitability and Governance for Recreational Wild Mushroom (WM) Picking in Forest and Timber Production, in: Proceedings of IUFRO International Symposium, May 28–29, 2010, Paris, France

Sievänen T, Pouta E, Neuvonen M (2004) Participation in mushroom picking in Finland. In: Ito T, Tanaka N (eds) Social roles of forests for urban population. Forest recreation, landscape, nature conservation, economic evaluation and urban forest. Japan Society of Forest Planning Press, Tsukuba, pp 122–137

Simoncic T, Matijasic D, Boglio D, Górriz-Mifsud E, Torrebadella S, Hostnik R, Duhen LM, Kalaitzidis C, Muraglia L, Vigo A, Bruschini U, Derchi P, Cervera T, Palero N, Marty P, Lagacherie M (2013) Green book on payments for environmental services from Mediterranean forests. SylvaMED, Ljubljana

Solano JM, Fernández J, Palahí M, Pukkala T, Prokofieva I (2007) Es rentable la gestión forestal en Cataluña? [Is forest management profitable in Catalonia?]. Economistas 113:116–124

Strauss AL, Corbin JM (1990) Basics of qualitative research: grounded theory procedures and techniques. Sage Publications, Newbury Park
Acknowledgments
The survey and interviews were conducted within the NEWFOREX project (New ways to value and market forest externalities), financed by the European Community's Seventh Framework Programme (contract number 243950). We also would like to thank two anonymous reviewers, whose helpful and detailed comments have helped improve the manuscript.
Electronic supplementary material
Below is the link to the electronic supplementary material.
About this article
Cite this article
Prokofieva, I., Górriz-Mifsud, E., Bonet, JA. et al. Viability of Introducing Payments for the Collection of Wild Forest Mushrooms in Catalonia (North-East Spain). Small-scale Forestry 16, 147–167 (2017). https://doi.org/10.1007/s11842-016-9348-8
Accepted:

Published:

Issue Date:
Keywords
Harvesting fees

Public opinion survey

Forest owners

Policy instrument design

Non-wood forest products