Abstract
Smallholder timber plantations may offer opportunities for farmers to increase their income. Nonetheless, such opportunities are often lost largely due to unfavorable regulations imposed on harvesting and marketing of timber. Adverse impacts are worsened because the regulations are not effectively communicated to smallholder farmers. We assessed the level of smallholder knowledge of existing regulations and found it very low. In part, this correlated to their socio-demographic characteristics. Poor literacy skills and a low level of education make it difficult for older farmers' to increase their knowledge. This is compounded by the limited information channels that can reach the farmers. Improving smallholders' knowledge by providing information concerning markets and regulations in a timely and clear manner could help smallholders exercise coping strategies and priorities when selling their timber that would in turn reduce the negative impacts of regulations. The roles of village authorities could be crucial. They are close to the smallholders and could channel the information. The government could provide training and incentives for them to be more active in communicating the regulations to the smallholders.
Access options
Buy single article
Instant access to the full article PDF.
US$ 39.95
Tax calculation will be finalised during checkout.
Subscribe to journal
Immediate online access to all issues from 2019. Subscription will auto renew annually.
US$ 79
Tax calculation will be finalised during checkout.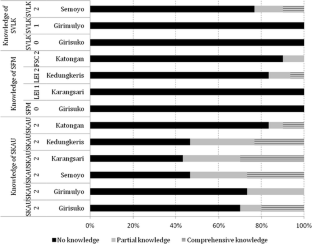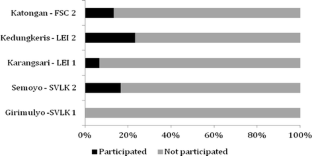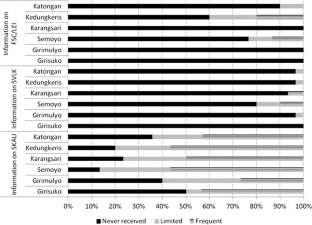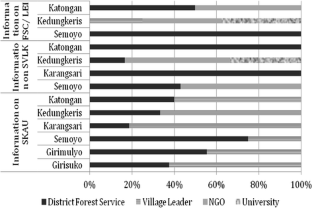 Notes
1.

The basic education level in Indonesia is 9 years, comprising 6 years of Elementary School plus 3 years of Junior High School.
References
Agarwal B (2001) Participatory exclusions, community forestry, and gender: an analysis for South Asia and a conceptual framework. World Dev 29(10):1623–1648

Akiyama T, Nishio A (1997) Sulawesi's cocoa boom: lessons of smallholder dynamism and a hands-off policy. Bull Indones Econ Stud 33(2):97–121

Anyonge CH, Roshetko JM (2003) Farm-level timber production: orienting farmers towards the market. Unasylva 54:48–56

Awang SA, Wiyono EB, Sadiyo S (2007) Unit Manajemen Hutan Rakyat: Proses Konstruksi Pengetahuan Lokal. Banyumili Art Network, Yogyakarta (In Bahasa Indonesia)

Balai Pemantapan Kawasan Hutan XI and Multistakeholder Forestry Programme II (2008). Strategi Pengembangan Pengelolaan dan Arahan Kebijakan Hutan Rakyat di Pulau Jawa Hasil Kerjasama. http://storage.jak-stik.ac.id/ProdukHukum/kehutanan/Lap-KebijakanHR-Jawa.pdf. Accessed 8 July 2015

Baynes J, Herbohn J, Russell I (2011) The influence of farmers' mental models on an agroforestry extension program in the Philippines. Small-scale For 10(3):377–387

Bloom BS, Engelhart MD, Furst EJ, Hill WH, Krathwohl DR (1956) Taxonomy of educational objectives, handbook I: the cognitive domain. David McKay Co Inc, New York

Butterfield R, Hansen E, Fletcher R, Nikinmaa H (2004) Forest certification and small forest enterprises: key trends and impacts-benefits and barriers. Forest Trends, Washington DC

Creamer SF, Blatner KA, Butler BJ (2012) Certification of family forests: what influences owners' awareness and participation? J For Econ 18:131–144

Foundjem-Tita D, Tchoundjeu Z, Speelman S, D'Haese M, Degrande A, Asaah E, van Huylenbroeck G, van Damme P, Ndoye O (2013) Policy and legal frameworks governing trees: incentives or disincentives for smallholder tree planting decisions in cameroon? Small-scale For 12:489–505

Fujiwara T, Awang SA, Widayanti WT, Septiana RM, Hyakumura K, Sato N (2015) Effects of national community-based forest certification on forest management and timber marketing: a case study of Gunung Kidul, Yogyakarta, Indonesia. Int For Rev 17(4):448–460

Gyau A, Franzel S, Chiatoh M, Nimino G, Owusu K (2014) Collective action to improve market access for smallholder producers of agroforestry products: key lessons learned with insights from Cameroon's experience. Curr Opin Environ Sustain 6:68–72

Irawanti S, Ginoga KL, Prawestisuka A, Race D (2014) Commercialising community forestry in Indonesia: lessons about the barriers and opportunities in Central Java. Small-scale For 13(4):515–526

Kilgore M, Leahy J, Hibbard C, Donnay J (2007) Assessing family forest land certification opportunities: a Minnesota case study. J For 105(1):27–33

Leahy JE, Kilgore MA, Hibbard CM, Donnay JS (2008) Family forest landowners' interest in and perceptions of forest certification: focus group findings from Minnesota. North J Appl For 25(2):73–81

Maryudi A (2016) Choosing timber legality verification as a policy instrument to combat illegal logging in Indonesia. For Policy Econ 68:99–104

Maryudi A, Nawir AA, Permadi DB, Purwanto RH, Pratiwi D, Syofi'i A, Sumardamto P (2015) Complex regulatory frameworks governing private smallholder tree plantations in Gunungkidul District, Indonesia. For Policy Econ 59:1–6

McDougall CL, Leeuwis C, Bhattarai T, Maharjan MR, Jiggins J (2013) Engaging women and the poor: adaptive collaborative governance of community forests in Nepal. Agric Hum Values 30(4):569–585

Mejia E, Pacheco P, Muzo A, Torres B (2015) Smallholders and timber extraction in the Ecuadorian Amazon: amidst market opportunities and regulatory constraints. Int For Rev 17(S1):38–50

Nawir AA (2013) Commercial community tree-growing inside state forests: an economic perspective from eastern Indonesia. Int For Rev 15(2):200–217

Nawir AA, ComForLink (2007) Forestry companies' perspectives: Improving community roles in plantation forest development through partnerships. Paper for the World Bank as a contribution to the national meeting organised by Dewan Kehutanan Nasional (DKN) on: 'Konsolidasi dan Percepatan Pelaksanaan Restrukturisasi Kehutanan' (Consolidation and revitalisation in restructuring forest policy), Jakarta, 2–3 May 2007, CIFOR, Bogor

Nawir AA, Murniati, Rumboko L, Hiyama C, Gumartini T (2007) Portraits of rehabilitation projects in Indonesia: impacts and lessons learnt. In: Nawir AA, Murniati, Rumboko L (eds) Forest rehabilitation in Indonesia: where to after more than three decades? CIFOR, Bogor

Newsom D, Cashore B, Auld G, Granskog J (2003) Forest certification in the heart of Dixie: a survey of Alabama landowners. In: Teeter L et al (eds) Forest policy for private forestry: global and regional challenges. CABI Publishing, New York, pp 291–300

Perdana A, Roshetko JM, Kurniawan I (2012) Forces of competition: smallholding teak producers in Indonesia. Int For Rev 14(2):238–248

Purnomo H, Abdullah L, Irawati RH (2011) A system dynamics approach to balancing wood supply and demand for sustaining the future industry. In: 19th International Congress on Modelling and Simulation, Perth, Australia, 12–16 December 2011

Putzel L, Dermawan A, Moeliono M, Trung LQ (2012) Improving opportunities for smallholder timber planters in Vietnam to benefit from domestic wood processing. Int For Rev 14(2):227–237

Rickenbach MG (2002) Forest certification of small ownerships: some practical challenges. J For 100(6):43–47

Sabastian G, Kanowski P, Race D, Williams E, Roshetko J (2014) Household and farm attributes affecting adoption of smallholder timber management practices by tree growers in Gunungkidul region, Indonesia. Agrofor Syst 88(2):257–268

Shackleton S, Campbell B, Wollenberg E, Edmunds D (2002) Devolution and community-based natural resource management: creating space for local people to participate and benefit? ODI Natural Resource Perspective No. 76

Soerianegara I, Mansuri (1994) Factors which determine the success of regreening in Gunungkidul, Central Java. J Trop For Sci 7(1):64–75

Sood KK, Mitchell CP (2004) Do socio-psychological factors matter in agroforestry planning? Lessons from smallholder traditional agroforestry systems. Small-scale For 3(2):239–255

Svensson J, Drott DY (2010) Tuning in the market signal: the impact of market price information on agricultural outcomes. Discussion paper

Syahadat E, Effendi R (2007) Kajian Pelaksanaan Penatausahaan Hasil Hutan Rakyat di Kabupaten Cilacap. Jurnal Penelitian Sosial dan Ekonomi Kehutanan 4(1):57–71 (in Bahasa Indonesia)

Yovi EY, Bahruni, Nurrochmat DR (2009) Sources of timber and constraints to the timber acquisition of Jepara's small-scale furniture industries. Jurnal Manajemen Hutan Tropika 15(1):32–40

Zubair M, Garforth C (2006) Farm level tree planting in Pakistan: the role of farmers' perceptions and attitudes. Agrofor Syst 66(3):217–229
Acknowledgments
This paper is part of policy research under Objective 3 led by the Center for International Forestry Research (CIFOR) project "Development of timber and non-timber forest products' production and market strategies for improvement of smallholders' livelihoods in Indonesia". It was funded by the Australian Centre for International Agricultural Research (ACIAR) (FST/2012/039). The local partners in Gunungkidul are Universitas Gadjah Mada (UGM) and Farm Forestry Consortium (Kelompok Kerja Hutan Rakyat Lestari).
About this article
Cite this article
Maryudi, A., Nawir, A.A., Sekartaji, D.A. et al. Smallholder Farmers' Knowledge of Regulations Governing the Sale of Timber and Supply Chains in Gunungkidul District, Indonesia. Small-scale Forestry 16, 119–131 (2017). https://doi.org/10.1007/s11842-016-9346-x
Accepted:

Published:

Issue Date:
Keywords
Low education

Limited information channels

Legality verification

Certification

Private forests