Abstract
Forestry decision-makers in Slovenia and Serbia share common objectives: development of a more coherent policy for private forests and involvement of different ownership groups in policy deliberation and development, as well as increased management levels in private forests that are currently below their productive potential. Successful achievement of these objectives in both countries requires a range of policy tools. The research objective of this study was to identify and describe private forest owner types in Slovenia and Serbia based on various criteria (forest management objectives; participation in private forest owner associations; cooperation with other private forest owners and the public forest administration; performing forest harvesting activities) and to suggest a combination of policy instruments to target each private forest owner group. Surveys were conducted in Slovenia (n = 322) and Serbia (n = 248) on random samples of private forest owners. Survey data were analysed using a two-step cluster analysis. Four groups of private forest owners were identified in Slovenia: active (26.1 %), passive (33.2 %), multiobjective (18.6 %) and uninterested (22.0 %). Two were identified in Serbia: active (32.6 %) and multiobjective (67.4 % ). Existing policy instruments referring to private forests in Slovenia and Serbia are rather similar and formulated in the respective forest policy documents at the national level. However, there are no policy instruments in either country targeting specific private forest owner groups. Based on smart regulation as a specific conceptual approach, an appropriate mix of policy instruments is proposed, which includes various measures designed to target the identified private forest owner types.
Access options
Buy single article
Instant access to the full article PDF.
USD 39.95
Price includes VAT (USA)
Tax calculation will be finalised during checkout.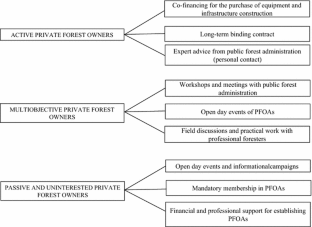 Notes
1.

Private forest owners are "individuals and families who combine forestry with agriculture (farm forests), those who live in or near their forest holdings, and those who live elsewhere (absentee owners)" (Schmithusen and Hirsch 2010).

2.

These projects were the FAO project FAO/TCP/YUG/2902(A) "Institutional Development and Capacity building for the National Forest Program" and the FAO project GCP/FRY/003/FIN "Forest SectorDevelopment in Serbia".

3.

More detail is provided in Van Gossum et al. (2012).

4.

Strata for Serbia were: (1) up to 0.99 ha; (2) from 1 to 4.99 ha; (3) from 5 to 9.99; (4) from 10 to 19.99 ha; (5) more than 20 ha. Strata for Slovenia were: (1) up to 0.99 ha; (2) from 1 to 4.99 ha; (3) from 5 to 9.99; (4) from 10 to 20.99 ha; (5) more than 30 ha.
References
Banković S, Medarević M, Pantić D, Petrović N (2009) The national forest inventory of the Republic of Serbia—the growing stock of the Republic of Serbia. In: Ranković N (ed) Ministry of agriculture FaWMotRoS. Forest Directorate, Belgrade, p 244

Becker G, Borchers J, Mutz R (2000) Die Motive der Privatwaldbesitzer in NRW (Eigentumsverbunden und nutzungsorientiert—den meisten ist Wald mehr als Holz). Allgemeine Forstzeitschrift 22(55):1181–1183

Bieling C (2004) Non-industrial private-forest owners: possibilities for increasing adoption of close-to-nature forest management. Eur J For Res 123(4):293–303. doi:10.1007/s10342-004-0042-6

Böcher M (2012) A theoretical framework for explaining the choice of instruments in environmental policy. For Policy Econ 16(1):14–22. doi:10.1016/j.forpol.2011.03.012

Böcher M, Töller AE (2003) Conditions for the emergence of alternative environmental policy instruments. Paper presented at the 2nd ECPR conference, Marburg

Bogataj N, Krč J (2014) A forest commons revival in Slovenia. Soc Nat Resour 27(8):867–881. doi:10.1080/08941920.2014.918225

Boon TE, Meilby H (2007) Describing management attitudes to guide forest policy implementation. Small-Scale For 6(1):79–92. doi:10.1007/s11842-007-9006-2

Boon TE, Meilby H, Thorsen BJ (2004) An empirically based typology of private forest owners in Denmark: improving communication between authorities and owners. Scand J For Res 19(4):45–55. doi:10.1080/14004080410034056

Corp. I (2011) IBM SPSS Statistics for Windows. 20.0 edn. IBM Corp., Armon, NY

Emtage N, Herbohn J, Harrison S (2007) Landholder profiling and typologies for natural resource-management policy and program support: potential and constraints. Environ Manag 40(3):481–492. doi:10.1007/s00267-005-0359-z

Foreman EK (1991) Survey sampling principles. Statistics: a series of textbooks and monographs. CRP Press, New York

Glück P, Avdibegović M, Čabaravdić A, Nonić D, Petrović N, Posavec S, Stojanovska M (2011) Private forest owners in the Western Balkans—ready for the formation of interest associations. In: Hasenauer H (ed) EFI Research Report 25. Institute EF, Joensuu, p 234

Golubović ZT (1995) Social change in 1990's and social character: the case of Yugoslavia. Sociologija 37(4):441–453

Gunningham N, Grabosky P (1999) Smart regulation. Designing environmental policy. Oxford Legal Studies, Oxford University Press, New York

Gunningham N, Sinclair D (1999) Regulatory pluralism: designing policy mixes for environmental protection. Law Policy 21(1):49–76

Hair JF, Black WC, Babin BJ, Anderson RE, Tatham RL (2006) Multivariate data analysis, 6th edn. Pearson Education Inc., New Jersey

Hogl K, Pregernig M, Weiss G (2005) What is new about new forest owners? A typology of private forest ownership in Austria. Small-Scale For Econ Manag Policy 4(3):325–342. doi:10.1007/s11842-005-0020-y

Howlett M (2004) Beyond good and evil in policy implementation: instrument mixes, implementation styles, and second generation theories of policy instrument choice. Policy Soc 23(2):1–17. doi:10.1016/S1449-4035(04)70030-2

Ilavský J (2006) 15 years of economic in transition: lessons learned and challenges ahead for the forestry sector. In: Karjalainen T (ed) A contribution to the work of the UNECE Timber Committee and the FAO European Forestry Commission. Institute FFR, Joensuu, p 74

Ingemarson F, Lindhagen A, Eriksson L (2006) A typology of small-scale private forest owners in Sweden. Scand J For Res 21(3):249–259. doi:10.1080/02827580600662256

Janota JJ, Broussard SR (2008) Examining private forest policy preferences. For Policy Econ 10(3):89–97. doi:10.1016/j.forpol.2007.06.001

Karppinen H (1998) Values and objectives of non-industrial private forest owners in Finland. Silva Fennica 32(1):43–59

Kline D, Alig J, Johnson L (2000) Fostering the production of nontimber services among forest owners with heterogeneous objectives. For Sci 46(2):302–311

Kuuluvainen J, Karppinen H, Ovaskainen V (1996) Landowner objectives and nonindustrial private timber supply. For Sci 42(3):300–309

Lazdinis M, Carver A, Tõnisson K, Silamikele I (2005) Innovative use of forest policy instruments in countries with economies in transition: experience of the Baltic States. For Policy Econ 7(4):527–537. doi:10.1016/j.forpol.2003.09.001

Leban V (2014) Efficiency analysis of forest owners associations in Slovenia and Germany. M.Sc. thesis, University of Ljubljana, Biotechnical Facutly, Department of Forestry and Renewable Forest Resources

Medved M (2000) Gozdnogospodarske posledice posestne sestave slovenskih zasebnih gozdov [Forest Management Implications of Proprietary Structure of Slovenian Private Forests]. University of Ljubljana, Biotechnical Facutly, Department of Forestry and Renewable Forest Resources

Medved M (2005) Povezovanje lastnikov gozdov, analiza izobraževalnih potreb pri terenskem kadru ZGS: anketni vprašalnik [Connecting Forest Owners, the Analysis of the Educational Needs of Field Foresters of SFS: Questionnaire]

Mizaraite D, Mizaras S (2005) The formation of small-scale forestry in countries with economies in transition: observations from Lithuania. Small-Scale For Econ Manag Policy 4(4):437–450. doi:10.1007/s11842-005-0027-4

Mori J, Kotnik I, Lesnik T (2006) Možnost sodelovanja Zavoda za gozdove Slovenije, Kmetijsko gozdarske zbornice Slovenije in Zveze lastnikov gozdov Slovenije za razvoj povezovanja lastnikov gozdov [Possible Roles of the Slovenian Forest Service, the Chamber of Agriculture and Forestry of Slovenia and the Forest Owners Association of Slovenia in Enhancing Forest Owners' Associations and Cooperation]. Gozdarski vestnik 64(9):476–502

Ní Dhubháin Á, Cobanova R, Karppinen H, Mizaraite D, Ritter E, Slee B, Wall S (2007) The values and objectives of private forest owners and their influence on forestry behaviour: the implications for entrepreneurship. Small-Scale For 6(4):347–357. doi:10.1007/s11842-007-9030-2

Nonić D, Milijić V (2008) Status quo analysis: private forestry in Serbia and its role in NFP/NFS process. PROFOR, Sopron, p 41

Nonić D, Tomić N, Marković J, Herbst P, Krajčič D (2006) Organization of private forest owners in Serbia compared to Austria, Slovenia and other Central European Countries. In: Building the European commons: from open fields to open source, European Regional Meeting of the International Association for the Study of Common Property (IASCP), Brescia, Italy

Nonić D, Milijić V, Radosavljević A (2010) Development of private forestry sector in Serbia and its role in NFS/NFP processes. In: Šulek R, Herbst P, Schmithüsen F (eds) Proceedings of the 11th international symposium legal aspects of European Forest Sustainable Development, Zvolen. Faculty of Forestry, Technical University in Zvolen, pp 90–102

Nonić D, Bliss J, Milijic V, Petrovic N, Avdibegovic M, Mataruga M (2011) Challenges of organizing private forest owners in Serbia. Small-Scale For 10(4):435–455. doi:10.1007/s11842-011-9160-4

Nonić D, Ranković N, Glavonjić P, Nedeljković J (2013) Tipologija vlastnika privatnih šuma u Srbiji [Typology of Private Forest Owners in Serbia]. Šumarstvo 65(3–4):125–147

Norušis M (2009) SPSS 16.0 statistical procedures companion. Prentice Hall, Upper Saddle River

Pezdevšek Malovrh Š (2010) Influence of Institutions and Forms of Cooperation on private forest management. Doctoral dissertation, University of Ljubljana, Biotechnical Faculty, Department of Forestry and Renewable Forest Resources

Pezdevšek Malovrh Š, Zadnik Stirn L, Krč J (2010) Influence of property and ownership conditions on willingness to cooperate. Šumarski List 134(3–4):139–149

Pregernig M (2001) Values of forestry professionals and their implications for the applicability of policy instruments. Scand J For Res 16(3):278–288. doi:10.1080/02827580120186

Public Forestry Service (2013) Report of Public Forestry Service of Slovenia About Forests for the Year 2012. http://www.zgs.si/slo/zavod/informacije_javnega_znacaja/letna_porocila/index.html. Accessed 08.02.2015

Pülzl H, Nussbaumer E (2006) Modes of Governance for European Forest Policy. Coordination, Co-Operation, and Communication. In: Federal Ministry of Agriculture Forestry, Environment and Water Management (eds), The Federal ministry of Agriculture Forestry, Environment and Water Management of Austria, Vienna

Pülzl H et al (2013) European forest governance: issues at stake and the way forward. In: Palahi M (ed) What science can tell us, p 102

Restitution Agency (2014) Overview of the number of requests received in the directorate for restitution. Agency for Restitution, Republic of Serbia. http://www.restitucija.gov.rs/direkcija-za-restituciju.php. Accessed 28 August 2014

Rist RC (1998) Choosing the right policy instrument at the right time: the contextual challenges of selection and implementation. In: Bemelmans-Videc ML, Rist RC, Vedung E (eds) Carrots, sticks and sermons: Policy Instruments and their Evaluation. Transaction Books, New Brunswick, pp 149–163

Schafer J (1997) Analysis of incomplete multivariate data. Monographs on statistics and applied probability, vol 72, 4th edn. Chapman and Hall, London

Schenk A, Hunziker M, Kienast F (2007) Factors influencing the acceptance of nature conservation measures—a qualitative study in Switzerland. J Environ Manag 83(1):66–79. doi:10.1016/j.jenvman.2006.01.010

Schmithusen F, Hirsch F (2010) Private Forest Ownership in Europe. Geneva Timber and Forest Study Paper 26, UNECE, Geneva, Switzerland, pp 110

Schneider A, Ingram H (1990) Behavioral assumptions of policy tools. J Polit 52(2):510–529

Serbruyns I, Luyssaert S (2006) Acceptance of sticks, Carrots and Sermons as policy instruments for directing private forest management. For Policy Econ 9(3):285–296. doi:10.1016/j.forpol.2005.06.012

Shih MY, Jheng JW, Lai LF (2010) A two-step method for clustering mixed categorical and numerical data. Tamkang J S Eng 13(1):11–19

Urquhart J, Courtney P (2011) Seeing the owner behind the trees: a typology of small-scale private woodland owners in England. For Policy Econ 13(7):535–544. doi:10.1016/j.forpol.2011.05.010

Van Gossum P, Ledene L, Arts B, De Vreese R, Van Langenhove G, Verheyen K (2009) New environmental policy instruments to realize forest expansion in Flanders (Northern Belgium): A base for smart regulation? Land Use Policy 26(4):935–946. doi:10.1016/j.landusepol.2008.11.005

Van Gossum P, Arts B, Verheyen K (2012) "Smart regulation": can policy instrument design solve forest policy aims of expansion and sustainability in Flanders and the Netherlands? For Policy Econ 16:23–34. doi:10.1016/j.forpol.2009.08.010

Van Herzele A, Van Gossum P (2008) Typology building for owner-specific policies and communications to advance forest conversion in small pine plantations. Landsc Urban Plan 87(3):201–209. doi:10.1016/j.landurbplan.2008.06.003

Weiss G, Dragoi M, Jarsky V, Mizaraite D, Sarvašova Z, Schiberna E, Gudurić I (2012a) Success Cases and Good Practices in Forest Owners' Organizations in Eastern European Countries. In: Qiang M (ed), (FAO) FaAOotUN, Rome

Weiss G, Gudurić I, Wolfslehner B (2012b) Review of forest owners' organizations in selected Eastern European Countries. In: Qiang M (ed) Forest policy and institutional working paper. FAO, Rome

Wiersum KF, Elands BM, Hoogstra M (2005) Small-scale forest ownership across Europe: characteristics and future potential. Small-Scale For Econ Manag Policy 4(1):1–19. doi:10.1007/s11842-005-0001-1

Ziegenspeck S, Härdter U, Schraml U (2004) Lifestyles of private forest owners as an indication of social change. For Policy Econ 6(5):447–458. doi:10.1016/j.forpol.2004.01.004
Acknowledgments
This study was conducted within the project "Sustainable management of the overall potential of forests in the Republic of Serbia" (No. 37008-TR), funded by the Ministry of Education, Science and Technological development.
About this article
Cite this article
Malovrh, Š.P., Nonić, D., Glavonjić, P. et al. Private Forest Owner Typologies in Slovenia and Serbia: Targeting Private Forest Owner Groups for Policy Implementation. Small-scale Forestry 14, 423–440 (2015). https://doi.org/10.1007/s11842-015-9296-8
Accepted:

Published:

Issue Date:
Keywords
Private forestry

Forest owner typology

Policy instruments

Policy implications

Smart regulation