Abstract
Social networks play an important role in the communication of information among forest owners and how owners process that information in making land management decisions. This article examines variations in the social network characteristics of family forest owners using survey data and interviews with 42 owners in south-central Indiana. We examine how network structure and content vary by harvesting activity, information sources, ownership attributes, sociodemographic characteristics, and location. Quantitative measures of network size and diversity, along with a qualitative understanding of network content and function are discussed and compared for active and passive forest managers. We find that active managers (people who had a recent timber harvest) had at least twice as many social ties related to forest management compared to passive managers, particularly after accounting for parcel ownership size, forest area, and total landholding size. Learning and service were the main functions of these networks, with learning being the most frequently cited reason for talking to others regardless of the management profile of forest owners. The study contributes to a growing interest in mixed-methods approaches to network studies and research on social networks in private forestry.
Access options
Buy single article
Instant access to the full article PDF.
USD 39.95
Price excludes VAT (USA)
Tax calculation will be finalised during checkout.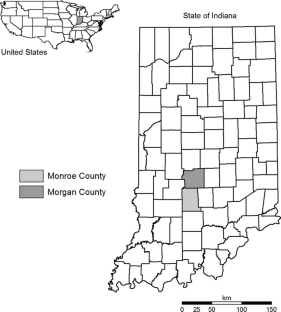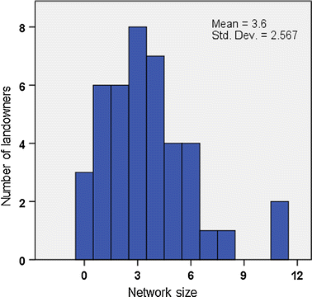 Notes
An eight-page survey was mailed to 6,733 randomly selected landowners in six Indiana counties, including Monroe and Morgan counties.

Cases were first stratified by activity and information source, then organized by county. A random number was generated for each case to help eliminate researcher's bias in the selection of cases (Patton 2002:240).

For example, some small-scale forest owners who are generally considered active managers can go longer than 5 years between harvests.

In rare occasions alters were members of more than one group (e.g. a family member who is also a neighbor), and were assigned to the first group description (i.e. family).

For example: the proportional weight for parcel size is the product of a respondent's parcel size multiplied by n/N, where n = 42 (sample size) and N = total parcel area for the sample (i.e. the sum of parcel size for the 42 owners). The weighted mean network size was computed by multiplying each respondent's network size by his/her proportional weight, adding up the products, and dividing by the sum of weights. The formula is Σ(xiwi)/Σwi, where xi is a respondent's network size and wi is the proportional weight for each ownership attribute (parcel size, forested land, and total landholding size).

Three respondents had a network size of zero and were excluded from the computation.

E19 = forest owner number; M = male/F = female.

This may be an indication of the importance of the Indiana district foresters, who have a long history of a quality program.
References
Alig RJ, Lee KJ, Moulton R (1990) Likelihood of timber management on nonindustrial private forests: evidence from research studies. General Technical Report SE-60. USDA Forest Service, Southeast Forest Experiment Station, Asheville, NC

Beach RH, Pattanayak SK, Yang JC, Murray BC, Abt RC (2005) Econometric studies of non-industrial private forest management: a review and synthesis. For Policy Econ 7(3):261–281

Bengston D, Asah S, Butler B (2011) The diverse values and motivations of family forest owners in the United States: an analysis of an open-ended question in the National Woodland Owner Survey. Small Scale For 10:339–355

Bergmann SA, Bliss JC (2004) Foundations of crossboundary cooperation: resource management at the public-private interface. Soc Nat Resour 17(5):377–393

Bodin O, Prell C (2011) Social networks and natural resource management: uncovering the social fabric of environmental governance, 1st edn. Cambridge University Press, New York

Borgatti SP (2006) E-NET software for the analysis of ego-network data. Analytic Technologies, Needham, MA

Borgatti SP, Mehra A, Brassm DJ, Labianca G (2009) Network analysis in the social sciences. Science 323(5916):892–895

Boyatzis RE (1998) Transforming qualitaitive information: thematic analysis and code development. Sage Publications, Thousand Oaks, CA

Bultena GL, Hoiberg EO (1986) Sources of informatoon and technical assistance for farmers in controlling soil erosion. In: Lovejoy SB, Napier TL (eds) Conserving soil: insights from socioeconomic research. Soil Conservation Society of America, Ankeny, IA, pp 71–82

Butler BJ (2008) Family forest owners of the United States, 2006. General Technical Report NRS-27. USDA Forest Service, Northern Research Station, Newtown Square, PA. www.treesearch.fs.fed.us/pubs/15758

Butler BJ, Leatherberry EC (2004) America's family forest owners. J For 102(7):4–14

Butler BJ, Tyrrell M, Feinberg G, Van Manen S, Wiseman L, Wallinger S (2007) Understanding and reaching family forest owners: lessons from social marketing research. J For 105(7):348–357

CIPEC (Center for the Study of Institutions, Population, and Environmental Change) (2008) A survey of forest and land management in south-central Indiana. Indiana University, Bloomington, CIPEC

Crossley N (2010) The social world of the network: combining qualitative and quantitative elements in social network analysis. Sociologica 1:1–34

Dickerson B (1971) Communicating fire prevention messages effectively. J For 69:812–813

Edwards G (2010) Mixed-method approaches to social network analysis. NCRM Discussion Paper. Report No. NCRM/015. National Centre for Research Methods, University of Manchester. http://eprints.ncrm.ac.uk/842/

Evans TP, Kelley H (2008) Assessing the transition from deforestation to forest regrowth with an agent-based model of land cover change for south-central Indiana. Geoforum 39(2):819–832

Fischer AP (2012) Identifying policy target groups with qualitative and quantitative methods: the case of wildfire risk on nonindustrial private forest lands. For Pol Econ 25:62–71

Fischer BC, Ruseva TB (2010) What is happening in and outside America's private woodlands? J For 108(6):304–306 (Invited Response to Coufal et al. J For 108(6):301–304)

Fischer AP, Bliss J, Ingemarson F, Lidestav G, Lönnstedt L (2010) From the small woodland problem to ecosocial systems: the evolution of social research on small-scale forestry in Sweden and the USA. Scand J For Res 25:390–398

Folkman W (1963) Levels and sources of forest fire prevention knowledge of California hunters. Res. Paper PSW-11. Pacific Southwest Forest and Range Experiment Station, Berkeley, CA. http://treesearch.fs.fed.us/pubs/29557

Gass R, Rickenbach M, Schulte L, Zeuli K (2009) Cross-boundary coordination on forested landscapes: investigating alternatives for implementation. J Environ Manag 43(1):107–117

Granovetter MS (1973) The strength of weak ties. Am J Sociol 78(6):1360–1380

Heath S, Fuller A, Johnston B (2009) Chasing shadows: defining network boundaries in qualitative social network analysis. Qual Res 9(5):645–661

Hollstein B (2011) Qualitative approaches. In: Scott J, Carrington PJ (eds) The Sage handbook of social network analysis. Sage, London, pp 404–417

Hujala T, Tikkanen J (2008) Boosters of and barriers to smooth communication in family forest owners' decision making. Scand J For Res 23(5):466–477

Hujala T, Pykäläinen J, Tikkanen J (2007) Decision making among Finnish non-industrial private forest owners: the role of professional opinion and desire to learn. Scand J For Res 22(5):454–463

Joshi S, Arano KG (2009) Determinants of private forest management decisions: a study on West Virginia NIPF landowners. For Pol Econ 11:118–125

Kittredge DB (2005) The cooperation of private forest owners on scales larger than their individual property: international examples and potential application in the United States. For Pol Econ 7:671–688

Kittredge DB, Rickenbach MG, Knoot TG, Snellings E, Erazo A (2013) It's the network: how personal connections shape decisions about private forest use. North J Appl For 30(2):67–74

Knoke D, Yang S (2008) Social network analysis, 2nd edn. Sage, Thousand Oaks, CA

Knoot T, Rickenbach M (2011) Best management practices and timber harvesting: the role of social networks in shaping landowner decisions. Scand J For Res 26(2):171–182

Knoot T, Schulte L, Rickenbach M (2010) Oak conservation and restoration on private forestlands: negotiating a social-ecological landscape. J Environ Manag 45(1):155–164

Koontz TM (2001) Money talks—but to whom? Financial versus nonmonetary motivations in land use decisions. Soc Natur Resour 14:51–65

Korhonen K, Hujala T, Kurttila M (2012) Reaching forest owners through their social networks in timber sales. Scand J For Res 27(1):88–99

Kueper AM, Sagor ES, Becker DR (2013) Learning from landowners: examining the role of peer exchange in private landowner outreach through landowner networks. Soc Natur Resour 28:912–930. doi:10.1080/08941920.2012.722748

Lin N (1982) Social resources and instrumental action. In: Marsden P, Lin N (eds) Social structure and network analysis. Sage, Beverly Hills, CA, pp 131–145

Maletta H (2007) Weighting: Raynald's SPSS tools. http://www.spsstools.net/Tutorials/WEIGHTING.pdf

McCarty C, Killworth PD, Rennell J (2007) Impact of methods for reducing respondent burden on personal network structural measures. Soc Networks 29:300–315

NFF (Nordic Family Forestry) (2013) Facts on forests in Denmark, Finland, Norway, and Sweden. http://www.nordicforestry.org/default.asp (right column)

Nordlund A, Westin K (2011) Forest values and forest management attitudes among private forest owners in Sweden. Forests 2:30–50

Nybakk E, Crespell P, Hansen E, Lunnan A (2009) Antecedents to forest owner innovativeness: an investigation of the non-timber forest products and services sector. Forest Ecol Manag 257(2):608–618

Patton MQ (2002) Qualitative research and evaluation methods, 3rd edn. Sage, Thousand Oaks, CA

Pescosolido BA (2006) Sociology of social networks. In: Bryant CD, Peck DL (eds) The handbook of 21st century sociology. Sage, Thousand Oaks, CA, pp 208–217

Prell C (2011) Social network analysis: history, theory and methodology. Sage, Thousand Oaks, CA

Prell C, Hubacek K, Reed M (2009) Stakeholder analysis and social network analysis in natural resource management. Soc Natur Resour 22(6):501–518

Prokopy LS, Floress K, Klotthor-Weinkauf D, Baumgart-Getz A (2008) Determinants of agricultural best management practice adoption: evidence from the literature. J Soil Water Conserv 63(5):300–311

Rickenbach M (2009) Serving members and reaching others: the performance and social networks of a landowner cooperative. For Pol Econ 11:593–599

Rickenbach M, Zeuli K, Sturgess-Cleek E (2005) Despite failure: the emergence of ''new'' forest owners in private forest policy in Wisconsin, USA. Scand J For Res 20(6):503–513

Rickenbach M, Schulte LA, Kittredge DB, Labich WG, Shinneman DJ (2011) Cross-boundary cooperation: a mechanism for sustaining ecosystem services from private lands. J Soil Water Conserv 66(4):91A–96A

Row C (1978) Economies of tract size in timber growing. J For 76:576–582

Schraml U (2003) Expectations towards forestry: the influence of personal networks with forest owners. Urban For Urban Greening 1(3):161–170

Sisock ML (2009) Private forest owners' communication networks: exploring the structural basis for cross-boundary cooperation. Ph.D. thesis. University of Wisconsin-Madison

Smith JA, Flowers P, Larkin M (2009) Interpretative phenomenological analysis: theory, method, and research. Sage, Thousand Oaks, CA

Straka TJ, Wisdom HW, Moak JE (1984) Size of forest holding and investment behavior of nonindustrial private owners. J For 82:495–496

Vokoun M, Amacher GS, Wear DN (2006) Scale of harvesting by non-industrial private forest landowners. J For Econ 11:223–244

Vokoun M, Amacher GS, Sullivan J, Wear D (2010) Examining incentives for adjacent non-industrial private forest landowners to cooperate. For Pol Econ 12(2):104–110

Warriner GK, Moul TM (1992) Kinship and personal communication network influences on the adoption of agriculture conservation technology. J Rural Stud 8(3):279–291

West PC, Fly JM, Blahna DJ, Carpenter EM (1988) The communication and diffusion of NIPF management strategies. North J Appl For 5:265–270
Acknowledgments
We gratefully acknowledge support from the Center for the Study of Institutions, Population, and Environmental Change, Indiana University, through funding from the Human and Social Dynamics program at the National Science Foundation (grant BCS0624178).
Electronic supplementary material
Below is the link to the electronic supplementary material.
About this article
Cite this article
Ruseva, T.B., Evans, T.P. & Fischer, B.C. Variations in the Social Networks of Forest Owners: The Effect of Management Activity, Resource Professionals, and Ownership Size. Small-scale Forestry 13, 377–395 (2014). https://doi.org/10.1007/s11842-014-9260-z
Accepted:

Published:

Issue Date:

DOI: https://doi.org/10.1007/s11842-014-9260-z
Keywords