Abstract
The use of small-scale harvesting equipment continues to grow in forestry in many regions of the world. This equipment includes various devices and methods used to harvesting that generally are smaller, less expensive and less productive than advanced forestry machines. The objective of this study is to compare the efficiency of five alternative extraction methods implemented in a harvesting unit located in a mixed beech and oak forest ecosystem in northwestern Turkey. A continuous time study was conducted during primary transport operations that included skidding with animal power, skidding with farm tractor, hauling with farm tractor, hauling with forest tractor, and extraction by skyline. Timber was skidded uphill on a skid trail, and an average skidding distance of 100 m for all haulage methods was considered. Average slope of the harvesting unit ranged from 20 to 40 %. Average productivities for respective haulage methods were 3.80, 6.25, 2.80, 5.25 and 10.09 m3/h. Significant differences were found between productivity of haulage methods using one-way analysis of variance. The extraction by skyline, skidding with farm tractor, and hauling with forest tractor were determined to be the most statistically different methods, the productivity of these methods was found significantly higher than the other methods. Skid trails are useful for shortening distances during forest operations and skidding with farm tractor is a productive method in small-scale forestry of Turkey.
Access options
Buy single article
Instant access to the full article PDF.
USD 39.95
Price excludes VAT (USA)
Tax calculation will be finalised during checkout.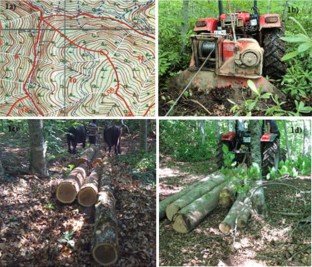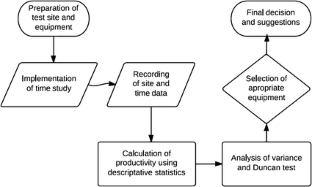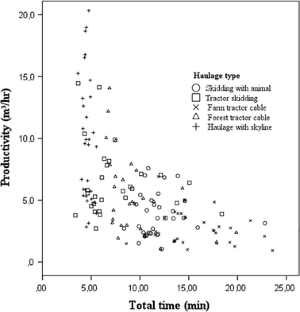 References
Acar HH (1995) Investigation on the transport from compartment of forest trees by MB Trac 900 special forest tractor on Artvin region. Turk J Agric For 19(1):45–50

Acar HH (1997a) Investigation of extraction with forest tractors on mountainous areas. Turk J Agric For 21(3):299–306

Acar HH (1997b) An investigation on the extraction from compartment by mobile skylines at the mountainous region. Turk J Agric For 21(2):195–200

Akay AE (2005) Determining cost and productivity of using animals in forest harvesting operations. Appl Sci Res 1(2):190–195

Bayoglu S (1985) Ormancilikta mekanizasyon ve gelismesi. Ormancilikta mekanizasyon ve verimliligi I. ulusal sempozyumu, Milli Produktivite Merkezi Yayinlari, Bolu, Turkey

Behjou FK, Majnounian B, Namiranian M, Dvorak J (2008) Time study and skidding capacity of the wheeled skidder Timberjack 450c in Caspian forests. J For Sci 54(4):183–188

Ghaffariyan MR, Naghdi R, Ghajar I, Nikooy M (2012) Time prediction models and cost evaluation of cut-to-length (CTL) harvesting method in a mountainous forest. Small-scale For. doi:10.1007/s11842-012-9204-4

Gilanipoor N, Najafi A, Heshmat Alvaezin SM (2012) Productivity and cost of farm tractor skidding. J For Sci 58(1):21–26

Heinimann R (1999) Ground-based harvesting technologies for steep slopes. Department of Forest Engineering, Oregon State University, Corvallis

Johansson J (1997) Small tree harvesting with a farm tractor and crane attached to the front. J For Eng 8(1):21–33

Jourgholami M (2012) Small-scale timber harvesting: mule logging in Hyrcanian forest. Small-scale For 11(2):255–262

Kara F, Loewenstein E, Kalin L (2012) Changes in sediment and water yield downstream on a small watershed. Ekoloji 21(84):30–37

Ladrach W (2004) Harvesting and comparative thinning alternatives in Gmelina arborea plantations. New For 28(2–3):255–268

Lihai W, Fulong M, Chunshan L, Zhongye G, Jianfeng S (1996) Assessment of animal skidding and ground machine skidding under mountain conditions. J For Res 7(1):63–72

Mederski PS (2006) A comparison of harvesting productivity and costs in thinning operations with and without midfield. For Ecol Manage 224(3):286–296

Menemencioglu K, Acar HH (2004) Ormancilikta bolmeden cikarma calismalarinda transport planlamasi ve etkileri. GU Orman Fak Der 4(2):143–163

Mousavi R (2009) Comparison of productivity, cost and environmental impacts of two harvesting methods in northern Iran: short-log vs. long-log. Dissertationes Forestales 82, Vantaa, Finland

Najafi A, Sobhani H, Saeed A, Makhdoom M, Marvimohajer MR (2007) Time study of skidder HSM 904. J Iran Nat Res 60(3):921–930

Ozden S, Nayir I, Gol C, Edis S, Yilmaz H (2011) Health problems and conditions of the forestry workers in Turkey. Afr J Agric Res 6(27):5884–5890

Ozturk T (2010) Productivity of MB Trac 900 tractor at beech stands on mountainous areas in Blacksea region. Afr J Agric Res 5(1):28–33

Russell F, Mortimer D (2005) A review of small-scale harvesting systems in use worldwide and their potential application in Irish forestry. COFORD, Dublin

Samset I (1990) Some observations on time and performance studies in forestry. Meddelelser fra Norsk institutt for skogforskning 43(5):1–80

Shrestha SP (2002) Opportunities and limitation on animal logging in the US south. PhD thesis, Auburn University, AL

Spinelli R, Magagnotti N (2012) Wood extraction with farm tractor and sulky: estimating productivity, cost and energy consumption. Small-scale For 11(1):73–85

Spinelli R, Owende PMO, Ward SM, Tornero M (2004) Comparison of short-wood forwarding systems used in Iberia. Silva Fennica 38(1):85–94

Updegraff K, Blinn CR (2000) Application of small-scale forest harvesting equipment in the United States and Canada. Collage of natural resources and Minnesota agricultural experiment station, University of Minnesota. Staff paper series no. 143, Minnesota

Yoshimura T, Acar HH (2004) Occupational safety and health conditions of forestry workers in Turkey. J For Res 9(3):225–232
Acknowledgments
The authors would like to thanks Cem Bektas and the villagers working for Devrek Forest enterprise for their assistance during field data collection.
About this article
Cite this article
Melemez, K., Tunay, M. & Emir, T. A Comparison of Productivity in Five Small-Scale Harvesting Systems. Small-scale Forestry 13, 35–45 (2014). https://doi.org/10.1007/s11842-013-9239-1
Accepted:

Published:

Issue Date:

DOI: https://doi.org/10.1007/s11842-013-9239-1
Keywords
Farm tractor

Log skidding

Primary transport

Timber extraction

Turkey