Abstract
In the last decade non-timber forest products (NTFPs) and their associated goods have received much attention from researchers and development workers for their perceived socio-economic importance and potential, particularly in developing countries. It has been increasingly recognized that promoting the use, production and sustainable harvesting of such kinds of products could also contribute to forest conservation in the long run. However, since the development process has progressed in most regions, alternatives or substitutes of such products have become available on the markets, and it will be difficult for these nature-based products to exist without additional product values. A market survey was conducted in an urban fringe of north-eastern Bangladesh to investigate NTFP-based product diversity, and marketing patterns and challenges. Further information was collected from sellers and consumers to understand their views on probable future strategies to sustain the markets of these products. A total of 38 NTFP and NTFP-based secondary products were recorded from 25 NTFP shops, including 16 permanent, 7 temporary (or semi-permanent) and 2 mobile shops. The greatest demand was observed for bamboo and cane-based products, for which supply suffered due to the scarcity of raw materials. A decreasing trend in the consumption of NTFP-based articles for urban domestic use was also reported from the sellers. To cope with the competitive markets, sellers were found to place more emphasis on creative marketing, durability and appearance of their products. The study concluded that active government support is needed for the sustenance of this industry in a changing global perspective. This could be in the form of technical advancement in the production process, improvement of existing product supply chains and skill development of the workers which will not only secure the future of these products but also provide an essential means for the survival of this industry and for thousands of people living from it.
Access options
Buy single article
Instant access to the full article PDF.
US$ 39.95
Tax calculation will be finalised during checkout.
Subscribe to journal
Immediate online access to all issues from 2019. Subscription will auto renew annually.
US$ 79
Tax calculation will be finalised during checkout.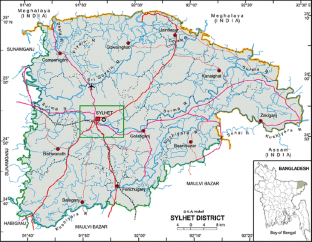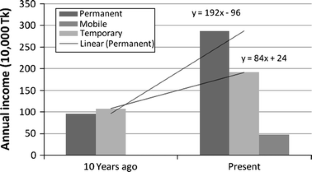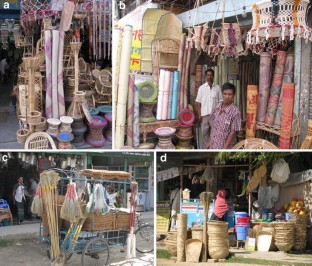 Notes
1.

Non-timber forest products (NTFPs) are defined in this paper as products mainly of biological origin other than commercial timber which are derived from either natural or managed forests. Examples include bamboo, cane, grasses, and their finished products. The various environmental benefits or services of forests are not considered as NTFPs in this paper.

2.

As of 2007–08, US$1 is equivalent to 69 Bangladeshi Taka (Tk.), approximately.

3.

An upazilla is a sub-district, which is an administrative entity.
References
Ahmed R, Islam ANMF, Rahman M, Halim MA (2007) Management and economic value of Schumannianthus dichotoma in rural homesteads in the Sylhet region of Bangladesh. Int J Biodivers Sci Manag 3(4):252–258

Akhter S, Halim MA, Sohel MSI, Sarker SK, Chowdhury MSH, Sonet SS (2008) A review on the use of non-timber forest products in beauty-care in Bangladesh. J For Res 19(1):72–78

Alam MK (1992) Medical ethnobotany of the Marma tribe of Bangladesh. Econ Bot 46(3):330–335

Alamgir M, Bhuiyan MAR, Jashimuddin M, Alam MS (2006) Economic profitability of cane based furniture enterprises of Chittagong city Corporation Area, Bangladesh. J For Res 17(2):153–156

Arnold JEM, Ruiz Pérez M (1996) Framing the issues relating to non-timber forest products research. In: Ruiz Pérez M, Arnold JEM (eds) Current issues in non-timber forest products research. CIFOR-ODA, Bogor, pp 1–18

Arnold JEM, Ruiz Pérez M (2001) Can non-timber forest products match tropical forest conservation and development objectives? Ecol Econ 39(3):437–447

Bangladesh Bureau of Statistics (BBS) (1996) Bangladesh population census 1991, community series, zilla: Sylhet. Bangladesh Bureau of Statistics, Dhaka

Banik RL (1998) Bamboo resources, management and utilization in Bangladesh. In: AN Rao and VR Rao (eds) Bamboo conservation, diversity, ecogeography, germplasm, resource utilization and taxonomy. Proceedings of training course cum workshop 10–17 May 1998, Kunming and Xishuangbanna, Yunnan, China, pp 137–150

Basit MA (1995) Non-Wood Forest Products from the Mangrove Forests of Bangladesh. In: Durst PB and Bishop A (eds) Beyond Timber: Social, Economic and Cultural Dimensions of Non-Wood Forest products in Asia and the Pacific. Proceedings of a Regional Expert Consultation held in Bangkok, 28 November to 2 December 1994. FAO Regional Office for Asia and the Pacific (FAO-RAP), Bangkok. pp 193–200

Caldecott JO (1988) Hunting and wildlife management in Sarawak. IUCN, Gland

Chowdhury MSH, Uddin MS, Haque F, Muhammed N, Koike M (2007) Indigenous management of patipata (Schumannianthus dichotoma) plantation in the rural homesteads of Bangladesh. Subtrop Agric Res Dev 5(1):202–207

de Beer JH, McDermott MJ (1996) The economic value of non-timber forest products in southeast Asia, 2nd edn. Netherlands Committee for IUCN, Amsterdam

GOB (Government of Bangladesh) (1993) Forestry master plan: participatory forestry. Asian development bank (TA No. 1355-BAN) UNDP/FAO/BGD 88/025. Dhaka, Bangladesh

Khan SA, Khan NA (1994) Non-wood forest products of Bangladesh: an overview. Bangladesh J For Sci 23(1):45–50

Miah MD, Chowdhury MSH (2003) Indigenous healthcare practice through medicinal plants from forests by the Mro tribe in Bandarban region, Bangladesh. INDILINGA African J Indigenous Knowl Syst 2(2):61–73

Motaleb MA, Hossain MK (2008) Dependency of rural livelihood on non wood forest products (NWFPs) in Hathazari upazila, Chittagong, Bangladesh. Int J For Usuf Mngt 99(1):1–7

Mukul SA (2008) Integrating biodiversity conservation and livelihood provisions in protected area management: understanding stakeholders view on the role and prospects of non-timber forest products, A Bangladesh case study. Poster presented at the international conference; 'Towards sustainable land-use in tropical Asia' organized jointly by 'The Association for Tropical Biology and Conservation' and 'The Japan Society of Tropical Ecology' held at Kuching, Sarawak, Malaysia, 23–26 April, 2008

Mukul SA, Uddin MB, Tito MR (2007) Medicinal plant diversity and local healthcare among the people living in and around a conservation area of northern Bangladesh. Int J For Usuf Mngt 8(2):50–63

Mukul SA, Uddin MB, Rashid AZMM, Fox J (2010) Integrating livelihoods and conservation in protected areas: understanding the role and stakeholder views on prospects for non-timber forest products, a Bangladesh case study. Int J Sustain Development World Ecol 17(2):180–188

Nath TK, Uddin MB, Ahmed R (2000) Role of bamboo based cottage industry in economic upliftment of rural poor: a case study from rural Bangladesh. Malays Forester 63(3):98–105

Pimentel D, Mcnair M, Buck L, Pimentel M, Kamil J (1997) The value of forests to world food security. Hum Ecol 25(1):91–120

Sedjo RA (2002) Tropical Forests and Poverty Alleviation- how can benefits be captured? In: Verweij P. (ed) Understanding and capturing the multiple values of tropical forests. Proceedings of the international seminar on valuation and innovative financing mechanisms in support of conservation and sustainable management of tropical forests. Tropenbos International, Wageningen

Uddin MB, Mukul SA (2007) Improving forest dependent livelihoods through NTFPs and home gardens: a case study from Satchari National Park. In: Fox J, Bushley B, Dutt S, Quazi SA (eds) Making conservation work: linking rural livelihoods and protected areas in Bangladesh. East-West Center, Hawaii and Nishorgo Support Project of Bangladesh Forest Department, Dhaka, pp 13–35

Uddin MB, Mukul SA, Khan MASA, Chowdhury MSH, Uddin MS, Fujikawa S (2006) Indigenous management practices of Hogla (Typha elephantina Roxb.) in local plantations of floodplain areas of Bangladesh. J Subtropical Agric Res Dev 4(3):114–119

Uddin MS, Mukul SA, Khan MASA, Alamgir M, Harun MY, Alam MS (2008) Small-scale Agar (Aquilaria agallocha Roxb.) based cottage enterprises in Maulvibazar district of Bangladesh: production, marketing and potential contribution to rural development. Small scale For 7(2):139–149

Vantomme P, Markkula A, Leslie RN (eds) (2002) Non-wood forest products in 15 countries of Tropical Asia: an overview. FAO-RAP, Bangkok

Wunder S (2000) Poverty alleviation and tropical forests—What scope for synergies? World Dev 29(11):1817–1833
Acknowledgments
I am indebted to Mr. M. R. Tito and Mr. M. A. S. A. Khan for accompanying me in the field several times. Thanks are also due to Ms. Elizabeth Thompson for her effort on improving the language of this manuscript, and to Dr. Steve Harrison for his valuable and instructive comments on this manuscript during the review process. Finally I acknowledge the patience and cooperation from all respondents during the survey period.
Appendix
Appendix
See Table 4
About this article
Cite this article
Mukul, S.A. Changing Consumption and Marketing pattern of Non-timber Forest Products in a Competitive World: case Study from an Urban Area of North-eastern Bangladesh. Small-scale Forestry 10, 273–286 (2011). https://doi.org/10.1007/s11842-010-9147-6
Accepted:

Published:

Issue Date:
Keywords
Market promotion

Consumers' preference

Competition

Substitute goods

Sylhet