Abstract
For any country, the forest policy is an important guideline to maintain forest resources and their interaction with other land uses. India devised its first National Forest Policy (NFP) back in 1894. There has been a paradigm shift from timber production to forest conservation followed by community-based agroforestry and social forestry bringing a change in perspective towards forest resources. This change has been socio-economic, cultural and ecological. Since the 1952 NFP, there has been an advocacy for 33% forest cover with a 60% forest cover in mountainous and hilly regions. This objective was reiterated in the NFP 1988 and also confirmed in the National Forestry Commission report in 2006. This paper reviews the probable reasons for these targets. This paper also analyzes forest cover trends at state level and assesses the likelihood of meeting the prescribed policy targets under present perspective of land use practices. Only three Indian states meet the prescribed policy, while three more have the potential to do so, if their state wasteland area is afforested. Among the rest, a few states may achieve the 33% goal provided land conversion to tree cover is not hindered, and adequate resources are available at state level. The Planning Commission (XI Five-year Plan, 2007–12) has emphasized inclusion of other natural ecosystems (including treeless areas and trees outside forests) to forest cover. The paper also examines the above prescribed targets in light of the Planning Commission recommendations. It is argued that that the NFP should be re-visited and revised to meet the targets, along with setting a more realistic and attainable target for Indian forest and tree cover.
Access options
Buy single article
Instant access to the full article PDF.
USD 39.95
Price excludes VAT (USA)
Tax calculation will be finalised during checkout.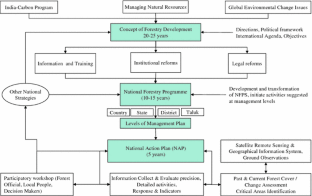 References
Byron N, Arnold JEM (1999) What futures for the people of the tropical forests? World Dev 27(5):789–805

Encyclopædia Britannica (2010) Encyclopædia Britannica Online. 27 March 2010. http://www.britannica.com/EBchecked/topic/118745/Citation. Accessed on 18 April 2010

FAO (2006) Global Forest Resources Assessment 2005. Rome, Italy

Forest Research Institute (1953) British Commonwealth Forest Terminology, Part I-Silviculture, protection, mensuration and management, together with allied subjects. The Empire Forestry Association, London, UK

FSI (2005) State of Forest Report (SFR) 2005. Forest Survey of India. MoEF, Dehradun, p 214

FSI (2009) Indian State of Forest Report (ISFR) 2009. Forest Survey of India. MoEF, GOI, Dehradun, p 199

Gadgil M, Guha R (1995) Ecology and equity. The use and abuse of nature in contemporary India. Penguin Books India, New Delhi

Godavarman T.N. Vs UOI (1996) T.N. Godavarman Thirumulpad versus Union of India and ORS. Wildlife Trust of India. http://wildlifelaw.in/Data/Cases%20_and_%20Judgements/TNG_vs_UI/tng_vs_uoi_14022000.html. Accessed 18 April 2010

GoI (Government of India) (1952) National Forest Policy (NFP) 1952, New Delhi

Helms JA (1998) The Dictionary of Forestry. Society of American Foresters, Bethesda

IIFM (2001) National Forest Policy Review. Indian Institute of Forest Management, Bhopal India. Available: ftp://ftp.fao.org/docrep/fao/005/AC921E/AC921E04.pdf. Accessed 18 April 2010

Kouplevastskaya I (2006) The national forest programme as an element of forest policy reform: findings from Kyrgyzstan. Unasylva 225(57):15–22

Kumar S (2002) Does participation in common pool resource management help the poor: a social cost-benefit analysis of joint forest management in Jharkhand, India. World Dev 30(5):763–782

Lund HG (1999) A 'forest' by any other name. Environ Sci Policy 2(2):125–133

Marcot BG (1992) Conservation of Indian Forest. Conserv Biol 6(1):12–16

Mathur AS, Sachdeva AR (2003) Towards an Economic approach to sustainable development. Planning Commission GOI, New Delhi

MoEF (1999) National Forestry Action Programm., India. Government of India, New Delhi

MoEF (2002) Sustainable development—learning's and perspectives from India. Ministry of Environment and Forest (MoEF), Government of India Available: http://envfor.nic.in/divisions/ic/wssd/doc4/main.htm. Accessed 18 April 2010

MoEF (2007) Intreme country report—India for United Nations Forum on Forest (UNFF-II). Ministry of Environment and Forest (MoEF), Government of India Available: http://envfor.nic.in/nfap/Unff2.pdf. Accessed on 18 April 2010

NRSA (2007) Natural resources census: national land use and land cover mapping using multi-temporal AWiFS data, Project Report. Publication No. NRSA/LULC/1:250 K/2007-1. National Remote Sensing Agency, Hyderabad, India

OED (2003) Oxford English dictionary. Oxford University Press, Oxford

Planning Commission (2008) Eleventh five year plan 2007–2012. Planning Commission, Government of India, New Delhi

Rawat V, Singh D, Kumar P (2003) Climate change and its impact on forest biodiversity. Indian Forester 129(6):787–798

Schlich W (1912) Forests and rainfall. Nature 89:662–664

Wikipedia (2010) The free encyclopedia online. http://en.wikipedia.org/wiki/Forest. Accessed on 18 April 2010
About this article
Cite this article
Joshi, A.K., Pant, P., Kumar, P. et al. National Forest Policy in India: Critique of Targets and Implementation. Small-scale Forestry 10, 83–96 (2011). https://doi.org/10.1007/s11842-010-9133-z
Accepted:

Published:

Issue Date:

DOI: https://doi.org/10.1007/s11842-010-9133-z
Keywords
Forest cover

Forest definition

Five-year plan

Joint management