Abstract
An exploratory survey was carried out to assess economics and employment generation of the trade of bamboo and bamboo-based secondary products in the eastern Bangladesh, to obtain reliable information about their status, socio-economic significance, production and marketing. The study was undertaken over 30 bamboo-based enterprises in a suburban market of eastern Bangladesh, to investigate regional product details, economic profitability and employment opportunities. The sample entrepreneurs, corresponding to about 25% of the bamboo enterprise population were interviewed using a semi-structured questionnaire. About 202 full and part-time workers were employed in the factories, under categories of artisan (who manufactured secondary products). The average number of worker's in the large, medium and small factories were 9 (artisan 40%), 6.45 (artisan 35%) and 5 (artisan 25%) respectively. The study revealed that there was always a satisfied demand of skilled artisans. Most of the workers were relatively newly employed (not more than 5 years). The daily wage rate varied between 70 and 130 Tk. ($US 1 equals approximately 70 Bangladeshi Taka (Tk.), as at December 2008). Bambusa balcooa was the most utilized species (39.96%) in terms of monetary value. The price of a single B. balcooa culm in the local market was Tk. 160–210. Nine sizes of articles under seven bamboo categories were identified, these being bera (36″ × 120″ and 72″ × 96″), bookshelf (36″ × 24″), chaluni (12″ × 12″), chatai (48″ × 60″ and 36″ × 48″), jhuri, rickshaw hood and tukri. Net average profit per article was the highest for rickshaw hoods (Tk. 400 at the retailer stage). The total expected annual income for an enterprises from all articles types sold was estimated to be Tk. 85,800. Three distinct marketing channels were identified for selling bamboo and value-added secondary products. The study also generated policy implications for effective management of bamboo-based enterprises.
Access options
Buy single article
Instant access to the full article PDF.
US$ 39.95
Tax calculation will be finalised during checkout.
Subscribe to journal
Immediate online access to all issues from 2019. Subscription will auto renew annually.
US$ 79
Tax calculation will be finalised during checkout.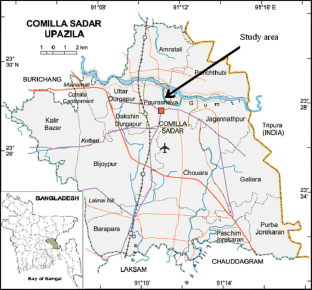 Notes
1.

Literacy of individuals is defined as ability to read and write their name.
References
Alamgir M, Jashimuddin M, Bhuiyan MAR (2005) Employment generation and economics of cane based furniture enterprises of Chittagong, Bangladesh. J Bamboo Rattan 4(3):279–292

Alamgir M, Mezbahuddin M, Jashimuddin M (2007) Role of bamboo based cottage industry in economic upliftment of rural poor of Chittagong, Bangladesh. J Bamboo Rattan 6(4):55–63

Banglapedia (2009) National encyclopedia of Bangladesh. Dhaka: Asiatic Society of Bangladesh. Retrieved September 3, 2009, from www.banglapedia.org

Banik RL (1995) Diversities, reproductive biology and strategies for germplasm conservation of bamboos. In: Rao VR, Rao AN (eds) Bamboo and Rattan genetic resources and use. Proceedings of the First INBAR biodiversity, genetic resources and conservationworking group. INBAR-IPGRI, Rome, pp 1–22

Banik RL (1998) Bamboo resources, management and utilization in Bangladesh. In: Rao AN, Rao VR (eds) Bamboo conservation, diversity, ecogeography, germplasm, resource utilization and taxonomy. Proceedings of training course cum workshop 10–17 May, Kunming and Xishuangbanna, Yunnan, China, pp 137–150

BBS (Bangladesh Bureau of Statistics) (2009) Statistical year book of Bangladesh. Ministry of Planning, People's Republic of Bangladesh

Bystriakova N, Kapos V, Lysenko I, Stapleton CMA (2003) Distribution and conservation status of forest bamboo biodiversity in the Asia-Pacific Region. Biodivers Conserv 12(9):1833–1841

Dransfield S, Widjaja EA (1995) Plant resources of South-east Asia, No. 7. Bamboos, Backhuys

International Network for Bamboo and Rattan (INBAR) (1999) Socio-economic issues and constraints in the bamboo and rattan sectors. INBAR's assessment. INBAR working paper No. 23. Beijing

Kamruzzaman M, Saha SK, Bose AK, Islam MN (2008) Effects of age and height on physical and mechanical properties of bamboo. J Trop For Sci 20(3):211–217

Khan SA, Khan NA (1994) Non-wood forest products of Bangladesh: an overview. Bangladesh J For Sci 23(1):45–50

Latif MA (2008) Bamboo species, their distribution, habitat, rehabilitation and uses in Bangladesh. Document no-1, market development of bamboo and rattan products with potentials, Bangladesh Forest Research Institute, Chittagong

Lobovikov M, Paudel SM, Piazza HR, Wu J (2007) World bamboo resources, a thematic study prepared in the framework of the global forest resources assessment. Non-wood forest products series no. 18. Food and agriculture organization of the United Nations (FAO). Rome, pp 55–60

Miah MD, Ahmed R, Uddin MB (2002) Indigenous management of bamboo plantations in the rural homesteads of floodplain areas of Bangladesh. Int J For Usuf Mngt 3(1 & 2):35–40

Ruiz-Perez M, Zhong M, Belcher B, Xie C, Fu M, Xie J (1999) The role of bamboo plantations in rural development: the case of Anji County, Zhejiang, China. Wor Develo 27(1):101–104

Vantomme P, Markkula A, Leslie RN (2002) Non-wood forest products in 15 countries of tropical Asia: an overview. FAO-RAP, Bangkok

Wong KM (2004) Bamboo—the amazing grass, a guide to the diversity and study of bamboos in Southeast Asia. International plant genetic resources institute (IPGRI) and University of Malaya, Selangor, Darul Ehsan and Kuala Lumpur

Zabala NQ (1990) Agroforestry. Development of professional education in the forestry sector of Bangladesh. Institute of Forestry, University of Chittagong, Chittagong
Acknowledgments
We wish to thank all the respondents of the study for sharing their information. Thanks also to the responsible editor Dr. Steve Harrison of The University of Queensland and the unknown reviewers for their innumerable efforts and advice to enhance the quality of this manuscript.
About this article
Cite this article
Rana, M.P., Mukul, S.A., Sohel, M.S.I. et al. Economics and Employment Generation of Bamboo-Based Enterprises: A Case Study from Eastern Bangladesh. Small-scale Forestry 9, 41–51 (2010). https://doi.org/10.1007/s11842-009-9100-8
Accepted:

Published:

Issue Date:
Keywords
Small-scale enterprise

Labour condition

Marketing channel

Non-timber forest product