Abstract
Globally, trade in agar-based products is growing rapidly due to their recent adoption as an ingredient in the cosmetics and pharmaceuticals sector. In Bangladesh, people living in some north-eastern districts have been engaged in the production, processing and trading of such products for several decades. These practices, which they consider as the lifeblood of their existence, have been inherited from their ancestors. This paper reports a case study carried out in Maulvibazar district exploring the production and marketing, and industry problems, of agar-based enterprises and their potential contribution to socio-economic development. An exploratory survey was undertaken over 30 randomly selected agar-based factories during December 2005–April 2006, with entrepreneurs of the factories personally interviewed using a semi-structured questionnaire. The majority of the factories of the area were found to depend on local sources of raw materials to produce agar-based products. About 514 full and part-time workers are employed in the factories. Average annual expenditure, revenue and net annual income per factory for three consecutive years 2003–2005 of the study were estimated as Tk 63,980, Tk 111,414 and Tk 47,435, respectively, being highest where attar (agar oil) of superior grade was produced for export. There appears to be a sustainable source of raw materials, availability of technical and financial assistance and opportunity for expansion of market facilities to secure the maximum benefit achievable from this highly promising industry.
Access options
Buy single article
Instant access to the full article PDF.
US$ 39.95
Tax calculation will be finalised during checkout.
Subscribe to journal
Immediate online access to all issues from 2019. Subscription will auto renew annually.
US$ 79
Tax calculation will be finalised during checkout.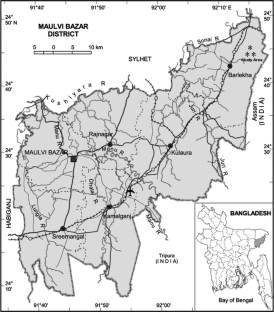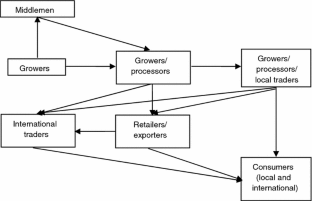 Notes
1.

$US1 equals approximately 69 Bangladeshi Taka (Tk), as at November 2007.
References
Alam SM (2004) Production, processing and economic aspects of Agar tree (Aquilaria malaccensis) as an agroforestry species in Maulvibazar district of Bangladesh. Dissertation, Bangabandhu Sheikh Mujibur Rahman Agricultural University, Gazipur, pp 6–18

ASB (2003) BANGLAPEDIA; National Encyclopedia of Bangladesh, vol 2. Asiatic Society of Bangladesh (ASB), Dhaka, pp 78–449

Barden A, Awang Anak N, Mulliken T, Song M (2000) Heart of the matter: agarwood use and trade and CITES implementation for Aquilaria malaccensis. TRAFFIC International, Cambridge, pp 1–52

Chakrabarty K, Kumar A, Menon V (1994) Trade in agarwood. TRAFFIC India and WWF-India, New Delhi

Chang LT, Ng YS, Kadir AA (1997) A review on agar (gaharu) producing Aquilaria species. J Trop For Prod 2(2):272–285

Chowdhury MQ, Rashid AZMM, Afrad MM (2003) The Status of agar (Aquilaria agallocha Roxb.) based small-scale cottage industries in Sylhet region of Bangladesh. Bangladesh J Resour Dev 2(1):1–22

Das DK, Alam MK (2001) Trees of Bangladesh. Bangladesh Forest Research Institute (BFRI), Chittagong

Fratkin J (1994) Chinese herbal patent formulas: a practical guide. Shya Publications, Colorado

Hayder MAK, Rahman LM, Rahman MA (2005) Experimental agar production project (in Bengali). Department of Forests, Ministry of Environment and Forest, Dhaka, pp 1–16

Ng L, Azmi M (1997) Trade in medicinal and aromatic plants in Malaysia (1986–1996). Report No. 71, Forest Research Institute of Malaysia (FRIM), Selangor Darul Ehsan

Rahman MA, Khisa SK (1984) Agar production in agar tree by artificial inoculation and wounding, part-II, further evidences in favor of agar formation. Bono Biggyan Patrika 9(1–2):57–63

SRDI (2001) Land and soil resources utilization bulletin of Barlekha upazila in Maulvibazar district (in Bengali), Soil Resources Development Institute (SRDI), Ministry of Agriculture, Dhaka, pp 1–10
Acknowledgements
We wish to acknowledge the support provided by the Department of Forestry and Environmental Science of Shahjalal University of Science and Technology, Bangladesh, Thanks also due to the responsible editor Dr. Steve Harrison of the University of Queensland and Dr. Narayan Saha, Department of Forestry and Environmental Science, Shahjalal University of Science and Technology, for their innumerable efforts and advice to enhance the quality of this manuscript. Finally, the heartiest cooperation provided by the people of the study areas during fieldwork is gratefully acknowledged.
About this article
Cite this article
Uddin, M.S., Mukul, S.A., Khan, M.A.S.A. et al. Small-scale Agar (Aquilaria agallocha Roxb.) Based Cottage Enterprises in Maulvibazar District of Bangladesh: Production, Marketing and Potential Contribution to Rural Development. Small-scale Forestry 7, 139–149 (2008). https://doi.org/10.1007/s11842-008-9046-2
Received:

Accepted:

Published:

Issue Date:
Keywords
Small enterprises

Labour condition

Attar

Secondary products

Marketing channel

Income generation