Abstract
This paper describes a conceptual framework that was developed to integrate livestock, human, cultivation and forest constraints to model community fuelwood consumption over a 25-year planning horizon. This framework was constructed as an energy balance based on human caloric requirements in order to examine the effects of household-level decisions for nutrition, fuelwood and land use. A scenario from a virtual community in Uganda is presented to illustrate the utility of this model to allow rapid policy and scenario evaluation. User-defined inputs combined with published research data are used in simulating resource responses and energy consumption rates. This model is a potential tool to monitor fuelwood consumption and to understand the implications of various land-use practices.
Access options
Buy single article
Instant access to the full article PDF.
USD 39.95
Price excludes VAT (USA)
Tax calculation will be finalised during checkout.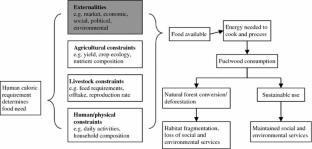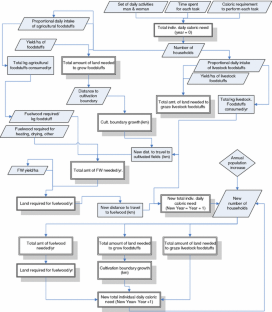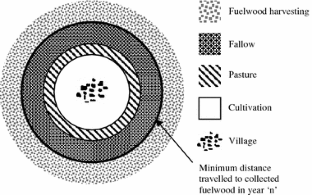 Notes
While externalities are important, their makeup can be unique for each locale and household. This framework omits these externalities and focuses only on agricultural, livestock and human and physical constraints.
References
Bacaër N, Bah A, Mahamane A (2005) Fuelwood harvesting in Niger and a generalization of Faustmann's formula. CR Biol 328(4):379–385

Black R, Sessay M (1997) Forced migration, environmental change and woodfuel issues in the Senegal River Valley. Environ Conserv 24(3):251–260

Bryceson DF (2002) Multiplex livelihoods in rural Africa: recasting the terms and conditions of gainful employment. J Modern Afr Stud 40(1):1–28

Byron N, Arnold M (1999) What futures for the people of the tropical forests? World Dev 27(5):789–805

Carney D (1998) Implementing the sustainable rural livelihoods approach. In: Carney D (ed) Sustainable rural livelihoods, what contribution can we make? Papers presented at the Department of International Development's Natural Resource Adviser's Conference, London, July 1998

Chedid R, Mezha T, Jarronche C (1999) A fuzzy programming approach to energy resource allocation. Int J Energy Res 23(4):303–317

Dovie DBK, Witkowski ETF, Shackelton CM (2004) The fuelwood crisis in Southern Africa – relating fuelwood use to livelihoods in a rural village. GeoJournal 60(2):123–133

Ellis F (1998) Household strategies and rural livelihood diversification. J Dev Stud 35(1):1–38

Ellis F (2000) Rural livelihoods and diversity in developing countries. Oxford University Press, Oxford

FAO (1983) Wood fuel surveys. Forestry for Local Community Development Programme – GCP/INT/365/SWE. Food and Agriculture Organization of the United Nations, Rome

FAO (1987) Technical and economic aspects of using wood fuels in rural industries. Training in Planning National Programmes for Wood-Based Energy, Food and Agriculture Organization of the United Nations, Rome

FAO (1993) Improved solid biomass burning cookstoves: a development manual. Regional Wood Energy Development Programme in Asia, Food and Agriculture Organization of the United Nations, Rome

FAO (2000) Food balance sheet: Uganda. Food and Agriculture Organization of the United Nations, Rome

FAO (2001) Human energy requirements. Food and nutrition technical report series, report of a joint FAO/WHO/UNU expert consultation, 17–24 October 2001, Rome

FAO (2003) Forestry outlook study for Africa: sub-regional report West Africa. Food and Agriculture Organization of the United Nations, Rome

Geist H, Lambin E (2001) What drives tropical deforestation? A meta-analysis of proximate causes of deforestation based on sub-national case study evidence. Land use and cover change report series No. 4, LUCC International Project Office, Louvain-la-Neuve

Haggith M, Prabhu R (2003) Unlocking complexity: the importance of idealisation in simulation modelling. Small-Scale Forest Econ Manage Policy 2(2):293–312

Hamilton A (1984) Deforestation in Uganda. Oxford University Press, Nairobi

Hoon P, Singh N, Wanmali SS (1997) Sustainable livelihoods: concepts, principles and approaches to indicator development. A draft discussion paper, Social Development and Poverty Eradication Division, Bureau for Development Policy, United Nations Development Programme, New York

Kaimowitz D, Angelsen A (1998) Economic models of tropical deforestation: a review. Centre for International Forestry Research, Bogor

Kayanja FIB, Byarugaba D (2001) Disappearing forests of Uganda: the way forward. Curr Sci 81(6):936–947

Legg C, Brown DR (2003) Modelling the dynamics of coupled human and natural systems along a gradient of agricultural intensification in the humid forest of Cameroon. A paper presented at the international workshop on reconciling rural poverty reduction and resource conservation: identifying relationships and remedies, 2–3 May 2003, Cornell University, Ithaca

Mabugu R, Milne G, Campbell B (1998) Incorporating fuelwood production and consumption into the national accounts: a case study for Zimbabwe. Food and Agriculture Organization of the United Nations, Rome

MacDonald DH, Adamowicz WL, Luckert MK (2001) Fuelwood collection in North-Eastern Zimbabwe: valuation and caloric expenditures. J Forest Econ 7(1):29–52

McArdle W, Katch F, Katch V (1996) Exercise physiology – energy, nutrition, and human performance, 4th edn. Williams and Wilkins, Baltimore

National Environment Management Authority (2001) State of environment report for Uganda 2000/2001. Kampala, Uganda

Naughton-Treves L, Kammen DM, Chapman C (2007) Burning biodiversity: woody biomass use by commercial and subsistence groups in western Uganda's forests. Biol Conserv 134:232–241

Pattanayak SK, Sills EO, Kramer RA (2004) Seeing the forest for the fuel. Environ Dev Econ 9(April 2004):155–179

Reddy A, Williams R, Johansson T (1997) Energy after Rio: prospects and challenges. United National Development Programme. United Nations Publications, New York City

Rennie J, Singh N (1996) Participatory research for sustainable livelihoods: a guidebook for field projects. International Institute for Sustainable Development, Winnipeg

Salafsky N, Wollenberg E (2000) Linking livelihoods and conservation: a conceptual framework and scale for assessing the integration of human needs and biodiversity. World Dev 28(8):1421–1438

Sayer JA, Campbell B (2004) The science of sustainable development: local livelihoods and the global environment. Cambridge University Press, Cambridge

Scherr SJ (2000) A downward spiral? Research evidence on the relationship between poverty and natural resource degradation. Food Policy 25:479–498

Schreier H, Brown S, Kennedy G, Shah PB (1991) Food, feed, and fuelwood resources of Nepal: a GIS evaluation. Environ Manage 15(6):815–822

Siteur J (1997) Data collection and analysis for area-based energy planning – a case study in Phrao District, Northern Thailand. Regional Wood Energy Development Programme in Asia, Field Document No. 48, Food and Agriculture Organization of the United Nations, Bangkok

Standa-Gunda W, Mutimukuru T, Nyirenda R, Haggith M, Vanclay JK (2003) Participatory modelling to enhance social learning, collective action and mobilization among users of the Mafungautsi Forest, Zimbabwe. Small-Scale Forest Econ Manage Policy 2(2):313–326

Stéphenne N, Lambin EF (2001) A dynamic simulation model of landuse changes in Sudano-sahelian countries of Africa (SALU). Agric Ecosyst Environ 85:145–161

Struhsaker T (1987) Forestry issues and conservation in Uganda. Biol Conserv 39:209–234

Tole L (1998) Sources of deforestation in tropical developing countries. Environ Manage 22(1):19–33

Vanclay JK (1995) Modelling land use patterns at the forest edge. CIFOR Annual Report 1995, Centre for International Forestry Research, Bogor, pp 31–33

Vanclay JK (1998) FLORES: for exploring land use options in forested landscapes. Agroforest Forum 9(1):47–52

Vanclay JK (2003) Why model landscapes at the level of households and fields? Small-Scale Forest Econ Manage Policy 2(2):121–134

Wallace B (1995) How many trees does it take to cook a pot of rice – fuelwood and tree consumption in 4 Philippine communities. Hum Organ 54(2):182–186

Warner K (2000) Forestry and sustainable livelihoods. Unasylva 51(3):3–12

Wollenberg E, Edmunds D, Bucks L (2000) Anticipating change: scenarios as a tool for adaptive forest management: a guide. Centre for International Forestry Research, Bogor
About this article
Cite this article
Hartter, J., Boston, K. Consuming Fuel and Fuelling Consumption: Modelling Human Caloric Demands and Fuelwood Use. Small-scale Forestry 7, 1–15 (2008). https://doi.org/10.1007/s11842-008-9037-3
Received:

Accepted:

Published:

Issue Date:

DOI: https://doi.org/10.1007/s11842-008-9037-3
Keywords