Abstract
Directed energy deposited (DED) and forged austenitic stainless steels possess dissimilar microstructures but can exhibit similar mechanical properties. In this study, annealing was used to evolve the microstructure of both conventional wrought and DED type 304L austenitic stainless steels, and significant differences were observed. In particular, the density of geometrically necessary dislocations and hardness were used to probe the evolution of the microstructure and properties. Forged type 304L exhibited the expected decrease in measured dislocation density and hardness as a function of annealing temperature. The more complex microstructure–property relationship observed in the DED type 304L material is attributed to compositional heterogeneities in the solidification microstructure.
Access options
Buy single article
Instant access to the full article PDF.
USD 39.95
Price includes VAT (USA)
Tax calculation will be finalised during checkout.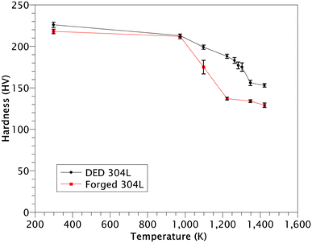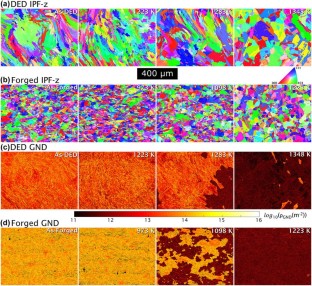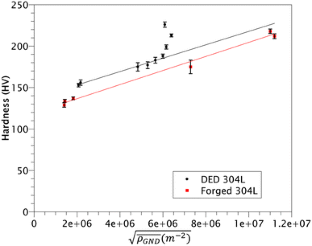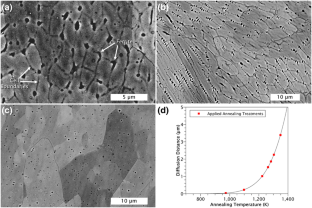 References
1.

A. Yadollahi, D. Seely, B. Patton, and N. Shamsaei, in 56th AIAA/ASCE/AHS/ASC Structures, Structural Dynamics, and Materials Conference, American Institute of Aeronautics and Astronautics, 2015

2.

A. Yadollahi, N. Shamsaei, S.M. Thompson, and D. Seely, Mater. Sci. Eng. A A644, 171 (2015).

3.

G.T. Gray, V. Livescu, P.A. Rigg, C.P. Trujillo, C.M. Cady, S.R. Chen, J.S. Carpenter, T.J. Lienert, and S.J. Fensin, Acta Mater. 138, 140 (2017).

4.

A. Belyakov, T. Sakai, H. Miura, R. Kaibyshev, and K. Tsuzaki, Acta Mater. 50, 1547 (2002).

5.

T.R. Smith, J.D. Sugar, C. San Marchi, and J.M. Schoenung, Pressure vessels and piping conference (PVP 2017), American Society of Mechanical Engineers, 2017

6.

H. Jackson, C. San Marchi, D. Balch, B. Somerday, and J. Michael, Metall. Mater. Trans. A 47A, 4334 (2016).

7.

ASTM A479, ASTM International, 2016

8.

S. Kalpakjian and S.R. Schmid, Manufacturing Engineering and Technology, 6th ed. (Singapore: Prentice Hall, 2010), pp. 1–15.

9.

J.A. Brooks and A.W. Thompson, Int. Mater. Rev. 36, 16 (1991).

10.

S.I. Wright, M.M. Nowell, and D.P. Field, Microsc. Microanal. 17, 316 (2011).

11.

F.J. Humphreys and M. Hatherly, Recrystallization and related annealing phenomena, 2nd ed. (Oxford: Elsevier, 2004), pp. 1–10.

12.

A. Das, S. Sivaprasad, P. Chakraborti, and S. Tarafder, Philos. Mag. Lett. 91, 664 (2011).

13.

J.A. Brooks, T.J. Headley, and C.V. Robino, MRS Proc. 625, 21 (2000).

14.

N. Hansen and X. Huang, Acta Mater. 46, 1827 (1998).

15.

L.P. Kubin and A. Mortensen, Scr. Mater. 48, 119 (2003).

16.

C. Moussa, M. Bernacki, R. Besnard, N. Bozzolo, and I.O.P. Conf, Ser. Mater. Sci. Eng. 89, 012038 (2015).

17.

S.K. Lawrence, H.M. Zbib, M.J. Cordill, S. Wurster, and D.F. Bahr, Metall. Mater. Trans. A 45A, 4307 (2014).

18.

M. Calcagnotto, D. Ponge, E. Demir, and D. Raabe, Mater. Sci. Eng. A A527, 2738 (2010).

19.

H. Gao, Y. Huang, W.D. Nix, and J.W. Hutchinson, J. Mech. Phys. Solids 47, 1239 (1999).

20.

M. Kamaya, Ultramicroscopy 111, 1189 (2011).

21.

W.J. Poole, M.F. Ashby, and N.A. Fleck, Scr. Mater. 34, 559 (1996).

22.

K.J. Irvine and F.B. Pickering, J. Iron Steel Inst. 199, 153 (1961).

23.

P.I. Williams and R.G. Faulkner, J. Mater. Sci. 22, 3537 (1987).

24.

D. Peckner and I.M Bernstein, Handbook of stainless steels (New York: McGraw-Hill, 1977).

25.

B. Boyce, P. Reu, and C. Robino, Metall. Mater. Trans. A 37A, 2481 (2006).
Acknowledgements
T.R.S. gratefully acknowledges support from the Campus Executive Fellowship from Sandia National Laboratories. R. Nishimoto is thanked for hardness testing support. Sandia National Laboratories is a multimission laboratory managed and operated by National Technology and Engineering Solutions of Sandia, LLC, a wholly owned subsidiary of Honeywell International, Inc., for the US Department of Energy's National Nuclear Security Administration under Contract DE-NA-0003525.
About this article
Cite this article
Smith, T.R., Sugar, J.D., Schoenung, J.M. et al. Anomalous Annealing Response of Directed Energy Deposited Type 304L Austenitic Stainless Steel. JOM 70, 358–363 (2018). https://doi.org/10.1007/s11837-017-2711-1
Received:

Accepted:

Published:

Issue Date: