Abstract
The solubility of lithium metal in molten LiCl–Li2O mixtures has been measured at various concentrations of Li2O ranging from 0 wt.% to 2.7 wt.% at a temperature of approximately 670–680°C. After contacting molten lithium with molten LiCl–Li2O for several hours to achieve equilibrium saturation, samples were taken by freezing the salt onto a room-temperature steel rod and dissolving in water for analysis. Both volume of hydrogen gas generated and volume of titrated HCl were measured to investigate two different approaches to calculating the lithium concentration. There appeared to be no effect of Li2O concentration on the Li solubility in the salt. But the results vary between different methods of deducing the amount of dissolved Li. The H2 collection method is recommended, but care must be taken to ensure all of the H2 has been included.
This is a preview of subscription content, log in to check access.
Access options
Buy single article
Instant access to the full article PDF.
US$ 39.95
Price includes VAT for USA
Subscribe to journal
Immediate online access to all issues from 2019. Subscription will auto renew annually.
US$ 186
This is the net price. Taxes to be calculated in checkout.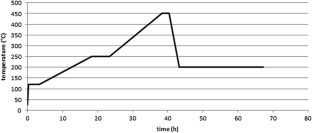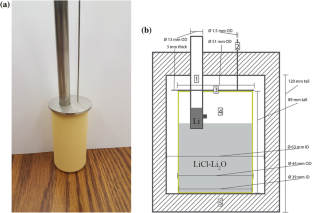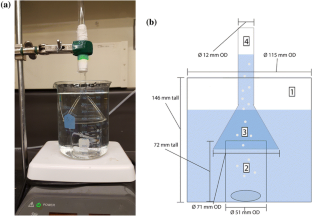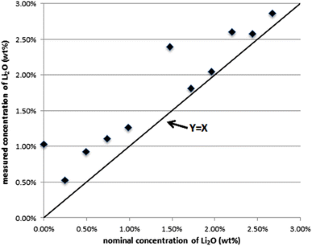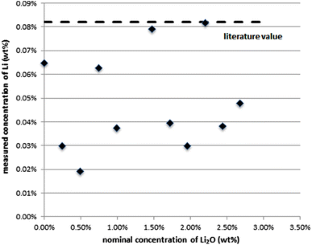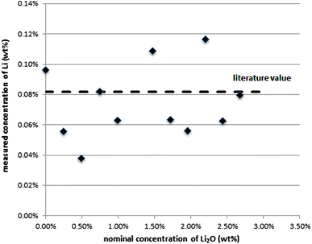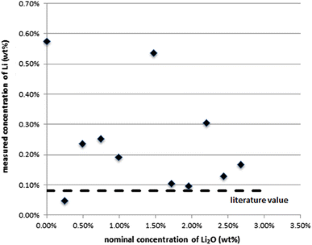 References
1.

C. Poinssot, S. Bourg, N. Ouvrier, N. Combernoux, C. Rostaing, M. Vargas-Gonzalez, and J. Bruno, Elsevier Energy 69, 199 (2014).

2.

H.S. Lee, G.I. Park, J.W. Lee, K.H. Kang, J.M. Hur, J.G. Kim, S. Paek, I.T. Kim, and I.J. Cho, Sci. Technol. Nucl. Ins. 2013, 343492 (2013).

3.

M.F. Simpson, Idaho National Laboratory, INL/EXT-12-25124 (Idaho Falls, ID, USA, 2012). https://www.researchgate.net/profile/Michael_Simpson/publication/254999575_Developments_of_Spent_Nuclear_Fuel_Pyroprocessing_Technology_at_Idaho_National_Laboratory/links/552e88ef0cf2acd38cba83c3.pdf.

4.

S.D. Herrmann and S.X. Li, Nucl. Technol. 171, 254 (2010).

5.

L.P. Cook and H.F. McMurdie, Phase Diagrams for Ceramists, vol. VIII (Westerville, OH: American Ceramics Society, 1989), p. 5.

6.

A.S. Dworkin, H.R. Bronstein, and M.A. Bredig, J. Phys. Chem. 66, 572 (1962).

7.

T. Nakajima, R. Minami, K. Nakanishi, and N. Watanabe, Bull. Chem. Soc. Jpn 47, 2071 (1974).

8.

G.K. Johnson, R.D. Pierce, D.S. Poa, and C.C. McPheeters, ANL/CMT/CP–80020; CONF-940204–4 (Argonne National Lab., IL, 1994). http://www.osti.gov/scitech/biblio/10115894.

9.

S.M. Jeong, H.S. Shin, S.H. Cho, J.M. Hur, and H.S. Lee, Electrochim. Acta 54, 6335 (2009).

10.

T. Nakajima, K. Nakanishi, and N. Watanabe, Bull. Chem. Soc. Jpn 49, 994 (1975).

11.

T. Nakajima, K. Nakanishi, and N. Watanabe, Nippon Kagaku Kaishi 1975, 617 (1975).

12.

N. Watanabe, K Nakanishi, and T. Nakajima, Nippon Kagaku Kaishi 1974, 401 (1974).

13.

G.W.C. Kaye and T.H. Laby, Tables of Physical and Chemical Constants, 15th ed. (New York: Longman, 1986), p. 219.

14.

A. Merwin, W.C. Phillips, M.A. Williamson, J.L. Willit, P.N. Motsegood, and D. Chidambaram, Sci. Rep. 6, 25435 (2016).

15.

T. Takenaka, K. Shigeta, H. Masuhama, and K. Kubota, ECS Trans. 16, 441 (2009).
About this article
Cite this article
Burak, A.J., Simpson, M.F. Measurement of Solubility of Metallic Lithium Dissolved in Molten LiCl–Li2O. JOM 68, 2639–2645 (2016). https://doi.org/10.1007/s11837-016-2038-3
Received:

Accepted:

Published:

Issue Date:
Keywords
LiCl

Molten Salt

Li2O

LiOH

Titration Volume