Abstract
With increasingly strict data management requirements from funding agencies and institutions, expanding focus on the challenges of research replicability, and growing data sizes and heterogeneity, new data needs are emerging in the materials community. The materials data facility (MDF) operates two cloud-hosted services, data publication and data discovery, with features to promote open data sharing, self-service data publication and curation, and encourage data reuse, layered with powerful data discovery tools. The data publication service simplifies the process of copying data to a secure storage location, assigning data a citable persistent identifier, and recording custom (e.g., material, technique, or instrument specific) and automatically-extracted metadata in a registry while the data discovery service will provide advanced search capabilities (e.g., faceting, free text range querying, and full text search) against the registered data and metadata. The MDF services empower individual researchers, research projects, and institutions to (I) publish research datasets, regardless of size, from local storage, institutional data stores, or cloud storage, without involvement of third-party publishers; (II) build, share, and enforce extensible domain-specific custom metadata schemas; (III) interact with published data and metadata via representational state transfer (REST) application program interfaces (APIs) to facilitate automation, analysis, and feedback; and (IV) access a data discovery model that allows researchers to search, interrogate, and eventually build on existing published data. We describe MDF's design, current status, and future plans.
Access options
Buy single article
Instant access to the full article PDF.
US$ 39.95
Tax calculation will be finalised during checkout.
Subscribe to journal
Immediate online access to all issues from 2019. Subscription will auto renew annually.
US$ 119
Tax calculation will be finalised during checkout.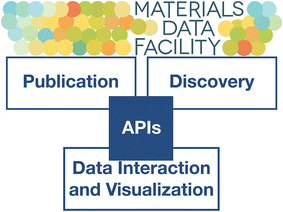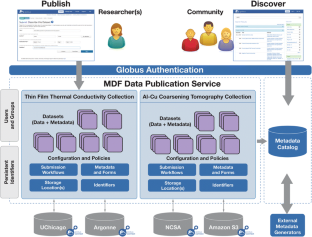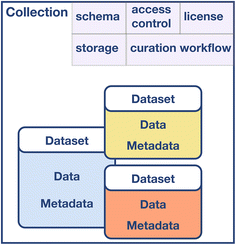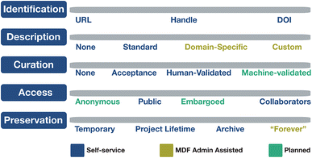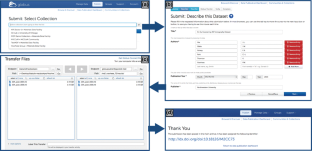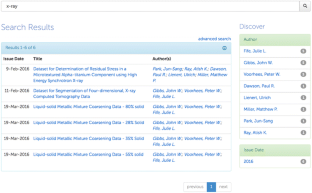 References
1.

J.P. Holdren, Materials Genome Initiative for Global Competitiveness (National Science and Technology Council OSTP, Washington, USA, 2011).

2.

A. White, MRS Bull. 37, 715 (2012).

3.

J.J. de Pablo, B. Jones, C.L. Kovacs, V. Ozolins, and A.P. Ramirez, Curr. Opin. Solid State Mater. Sci. 18, 99 (2014).

4.

A. Jain, S.P. Ong, G. Hautier, W. Chen, W.D. Richards, S. Dacek, S. Cholia, D. Gunter, D. Skinner, G. Ceder, and K.A. Persson, Appl. Mater. 1, 011002 (2013).

5.

J.E. Saal, S. Kirklin, M. Aykol, B. Meredig, and C. Wolverton, JOM 65, 1501 (2013).

6.

T.N. Bhat, L.M. Bartolo, U.R. Kattner, C.E. Campbell, and J.T. Elliott, JOM 67, 1866 (2015).

7.

NIST Repositories (National Institute of Standards and Technology, 2016), https://materialsdata.nist.gov/dspace/xmlui/. Accessed 31 March 2016.

8.

NREL MatDB (National Renewable Energy Laboratory, 2016), http://materials.nrel.gov. Accessed 31 March 2016.

9.

MatNavi (National Institute for Materials Science, 2016), http://mits.nims.go.jp/index_en.html. Accessed 31 March 2016.

10.

S. Curtarolo, W. Setyawan, S. Wang, J. Xue, K. Yang, R.H. Taylor, L.J. Nelson, G.L. Hart, S. Sanvito, M. Buongiorno-Nardelli, and N. Mingo, Comput. Mater. Sci. 58, 227 (2012).

11.

The NoMaD Repository (NoMaD Team, 2016), http://nomad-repository.eu/cms/. Accessed 31 March 2016.

12.

CMDNetwork (ASM International, 2016), http://www.asminternational.org/web/cmdnetwork. Accessed 31 March 2016.

13.

Citrine Informatics, http://citrination.com. Accessed 31 March 2016.

14.

G. Pizzi, A. Cepellotti, R. Sabatini, N. Marzari, and B. Kozinsky, Comput. Mater. Sci. 111, 218 (2016).

15.

Zenodo, https://www.zenodo.org. Accessed 31 March 2016.

16.

H. Tran, A. Mannodi-Kanakkithodi, C. Kim, V. Sharma, G. Pilania, and R. Ramprasad, Sci. Data 3, (2016).

17.

Figshare (Digital Science & Research, 2016), https://figshare.com. Accessed 31 March 2016.

18.

The Dataverse Project, http://dataverse.org. Accessed 31 March 2016.

19.

PRedictive Integrated Structural Materials Science, http://www.prisms-center.org. Accessed 31 March 2016.

20.

Materials Commons, https://materialscommons.org. Accessed 31 March 2016.

21.

S.R. Kalidindi and M. De Graef, Annu. Rev. Mater. Res. 45, 171 (2015).

22.

Materials Data Facility, https://www.materialsdatafacility.org. Accessed 31 March 2016.

23.

K. Chard, J. Pruyne, B. Blaiszik, R. Ananthakrishnan, S. Tuecke, and I. Foster, in E-Sci. E-Sci. 2015 IEEE 11th Int. Conf. On (IEEE, 2015), pp. 401–410.

24.

I. Foster, IEEE Internet Comput. 15, 70 (2011).

25.

B. Allen, J. Bresnahan, L. Childers, I. Foster, G. Kandaswamy, R. Kettimuthu, J. Kordas, M. Link, S. Martin, K. Pickett, and T. Steven, Commun. ACM 55, 81 (2012).

26.

K. Chard, S. Tuecke, and I. Foster, Cloud Comput. IEEE 1, 46 (2014).

27.

M. Smith, M. Barton, M. Bass, M. Branschofsky, G. McClellan, D. Stuve, R. Tansley, and J.H. Walker, DSpace: An open source dynamic digital repository (2003).

28.

N. Paskin, Digital Object Identifier (DOI®) System, Third Edition, 2011.
Acknowledgements
MDF is a collaboration among the University of Chicago (UC), Argonne National Laboratory (ANL), the National Center for Supercomputing Applications (UIUC), and the NIST-funded Center for Hierarchical Materials Design (CHiMaD) (Northwestern, ANL, UC, NIST). The authors would like to acknowledge the ongoing contributions to MDF of John Towns, Kenton McHenry, and Michael Ondrejcek at the University of Illinois at Urbana-Champaign and the National Data Service. This research was supported in part by DOE under Contract DE-AC02-06CH11357; and by NIST as part of the CHiMAD project funded by the U.S. Department of Commerce, National Institute of Standards and Technology, under financial assistance Award Number 70NANB14H012.
About this article
Cite this article
Blaiszik, B., Chard, K., Pruyne, J. et al. The Materials Data Facility: Data Services to Advance Materials Science Research. JOM 68, 2045–2052 (2016). https://doi.org/10.1007/s11837-016-2001-3
Received:

Accepted:

Published:

Issue Date:
Keywords
Materials

data publication

data management

data preservation

software as a service