Abstract
Introduction
Since the nature of complications following the harvesting of bone from the tibia in children is not well documented in the literature, we undertook this study in order to determine the frequency and nature of donor site complications following the harvesting of large cortical strut grafts from the tibial diaphysis in children.
Materials and methods
During the past 19 years, tibial cortical grafts were harvested from 47 children on 77 separate occasions, mainly for the treatment of congenital pseudarthrosis of the tibia. The technique of graft harvesting was identical in every case. Case records of these 47 children were reviewed. Forty of these children were reviewed at a mean period of 5.5 years.
Results
No immediate post-operative complications were noted and, at follow-up, apart from mild bowing of the anterior cortex of the tibia, no deformities were encountered. The tibial cortex reformed completely and this facilitated repeat graft harvesting when required. The only major complication was a stress fracture of the tibia in one boy.
Conclusion
Harvesting cortical bone graft from the tibia is simple and is fraught with negligible morbidity.
Access options
Buy single article
Instant access to the full article PDF.
USD 39.95
Price excludes VAT (USA)
Tax calculation will be finalised during checkout.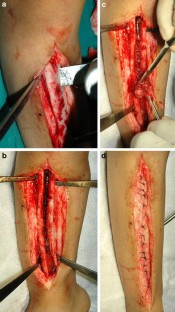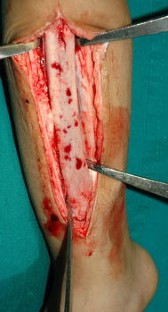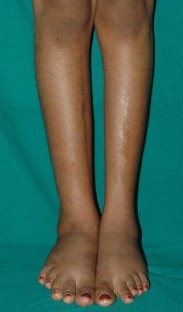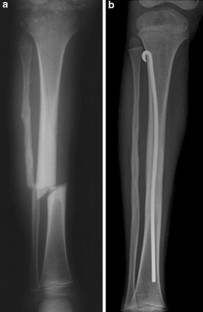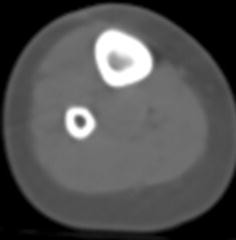 References
Albee F (1911) Transplantation of a portion of the tibia into the spine for Pott's disease: a preliminary report. JAMA 57:885–886

Zeller RD, Ghanem I, Miladi L, Dubousset J (1994) Posterior spinal fusion in neuromuscular scoliosis using a tibial strut graft. Results of a long-term follow-up. Spine 19:1628–1631

Yu WD, Bernstein RM, Watts HG (2003) Autogenous tibial strut grafts used in anterior spinal fusion for severe kyphosis and kyphoscoliosis. Spine 28:699–705

Barbieri CH, Mazzer N, Mazer MR (1999) Use of a delayed cortical bone graft to treat diaphyseal defects in the forearm. Int Orthop 23:295–301

Chen H, Qiu Y, Wang B, Yu Y, Zhu ZZ, Zhu LH (2005) Autogenous tibial strut grafts used in severe kyphoscoliosis: surgical policies and preliminary results. Chin Med J (Engl) 118:1245–1250

Vail TP, Urbaniak JR (1996) Donor-site morbidity with use of vascularized autogenous fibular grafts. J Bone Joint Surg Am 78:204–211

Babhulkar SS, Pande KC, Babhulkar S (1995) Ankle instability after fibular resection. J Bone Joint Surg Br 77:258–261

Pacelli LL, Gillard J, McLoughlin SW, Buehler MJ (2003) A biomechanical analysis of donor-site ankle instability following free fibular graft harvest. J Bone Joint Surg Am 85:597–603

Garrett A, Ducic Y, Athre RS, Motley T, Carpenter B (2006) Evaluation of fibula free flap donor site morbidity. Am J Otolaryngol 27:29–31

Banwart JC, Asher MA, Hassanein RS (1995) Iliac crest bone graft harvest donor site morbidity. A statistical evaluation. Spine 20:1055–1060

Arrington ED, Smith WJ, Chambers HG, Bucknell AL, Davino NA (1996) Complications of iliac crest bone graft harvesting. Clin Orthop Relat Res 329:300–309

Laurie SWS, Kaban LB, Mulliken JB, Murray JE (1984) Donor-site morbidity after harvesting rib and iliac bone. Plast Reconstr Surg 73:933–938

Ahlmann E, Patzakis M, Roidis N, Shepherd L, Holtom P (2002) Comparison of anterior and posterior iliac crest bone grafts in terms of harvest-site morbidity and functional outcomes. J Bone Joint Surg Am 84:716–720

Robertson PA, Wray AC (2001) Natural history of posterior iliac crest bone graft donation for spinal surgery: a prospective analysis of morbidity. Spine 26:1473–1476

Judet PR, Patel A (1972) Muscle pedicle bone grafting of long bones by osteoperiosteal decortication. Clin Orthop Relat Res 87:74–80

Malloy KM, Hilibrand AS (2002) Autograft versus allograft in degenerative cervical disease. Clin Orthop Relat Res 394:27–38

Hong Y, Sharma KM, Parks BG, Miller SD (2008) Biomechanical analysis of tibial strength after harvesting unicortical tibial grafts of two different lengths. Foot Ankle Int 29:726–729

Hong Y, Parks BG, Miller SD (2006) Biomechanical analysis of tibial strength after harvest of unicortical tibial grafts from two different sites. Foot Ankle Int 27:190–195

Belthur MV, Conway JD, Jindal G, Ranade A, Herzenberg JE (2008) Bone graft harvest using a new intramedullary system. Clin Orthop Relat Res 466:2973–2980
About this article
Cite this article
Dodabassappa, S.N., Shah, H.H. & Joseph, B. Donor site morbidity following the harvesting of cortical bone graft from the tibia in children. J Child Orthop 4, 417–421 (2010). https://doi.org/10.1007/s11832-010-0277-3
Received:

Accepted:

Published:

Issue Date:

DOI: https://doi.org/10.1007/s11832-010-0277-3
Keywords