Abstract
In Ant-gardens, ants build nests with organic materials and take specific seeds of some species of epiphytes which germinate. In this mutualistic interaction, a variety of other epiphytes could colonize the nests and develop, but it doesn't happen. We assume that there is chemical allelopathy with epiphytes inhibiting the germination and growth of other species of epiphytes, and with ants cutting off non-mutualistic epiphyte species. To investigate this, we performed chemical and prune tests which determine the composition of the epiphyte species of Ant-Gardens of parabiotic ants, Camponotus femoratus (Fabricius, 1804) and Crematogaster levior Longino, 2003. For the chemical allelopathic test, we administered the extract of the stem and leaves of Peperomia macrostachya (Vahl) A. Dietr. and Codonanthe calcarata (Miq.) Hanst. (the most common species in parabiotic AGs) in different concentrations. For the prune test, we used seedlings of the mutualistic plant Peperomia macrostachya and non-mutualistic plant Cucumis sativus as a control, then we inspected the nests to evaluate the ants pruning the seedlings. In the chemical allelopathy tests, the species Codonanthe calcarata decreased the germination speed indexes in relation to the control (distilled water). On the contrary, the length and weight of the seedlings were positively influenced by epiphyte extract. In the prune test, most of the plants pruned were non-mutualistic. The results of the chemical allelopathy and prune experiments showed that both mutualistic epiphytes and ants play a decisive role in the composition of epiphytes in Ant-Gardens.
Access options
Buy single article
Instant access to the full article PDF.
US$ 39.95
Tax calculation will be finalised during checkout.
Subscribe to journal
Immediate online access to all issues from 2019. Subscription will auto renew annually.
US$ 79
Tax calculation will be finalised during checkout.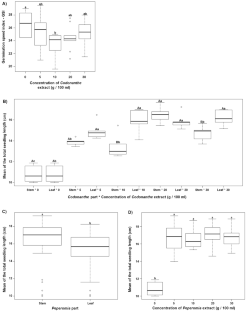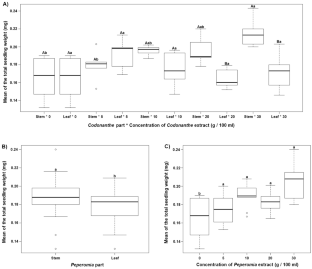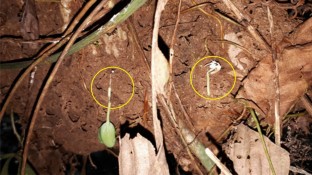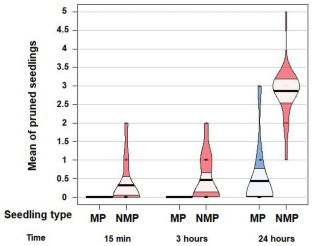 Data availability
The data that support the findings of this study are available from the corresponding author, REV, upon reasonable request.
References
Alvares CA, Stape JL, Sentelhas PC, de Moraes G, Leonardo J, Sparovek G (2013) Köppen's climate classification map for Brazil. Meteorol Z 22(6):711–728. https://doi.org/10.1127/0941-2948/2013/0507

Amador-Vargas S (2011) Plant killing by mutualistic ants increases the density of host species seedlings in the dry forest of Costa Rica. Psyche. https://doi.org/10.1155/2012/491592

Amador-Vargas S (2019) Plant killing by Neotropical acacia ants: ecology, decision-making, and head morphology. Biotropica 51(5):692–699. https://doi.org/10.1111/btp.12695

Aqüila MEA, Ungaretti JAC, Michelin A (1999) Preliminary observation on allelopathic activity in Achyrocline satureioides (Lam.) DC DC. Acta Hort 502:383–388. https://doi.org/10.17660/ActaHortic.1999.502.63

Arraes FB, Beneventi MA, Lisei de Sa ME, Paixao JF, Albuquerque EV, Marin SR, Purgatto E, Nepomuceno AL, Grossi-de-Sa MF (2015) Implications of ethylene biosynthesis and signalling in soybean drought stress tolerance. BMC Plant Biol 15:213. https://doi.org/10.1186/s12870-015-0597-z

Bieberich J, Lauerer M, Drachsler M, Heinrichs J, Müller S, Feldhaar H (2018) Species-and developmental stage-specific effects of allelopathy and competition of invasive Impatiens glandulifera on co-occurring plants. PLoS ONE. https://doi.org/10.1371/journal.pone.0205843

Blüthgen N, Schmit-Neuerburg V, Engwald S, Barthlott W (2001) Ants as epiphyte gardeners: comparing the nutrient quality of ant and termite canopy substrates in a Venezuelan lowland rain forest. J Trop Ecol 17(6):887–894. https://doi.org/10.1017/S0266467401001651

Brasil, Ministério da Agricultura, Pecuária e Abastecimento (2009) Regras para análise de sementes. MAPA/ACS, Brasília

Campos RI, Camacho GP (2014) Ant–plant interactions: the importance of extrafloral nectaries versus hemipteran honeydew on plant defense against herbivores. Arthropod-Plant Interact 8(6):507–512. https://doi.org/10.1007/s11829-014-9338-8

Chamberlain SA, Holland JN (2009) Quantitative synthesis of context dependency in ant-plant protection mutualisms. Ecology 90(9):2384–2392. https://doi.org/10.1890/08-1490.1

Cruz CD (2013) Genes: a software package for analysis in experimental statistics and quantitative genetics. Acta Sci Agron 35(3):271–276. https://doi.org/10.4025/actasciagron.v35i3.21251

Dáttilo W, Izzo TJ, Vasconcelos HL, Rico-Gray V (2013) Strength of the modular pattern in Amazonian symbiotic ant–plant networks. Arthropod-Plant Interact 7(4):455–461. https://doi.org/10.1007/s11829-013-9256-1

Davidson DW (1988) Ecological studies of neotropical ant gardens. Ecology 69(4):1138–1152. https://doi.org/10.2307/1941268

Dejean A, Corbara B, Orivel J, Snelling RR, Delabie JHC, Belin-Depoux M (2000) The importance of ant gardens in the pioneer vegetal formations of French Guiana (Hymenoptera: Formicidae). Sociobiology 35(3):425–440

Dhungana SK, Kim ID, Adhikari B, Kim JH, Shin DH (2019) Reduced germination and seedling vigor of weeds with root extracts of maize and soybean, and the mechanism defined as allelopathic. J Crop Sci Biotechnol 22(1):11–16. https://doi.org/10.1007/s12892-018-0251-0

Duke SO (2010) Allelopathy: current status of research and future of the discipline: a commentary. Allelopath J 25(1):17–30

Einhellig FA (1999) An integrated view of allelochemicals amid multiple stresses. Principles and practices in plant ecology: allelochemical interactions. CRC Press, Boca Raton, pp 479–494

Fagundes R, Dáttilo W, Ribeiro SP, Rico-Gray V, Del-Claro K (2016) Food source availability and interspecific dominance as structural mechanisms of ant-plant-hemipteran multitrophic networks. Arthropod-Plant Interactions 10(3):207–220. https://doi.org/10.1007/s11829-016-9428-x

Federle W, Maschwitz U, Hölldobler B (2002) Pruning of host plant neighbours as defence against enemy ant invasions: Crematogaster ant partners of Macaranga protected by "wax barriers" prune less than their congeners. Oecologia 132(2):264–270. https://doi.org/10.1007/s00442-002-0947-z

Fernandez C, Santonja M, Gros R, Monnier Y, Chomel M, Baldy V, Bousquet-Mélou A (2013) Allelochemicals of Pinus halepensis as drivers of biodiversity in Mediterranean open mosaic habitats during the colonization stage of secondary succession. J Chem Ecol 39(2):298–311. https://doi.org/10.1007/s10886-013-0239-6

Ferreira AG, Borghetti F (2004) Germinação: do básico ao aplicado. Artmed, Porto Alegre

Ferreira AG, Aqüila MEA (2000) Alelopatia: uma área emergente da ecofisiologia. Rev Bras Fisiol Veg 12(1):175–204

Frederickson ME, Gordon DM (2007) The devil to pay: a cost of mutualism with Myrmelachista schumanni ants in 'devil's gardens' is increased herbivory on Duroia hirsuta trees. Proc R Soc B 274(1613):1117–1123

Heil M, McKey D (2003) Protective ant-plant interactions as model systems in ecological and evolutionary research. Annu Rev Ecol Evol Syst 34(1):425–553. https://doi.org/10.1146/annurev.ecolsys.34.011802.132410

IBGE (Instituto Brasileiro de Geografia e Estatística) (2004) Mapa da vegetação brasileira. Ministério do Planejamento, Orçamento e Gestão

Janzen DH (1969) Allelopathy by myrmecophytes: the ant Azteca as an allelopathic agent of Cecropia. Ecology 50(1):147–153. https://doi.org/10.2307/1934677

Kato-Noguchi H, Kimura F, Ohno O, Suenaga K (2017) Involvement of allelopathy in inhibition of understory growth in red pine forests. J Plant Physiol 218:66–73

Kaufmann E, Maschwitz U (2006) Ant-gardens of tropical Asian rainforests. Naturwissenschaften 93(5):216. https://doi.org/10.1007/s00114-005-0081-y

Khan MIR, Fatma M, Pe TS, Anjum NA, Khan NA (2015) Salicylic acidinduced abiotic stress tolerance and underlying mechanisms inplants. Front Plant Sci 6:462

Kleinfeldt SE (1978) Ant-gardens: the interaction of Codonanthe crassifolia (Gesneriaceae) and Crematogaster longispina (Formicidae). Ecology 59(3):449–456. https://doi.org/10.2307/1936574

Labouriau LG, Viladares MEB (1976) On the germination of seeds of Calotropis procera (Ait.) Ait. f. An Acad Bras Ciênc 48(2):263–284

Lin DZ, Tsuzuki E, Sugimoto Y, Dong YJ, Matsuo M, Terao H (2004) Allelopathic effects of aqueous Aloe vera leaf extracts on selected crops. Allelopath J 13(1):67–74

Maguire JD (1962) Speed of germination-Aid in selection and evaluation for seedling emergence and vigor. Crop Sci 2(2):176–177. https://doi.org/10.2135/cropsci1962.0011183X000200020033x

Michelangeli FA (2010) Neotropical myrmecophilous Melastomataceae: an annotated list and key. Proc Calif Acad Sci 61(9):409–449

Morawetz W, Henzl M, Wallnöfer B (1992) Tree killing by herbicide producing ants for the establishment of pure Tococa occidentalis populations in the Peruvian Amazon. Biodivers Conserv 1(1):19–33. https://doi.org/10.1007/BF00700248

Orivel J, Leroy C (2011) The diversity and ecology of ant gardens (Hymenoptera: Formicidae; Spermatophyta: Angiospermae). Myrmecol News 14:73–85

Paolucci LN, Solar RR, Leal LC (2016) Proximity shapes similarity in epiphytic composition of Neotropical ant gardens. J Trop Ecol 32(4):325–329. https://doi.org/10.1017/S0266467416000298

R Core Team (2020) R: a language and environment for statistical computing. R Foundation for Statistical Computing, Vienna

Reigosa MJ, Sánchez-Moreiras A, González L (1999) Ecophysiological approach in allelopathy. Crit Rev Plant Sci 18(5):577–608

Renner SS, Ricklefs RE (1998) Herbicidal activity of domatia-inhabiting ants in patches of Tococa guianensis and Clidemia heterophylla. Biotropica 30(2):324–327. https://doi.org/10.1111/j.1744-7429.1998.tb00067.x

Rice EL (1979) Allelopathy-an update. Bot Rev 45(1):15–109. https://doi.org/10.1007/BF02869951

Rice EL (1984) Allelopathy. Academic Press, New York

Sah SK, Reddy KR, Li J (2016) Abscisic acid and abiotic stress tolerance in crop plants. Front Plant Sci 7:571

Sausen TL, Löwe TR, Figueiredo LS, Buzatto CR (2009) Evaluación de la actividad alelopática del extracto acuoso de las hojas de Eugenia involucrata DC. y Acca sellowiana (O. Berg) Burret. Polibotanica 27:145–158

Tanaka HO, Itioka T (2011) Ants inhabiting myrmecophytic ferns regulate the distribution of lianas on emergent trees in a Bornean tropical rainforest. Biol Lett 7(5):706–709. https://doi.org/10.1098/rsbl.2011.0242

Uesugi A, Johnson R, Kessler A (2019) Context-dependent induction of allelopathy in plants under competition. Oikos 128(10):1492–1502. https://doi.org/10.1111/oik.06389

Ullah A, Sun H, Yang X, Zhang X (2017) Drought coping strategies in cotton: increased crop per drop. Plant Biotechnol J 15:271–284

Vantaux A, Dejean A, Dor A, Orivel J (2007) Parasitism versus mutualism in the ant-garden parabiosis between Camponotus femoratus and Crematogaster levior. Insectes Soc 54(1):95–99. https://doi.org/10.1007/s00040-007-0914-0

Vicente RE, da Silva IV, Izzo TJ (2020) Jardins de formigas: qual o estado do conhecimento sobre essas interações mutualísticas entre formigas e plantas? Boletim do Museu Paraense Emílio Goeldi-Ciências Naturais 15(1):55–63. https://doi.org/10.46357/bcnaturais.v15i1.236

Vicente RE, Dáttilo W, Izzo TJ (2014) Differential recruitment of Camponotus femoratus (Fabricius) ants in response to ant garden herbivory. Neotrop Entomol 43(6):519–525. https://doi.org/10.1007/s13744-014-0245-6

Vicente RM, Plasencia J (2011) Salicylic acid beyond defence: its role in plant growth and development. J Exp Bot 62:3321–3338

Vishwakarma K, Upadhyay N, Kumar N, Yadav G, Singh J, Mishra RK, Kumar V, Verma R, Upadhyay RG, Pandey M, Sharma S (2017) Abscisic acid signalling and abiotic stress tolerance in plants: a review on current knowledge and future prospects. Front Plant Sci 8:161. https://doi.org/10.3389/fpls.2017.00161

Wasternack C (2007) Jasmonates: an update on biosynthesis, signal transduction and action in plant stress response, growth and development. Ann Bot 100:681–697

Weir TL, Newbold S, Vivanco JM, Haren MV, Fritchman C, Dossey AT, Bartram S, Boland W, Cosio EG, Kofer W (2012) Plant-inhabiting ant utilizes chemical cues for host discrimination. Biotropica 44(2):246–253. https://doi.org/10.1111/j.1744-7429.2011.00786.x

Youngsteadt E, Baca JA, Osborne J, Schal C (2009) Species-specific seed dispersal in an obligate ant-plant mutualism. PLoS ONE 4(2):e4335

Youngsteadt E, Bustios PG, Schal C (2010) Divergent chemical cues elicit seed collecting by ants in an obligate multi-species mutualism in lowland Amazonia. PLoS ONE 5(12):e15822

Yu DW (1994) The structural role of epiphytes in ant gardens. Biotropica 26(2):222–226. https://doi.org/10.2307/2388813

Zotz G, Hietz P (2001) The physiological ecology of vascular epiphytes: current knowledge, open questions. J Exp Bot 52(364):2067–2078
Acknowledgements
Authors thank Thiago J. Izzo to the help in the pruning experiment design, Elisa dos Santos Cardoso and Lucia A. F. Mateus for your help in statistical analysis and Amauri de Castro Barradas, Igor Pereira do Nascimento, Jaidle Evangelista do Vale, Lara Caroline A. Oliveira, Samiele C. O. Domingues, Sheila Cigolini, Vera L. Pegorini Rocha and Willian Schornobay Bochenski for your help in to perform the epiphyte sample and the chemical allelopathy experiment. AAP thanks Coordenação de Aperfeiçoamento de Pessoal de Nível Superior—CAPES for your master fellowship. REV thanks Fundação de Amparo à Pesquisa do Estado de Mato Grosso (FAPEMAT—No. 0602346/2017) and Conselho Nacional de Desenvolvimento Científico e Tecnológico (CNPq—No. 313839/2019-0) to Desenvolvimento Cientifico Regional (DCR) support. Furthermore, we thank Universidade do Estado de Mato Grosso (UNEMAT), ONF-Brasil and Fazenda São Nicolau for the logistic support, in special to Estelle, Alan, Laide, Gilberto and Suzana.
Funding
Fundação de Amparo à Pesquisa do Estado de Mato Grosso (FAPEMAT—No. 0602346/2017); Conselho Nacional de Desenvolvimento Científico e Tecnológico (CNPq—No. 313839/2019-0).
Ethics declarations
Conflict of interest
The authors declare that they have no conflict of interest.
Additional information
Publisher's Note
Springer Nature remains neutral with regard to jurisdictional claims in published maps and institutional affiliations.
Handling Editor: Stanislav Gorb.
About this article
Cite this article
Pereira, A.A., da Silva, I.V. & Vicente, R.E. Interaction between epiphytic chemical allelopathy and ant-pruning determining the composition of Amazonian ant-garden epiphytes. Arthropod-Plant Interactions 15, 399–407 (2021). https://doi.org/10.1007/s11829-021-09825-5
Received:

Accepted:

Published:

Issue Date:
Keywords
Competition

Formicidae

Mutualism

Nesting

Parabiosis

Pruning

Rainforest