Abstract
Agronomic management decisions can alter plant foliar traits, especially nutritional quality, with potential to influence plant–herbivore interactions. Herbivores balance consumption of plant tissue for nutritional gains related to growth and development while contending with plant traits that may deter herbivory or are toxic. This study evaluates the influence of management decisions on the foliar quality of industrial hemp (Cannabis sativa) and the impact on the performance of fall armyworm (Spodoptera frugiperda). We included three common management decisions in this study: fertilization rate, cultivar choice, and planting date. In a no-choice feeding trial, fall armyworm larvae were fed leaves of field-grown hemp from three different cultivars that received different rates of fertilizer and were planted on two different dates. We quantified levels of foliar nitrogen, the ratio of carbon to nitrogen, leaf mass per unit area, and concentrations of tetrahydrocannabinol and cannabidiol, and determined the influence of foliar quality on herbivore performance. Fertilization rate, cultivar, and the interactions of planting date with both fertilization rate and cultivar influenced multiple aspects of hemp foliar quality. Overall, fertilization had the largest influence on foliar quality and subsequent herbivore performance. Variation in foliar traits influenced herbivore performance. Foliar nitrogen had a positive impact on fall armyworm performance and the ratios of carbon and total cannabinoids to nitrogen had negative impacts on fall armyworm performance. Our findings show that management decisions in industrial hemp can affect plant–insect interactions through changes in foliar quality. These outcomes suggest that developing crop management recommendations for pest management will be important for a re-emerging crop like industrial hemp.
This is a preview of subscription content,
to check access.
Access this article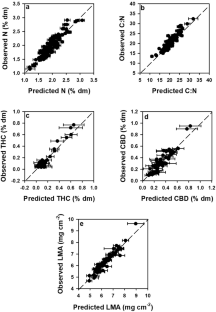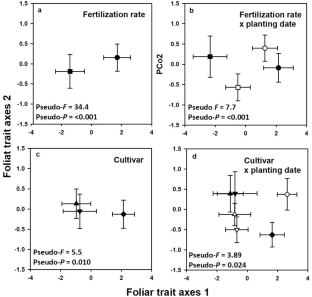 Similar content being viewed by others
References
Aizpurua-Olaizola O, Soydaner U, Öztürk E, Schibano D, Simsir Y, Navarro P, Etxebarria N, Usobiaga A (2016) Evolution of the cannabinoid and terpene content during the growth of Cannabis sativa plants from different chemotypes. J Nat Prod 79:324–331

Anderson MJ (2001) A new method for non-parametric multivariate analysis of variance. Aus Ecology 26:32–46

Barbehenn RV, Jaros A, Lee G, Mozola C, Weihr Q, Salminen J-P (2009) Tree resistance to Lymantria dispar caterpillars: importance and limitations of foliar tannin composition. Oecologia 159:777–788

Bidart-Bouzat MG, Klienbenstein DJ (2008) Differential levels of insect herbivory in the field associated with genotypic variation in glucosinolates in Arabidopsis thaliana. J Chem Ecol 34:1026–1037

Bócsa I, Máthé P, Hangyel L (1997) Effect of nitrogen on tetrahydrocannabinol (THC) content in hemp (Cannabis sativa L.) leaves at different positions. J Int Hemp Assoc 4:78–79

Bolster KL, Martin ME, Aber JD (1996) Determination of carbon fraction and nitrogen concentration in tree foliage by near infrared reflectance: a comparison of statistical methods. Can J For Res 26:590–600

Chambers PG, Simpson SJ, Raubenheimer D (1995) Behavioural mechanisms of nutrient balancing in Locusta migratoria nymphs. Anim Behav 50:1513–1523

Chen S, Hong, Harris CJ, Sharkey PM (2004) Sparse modeling using orthogonal forward regression with PRESS statistic and regularization. Environ Entomol 35:1238–1243

Chong I-G, Jun C-H (2005) Performance of some variable selection methods when multicollinearity is present. Chemometr Intell Lab Syst 78:103–112

Clissold FJ, Sanson GD, Read J (2006) The paradoxical effects of nutrient ratios and supply rates on an outbreaking insect herbivore, the Australian plague locust. J Animal Ecol 75:1000–1013

Coley PD (1983) Herbivory and defensive characteristics of tree species in a lowland tropical forest. Ecol Monogr 53:209–229

Cotrozzi L, Townsend PA, Pellegrini E, Nali C, Couture JJ (2018) Reflectance spectroscopy: a novel approach to better understand and monitor the impact of air pollution on Mediterranean plants. Environ Sci Poll Res 25:8249–8267

Cotrozzi L, Couture JJ (2019) Hyperspectral assessment of plant responses to multi-stress environments: prospects for managing protected agrosystems. Plants People Planet. https://doi.org/10.1002/ppp3.10080

Couture JJ, Servi JS, Lindroth RL (2010) Increased nitrogen availability influences predator-prey interactions by altering host-plant quality. Chemoecology 20:277–284

Couture JJ, Meehan TD, Lindroth R (2012) Atmospheric change alters foliar quality of host trees and performance of multiple outbreak herbivores. Oecologia 168:863–876

Couture JJ, Meehan TD, Rubert-Nason KF, Lindroth RL (2017) Effects of elevated carbon dioxide and ozone on foliar quality of trembling aspen (Populus tremuloides) and paper birch (Betula papyrifera). J Chem Ecol 43:26–38

Couture JJ, Singh A, Charkowski AO, Groves RL, Gray SM, Bethke PC, Townsend PA (2018) Integrating spectroscopy with potato disease management. Plant Dis 102:2233–2240

Coffman CB, Gentner WA (1975) Cannabinoid profile and elemental uptake of Cannabis sativa L. as influenced by soil characteristics. Agron J 67:491–496

Cunningham SA, Summerhayes B, Westoby M (1999) Evolutionary divergences in leaf structure and chemistry, comparing rainfall and soil nutrient gradients. Ecol Monogr 69:569–588

de Meijer EPM, Bagatta M, Carboni A, Crucitti P, Moliterni CVM, Ranalli P, Mandolino G (2003) The inheritance of chemical phenotype in Cannabis sativa L. Genetics 163:335–346

Donaldson JR, Lindroth RL (2007) Genetics, environment, and their interaction determine efficacy of chemical defense in trembling aspen. Ecology 88:729–739

FAO (UN Food Agric. Organ.) (2009) Global agriculture towards 2050. High Level Expert Forum, FAO, Rome, Italy

Glassmire AE, Jeffrey CS, Forister ML, Parchman TL, Nice CC, Jahner JP, Wilson JS, Walla TR, Richards LA, Smilanich AM, Leonard MD, Morrison CR, Simbaña W, Salagaje LA, Dodson CD, Miller JS, Tepe EJ, Villamarin-Cortez S, Dyer LA (2016) Intraspecific phytochemical variation shapes community and population structure for specialist caterpillars. New Phytol 212:208–219

Grossman YL, Ustin SL, Jacquemoud S, Sanderson EW, Schmuck G, Verdebout J (1996) Critique of stepwise multiple linear regression for the extraction of leaf biochemistry information from leaf reflectance data. Remote Sens Environ 56:182–193

Haney A, Kutsched BB (1973) Quantative variation in the chemical constituents of marihuana from stands of naturalized Cannabis sativa L. in East-Central Illinois. Econ Bot 27:193–203

Hanley ME, Lamont BB, Fairbanks MM, Rafferty CM (2007) Plant structural traits and their reol in ant-herbivore defence. PPEES 8:157–178

Knepp RG, Hamilton JG, Zangerl AR, Berenbaum MR, DeLucia EH (2007) Foliage of oaks grown under elevated CO2 reduces performance of Antheraea polyphemus (Lepidoptera: Saturniidae). Environ Entomol 36:609–617

Latta RP, Eaton BJ (1975) Seasonal fluctuations in cannabinoid content of Kansas Marijuana. Econ Bot 29:153–163

Lee KP, Behmer ST, Simpson SJ, Raubenheimer D (2002) A geometric analysis of nutrient regulation in the generalist caterpillar Spodoptera littoralis (Boisduval). J Insect Physiol 48:655–665

Lehmann T, Brenneisen R (1995) High performance liquid chromatographic profiling of cannabis products. J Liq Chromatogr Relat Technol 18:689–700

Mattson WJ (1980) Herbivory in relation to plant nitrogen content. Annu Rev Ecol Sys 11:119–161

McPartland JM, Marz VD, Petrocellis LD, Mercer A, Glass M (2001) Cannabinoid receptors are absent in insects. J Comp Neuro 436:423–429

McPartland JM, Agraval J, Gleeson D, Heasman K, Glass M (2006) Cannabinoid receptors in invertebrates. J Evol Biol 19:366–373

Oerke EC (2006) Crop losses to pests. J Agric Sci 144:31–43

Oksanen J, Blanchet FG, Friendly M, Kindt R, Legendre P, McGlinn D, Minchin PR, O'Hara R B, Simpson GL, Solymos P, Henry M, Stevens H, Szoecs E, Wagner H (2018) vegan: Community Ecology Package. R package, version 2.4–6.

Pacifico D, Miselli F, Carboni A, Moschella A, Mandolino G (2008) Time course of cannabinoid accumulation and chemotype development during the growth of Cannabis sativa L. Euphytica 160:231–240

Pitre HN, Hogg DB (1983) Development of the fall armyworm on cotton, soybean and corn. J Ga Entomol Soc 18:187–194

Poorter H, Niinemets U, Poorter L, Wright IJ, Villar R (2009) Causes and consequences of variation in leaf mass per area (LMA): a meta-analysis. New Phytol 182:565–588

Raubenheimer D, Simpson SJ (1992) Analysis of covariance: an alternative to nutritional indices. Entomol Exp Appl 62:221–231

Raubenheimer D, Simpson SJ (1999) Integrating nutrition: a geometrical approach. Entomol Entomol Exp Appl 91:67–82

Roth SK, Lindroth L, Montgomery ME (1994) Effects of phenolics and ascorbic acid on performance of the gypsy moth (Lymantria dispar). Biochem Syst Ecol 22:341–351

Rothschild M, Rowan MG, Fairbairn JW (1977) Storage of cannabinoids by Arctia caja and Zonocerus elegans fed on chemically distinct strains of Cannabis sativa. Nature 266:650–651

Rothschild M, Fairbain JW (1980) Ovipositing butterfly (Pieris brassicae L.) distinguishes between aqueous extracts of two strains of Cannabis sativa L. and THC and CBD. Nature 286:55–59

Sandler LN, Beckerman JL, Whitford F, Gibson KA (2019) Cannabis as conundrum. Crop Prot 117:37–44

Schofield RMS, Emmett KD, Niedbala JC, Nesson MH (2011) Leaf-cutter ants with worn mandibles cut half as fast, spend twice the energy, and tend to carry instead of cut. Behav Ecol Sociobiol 65:969–982

Simpson SJ, Raubenheimer D (2001) The geometric analysis if nutrient-allelochemical interactions: a case study using locusts. Ecology 82:422–439

Slusarkiewicz-Jarzina A, Ponitka A, Kaczmarek Z (2005) Influence of cultivar, explant source and plant growth regulator on callus induction and plant regeneration of Cannabis sativa L. Acta Biol Cracov Ser Bot 47:145–151

Small E, Becksted H (1973) Cannabinoid phenotypes in Cannabis sativa. Nature 245:147–148

Strand JF (2000) Some agrometeorological aspects of pest and disease management for the 21st century. Ag For Met 103:73–82

Stotz HU, Kroymann J, Mitchell-Olds T (1999) Plant-insect interactions. Curr Opin Plant Biol 2:268–272

Trumper S, Simpson SJ (1993) Regulation of salt intake by nymphs of Locusta migratoria. J Insect Physiol 39:857–864

Weiblen GD, Wenger JP, Craft KJ, ElSohly MA, Mehmedic Z, Treiber EL, Marks MD (2015) Gene duplication and divergence affecting drug content in Cannabis sativa. New Phytol 208:1241–1250

Wold S, Ruhe A, Wold H, Dunn WJ (1984) The collinearity problem in linear regression. The Partial Least Squares (PLS) approach to generalized inverses. SIAM J Sci Stat Comp 5:735–743

Wold S, Sjöströma M, Eriksson L (2001) PLS-regression: a basic tool of chemometrics. Chemometr Intell Lab 58:109–130
Acknowledgements
We would like to thank the Office of the Indiana State Chemist, specifically Robert Waltz and H. Dorota Inerowicz, for assistance with cannabinoid analysis. We would also like to thank Scott Gula for comments on a previous version of this manuscript. This work was funded by United States Department of Agriculture National Institute of Food and Agriculture Hatch award IND11490 to JJC and a Purdue University AgSeed Award to JJC and JLB.
Additional information
Handling Editor: Heikki Hokkanen
Publisher's Note
Springer Nature remains neutral with regard to jurisdictional claims in published maps and institutional affiliations.
Supplementary Information
Below is the link to the Supplementary Information.
About this article
Cite this article
Bolt, M.A., Beckerman, J.L. & Couture, J.J. Agronomic management of industrial hemp alters foliar traits and herbivore performance. Arthropod-Plant Interactions 15, 137–151 (2021). https://doi.org/10.1007/s11829-021-09803-x
Received:

Accepted:

Published:

Issue Date:

DOI: https://doi.org/10.1007/s11829-021-09803-x
Keywords