Abstract
Floral resources can be recognized by visitors through attractants that signal their presence. However, besides petals, it is still unclear how floral elements in heterantherous species are perceived by visiting bees. In this study, we aim to understand the role of stamens and petals of Pleroma granulosum and P. raddianum in attracting pollination bees, mainly by evaluating whether pollinator behaviour differs in response to different sized stamens between which there is no apparent colour contrast. Using colour visual models, we estimated bee colour discrimination between stamen sets and corolla in both species and carried out preference experiments among floral elements, using the bees Bombus morio and Xylocopa frontalis as models in the field. Pollination and feeding stamens are not discriminable by bees in both plant species. Bees only preferred flowers with petals, indicating that they are essential to long-distance attraction. During preferential tests, bees seemed to better respond to visual stimuli on the right side, suggesting lateralization. We also demonstrate that tactile stimulation by the anthers is necessary to trigger bee buzzing behaviour. Thus, since bees were not specifically attracted to any stamen set, heteranthery without colour differences between stamens is not enough to determine bee choice behaviour.
Access options
Buy single article
Instant access to the full article PDF.
USD 39.95
Price excludes VAT (USA)
Tax calculation will be finalised during checkout.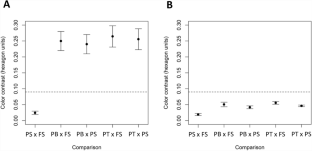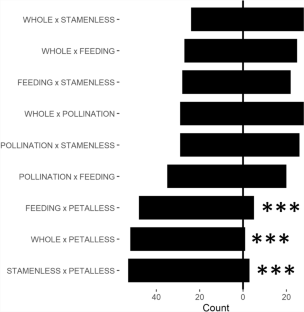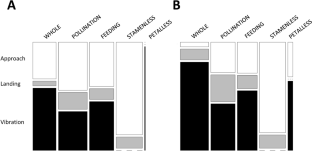 References
Anfora G, Frasnelli E, Maccagnani B et al (2010) Behavioural and electrophysiological lateralization in a social (Apis mellifera) but not in a non-social (Osmia cornuta) species of bee. Behav Brain Res 206:236–239. https://doi.org/10.1016/j.bbr.2009.09.023

Anfora G, Rigosi E, Frasnelli E et al (2011) Lateralization in the invertebrate brain: left-right asymmetry of olfaction in bumble bee Bombus terrestris. PLoS ONE 6:e18903. https://doi.org/10.1371/journal.pone.0018903

Bacci LF, Michelangeli FA, Goldenberg R (2019) Revisiting the classification of Melastomataceae: implications for habit and fruit evolution. Bot J Linn Soc 190:1–24. https://doi.org/10.1093/botlinnean/boz006

Barrett SCH (2010) Darwin's legacy: the forms, function and sexual diversity of flowers. Philos Trans R Soc B Biol Sci 365:351–368. https://doi.org/10.1098/rstb.2009.0212

Bencke CSC, Morellato LPC (2002) Comparação de dois métodos de avaliação da fenologia de plantas, sua interpretação e representação. Rev Bras Botânica 25:269–275. https://doi.org/10.1590/S0100-84042002000300003

Brito VLG, Sazima M (2012) Tibouchina pulchra (Melastomataceae): reproductive biology of a tree species at two sites of an elevational gradient in the Atlantic rainforest in Brazil. Plant Syst Evol 298:1271–1279. https://doi.org/10.1007/s00606-012-0633-5

Brito VLG, Weynans K, Sazima M, Lunau K (2015) Trees as huge flowers and flowers as oversixed floral guides: the role of floral colour change and retention of old flowers in Tibouchina pulchra. Front Plant Sci 6:362. https://doi.org/10.3389/fpls.2015.00362

Buchmann SL (1983) Buzz pollination in angiosperms. Handbook of experimental pollination biology. Van Nostrand Reinhold, New York, pp 73–113

Burnham KP, Anderson DR (2002) Model selection and multimodel inference: a practical information—theoretic approach. Springer, New York

Carr DE, Haber AI, Lecroy KA et al (2015) Variation in reward quality and pollinator attraction: the consumer does not always get it right. AoB Plants. https://doi.org/10.1093/aobpla/plv034

Chittka L (1992) The colour hexagon: a chromaticity diagram based on photoreceptor excitations as a generalized representation of colour opponency. J Comp Physiol A 170:533–543. https://doi.org/10.1007/BF00199331

Chittka L, Kevan P (2005) Flower colour as advertisement. In: Dafni A, Kevan P, Husband B (eds) Practical pollination biology. Enviroquest Ltd., Cambridge, pp 157–196

Dyer AG, Spaethe J, Prack S (2008) Comparative psychophysics of bumblebee and honeybee colour discrimination and object detection. J Comp Physiol A Neuroethol Sensory, Neural, Behav Physiol 194:617–627. https://doi.org/10.1007/s00359-008-0335-1

Ferreira QIX, Araújo FP (2016) Economia de pólen favorecida pela heteranteria em Desmocelis villosa (Melastomataceae). Rodriguesia 67:347–355

Frasnelli E, Vallortigara G, Rogers LJ (2010) Response competition associated with right-left antennal asymmetries of new and old olfactory memory traces in honeybees. Behav Brain Res 209:36–41. https://doi.org/10.1016/j.bbr.2010.01.014

Gumbert A (2000) Color choices by bumble bees (Bombus terrestris): Innate preferences and generalization after learning. Behav Ecol Sociobiol 48:36–43. https://doi.org/10.1007/s002650000213

Koch L, Lunau K, Wester P (2017) To be on the safe site—ungroomed spots on the bee's body and their importance for pollination. PLoS ONE 12:e0182522. https://doi.org/10.1371/journal.pone.0182522

Konzmann S, Hilgendorf F, Niester C, Rech AR, Lunau K (2020) Morphological specialisation of heterantherous Rhynchanthera grandiflora (Melastomataceae) accommodates pollinator diversity. Plant Biol 22:583–590. https://doi.org/10.1111/plb.13102

Leite FB (2016) Função da heteranteria em duas espécies de Tibouchina (Melastomataceae): atração de abelhas e dinâmica de pólen. Dissertation. Universidade Estadual de Campinas, Campinas

Letzkus P, Ribi WA, Wood JT et al (2006) Lateralization of olfaction in the honeybee Apis mellifera. Curr Biol 16:1471–1476. https://doi.org/10.1016/j.cub.2006.05.060

Letzkus P, Boeddeker N, Wood JT et al (2008) Lateralization of visual learning in the honeybee. Biol Lett 4:16–18. https://doi.org/10.1098/rsbl.2007.0466

Lunau K, Wester P (2017) Mimicry and deception in pollination. Adv Bot Res 82:259–279. https://doi.org/10.1016/bs.abr.2016.10.005

Lunau K, Wacht S, Chittka L (1996) Colour choices of naive bumble bees and their implications for colour perception. J Comp Physiol A Sensory, Neural, Behav Physiol 178:477–489. https://doi.org/10.1007/BF00190178

Lunau K, Konzmann S, Winter L et al (2017) Pollen and stamen mimicry: the alpine flora as a case study. Arthropod Plant Interact 11:427–447. https://doi.org/10.1007/s11829-017-9525-5

Luo Z, Zhang D, Renner SS (2008) Why two kinds of stamens in buzz-pollinated flowers? Experimental support for Darwin's division-of-labour hypothesis. Funct Ecol 22:794–800. https://doi.org/10.1111/j.1365-2435.2008.01444.x

Luo ZL, Gu L, Zhang DX (2009) Intrafloral differentiation of stamens in heterantherous flowers. J Syst Evol 47:43–56. https://doi.org/10.1111/j.1759-6831.2009.00002.x

Maia FR, Telles FJ, Goldenberg R (2018) Time and space affect reproductive biology and phenology in Tibouchina hatschbachii (Melastomataceae), an endemic shrub from subtropical grasslands of southern Brazil. Bot J Linn Soc 187:689–703. https://doi.org/10.1093/botlinnean/boy039

Morellato LPC, Haddad CFB, Haddad CFB (2000) Introduction: the Brazilian Atlantic forest. Biotropica 32:786. https://doi.org/10.1646/0006-3606(2000)032[0786:ITBAF]2.0.CO;2

Müller F (1883) Two kinds of stamens with different functions in the same flower. Nature 27:364–365

Muth F, Papaj DR, Leonard AS (2015) Colour learning when foraging for nectar and pollen: bees learn two colours at once. Biol Lett 11:20150628. https://doi.org/10.1098/rsbl.2015.0628

Nicholls E, Hempel de Ibarra N (2017) Assessment of pollen rewards by foraging bees. Funct Ecol 31:76–87

Orbán LL, Plowright CMS (2013) The effect of flower-like and non-flower-like visual properties on choice of unrewarding patterns by bumblebees. Naturwissenschaften 100:621–631. https://doi.org/10.1007/s00114-013-1059-9

R Core Team (2020) R: a language and environment for statistical computing. R Foundation for Statistical Computing, Vienna, Austria. Available at https://www.R-project.org/

Renner SS (1989) A survey of reproductive biology in neotropical Melastomataceae and Memecylaceae. Ann Missouri Bot Gard 76:496–518. https://doi.org/10.2307/2399497

Renner SS (1993) Phylogeny and classification of the Melastomataceae and Memec ylaceae. Nord J Bot 13:519–540. https://doi.org/10.1111/j.1756-1051.1993.tb00096.x

Rogers LJ, Andrew R (2002) Comparative vertebrate lateralization. Cambridge University Press, Cambridge

Rogers LJ, Vallortigara G (2008) From antenna to antenna: lateral shift of olfactory memory recall by honeybees. PLoS ONE. https://doi.org/10.1371/journal.pone.0002340

Russell AL, Golden RE, Leonard AS, Papaj DR (2016) Bees learn preferences for plant species that offer only pollen as a reward. Behav Ecol 27:731–740. https://doi.org/10.1093/beheco/arv213

Russell AL, Buchmann SL, Papaj DR (2017) How a generalist bee achieves high efficiency of pollen collection on diverse floral resources. Behav Ecol 28:991–1003. https://doi.org/10.1093/beheco/arx058

Schmitt U, Bertsch A (1990) Do foraging bumblebees scent-mark food sources and does it matter? Oecologia 82(1):137–144. https://doi.org/10.1007/BF00318545

Solís-Montero L, Vallejo-Marín M (2017) Does the morphological fit between flowers and pollinators affect pollen deposition? An experimental test in a buzz-pollinated species with anther dimorphism. Ecol Evol 7:2706–2715. https://doi.org/10.1002/ece3.2897

Tang LL, Huang SQ (2007) Evidence for reductions in floral attractants with increased selfing rates in two heterandrous species. New Phytol 175:588–595. https://doi.org/10.1111/j.1469-8137.2007.02115.x

Telles FJ, Klunk DL, Maia FR, Brito VLG, Varassin IG (2020) Towards a new understanding of the division of labour in heterantherous flowers: the case of Pterolepis glomerata (Melastomataceae). Biol J Linn Soc 131:1–11. https://doi.org/10.1093/biolinnean/blaa107

Thomson JD (1988) Effects of variation in inflorescence size and floral rewards on the visitation rates of traplining pollinators of Aralia hispida. Evol Ecol 2(1):65–76. https://doi.org/10.1007/bf02071589

Tong ZY, Huang SQ (2018) Safe sites of pollen placement: a conflict of interest between plants and bees? Oecologia 186:163–171. https://doi.org/10.1007/s00442-017-3999-9

Ushimaru A, Watanabe T, Nakata K (2007) Colored floral organs influence pollinator behavior and pollen transfer in Commelina communis (Commelinaceae). Am J Bot 94:249–258. https://doi.org/10.3732/ajb.94.2.249

Vallejo-MarÍn M, Manson JS, Thomson JD, Barrett SCH (2009) Division of labour within flowers: heteranthery, a floral strategy to reconcile contrasting pollen fates. J Evol Biol 22:828–839. https://doi.org/10.1111/j.1420-9101.2009.01693.x

Vallejo-Marín M, Da Silva EM, Sargent RD, Barrett SCH (2010) Trait correlates and functional significance of heteranthery in flowering plants. New Phytol 188:418–425

Velloso MSC, Brito VLG, Caetano APS et al (2018) Anther specializations related to the division of labor in Microliciacordata (Spreng.) Cham. (Melastomataceae). Acta Bot Brasilica. https://doi.org/10.1590/0102-33062017abb0358

Veloso HP, Rangel Filho ALR, Lima JCA (1991) Classificação da vegetação vrasileira adaptada a um sistema universal. IBGE—Instituto Brasileiro de Geografia e Estatística, Rio de Janeiro

Vogel S (1978) Evolutionary shifts from reward to deception in pollen flowers. In: Richards AJ (ed) The pollination of flowers by insects. Academic Press, London, pp 89–96

Wyszecki G, Stiles WS (1982) Color science: concepts and methods, quantitative data and formulae, 2nd edn. Wiley, New York
Acknowledgements
The authors are very thankful for all the valuable comments made by Isabel Alves dos Santos and Kayna Agostini as well as an anonymous reviewer on the first draft of this manuscript. This work was supported by Fundação de Amparo à Pesquisa do Estado de São Paulo—FAPESP—to V.L.G.B. [Grant 2010/51494-5, 2012/50425-5]; Fundação de Amparo à Pesquisa do Estado de Minas Gerais—FAPEMIG—to V.L.G.B. [Grant APQ-02497-16]; Conselho Nacional de Desenvolvimento Científico e Tecnológico—CNPq—to M.S. [302781/2016-1] and Coordenação de Aperfeiçoamento Pessoal de Nível Superior—CAPES—to F.B.L. [Code 001] and to F.J.T. [PNPD grant; Code 1659767].
Ethics declarations
Conflict of interest
The authors have no conflicts of interest to declare that are relevant to the content of this article.
Ethical approval
Authors followed all applicable international, national, and/or institutional guidelines for the care and use of animals in this study. This study respected the welfare of animals, and excluded situations when animals were in pain.
Additional information
Handling Editor: Heikki Hokkanen.
Publisher's Note
Springer Nature remains neutral with regard to jurisdictional claims in published maps and institutional affiliations.
Electronic supplementary material
Below is the link to the electronic supplementary material.
About this article
Cite this article
de Brito, V.L.G., Leite, F.B., Telles, F.J. et al. The attractive role of floral elements in heterantherous species without pronounced stamen differences. Arthropod-Plant Interactions 15, 23–31 (2021). https://doi.org/10.1007/s11829-020-09794-1
Received:

Accepted:

Published:

Issue Date:

DOI: https://doi.org/10.1007/s11829-020-09794-1
Keywords
Bee behaviour

Bee preference

Bombus morio

Pollen flower

Pleroma granulosum
Pleroma raddianum
Xylocopa frontalis