Abstract
The pollination syndrome hypothesis has been under debate over the past decades. It is criticized as an oversimplification of complex interactions: its validity varies across plant families and depends on spatio-temporal variability of plant–pollinator interactions, yet exact patterns are unclear. We tested the pollination syndrome predictability in a case study of a psychophilous Afrotropical herb species, Scadoxus cinnabarinus, along its complete elevational range (300–1200 m a.s.l.). Through 24-h camera recordings (totalling 500 observed hours), we observed pollinator communities of 21 plant specimens at three elevations on Mount Cameroon, West Africa. Pollination success was quantified through germinated pollen tubes in pistils of selected plants. As predicted by the syndrome, butterflies were the most frequent visitors. Unlike other visiting functional groups, they significantly contributed to the plant's pollination. We found that the plant's visitor composition had changed along its elevational range with proportionally more non-pollinating taxa visiting the flowers at both high and low elevations. Additionally, bees at the high elevation probably served as less-effective secondary pollinators, supplementing the lower abundance of butterfly visitors. Even though the psychophilous pollination syndrome correctly predicted the plant's primary pollinators, its predictability was reduced close to the plant's elevational limits. These geographic dynamics of specific plants' pollination systems should be considered in any meta-analyses aiming to test the predictability of pollination syndromes. Especially because the data on pollination systems often originate from a single population.
Access options
Buy single article
Instant access to the full article PDF.
US$ 39.95
Tax calculation will be finalised during checkout.
Subscribe to journal
Immediate online access to all issues from 2019. Subscription will auto renew annually.
US$ 79
Tax calculation will be finalised during checkout.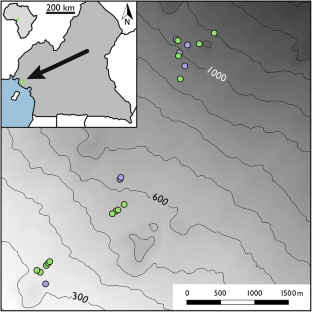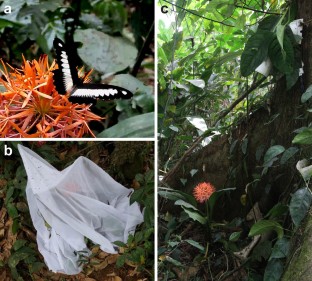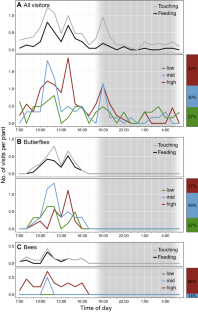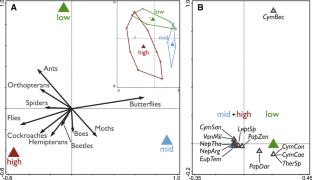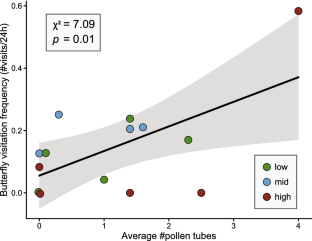 References
Abrahamczyk S, Lozada-Gobilard S, Ackermann M, Fischer E, Krieger V, Redling A, Weigend M (2017) A question of data quality—testing pollination syndromes in Balsaminaceae. PLoS ONE 12:e0186125. https://doi.org/10.1371/journal.pone.0186125

Acharya BK, Vijayan L (2015) Butterfly diversity along the elevation gradient of Eastern Himalaya, India. Ecol Res 30:909–919. https://doi.org/10.1007/s11284-015-1292-0

Arroyo MTK, Primack R, Armesto J (1982) Community Studies in pollination ecology in the high temperate andes of central Chile. I. Pollination mechanisms and altitudinal variation. Am J Bot 69:82. https://doi.org/10.2307/2442833

Ashworth L, Aguilar R, Martén-Rodríguez S, Lopezaraiza-Mikel M, Avila-Sakar G, Rosas-Guerrero V, Quesada M (2015) Pollination syndromes: a global pattern of convergent evolution driven by the most effective pollinator. In: Pontarotti P (ed) Evolutionary biology: biodiversification from genotype to phenotype. Springer, Cham, pp 203–224

Bartoš M, Janeček S, Padyšáková E, Patáčová E, Altman J, Pešata M, Kantorová J, Tropek R (2012) Nectar properties of the sunbird-pollinated plant impatiens sakeriana: a comparison with six other co-flowering species. S Afr J Bot 78:63–74. https://doi.org/10.1016/j.sajb.2011.05.015

Bates D, Maechler M, Bolker B, Walker S, Christensen RH, Singmann H, Dai B, Schiepl F, Grothendieck G (2019) Package 'lme4'. Linear mixed-effects models using 'Eigen' and S4. R package version, 1.1-21. https://github.com/lme4/lme4/. Accessed 27 Nov 2019

Beck J, McCain CM, Axmacher JC, Ashton LA, Bärtschi F, Brehm G, Choi SW, Cizek O, Colwell RK, Fiedler K, Francois CL, Highland S, Holloway JD, Intachat J, Kadlec T, Kitching RL, Maunsell SC, Merckx T, Nakamura A, Odell E, Sang W, Toko PS, Zamecnik J, Zou Y, Novotny V (2017) Elevational species richness gradients in a hyperdiverse insect taxon: a global meta-study on geometrid moths. Glob Ecol Biogeogr 26:412–424. https://doi.org/10.1111/geb.12548

Bingham RA, Orthner AR (1998) Efficient pollination of alpine plants. Nature 391:238–239. https://doi.org/10.1038/34564

Bloch D, Erhardt A (2008) Selection toward shorter flowers by butterflies whose probosces are shorter than floral tubes. Ecology 89:2453–2460. https://doi.org/10.1890/06-2023.1

Brito VLG, Sazima M (2012) Tibouchina pulchra (Melastomataceae): reproductive biology of a tree species at two sites of an elevational gradient in the Atlantic rainforest in Brazil. Plant Syst Evol 298:1271–1279. https://doi.org/10.1007/s00606-012-0633-5

Bruun HH, Moen J, Virtanen R, Grytnes J-A, Oksanen L, Angerbjörn A (2006) Effects of altitude and topography on species richness of vascular plants, bryophytes and lichens in alpine communities. J Veg Sci 17:37–46. https://doi.org/10.1111/j.1654-1103.2006.tb02421.x

Cable S, Cheek M (1998) The plants of Mount Cameroon. A conservation checklist. Royal Botanic Gardens, London

Campbell DR, Powers JM (2015) Natural selection on floral morphology can be influenced by climate. Proc R Soc B Biol Sci 282:1–7. https://doi.org/10.1098/rspb.2015.0178

Colwell RK, Gotelli NJ, Ashton LA, Beck J, Brehm G, Fayle TM, Fiedler K, Forister ML, Kessler M, Kitching RL, Klimes P, Kluge J, Longino JT, Maunsell SC, McCain CM, Moses J, Noben S, Sam K, Sam L, Shapiro AM, Wang X, Novotny V (2016) Midpoint attractors and species richness: modelling the interaction between environmental drivers and geometric constraints. Ecol Lett 19:1009–1022. https://doi.org/10.1111/ele.12640

Cuartas-Hernández S, Medel R (2015) Topology of plant—flower-visitor networks in a tropical mountain forest: insights on the role of altitudinal and temporal variation. PLoS ONE 10:e0141804. https://doi.org/10.1371/journal.pone.0141804

Cuartas-Hernández SE, Moreno-Betancur DJ, Gibernau M, Herrera-Palma M, Hoyos-Serna L (2019) Contrasting patterns of floral size variation in two sympatric species of anthurium along an elevation gradient in a tropical mountain forest. Int J Plant Sci 180:209–219. https://doi.org/10.1086/701818

Dafni A, Kevan PG, Husband BC (2005) Practical pollination biology. Enviroquest Ltd., Cambridge

Danieli-Silva A, de Souza JMT, Donatti AJ, Campos RP, Vicente-Silva J, Freitas L, Varassin IG (2012) Do pollination syndromes cause modularity and predict interactions in a pollination network in tropical high-altitude grasslands? Oikos 121:35–43. https://doi.org/10.1111/j.1600-0706.2011.19089.x

Darwin C (1862) On the various contrivances by which British and Foreign Orchids are fertilised by insects. John Murray, London

Dellinger AS, Chartier M, Fernández-Fernández D, Penneys DS, Alvear M, Almeda F, Michelangeli FA, Staedler Y, Armbruster WS, Schönenberger J (2019) Beyond buzz-pollination—departures from an adaptive plateau lead to new pollination syndromes. New Phytol 221:1136–1149. https://doi.org/10.1111/nph.15468

Duan Y, Zhang T, Liu J (2007) Pollination biology of Anisodus tanguticus (Solanaceae). Biodivers Sci 15:584. https://doi.org/10.1360/biodiv.070108

Faegri K, van der Pijl L (1979) The principles of pollinaton ecology. Pergamon, Oxford

Grytnes JA (2003) Species-richness patterns of vascular plants along seven altitudinal transects in Norway. Ecography (Cop) 26:291–300. https://doi.org/10.1034/j.1600-0587.2003.03358.x

Hodgins KA, Barrett SCH (2008) Geographic variation in floral morphology and style-morph ratios in a sexually polymorphic daffodil. Am J Bot 95:185–195. https://doi.org/10.3732/ajb.95.2.185

Illán JG, Gutiérrez D, Wilson RJ (2010) Fine-scale determinants of butterfly species richness and composition in a mountain region. J Biogeogr 37:1706–1720. https://doi.org/10.1111/j.1365-2699.2010.02314.x

Johnson SD, Bond WJ (1994) Red flowers and butterfly pollination in the fynbos of South Africa. In: Plant–animal interactions in Mediterranean-type ecosystems. Tasks for vegetation science, pp 137–148. https://doi.org/10.1007/978-94-011-0908-6_13.

Johnson SD, Wester P (2017) Stefan Vogel's analysis of floral syndromes in the South African flora: an appraisal based on 60 years of pollination studies. Flora 232:200–206. https://doi.org/10.1016/j.flora.2017.02.005

Kearns CA, Inouye DW (1993) Techniques for pollination biologists. University Press of Colorado, Boulder

Kiepiel I, Johnson SD (2014) Shift from bird to butterfly pollination in clivia (Amaryllidaceae). Am J Bot 101:190–200. https://doi.org/10.3732/ajb.1300363

Kim W, Gilet T, Bush JWM (2011) Optimal concentrations in nectar feeding. Proc Natl Acad Sci 108:16618–16621. https://doi.org/10.1073/pnas.1108642108

King C, Ballantyne G, Willmer PG (2013) Why flower visitation is a poor proxy for pollination: measuring single-visit pollen deposition, with implications for pollination networks and conservation. Methods Ecol Evol 4:811–818. https://doi.org/10.1111/2041-210X.12074

Kingston AB, McQuillan PB (2000) Are pollination syndromes useful predictors of floral visitors in Tasmania? Austral Ecol 25:600–609. https://doi.org/10.1111/j.1442-9993.2000.tb00065.x

Kuriya S, Hattori M, Nagano Y, Itino T (2015) Altitudinal flower size variation correlates with local pollinator size in a bumblebee-pollinated herb, Prunella vulgaris L. (Lamiaceae). J Evol Biol 28:1761–1769. https://doi.org/10.1111/jeb.12693

Lay CR, Linhart YB, Diggle PK (2013) Variation among four populations of erysimum capitatum in phenotype, pollination and herbivory over an elevational gradient. Am Midl Nat 169:259–273. https://doi.org/10.1674/0003-0031-169.2.259

Lefebvre V, Villemant C, Fontaine C, Daugeron C (2018) Altitudinal, temporal and trophic partitioning of flower-visitors in Alpine communities. Sci Rep 8:4706. https://doi.org/10.1038/s41598-018-23210-y

Lehmann LJ, Maruyama PK, Joaquim Bergamo P, Maglianesi MA, Rahbek C, Dalsgaard B (2019) Relative effectiveness of insects versus hummingbirds as pollinators of Rubiaceae plants across elevation in Dominica, Caribbean. Plant Biol 21:738–744. https://doi.org/10.1111/plb.12976

Leingärtner A, Krauss J, Steffan-Dewenter I (2014) Species richness and trait composition of butterfly assemblages change along an altitudinal gradient. Oecologia 175:613–623. https://doi.org/10.1007/s00442-014-2917-7

Maglianesi MA, Blüthgen N, Böhning-Gaese K, Schleuning M (2015) Functional structure and specialization in three tropical plant-hummingbird interaction networks across an elevational gradient in Costa Rica. Ecography (Cop) 38:1119–1128. https://doi.org/10.1111/ecog.01538

Maicher V, Sáfián S, Murkwe M, Przybyłowicz Ł, Janeček Š, Fokam EB, Pyrcz T, Tropek R (2018) Flying between raindrops: strong seasonal turnover of several Lepidoptera groups in lowland rainforests of Mount Cameroon. Ecol Evol 8:12761–12772. https://doi.org/10.1002/ece3.4704

Maicher V, Sáfián S, Murkwe M, Delabye S, Przybyłowicz Ł, Potocký P, Kobe IN, Janeček Š, Mertens JEJ, Fokam EB, Pyrcz T, Doležal J, Altman J, Hořák D, Fiedler K, Tropek R (2019) Seasonal shifts of biodiversity patterns and species' elevation ranges of butterflies and moths along a complete rainforest elevational gradient on Mount Cameroon. J Biogeogr. https://doi.org/10.1111/jbi.13740

Malo JE, Baonza J (2002) Are there predictable clines in plant-pollinator interactions along altitudinal gradients? The example of Cytisus scoparius (L.) Link in the Sierra de Guadarrama (Central Spain). Divers Distrib 8:365–371. https://doi.org/10.1046/j.1472-4642.2002.00161.x

McCain CM, Grytnes J-A (2010) Elevational gradients in species richness. In: Encyclopedia of life sciences. Wiley, Chichester. https://doi.org/10.1002/9780470015902.a0022548

Meerow AW, Clayton JR (2004) Generic relationships among the baccate-fruited Amaryllidaceae (tribe Haemantheae) inferred from plastid and nuclear non-coding DNA sequences. Plant Syst Evol 244:141–155. https://doi.org/10.1007/s00606-003-0085-z

Mertens JEJ, Tropek R, Dzekashu FF, Maicher V, Fokam EB, Janeček Š (2018) Communities of flower visitors of Uvariopsis dioica (Annonaceae) in lowland forests of Mt. Cameroon, with notes on its potential pollinators. Afr J Ecol 56:146–152. https://doi.org/10.1111/aje.12429

Nagano Y, Abe K, Kitazawa T, Hattori M, Hirao AS, Itino T (2014) Changes in pollinator fauna affect altitudinal variation of floral size in a bumblebee-pollinated herb. Ecol Evol 4:3395–3407. https://doi.org/10.1002/ece3.1191

Ollerton J, Watts S (2000) Phenotype space and floral typology: towards an objective assessment of pollination syndromes. Det Nor Videnskaps-Akademi I Mat Klasse, Skr Ny Ser 39:149–159

Ollerton J, Alarcon R, Waser NM, Price MV, Watts S, Cranmer L, Hingston A, Peter CI, Rotenberry J (2009) A global test of the pollination syndrome hypothesis. Ann Bot 103:1471–1480. https://doi.org/10.1093/aob/mcp031

Ollerton J, Rech AR, Waser NM, Price MV (2015) Using the Literature to test pollination syndromes—some methodological cautions. J Pollinat Ecol 16:119–125. https://doi.org/10.1016/j.cognition.2008.05.007

Ollerton J, Liede-Schumann S, Endress ME, Meve U, Rech AR, Shuttleworth A, Quirino Z et al (2018) The diversity and evolution of pollination systems in large plant clades: Apocynaceae as a case study. Ann Bot 123:311–325. https://doi.org/10.1093/aob/mcy127

Padyšáková E, Bartoš M, Tropek R, Janeček Š (2013) Generalization versus specialization in pollination systems: visitors, thieves, and pollinators of Hypoestes aristata (Acanthaceae). PLoS ONE 8:e59299. https://doi.org/10.1371/journal.pone.0059299

Papiorek S, Junker RR, Lunau K (2014) Gloss, colour and grip: Multifunctional epidermal cell shapes in bee- and bird-pollinated flowers. PLoS ONE 9:e112013. https://doi.org/10.1371/journal.pone.0112013

Pauw A (2006) Floral syndromes accurately predict pollination by a specialized oil-collecting bee (Rediviva peringueyi, Melittidae) in a guild of South African orchids (Coryciinae). Am J Bot 93:917–926. https://doi.org/10.3732/ajb.93.6.917

Pellissier L, Albouy C, Bascompte J, Farwig N, Graham C, Loreau M, Maglianesi MA, Melián CJ, Pitteloud C, Roslin T, Rohr R, Saavedra S, Thuiller W, Woodward G, Zimmermann NE, Gravel D (2018) Comparing species interaction networks along environmental gradients. Biol Rev 93:785–800. https://doi.org/10.1111/brv.12366

Peters MK, Peisker J, Steffan-Dewenter I, Hoiss B (2016) Morphological traits are linked to the cold performance and distribution of bees along elevational gradients. J Biogeogr 43:2040–2049. https://doi.org/10.1111/jbi.12768

R Core Team (2018) R: a language and environment for statistical computing

Rasmann S, Alvarez N, Pellissier L (2018) The altitudinal niche-breadth hypothesis in insect–plant interactions. In: Voelckel C, Jander G (eds) Annual plant review. Wiley, Chichester, pp 339–359

Rosas-Guerrero V, Aguilar R, Martén-Rodríguez S, Ashworth L, Lopezaraiza-Mikel M, Bastida JM, Quesada M (2014) A quantitative review of pollination syndromes: do floral traits predict effective pollinators? Ecol Lett 17:388–400. https://doi.org/10.1111/ele.12224

Saint-Hilaire JHJ (1805) Les Amaryllidées. Exposition des familles naturelles et de la germination des plantes. Treuttel et Würtz, Strasbourg, pp 134–142

Šmilauer P, Lepš J (2014) Multivariate analysis of ecological data using CANOCO 5. Cambridge University Press, Cambridge

Ter Braak CJF, Šmilauer P (2012) CANOCO (version 5): software for multivariate data exploration, testing and summarization. Microcomputer Power, Ithaca

Thakar JD, Kunte K, Chauhan AK, Watve AV, Watve MG (2003) Nectarless flowers: ecological correlates and evolutionary stability. Oecologia 136:565–570. https://doi.org/10.1007/s00442-003-1304-6

Thompson JN (2005) The geographic mosaic of coevolution. University of Chicago Press, Chicago

Tiple AD, Khurad AM, Dennis RLH (2009) Adult butterfly feeding-nectar flower associations: constraints of taxonomic affiliation, butterfly, and nectar flower morphology. J Nat Hist 43:855–884. https://doi.org/10.1080/00222930802610568

Trunschke J, Stöcklin J (2017) Plasticity of flower longevity in alpine plants is increased in populations from high elevation compared to low elevation populations. Alp Bot 127:41–51. https://doi.org/10.1007/s00035-016-0176-4

Tylianakis JM, Morris RJ (2017) Ecological networks across environmental gradients. Annu Rev Ecol Evol Syst. https://doi.org/10.1146/annurev-ecolsys-110316-022821

Vogel S (1954) Blütenbiologische Typen als Elemente der Sippengliederung, dargestellt anhand der Flora Südafrikas. G. Fischer, Jena

Waser NM, Chittka L, Price MV, Williams NM, Ollerton J (1996) Generalization in pollination systems, and why it matters. Ecology 77:1043–1060. https://doi.org/10.2307/2265575

Willmer P (2011) Pollination and floral ecology. Pollinat Flor Ecol 57:1–778. https://doi.org/10.5860/CHOICE.49-2063

Wilson TC, Conn BJ, Henwood MJ (2017) Great expectations: correlations between pollinator assemblages and floral characters in Lamiaceae. Int J Plant Sci 178:170–187. https://doi.org/10.1086/690023
Acknowledgements
We are grateful to Francis E. Luma, Pavel Kratochvíl, Szabolcs Sáfián, Vincent Maicher, and several local assistants for their help with field work; Yannick Klomberg for measurements of flowers; and the staff of the Mount Cameroon National Park for their support. This study was performed with the authorisations of the Ministries of the Republic of Cameroon for Forestry and Wildlife, and for Scientific Research and Innovation. Our project was funded by the Czech Science Foundation (16-11164Y) and the Charles University (GAUK 927116, PRIMUS/17/SCI/8, and UNCE 204069).
Additional information
Publisher's Note
Springer Nature remains neutral with regard to jurisdictional claims in published maps and institutional affiliations.
Handling Editor: Isabel Alves dos Santos
Electronic supplementary material
About this article
Cite this article
Mertens, J.E.J., Janeček, Š., Dzekashu, F.F. et al. Changes in pollinator community of Scadoxus cinnabarinus (Amaryllidaceae) along its elevational range on Mount Cameroon. Arthropod-Plant Interactions 14, 215–226 (2020). https://doi.org/10.1007/s11829-020-09741-0
Received:

Accepted:

Published:

Issue Date:
Keywords
Pollination syndromes

Psychophily

Elevational gradient

Community ecology

Plant–pollinator interactions