Abstract
Although mutualism between ants and flowering plants is wide spread, ant pollination has not evolved as a major pollination syndrome. So far ant pollination has been reported largely in herbaceous species, growing in warm and dry habitats. While studying pollination ecology of Syzygium species (Myrtaceae), growing in tropical forests of the Western Ghats, India, we observed one of the ant species, Technomyrmex albipes, to be the dominant floral visitor in S. occidentale (Bourd.) Chithra among a range of other insect (species of Xylocopa and Trigona, and Apis cerana) and bird visitors. We studied the role of ant species in pollination when compared to other floral visitors. The fruit set in flowers exclusively visited by T. albipes was significantly higher than those visited by any other visitor. The day and night exclusive pollination experiments allowing only T. albipes indicated diel pollination by T. albipes, which was the only active flower visitor during the night. The breeding system of the species was studied through controlled pollinations. The species is partially self-compatible and exhibits considerable autogamy.
Access options
Buy single article
Instant access to the full article PDF.
US$ 39.95
Tax calculation will be finalised during checkout.
Subscribe to journal
Immediate online access to all issues from 2019. Subscription will auto renew annually.
US$ 79
Tax calculation will be finalised during checkout.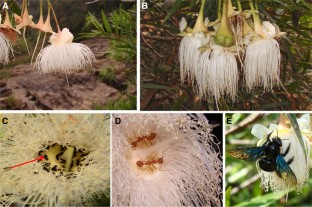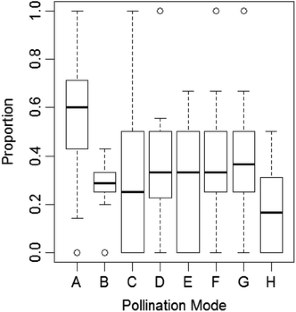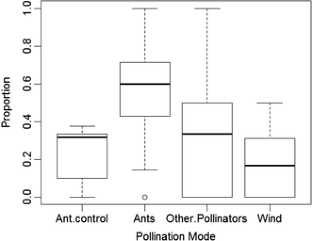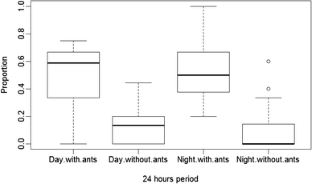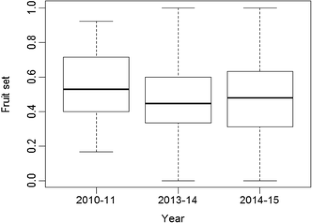 References
Anderson DL, Sedgley M, Short JRT, Allwood AJ (1982) Insect pollination of mango in northern Australia Mangifera indica. Aust J Agr Res 33:541–548

Beattie AJ (1985) The evolutionary ecology of ant-plant mutualisms. Cambridge University Press, Cambridge

Beattie AJ, Turnbull C, Knox RB, Williams EG (1984) Ant inhibition of pollen functions, a possible reason why ant pollination is rare. Am J Bot 71:421–426

Beattie AJ, Turnbull CL, Hough T, Jobson S, Knox RB (1985) The vulnerability of pollen and fungal spores to ant secretions: evidence and some evolutionary implications. Am J Bot 72:606–614

Bronstein JL, Ruben AR, Geber M (2006) Tansley review: the evolution of plant–insect mutualisms. New Phytol 172:412–428

Byng JW, Philipson PB, Snow N (2015) Nomenclatural notes on Malagasy Syzygium Gaertn (Myrtaceae) Candollea 70:151–155

Crome FHJ, Irvine AK (1986) "Two bob each way": the pollination and breeding system of the Australian rain forest tree Syzygium cormiflorum (Myrtaceae). Biotropica 18:115–125

de Vega C, Gomez JM (2014) Pollination by ants: concepts, evidences and future directions. Ecosistemas 23:48–57

de Vega C, Arista M, Ortiz PL, Herrera CM, Talavera S (2009) The ant-pollination system of Cytinus hypocistis (Cytinaceae), a Mediterranean root holoparasite. Ann Bot 103:1065–1075

de Vega C, Herrera CM, Dotterl S (2014) Floral volatiles play a key role in specialized ant pollination. Perspect Plant Ecol Evol Syst 16:32–42

Dutton EM, Frederickson ME (2012) Why ant pollination is rare: new evidence and implications of the antibiotic hypothesis. Arthropod Plant Interact 6:561–569

Gomez JM (2000) Effectiveness of ants as pollinators of Lobularia maritima: effects on main sequential fitness components of the host plant. Oecologia 122:90–97

Gomez JM, Zamora R, Hoder JA (1996) Experimental study of pollination by ants in Mediterranean high mountain and arid habitats. Oecologia 105:236–242

Herrera CM, Pellmyr O (2002) Plant-animal interactions: an evolutionary approach. Blackwell Publishing, Malden

Hickman JC (1974) Pollination by ants, a low-energy system. Science 184:1290–1292

Hooper SD (1980) Pollination of the rain-forest tree Syzygium tierneyanum (Myrtaceae) at Kuranda, Northern Queensland. Aust J Bot 28:223–237

Hull DA, Beattie AJ (1988) Adverse effects on pollen exposed to Atta texana and other North American ants: implications for ant pollination. Oecologia 75:153–155

Ibarra-Isassi J, Sendoya SF (2016) Ants as floral visitors of Blutaparon portulacoides (A. St-Hil.) Mears (Amaranthaceae): an ant pollination system in the Atlantic Rainforest. Arthropod Plant Interact 10:221–227

Junker RR, Bluthgen N (2008) Floral scents repel potentially nectar thieving ants. Evol Ecol Res 10:295–308

Junker RR, Gershenzon J, Unsicker SB (2011) Floral odor bouquet loses its ant repellent properties after inhibition of terpene biosynthesis. J Chem Ecol 37:1323–1331

Kaiser CN, Hansen DM, Muller CB (2008) Habitat success of the rare endemic tree Syzygium mamillatum (Myrtaceae) in restored and unrestored sites in Mauritius. Biotropica 40:86–94

Lack AJ, Kevan PG (1984) On reproductive biology of a canopy tree, Syzygium syzygioides (Myrtaceae), in a rain forest in Sulawesi, Indonesia. Biotropica 16:31–36

Ludhagha EN, Proença C (1996) A survey of the reproductive biology of the Myrtoideae (Myrtaceae). Ann Missouri Bot Gard 83:480–503

Nagamitsu T, Inoue T (1997) Cockroach pollination and breeding system in Uvaria elmeri (Annonaceae) in a lowland mixed-Dipterocarp forest in Sarawak. Am J Bot 84:208–213

Nayar MP (1996) Hotspots of endemic plants of India, Nepal and Bhtan. TBGRI, Thiruvananthapuram

Ness JH (2006) A mutualism's indirect cost; the most aggressive plant bodyguards also deter pollinators. Oikos 113:506–514

Parnell JAN, Craven LA, Biffin E (2007) Matters of scale dealing with one of the largest genera of Angiosperms. In: Hodkinson T, Parnell J (eds) Reconstructing the tree of life, taxonomy and systematic of species rich taxa. The Systematics Association, Taylor & Francis, Boca Raton, pp 251–273

Peakall R (1989) The unique pollination of Leporella fimbriata (Orchidaceae): pollination by pseudocopulating male ants (Myrmeciaurens, Formicidae). Plant Syst Evol 167:137–148

Peakall R, Beattie AJ (1989) Pollination of the orchid Microtis parviflora R. Br. by flightless worker ants. Funct Ecol 3:515–522

Peakall R, Angus CJ, Beattie AJ (1990) The significance of ant and plant traits for ant pollination in Leporella fimbriata. Oecologia 84:457–460

Rico-Gray V, Oliveira PS (2007) The ecology and evolution of ant-plant interactions. University of Chicago Press, Chicago

Schaefer HM, Ruxton GD (2011) Plant-animal communications. Oxford University Press, Oxford

Schiestl FP, Glaser F (2012) Specific ant-pollination in an alpine orchid and the role of floral scent in attracting pollinating ants. Alp Bot 122:1–9

Shivanna KR (2015) Reproductive assurance through autogamous self-pollination across diverse sexual and breeding systems. Curr Sci 109:1255–1263

Shivanna KR, Tandon R (2014) Reproductive ecology of flowering plants: a manual. Springer, New York

Sinu PA, Sibisha VC, Nikhila Reshmi MV, Reshmi KS, Jasna TV, Aswathi K, Megha PP (2017) Invasive ant (Anoplolepis gracilipes) disrupts pollination in pumpkin. Biol Invasions 19:2599–2607

Stephenson AG (1982) Iridoid glycosides in the nectar of Catalpa speciosa are unpalatable to nectar thieves. J Chem Ecol 8:1025–1034

Sugiura N, Miyazaki S, Nagaishi S (2006) A supplementary contribution of ants in the pollination of anorchid, Epipactis thunbergii, usually pollinated by hoverflies. Plant Syst Evol 258:17–26

Tsuji KA, Harlion H, Nakamura K (2004) Asian weaver ants, Oecophylla smaragdina, and their repelling of pollinators. Ecol Res 19:669–673

Willmer P (2011) Pollination and floral ecology. Princeton University Press, Princeton

Willmer PG, Stone GN (1997) How aggressive ant-guards assist seed-set in Acacia flowers. Nature 388:165–167

Willmer PG, Nuttman CV, Raine NE, Stone GN, Patrick JG (2009) Pollen volatiles controlling ant behavior. Funct Ecol 23:888–900

Zhongjian L, Lijun C, Kewei L, Liqiang L, Xueyong M, Wenhui R (2008) Chenorchis, a new orchid genus, and its eco-strategy of ant pollination. Acta Ecol Sin 28:2433–2444
Acknowledgements
We thank the two anonymous reviewers for constructive and critical comments in the original version of the manuscript. We acknowledge the Department of Science and Technology (Government of India) for financial support. We thank Mr. Anirudha Maratte of ATREE, Bangalore for identification of ant species.
Funding
This study was supported by Science and Engineering Research Board, Department of Science and Technology, Government of India.
Additional information
Handling Editor: Isabel Alves dos Santos.
Electronic supplementary material
Below is the link to the electronic supplementary material.
About this article
Cite this article
Kuriakose, G., Sinu, P.A. & Shivanna, K.R. Ant pollination of Syzygium occidentale, an endemic tree species of tropical rain forests of the Western Ghats, India. Arthropod-Plant Interactions 12, 647–655 (2018). https://doi.org/10.1007/s11829-018-9613-1
Received:

Accepted:

Published:

Issue Date:
Keywords
Breeding system

Myrmecophily

Myrtaceae

Pollination efficiency

Technomyrmex albipes