Abstract
Traction forces of male and female southern green stink bugs Nezara viridula (L.) were measured on adaxial leaves of green beans (Phaseolus vulgaris L. cv. 'Nagauzura'), peas (Pisum sativum L. cv. 'Hakuryu'), rice (Oryza sativa L. cv. 'Mac hin sung'), and soybean (Glycine max [L.] Merr. cv. 'Enrei'), as well as on glass as a control surface. Bugs attached well on three-dimensionally structured surfaces covered with anti-adhesive epicuticular wax crystals. Strongest pulls were generated on adaxial green bean leaves, corresponding to safety factors (traction force/body weight) of 11.1 and 11.6 in males and females, respectively. These values were slightly lower on soybean (males: 7.4, females: 8.0) and rice leaves (males: 8.9, females: 10.6). Trichomes and papillae are assumed to promote pentatomid bug's attachment. On tabular, wax-covered pea leaves, safety factors decreased significantly to 1.7 and 1.6, in males and females, respectively. Differently, on non-structured glass, safety factors resembled those on rice and soybean leaves (males: 9.6, females: 8.0). No statistical differences in traction force and safety factor between sexes were detected on any substrate. Surface wettability did not significantly affect the results. Both robust claws and tough adhesive pads enable the N. viridula bugs to grasp and adhere to a wide range of various plant substrates, including such ones covered with anti-adhesive wax crystals. However, tabular, pruinose pea leaves were detected to prevent the foothold of the southern green stink bugs, although pea is known as one of their common host plants.
Access options
Buy single article
Instant access to the full article PDF.
US$ 39.95
Tax calculation will be finalised during checkout.
Subscribe to journal
Immediate online access to all issues from 2019. Subscription will auto renew annually.
US$ 79
Tax calculation will be finalised during checkout.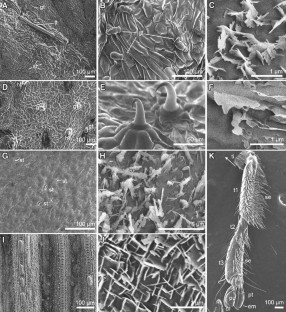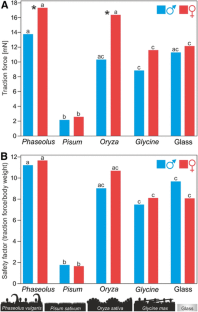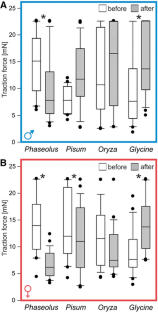 References
Al Bitar L, Voigt D, Zebitz CPW, Gorb SN (2010) Attachment ability of the codling moth Cydia pomonella L. to rough substrates. J Insect Physiol 56:1966–1972

Ali MA, Awadallah AM, El-Rahman AA (1979) A study on the phenology and ecology of the green stink bug Nezara viridula L. (Heteroptera: Pentatomidae). Z Ang Entomol 88:476–483

Barthlott W, Ehler N (1977) Raster-Elektronenmikroskopie der Epidermis-Oberflächen von Spermatophyten. Trop Subtrop Pflanzenwelt 19:365–467

Barthlott W, Neinhuis C, Cutler D, Ditsch F, Meusel I, Theisen I, Wilhelmi H (1998) Classification and terminology of plant epicuticular waxes. Bot J Linn Soc 126:237–260

Bräuer P, Neinhuis C, Voigt D (2017) Attachment of honeybees and greenbottle flies to petal surfaces. Arthropod-Plant Interact 11:171–172

Cobben RH (1968) Evolutionary trends in Heteroptera. Part I. Eggs, architecture of the shell, gross embryology and eclosion. Agricultural Research Reports, Wageningen, 707

Čokl A, McBrien HL, Millar JG (2001) Comparison of substrate-borne vibrational signals of two stink bug species, Acrosternum hilare and Nezara viridula (Heteroptera: Pentatomidae). Ann Entomol Soc Am 94:471–479

Dai Z, Gorb S, Schwarz U (2002) Roughness-dependent friction force of the tarsal claw system in the beetle Pachnoda marginata (Coleoptera, Scarabaeidae). J Exp Biol 205:2479–2488

Drake CJ (1920) The southern green stink bug in Florida. Florida State Plant Board Q Bull 4:41–94

Eigenbrode SD, Castognola T, Roux MB, Steljes L (1999) Mobility of three generalist predators is greater on cabbage with glossy leaf wax than on cabbage with a wax bloom. Entomol Exp Appl 81:335–343

Gepp J (1977) Bewegungsbehinderung von Arthropoden durch Trichome an Bohnenpflanzen (Phaseolus vulgaris L.). Anz Schädlingskde Pflanzenschutz Umweltschutz 50:8–12

Gibson RW (1971) Glandular hairs providing resistance to aphids in certain wild potato species. Ann Appl Biol 68:113–119

Gilbert LE (1971) Butterfly-plant coevolution: Has Passiflora adenopoda won the selectional race with Heliconiine butterflies? Science 172:585–586

Gorb EV, Gorb SN (2002) Attachment ability of the beetle Chrysolina fastuosa on various plant surfaces. Entomol Exp Appl 105:13–28

Gorb E, Gorb S (2006) Do plant waxes make insect attachment structures dirty? Experimental evidence for the contamination. In: Herrel A, Speck T, Rowe N (eds) Ecology and biomechanics: a mechanical approach to the ecology of animals and plants. CRC Press, Taylor & Francis, Boca Raton, pp 147–162

Gorb E, Voigt D, Eigenbrode SD, Gorb S (2008) Attachment force of the beetle Cryptolaemus montrouzieri (Coleoptera, Coccinellidae) on leaflet surfaces of mutants of the pea Pisum sativum (Fabaceae) with regular and reduced wax coverage. Arthropod-Plant Interact 2:247–259

Gorb EV, Hofmann P, Filippov AE, Gorb SN (2017) Oil adsorption ability of three-dimensional epicuticular wax coverages in plants. Sci Rep 7:45483. https://doi.org/10.1038/srep45483

Goundoudaki S, Tsitsipis JA, Margaritopoulos JT, Zarpas KD, Divanidis S (2003) Performance of the tobacco aphid Myzus persicae (Hemiptera: Aphididae) on oriental and Virginia tobacco varieties. Agric For Entomol 5:285–291

Hanba YT, Moriya A, Kumura K (2004) Effect of leaf surface wetness and wettability on photosynthesis in bean and pea. Plant Cell Environ 27:413–421

Hare JD, Elle E (2002) Variable impact of diverse insect herbivores on dimorphic Datura wrightii. Ecology 83:2711–2720

Harr J, Guggenheim R (eds) (1995) The leaf surface of major crops. Friedrich Reinhardt Verlag, Basel, p 97

Heerden PW (1934) The green stink-bug (Nezara viridula Linn.). Annale van die Uniwersiteit van Stellenbosch. Reeks A 11:1–23

Hokkanen H (1986) Polymorphism, parasites, and the native area of Nezara viridula (Hemiptera, Pentatomidae). Ann Entomol Fennici 52:28–31

Johnson B (1953) The injurious effects of the hooked epidermal hairs of French beans (Phaseolus vulgaris L.) on Aphis craccivora Koch. Bull Entomol Res 44:779–788

Johnson B (1956) The influence on aphids of the glandular hairs on tomato plants. Plant Pathol 5:131–132

Jones WA Jr (1918) The southern green stinky bug. USDA Bull 689:1–27

Jones WA Jr (1985) Nezara viridula. In: Singh P, Moore RF (ed) Handbook of insect rearing, vol 1. Elsevier, Amsterdam, pp 339–344

Kariya H (1961) Effect of temperature on the development and mortality of the southern green stink bug, Nezara viridula and oriental green stink bug Nezara antennata. Jpn J Appl Entomol Zool 5:191–196

Kennedy GG (2003) Tomato, pests, parasitoids, and predators: tritrophic interactions involving the genus Lycopersicon. Annu Rev Entomol 48:51–72

Kiritani K (2011) Impacts of global warming on Nezara viridula and its native congeneric species. J Asia-Pacific Entomol 14:221–226

Lapointe SL, Tingey WM (1986) Glandular trichomes of Solanum berthaultii confer resistance to green peach aphid (Homoptera: Aphididae). J Econ Entomol 79:1264–1268

McKinney KB (1938) Physical characteristics on the foliage of beans and tomatoes that tend to control some small insect pests. J Econ Ent 31:630–631

Miller NCE (ed) (1971) The legs of Heteroptera. In: The biology of the Heteroptera, Chap 3. W. Chasseey Ltd, Hamston, p 26–32E

Musolin DL (2012) Surviving winter: diapause syndrome in the southern green stink bug Nezara viridula in the laboratory, in the field, and under climate change conditions. Physiol Entomol 37:309–322

Musolin DL, Tougou D, Fujisaki K (2010) Too hot to handle? Phenological and life-history responses to simulated climate change of the southern green stink bug Nezara viridula (Heteroptera: Pentatomidae). Glob Change Biol 16:73–87

Oho N, Kiritani K (1960) Bionomics and control of the southern green stink bug. Shokubutsu Boeki [Plant Prot] 14:237–241

Panizzi AR (1997) Wild hosts of pentatomids: ecological significance and role in their pest status on crops. Annu Rev Entomol 42:99–122

Panizzi AR, McPherson JE, James DG, Javahery M, McPherson RM (2000) Stink bugs (Pentatomidae). In: Schaefer CW, Panizzi AR (eds) Heteroptera of economic importance. CRC Press, Boca Raton, pp 421–474

Peressadko AG, Gorb SN (2004) Surface profile and friction force generated by insects. In: Boblan I, Banasch R (eds) First international industrial conference Bionik, VDI Verlag, Düsseldorf, pp 257–263

Pillemer EA, Tingey WM (1976) Hooked trichomes: a physical plant barrier to a major agricultural pest. Sci New Ser 193:482–484

Pillemer EA, Tingey WM (1978) Hooked trichomes and resistance of Phaseolus vulgaris to Empoasca fabae (Harris). Entomol Exp Appl 24:83–94

Rizzo HFE (1968) Aspectos morfológicos y biológicos de Nezara viri-dula (L.) (Hemiptera, Pentatomidae). Agron Trop 18:249–274

Salerno G, Rebora M, Gorb E, Kovalev A, Gorb S (2017) Attachment ability of the southern green stink bug Nezara viridula (Heteroptera: Pentatomidae). J Comp Physiol A. https://doi.org/10.1007/s00359-017-1177-5

Schuh RT, Slater JA (1995) True bugs of the world (Hemiptera: Hete-roptera): classification and natural history. Cornell University Press, Ithaca, p 337

Stork NE (1980) Role of waxblooms in preventing attachment to brassicas by the mustard beetle, Phaedon cochleariae. Entomol Exp Appl 26:100–107

Thurston R (1970) Toxicity of trichome exudates of Nicotiana and Petunia species to tobacco hornworm larvae. J Econ Entomol 63:272–274

Todd JW (1989) Ecology and behavior of Nezara viridula. Ann Rev Entomol 34:273–292

Velasco LRI, Walter GH (1992) Availability of different host plant species and changing abundance of the polyphagous bug Nezara viridula (Hemiptera: Pentatomidae). Environ Entomol 21:751–759

Velasco LRI, Walter GH (1993) Potential of host-switching in Nezara viri-dula (Hemiptera: Pentatomidae) to enhance survival and reproduction. J Environ Entomol 22:326–333

Voigt D, Gorb SN (2010) Locomotion in a sticky terrain. Arthropod-Plant Interact 4:69–79

Voigt D, Gorb EV, Gorb SN (2007) Plant surface-bug interactions: Dicyphus errans stalking along trichomes. Arthropod-Plant Interact 1:221–243

Voigt D, Schuppert JM, Dattinger S, Gorb SN (2008) Sexual dimorphism in the attachment ability of the colorado beetle Leptinotarsa decemlineata (Coleoptera: Chrysomelidae) to rough substrates. J Insect Physiol 54:765–776

Zurek DB, Gorb SN, Voigt D (2017) Changes in tarsal morphology and attachment ability to rough surfaces during ontogenesis in the beetle Gastrophysa viridula (Coleoptera Chrysomelidae). Arthr Struct Dev 46:130–137
Acknowledgements
Dmitry Musolin (Department of Forest Protection, Wood Science and Game Management, Saint Petersburg State Forest Technical University, Saint Petersburg, Russia) kindly provided insects from the laboratory stock and valuable discussions. This project was funded by a JSPS Post-doctoral Grant-in-Aid to PPG, and by the COE twenty-first Century Program Project Grant ''Innovative Food and Environmental Studies Pioneered by Entomomimetic Sciences'' to KF. Two anonymous reviewers are greatly thanked for their constructive criticism.
Additional information
Deceased: Pablo Perez Goodwyn.
Handling Editor: Heikki Hokkanen.
Electronic supplementary material
Below is the link to the electronic supplementary material.
About this article
Cite this article
Voigt, D., Goodwyn, P.P. & Fujisaki, K. Attachment ability of the southern green stink bug, Nezara viridula (L.), on plant surfaces. Arthropod-Plant Interactions 12, 415–421 (2018). https://doi.org/10.1007/s11829-017-9591-8
Received:

Accepted:

Published:

Issue Date:
Keywords
Attachment

Epicuticular wax crystals

Insect–plant interaction

Plant surface

Traction